Age of Empires: Castle Siege patch fixes bugs; major Age X update in the works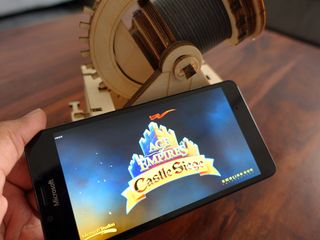 Microsoft will roll out a new patch for its strategy game Age of Empires: Castle Siege for Windows Phone, Windows 8.1 and Windows 10 on PC and Mobile later today that fixes several bugs. A major content update for the game, Age X, is also in the works.
The game's official blog has posted the change log for the 1.20 patch:
Fixed the bug where some players found Edward's ability was not working in battle. Edward's dismantle ability will now work consistently in battle.
Fixed the bug where raiders would occasionally attack the wall instead of going through breaches in walls or cultural buildings. Raiders will now go through breaches.
Fixed the bug with training scenarios being too easy after defensive changes made in in game. The training scenarios will now correspond to the defensive changes made previously in the game.
Fixed the bug where a handful of players were exposed to matchmaking while scouting a revenge opponent, or searching for an opponent if their time bucket was up. Players will no longer be exposed to matchmaking in these circumstances.
Fixed the bug with historical campaigns in game being too easy after adjusting defense in the game. The historical campaigns will now align with the recently adjusted defense.
Fixed the building listed in the Kievan Rus civilization objective to the correct building: the Palace of Facets.
Improved game mechanics
Improved game connection
The new patch will be rolled out starting at 7 p.m. Eastern time (4 p.m. Pacific time) today. As far as the next major update, Microsoft states, "Our team is hard at work on Age X, and we have no further news to share about this at this time."
Download Age of Empires: Castle Siege from the Windows Store (opens in new tab)
Windows Central Newsletter
Get the best of Windows Central in in your inbox, every day!
This game rocks, if it was available for android users it would definitely dethrone clash of clans which is awful game.. But what do android users know about quality anyways..

Both IOS and Android have Age of Empires world domination. A game that was supposed to come on WP first but scrapped altogether.

I've been having an issue with the game coming up with the splash screen, then back to start screen, and only works after third attempt (on both my primary and secondary phone). Hopefully this is fixed too :P

I get that a lot too. I have a 640XL that I upgraded to Windows 10 with the developers preview. I figured that was the problem. The camera app crashes a lot too.

Can't say for the camera myself, but yeah I have a 640 that it occurs on :P it also happens on my 535, so hard to say if its device specific or not... The only other factor I can think of is its saved to the SD card on both phones

This is not my case, but some friends of mine are having problems with connections. I like the game alot! Currently in Age IX

I just started playing this yesterday, pretty addicting. Side note: I didn't realize it had 1000gs, are there other xbox games on windows 10 mobile with a score above 200?

When you pull up the game on your PC, you get a WHOLE second set of achievements compared to when you pull it up on your phone. They sync though so as you are going through the game and you unlock while playing on your phone, pull up the app on your PC and it will unlock while loading. You can then pull it up on an iPhone and get them also. The only 3 games on the Windows Phone platform with more than 200 GS is Monster Go! (300) and then two UWP games that are also Win10 games (Solitaire and Mahjong). Those numbers are according to TrueAchievements.com

I would prefer a proper age of empires game. This is only age of empires by name.

Stopped playing this after the second time an update caused the game to disappear from my app drawer and without a way to uninstall/reinstall it (unless I hard reset my device). I could actually still launch the game from notifications, if I enabled them though. The problem had been acknowledged and also reproduced by several other users on their forums, but I've never seen it addressed in patch notes.

Would be much better if actual Age of Empires IV for PC was in the works.

CASTLE CLASH
Is the best strategy game. Try it. Thank me later.

I can say, it is not a strategy game compared to this one

Don't know when they will work for alliance wars.

What an awesome game. Waiting for Age X!!
Windows Central Newsletter
Thank you for signing up to Windows Central. You will receive a verification email shortly.
There was a problem. Please refresh the page and try again.