Age of Empires: Castle Siege now lets you request troops from your alliance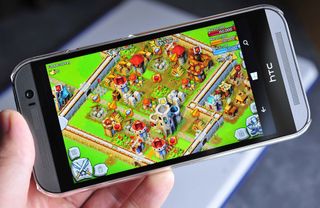 Age of Empires: Castle Siege has been updated on the Windows Store, bumping gamers up to patch 1.15. This latest release brings with it a number of improvements and changes, most notably the ability to call for troops from your alliance. As well as this, Emperors and Lords are now able to delete announcement messages.
The team behind AOE: Castle Siege has also invested time to add flags for Australia, Bulgaria, Chile, China, Colombia, Finland, Greece, Netherlands, New Zealand, Philippines, Portugal, Sweden, Turkey, Ukraine, and the United Nations. The game also sports new upgrade levels for resource gathering buildings, walls, and the flame and archer towers. The rest of the patch contains:
Maslama has learned how to protect his fellow soldiers from flame towers.
We've rebalanced the power level calculations. As a result, lower age players now are less likely to get matched with higher age players.
As well as the above, the release patches a number of bugs. More details on these can be found on the official blog post.
Download Age of Empires: Castle Siege (opens in new tab)
Source: Age of Empires
Rich Edmonds is Senior Editor of PC hardware at Windows Central, covering everything related to PC components and NAS. He's been involved in technology for more than a decade and knows a thing or two about the magic inside a PC chassis. You can follow him over on Twitter at @RichEdmonds.
Where's the other AOE game that was released a few days back? Will it not be available for windows?

Doesn't matter... It's not online multiplayer : /

That's what makes it fun!

It's not coming at least for now.

Used to play this alot. But moved on because less no. of players. Btw what happened to other Age of Empires game?

I quit that game cause of heroes getting the x2 attacks. Game became too easy.

Cool and all, but when does whoever fix the navigation bars on windows 10 mobile? Its blocking the portion of the screen :D I want to keep my 950 XL clean of games.

That's been a bug since they were introduced in 8.1 basically if devs don't properly code for it then you'll have problems like this unfortunately

It has some scaling issues though. Sometimes everything appears stretched and miss taps everything completly in my 730. Also their matching algorithm is worse than the previous version :/

In experiencing the same on my 730 as well

They need to fix the alliance booting. I have been with two alliances that pushed and used everyone to dump their resources into wonders...then when they were all made, threw everyone out. Many others I know, this has happened to also.

I spent 1,50,000 food , 45 minutes in search for a battle for an opponent having +100 crowns. But everytime came across with ones having +70 & +80 Crowns.
That has been a big issue from last 2 patches.

Thank you and keep updating from your fans in PH :) Posted via the Windows Central App for Android

Must be a slow news day for Windows Central to publish a small update to a game as news.

What in all **** are you talking about?

Ahh I left this game long back , there are better games out there. Aoe2 was the best

The request troops option doesn't make any sense in practice. It just posts a chat to the board saying you want troops. Might as well just chat it.

It copies ClashOfClan feature and maybe the other strategy mobile game.

Oh no guys if you play properly now with alliance it will be the best game

I think you didn't have play CoC yet.

LOL I have played that game, well good and fine....this game outruns it much more interestingly than the CoC (correct it [ I think you haven't played CoC yet] ;))

I've playing CoC till now, and had played Castle siege also.. Which is easier. And BTW COC STILL A GEM OF ANDROID AND IOS GAME CENTRE..

And if you are so concerned having all features from various other games is much better than playing the same thing...in its own monotonous tone...and keep cursing the other which are better?

http://forums.ageofempires.com/topic/15031-patch-15-is-the-worst-updatei...

Coc please we don't give a s*** about this or other crappy games.

This game doesn't appear in my games list or apps list, but I can update to it, just can't play it because I can't find it on my phone.
Windows Central Newsletter
Thank you for signing up to Windows Central. You will receive a verification email shortly.
There was a problem. Please refresh the page and try again.