Age of Empires II HD: The African Kingdoms expansion released on Steam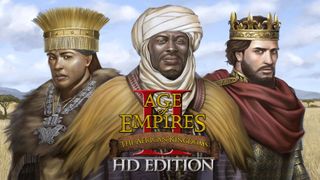 Fans of classic PC RTS games have something new to play from Microsoft. The company has now released the Age of Empires II HD: The African Kingdoms expansion on Steam. Developed by Skybox Labs and Forgotten Empires, this is the second new expansion released for the remastered version of Age of Empires II, which was created by the now-defunct Ensemble Studios.
As you might guess from the title, the expansion pack adds a number of historical African content to the game. It brings four new civilizations, (Berbers, Malians, Ethiopians and Portuguese) along with four new single-player campaigns with full voice acting.
Here's what else is included in The African Kingdoms expansion
New Generic Units and Technologies

Arrowslits – Increase the power of your Towers and Keeps as they hail arrows down upon your foes.
Arson – Help your melee units burn enemy buildings to the ground with this new Castle Age research.
Fire Galley – Bring fires to the attack earlier in the game with this new Feudal Age ship.
Siege Tower – Hide units inside the tower and help them scale your opponents walls.

Sudden Death Game Mode - Be prepared to defend your town center in this new game mode. Each player only gets one, and if you lose it, it's game over!
Improved AI
10 New Special Maps
8 New Real World Maps
5 New Random Maps
10 New terrains
New Scenario Editor Objects
Twitch.tv Streaming Integration
Spectator Mode
Normally the The African Kingdoms expansion is priced at $9.99, but from now until November 9 it will be 20 percent off at just $7.99. In addition, Microsoft is holding a special Steam sale of all of its classic RTS games, including the main Age of Empires II HD game priced at just $3.99 and the game's first new expansion The Forgotten for $1.99.
Buy Age of Empires II HD: The African Kingdoms on Steam / $7.99 until Nov. 9
Source: Age of Empires blog
Windows Central Newsletter
Get the best of Windows Central in in your inbox, every day!
The game which lives on forever. AOE II

It would be great to see them port these to the Windows Store. Are they waiting on the Win32 bridge? ​

That was my thought, MS game not in site, wth.
I want a win16 bridge, that will get me some of my favorite software back. Lol.

Last I heard Microsoft was planning to offer Win32 apps on the store as well. The store would just be a gateway to acquire the license and download the installation files, after that it would just be a standard MSI scripted installation like Office 365. I do wish I could select which programs to install though as I don't need the entire office package, but that's another topic. :) I see no real reason for this not to happen with Window's next update in 2016.

One dollar discount? Yay?

What a $1 discount? The new expansion is a $2 discount. The main game? The other expansion?

20% off. $2. The cost of OneDrive for one month.

Watch out the gog guy might freak out at this article title. Lol

Obelisks / phalli were part of most empires. Steam and the Half Life gods are worthy of worship. If I need to bow to a tower to get HL3, so be it :shrug:

And Windows Store? OMG Microsoft!!!

Just curious, what is the issue for some people to use different stores, I use 5 stores so far, but would use new if a new game convinces me: Windows Store (Halo Spartan Assault) Xbox (Disney Infinity 3.0, Project Spark) - more are comming soon like Tomb Raider, Halo Steam(The Witcher Hunter 3) Origin(Star Wars Battlefront) Blizzard(Diablo III) That's why I think WIndows 10 is better than game consoles like PS4 or Xbox One, since you can play all the universe of games, not just a small set like on game consoles.

You should check out Halo: Spartan Strike in the Windows 10 Store too. It's better than Spartan Assault.

I wish they would add in touch screen controls

AOE I haven't seen this games in years. I didn't know it was still going...

I was going to buy this game... But the price is still super high.

If you haven't played AOE II in the past you probably don't know, but this game was very popular in the 90's decade, before game consoles like Xbox or PS3 were built. I thought the upgrade was not expensive, you basically get new HD screen (16:9 aspect ratio) instead of 4:3 for old box monitors. Also, your emprire now can have up to 500 units and maps are much huge. Graphics are much better designed specially for new civilizations. This game will never loose popularity, its one of those games that will remain as classics for decades to come, just as other non videogame table games like Risk.

I still remember downloading the demo version of the original Age of Empires from Microsoft's website over dial-up back in 1997. It took 3 hours to download the around 60 MB installation file and I was praying for the connection not to drop :) Unforgettable experience!

Thanks WC. I'm getting it tonight

When are they going to remaster Age of Empires 3 ??? Posted via the Windows Central App for Android

Just bought all of them for 13.77 EUR :) It will be a weekend full of Age of Empires! :)
Windows Central Newsletter
Thank you for signing up to Windows Central. You will receive a verification email shortly.
There was a problem. Please refresh the page and try again.