Age of Empires II HD to get new Rise of the Rajas expansion on December 19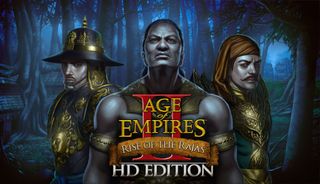 Age of Empires II HD fans will have some new content to take on when a new expansion, Rise of the Rajas, launches on December 19. Set in Southeast Asia, Rise of the Rajas will let players check out a total of four new civilizations across 4 campaigns, dive into 5 new random maps and 5 new real world maps, and much more.
Here's a look at the new civilizations you'll be able to check out in Rise of the Rajas:
Burmese – Ascend to power, quash a treacherous rebellion, and restore the Burmese monarchy to its former glory.
Khmer – Construct the largest religious monument in the world and amass an immortal army of devastating siege weapons.
Malay – Rebuild the largest thalassocracy to ever exist. Leave your mark on the region while hopping from island to island and rule the Southeast Asian archipelago.
Vietnamese – Lead your people to independence and wage guerrilla warfare with an extremely powerful arsenal of ranged units.
Alongside the new civilizations, the expansion will bring a load of performance improvements to all players, giving the game an added touch of polish (especially for multiplayer matches) for everyone.
The developers are set tease more information about the expansion in the days ahead of its December 19 launch. If you're an AoE II HD fan, you should expect to hear much more about the expansion before release.
Windows Central Newsletter
Get the best of Windows Central in in your inbox, every day!
Dan Thorp-Lancaster is the former Editor-in-Chief of Windows Central. He began working with Windows Central, Android Central, and iMore as a news writer in 2014 and is obsessed with tech of all sorts. You can follow Dan on Twitter @DthorpL and Instagram @heyitsdtl.
What! Rajas means Kings!!

That's why. Look at the empires, they all use Maharaja as title for king.

I thought it'd bring more Indian content, going by the name, though I only played the forgotten kingdoms expansion pack for about 2-3 games.

What a waste of resources on an ancient game, Microsoft should rather invest in a proper AOE IV sequal with updated visuals and mechanics, or relaunch AOEO with a better monetization scheme that actually supports the game instead of giving all new content for free as was the case it the latter half of the development, screwing over everyone who invested in the game early on.

But this is nice for those of us that own the AoE 2 HD. Would love to see and AoE IV though.

While I am still a big AoE II fan and will be buying this, I do agree that an AoE IV would be nice. When it was still going to be a thing, wasn't it supposed to be set closer to the modern era?

Will this new AOE II HD pack be available in disc format or if online, from where do we buy it?
.
Also, from where can we get the original HD version?

AoE 2 HD and all the new expansion packs can only be bought through Steam. You can buy the original Age of Kings with the Conquers expansion from Walmart or Best Buy or places like that.

This game has nearly 4 million copies sold via Steam and you're saying it's a waste of time? TOP KEK M8 I'll give you 2/10 for effort. You need to hone your baiting skills further.

It'd probably be pretty easy to do, mostly just re-skinning existing asset.

If this game can get a update, then I will hold out hope for Windows Phone 8.2 on my Lumia 850.

Jack, We all have to consolidate on Windows 10, or Microsoft will die. Try a Lumia 650, or save up for a Lumia 950XL. By the time you save the ca$h, the 950 will be $200. XP and Win7 users need to get on board too, or Microsoft will never get developers. IOS and Android will be the only platforms, stifling diversity. AOE rules! I'll be happy with old HD expansions, or AOE IV.

Down voting me wont make the 950 any better...

This is coming out? Time to fire up steam.

Waiting 4 AOE II and III on Xbox

Without kb/m support, it would be useless on xbox anyway.

glad that MS still working on this.

You forgot Forgotten Empires and Skybox labs.

Can't wait for the expansion. Sooo glad the new patch fixed the multiplayer issues I was facing ;).

I'm so eagerly waiting for this.......

You know its a good game if they support it even after so many years.

Anyone know if there is anything a little more modern in the strategy genre?
Something akin to AOE or Red Alert.
I am sick and tired of these new microtransaction based games.
I just want to pay for a good game and play it as much as I like instead of having a hobbled game that tries to coerce me in to paying cash for resources..

I'm actually not sure about the "more modern" part, but I'd take a look at Rise of Nations.

I would not consider Rise of Nations as modern RTS, as its nearly as old at AOE 2, (however still one of the best RTS games that does not feel as old as AOE2HD) but new RTS games worth a look include, Grey Goo, Company of Heroes 2, 8-bit armies (when on discount), and definitely keep an eye out for Halo Wars 2 (if you pre-order you get to play the first game starting from dec 20th, but I would wait for reviews first before pre-ordering).

You tried anything from the 8-Bit Armies franchise? If you like any classic C&C games you'll love 8-Bit Armies.

buying this. thanks dev team.

*teams. Forgotten Empires and Skybox Labs are working on aoe2 hd -expansions. +updates.
Windows Central Newsletter
Thank you for signing up to Windows Central. You will receive a verification email shortly.
There was a problem. Please refresh the page and try again.