Age of Empires' head talks the future of its new World's Edge studio, Age of Empires 4, and more
How Microsoft revived Age of Empires, bestowing its once-sidelined strategy icon with a dedicated development studio.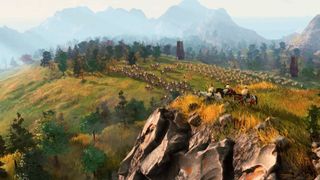 (Image credit: Microsoft)
Age of Empires is undergoing a revival, as Microsoft ships remasters of the real-time strategy classics, with an anticipated fourth entry in the pipeline. The return follows rapid growth for first-party Xbox Game Studios talent, welcoming a newly-formed team dedicated to series. Titled World's Edge, it acts as Age of Empires' new Redmond abode, overseeing the prolific franchise and partnered developers. We sat down with World's Edge lead, Shannon Loftis, talking the foundations of its new studio, and ambitions moving ahead.
Age of Empires finds a home with World's Edge
Age of Empires' return marks the conclusion to a more than decade-long hiatus, which saw former franchise creator Ensemble Studios shuttered, scaling back the real-time strategy (RTS) icon. In a stark departure from Age of Empires I through III, free-to-play PC and mobile experiences followed from external developers, pursuing accessibility over the core foundations that shaped the series' success. The recent revival has now resurfaced a glimpse of Age of Empires' former glory, with Microsoft's new World's Edge studio at the helm of franchise operations.
Microsoft first dabbled in remasters of the original trilogy, distributing projects across independent studios Forgotten Empires and Tantalus Media. The first two "Definitive Editions" now sit on digital markets, with a third to follow, while SEGA's Relic Entertainment cooks up the next mainline entry, Age of Empires IV. With a rich past of Homeworld, Warhammer 40,000, and Company of Heroes, the RTS heavyweight is among the few with potential foresight to approach to its wide-reaching sequel.
The newly-named World's Edge sits under Microsoft's growing pool of creative talent under Xbox Game Studios, headed by Microsoft veteran, Shannon Loftis. Pitched as the modern franchise caretaker, the compact team looks to oversee current Age of Empires partnerships and projects, while locking in more to come. "Age isn't ours anymore. We're stewards, it belongs to the community, and it belongs to the globe," said Loftis. "There's no world in which a Redmond-centric game development studio is going to get the right global set of voices in." Loftis states a similar philosophy was pitched to executive vice-president of gaming at Microsoft, Phil Spencer, and Xbox Game Studios head, Matt Booty, which kickstarted efforts to establish the new internal brand.
"We have contracts; you know about three of our partners, Relic, Tantalus, and Forgotten Empires," said Loftis. "We have others that we're not talking about yet. But it is truly a global development team. All the teams are working together to share assets, to share ideas, the legacy teams are working with Relic."
Partnering with multiple developers has allowed Microsoft to welcome a variety of RTS authorities, without the challenges of establishing a sizeable new team for projects. And while shared among third-parties, World's Edge is already approaching around 40 employees, overseeing all facets of the Age of Empires universe. "We've got developers, designers, obviously creative art, audio, producers, narrative. We also have a huge community function because we're now working on uniting communities across all of the Age [of Empires] legacy, plus Age 4, using Relic technology."
But even with in-house talent, World's Edge doesn't set out to rein in development to Microsoft's headquarters. Creative director on Age of Empires, Adam Isgreen, stresses the value of partners, with no current plans to handle titles in-house. "We could explore things internally, but we have such great partners. I couldn't imagine fans would be happy if we're going to take Age 2 away from Forgotten Empires. They would riot," said Isgreen. "Forgotten Empires loves the franchise; we love them. We do design as well, we do tech as well on our end, and it benefits all the games. But we're not going to take their experiences away from them, to go in-house."
The first talk of the dedicated Age of Empires studio surfaced in June at E3 2019, accompanying Double Fine Productions in raising the Xbox Game Studios headcount to 15 teams. Microsoft's recent X019 event brought the studio into the public eye with the "World's Edge" name reveal, which Loftis hopes captures the two decades of franchise legacy. "One of the things that we think is most key to the Age experience is that exploration. Even if you have Fog-of-War turned off, you've got to find your enemies. And you've got to find the gold, the stone, the resources, and everything. We wanted to have exploration built-in [the World's Edge name]."
"[W]e're dealing with an IP that is based on human history, where there's unlimited opportunity to tell stories. We're dealing with RTS, which is a genre that has yielded so many other genres and continues to hold its own. And yet, there's also a lot of innovation opportunity in the gameplay. Finally, we had this amazing community that even when we walked away, made console games, and didn't pay attention to Age [of Empires] for a while, they kept it going. They have this sort of endless passion. We're looking for the edges. But there aren't any edges. This is a very global game, and so: World's Edge."
Setting the record straight for Age of Empires 4
World's Edge undoubtedly rises in the legacy of Ensemble Studios, Microsoft's former Texan team exclusively focused on Age of Empires titles. It assembled a sizeable strategy-focused squad at its peak, developing the three core Age of Empires releases, numerous expansions, and branching into Halo Wars. Microsoft would later close Ensemble, citing "a fiscally rooted decision," with later reports detailing internal struggles and crunch culture, putting Age of Empires on the backburner.
Age of Empires output dwindled over the years that followed, outside of Steam releases for earlier titles. The Steam debut broadened accessibility to more players, layered with small HD enhancements, and streamlining distribution. Loftis explains that, while trivial against the full-fledged Definitive Edition remakes, Steam availability kickstarted a resurgence ongoing today.
"[For Age of Empires 3] we literally didn't have to code to touch. We literally just repackaged it with some bells and whistles. And the community responses that we've had, people reignite, ask us to fix bugs, contact us all the time. It was one of the game sets that when I was managing first-party publishing. We need Age [of Empires], we're going to have Age in our portfolio, we're going to take care of it, we're going to try to respond to the customers.
"Gradually over time, we added people like Adam [Isgreen] to the people that were focused on Age. And so we had achieved what I would call a critical mass of commercial success with these games on Steam, and after that, it became pretty easy. It also doesn't hurt that Phil [Spencer] talks a lot about how many gamers we want to reach, and we recognize that gamers live and play in lots of different places. Not only on console. And this is just such a slam dunk, obviously to revive and bring back, and also bring Microsoft back into the PC development era."
"We're always going interact with the community," said Isgreen. "Community is an integral part of our development process going forward for all of the Age [of Empires] titles. We're going to make sure to listen to them and work with them to grow the games."
But Microsoft enters Age of Empires IV pledging increased transparency, ensuring its next installment converges with player expectations. In an industry where overpromising and underdelivering isn't uncommon with regular refreshes, World's Edge approaches the project messaging with caution. "[W]e wanted to completely rebuild the technology for Age 4, so we have a modern engine that can run on a spread different kinds of laptops, to high-end PCs," said Isgreen.
Age of Empires IV returned at X019 with a one-minute gameplay reel, following a two-year absence to nail down gameplay. Isgreen states that all elements of the trailer translate to planned mechanics, better representative of what the final product should offer. "Everything in that trailer is real, everything we show will be in the final game. We have wall combat working. That falcon is real, that's gameplay, it's a scout unit," said Isgreen. "But all that's real, genuine gameplay and nothing we will show won't be in the game. [...] That is why we waited so long, and what we'll continue doing with Age going forward."
Loftis expanded on that philosophy, referencing her past years at Microsoft, and recently heading up publishing under Microsoft Studios. Alluding to previous Xbox One first-party projects with their share of development struggles, she brings those learnings forward to the World's Edge and its current plans. "I'm not going to name names, but I love hearing Adam talk about the process that we're going through, and talk and describe the decision making, and the franchise values that where we are talking about Age 4," said Loftis.
"We're going to let Age 4 talk for Age 4. We're not going to make promises. We won't show features until we are happy with the way that they're playing in-game. I've learned, the hard way, that promising features that then don't pan out is much worse for gamers than having folks maybe wait a little longer to learn what's in the game, and then actually guaranteeing that they get to experience it."
Age of Empires IV could be some time out, with Microsoft yet to detail a release window for its next iteration of the RTS. It's an already promising foundation, delivering a notable technological leap after its over 10-year absence. World's Edge has released the new Age of Empires II: Definitive Edition in the meantime, returning to the classic that solidified the series' reputation in the genre. With an impressive helping of content and welcomed enhancements over the original vision, there's no better time to dive back into its world-spanning conflicts.
An RTS for the ages
Age of Empires II: Definitive Edition
A lot of game for the asking price

Age of Empires II: Definitive Edition manages to make the classic RTS feel new while not straying away from what made the game great in the first place.
Get the Windows Central Newsletter
All the latest news, reviews, and guides for Windows and Xbox diehards.
Matt Brown was formerly a Windows Central's Senior Editor, Xbox & PC, at Future. Following over seven years of professional consumer technology and gaming coverage, he's focused on the world of Microsoft's gaming efforts. You can follow him on Twitter @mattjbrown.