Alcatel grabbing some Windows phone US market with Fierce XL and Idol 4S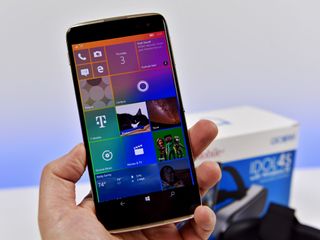 Microsoft retrenchment plans for Mobile centered around the idea of the company backing away from its Lumia line with the hope that OEM partners could fill the space. That plan was always risky as businesses see little advantage in winning that market since the numbers are so small.
Alcatel, however, seems to be finally making inroads. That's impressive if only because the company produces just two Windows 10 Mobile phones restricted to one US carrier (T-Mobile). Nonetheless, the latest numbers from AdDuplex, which focuses only on the US market, shows that the company is having some success.
Alcatel largest Windows 10 Mobile OEM in the US
In breaking down current Windows 10 Mobile market in the US, the Alcatel ONETOUCH Fierce XL has 5.6% of the pie. While not a huge number that is more than the Lumia 1520 (4.7 percent) and comes close to the Lumia 950 XL (6.1 percent).
Keeping in mind, of course, that the number of all active Windows 10 Mobile devices in the US is tiny making that 5.6% just a sliver. Nonetheless, Alcatel clearly had to expect that going into the deal.
The Fierce XL is a low-end handset with a 5.5-inch HD Display, 1.1 GHz Snapdragon 210, and just 16GB of storage (with micro SD expansion). It retailed for $139 fully unlocked but was cheaper with plans. Since the higher-end Idol 4S went on sale, it has since been dropped from T-Mobile's lineup.
Speaking of the Idol 4S, which we gave a very favorable review, that phone is already in the #16 spot of US Windows 10 Mobile market share. Considering that phone only went on sale less than two weeks ago it is already ahead of the more expensive and harder to find HP Elite x3 (#19). It will be interesting to see if that number improves over the following months, or, as AdDuplex notes it is just "a splash from the new phone setup activity."
With so few Lumias on the market and no carrier pushes for Windows 10 Mobile besides T-Mobile this trade-off in market share is expected.
All that activity with the Idol 4S and Fierce XL gives Alcatel a 6.2% share of the manufacturer market for Windows 10 Mobile in the US. That nearly doubles HTC (3.4%) and leaves BLU (0.5%) in the dust. Microsoft and Nokia still account for 89.4%. It's small progress but progress nonetheless. At the very least, if a manufacturer makes the right device with a suitable price and carrier support it can see some traction.
In the top spot for the US is still the Lumia 640 with 20% of the Windows 10 Mobile market followed closely by the Lumia 950 (19.3%) and the Lumia 650 (18.5%). Interestingly, the HTC One M8 has 3.4% on Verizon.
Stepping back from Windows 10 Mobile devices to all Windows phones (Windows Phone 8.1 and 10) and the Lumia 640 is king with 26.2% followed by the Lumia 635, Lumia 640XL in a distant third. The Lumia 650 is now in the #9 rank, which is a new addition.
Regarding carriers in the US, it should not be surprising that AT&T controls 42% of the Windows 10 Mobile market with Cricket at 24.6 percent followed by T-Mobile (15.6%) and Verizon with 9.5 percent. MetroPCS is at just 1.9%, and Sprint and other MVNOs are folded into "other." As AdDuplex notes, however, AT&T owns Cricket resulting in a 66.6 percent combined total for Windows 10 Mobile users in the US.
To put in perspective, however, how small the user base of Windows 10 Mobile is that OS only accounts for 15% of all Windows phones. If you assume the total install user base of Windows phone users in the US is between 1-2%, which is being generous, 15% of that is going to be a small number of people.
Some U.S. Windows 10 PC data
AdDuplex's November numbers also highlight PC usage. Compared to globally HP does better in the US. Even though it is the top Windows 10 PC manufacturer that number goes from 22 percent worldwide to 32 percent in the US. Dell is in a strong second with 25 percent.
Lenovo is a distant third at 8.9 percent with Toshiba, Asus, and Acer rounding out the bottom. Microsoft with its Surface line is in the 7th spot with 4.3 percent of active Windows 10 PC users.
OS Versions
Finally, AdDuplex reveals that 90 percent of those on Windows 10 Mobile are using the Anniversary Update while 83% of PC users are on the same release.
At the very least, you can say that Microsoft is having success with its Windows as a Service (WaaS) system as most consumers who want to be on the latest OS appear to have taken the update.
About AdDuplex
The numbers from AdDuplex are collected through their in-app advertising that is prevalent in over 5,000 apps in the Windows Store. That data serves as an important metric within the Windows Phone ecosystem. The full AdDuplex report for November will be posted on their blog at https://blog.adduplex.com/ on Wednesday (November 23). You can view all our previous AdDuplex Monthly Report analyses here.
Daniel Rubino is the Executive Editor of Windows Central, head reviewer, podcast co-host, and analyst. He has been covering Microsoft here since 2007, back when this site was called WMExperts (and later Windows Phone Central). His interests include Windows, Microsoft Surface, laptops, next-gen computing, and arguing with people on the internet.
I am very impressed that they were able to do this!

Me too. They are also doing a lot of videos about this device.

Internet only that's doesn't really reach average consumers. The ad from T-Mobile I've seen on the web is good and should be on television. I think out could help, but unfortunately won't be promoted on TV.

Even without ads on TV, a consumer focus phone is easily outselling an enterprise focused phone.
Nadella's strategy of enterprise for mobile is clearly wrong.

Maybe this lends some small credence to the rumor of HP working with Microsoft on a consumer focused device. Maybe they saw the numbers against Alcatel and new they needed go that way.

But his strategy of shutting down Nokia is right.. Right?! Lol.. BTW the Elite and Alcatel run the same OS.. and is the same chipset.. don't know what your point is..

Impressed that the Idol is the 16th most used Windows phone? The display models alone should put it ahead of the HP x3...

I want something from Alcatel-Lucent which is already up to manufacture and release Nokia designs. I hope Nokia considers W10M, at least in the same variant that's released with Android.

I'm getting this phone asap

This is a very pleasant surprise. I can imagine HP and Alcatel as rivals competing for Windows mobile marketshare, would be nice.

Yeah maybe in a near future... I mean, i hope so XD

I hope Lenovo also joins the race. They built great stuff die last view month.

HP primarily seems business focus but it will be really nice for a variant for consumers with a much better camera and media. Alcatel since this is primarily consumer focus with a vr included in the package make's it a very compelling purchase even more if the vr support grows can make this a hot product and something no one else is packaging on the market. I think it's really worth keeping an eye on...

If it had a 4K screen, was on AT&T with HDVoice and Visual Voicemail, and it's camera was as good in low light as the 950 I would probably happy switch from my 950.

So, if it was an entirely different phone, you would consider it.

Main thing is it is a really nice phone, but just misses some check marks in the box that would make it a near perfect Windows 10 Mobile phone.

Why would you want, let alone need 4k on a 5.5 inch screen. Useless. If your eye can see 4k on a screen that small, the NSA needs to launch your ass into orbit and use you as a spy satellite.

Depends on how good your eyes are. I have been able to tell the difference between 1080p and 4K at this size screen. Text is easier to read as the curves of the fonts are more crisp.

you're getting downvoted, but you can definity tell the difference between 1080p and 2K on a 5,5" screen, but fat chance you can't tell the difference between 2K and 4K. Therefore, 4K is absolute overkill at this point. Maybe on a 7" screen though.

I would think the one benefit would be for VR purposes.

I think phones need to have a toggle switch to change between 1080p and 4k to save battery but allow for VR experience when inclined.

I wish we could switch between 720P, 1080P and 2K. 2K resolution is cool to have on my HP x3 and Lumia 950 but 1080 would be fine too. Battery is more important to me.

Yes, let's totally incorporate Windows and select resolution sizes!

That's not how that works.

I didn't ask how it works, I am saying make it work that way.

Switching between resolutions won't prolong battery life. If you have a 4k display and you downscale it to 1080 the same number of pixels are still firing, it's just downscaled.

I@irrelevantone, I think you are suggesting a 1080p mode that would use pixel doubling to fill the 4k screen. In that case, you are still driving all of the pixels in the 4k screen and using the full backlight. There would be no power saving there. Your apps would only have to calculate the 1080p pixels, which would be a battery savings, but then there would be additional battery usage to upscale (Pixel double) to 4k. I don't know if there would be much net battery savings. I think this is a case of there being no such thing as a free lunch.

I am pretty sure it can be accomplished, we invented a DeLorean that can time travel for crying out loud.

OK .... ? I guess I wasn't thinking fourth dimensionally. Maybe someone that actually knows more about this has an answer.

4K for 5inch device, right?
You know s*** about technology... :-)

4k on a phone is just a battery drain, but wouldn't it be cool if a 4k phone could display 4k in continuum. A boy can dream...

Yeah, running a pared down version of Word in 4k on your phone connected to a monitor would be unbelievable

Man that font looks amazing!!!

If it was an orange, I'd probably buy 2 or 3.

Visual voicemail? Ick. MMS-based voice-to-text is drastically better, IMO. Visual voicemail is the best of the worst, you still have to listen to the message to have any idea if it's worth listening to. Voice-to-text converts the message to text, sends it as an MMS, and attaches the audio file. Your voice messages are chronologically inserted into your text messages, and backed up to OneDrive for you (if you have that setting turned on). The text conversation isn't always word for word accurate, but it's enough to give you a good idea of how time-imperative the message is which is what I need from it. Visual voicemail is holding back the prison of voice-to-text, which is a shame. Vice-to-text send to be common in Canada (offered here by Rogers, TELUS, and Vonage), but not well known elsewhere.

Any chance Alcatel will have to start selling this phone across the ocean as well?

I hope. Alcatel is just a tiny goldfish in the Android ocean but they could be freaking whale in the Windows Mobile lake, if they play there cards right ;-)

It's almost a puddle now! I hope they do get good success though, would be interested in picking one up here in the UK

Isn't Alcatel like one of the top 5 manufacturers.

Good to see an OEM other than the Lumia brand getting some success with W10M

I'm only waiting to see if TMo will have any black Friday deals before I take the plunge with the Idol4S. That phone is gorgeous!

I don't think so... it's not on their list of promos

It wasn't even on display at my local T-mobile when I went in this week. They actually still had the Fierce XL up.

Very cool! Since the 640 is the top dog (phone really), it makes me wonder if most of the people on Windows 10 Mobile with it have the AT&T version or do they have the T-Mobile version and joined Insider?

Here's one person using a 640 on T-Mobile as a Windows Insider! I love this little phone, just wish it had 2GB of RAM (tired of the constant reloading apps...)

You should upgrade to the 4s. I'm loving it! It's a powerhouse. Handles everything I throw at it.

Probably att since it was sold far longer than the T-Mobile version.

Let's hope 2017 will be the year Microsoft will see a real turnaround in mobile. The Alcatel Idol is arguably the best offering of a windows phone right now for 'consumers'. This phone most definitely needs to go global.

I definitly hope it goes global! I'm a T-mobile user anyway but we don't have the device here in Holland sadly. But it means I could always import it through eBay or something.

Sorta makes you wonder why MS didn't partner with T-Mobile on the Lumia 950 launch along with ATT. The 950 runs great on T-Mobiles network, and there is clearly a segment of T-Mobile customers wanting Windows Mobile. No wonder Legere gave some of his famous tough love to MS when they went with ATT only. The Lumia 925 was my first premium smartphone purchase, and I loved that thing.

Mine too. I had about 4 of them .LOL.
The Alcatel is definitely going to be an instant classic right up there with it. So far it is the best experience on a windows phone yet for me .

Except Tmobile doesn't have a good track record of supporting Windows mobile devices. This is coming from someone who's been burnt in the past. HTC Radar, Lumia 710, 521, 925, 640. I am now receiving all updates on an unlocked 950.

I was burned on updates with the Lumia 810 and the HTC One M8. I love the T-Mobile network and W10M, so I have to hope I get the latest updates with the Idol 4S this time.

I was just about to say don't forget about the Lumia 810 lol R Rr4r

The 810 was my first Nokia smartphone after years of their candy bar style phones. It was my smoothest experience on windows 8 .

I loved my 810. I still have it and use it from time to time. It did bother me that T-mobile never gave it wifi calling...

But you're not receiving WiFi calling.

Tell me about it, and it sucks when you are in between their towers.

Yeah where USA is concerned, released on all carriers and more people will know about the device

I just switched to the idol and I have to say its a nicer phone in my opinion compared to my 950xl (I don't use phones for photography). What shocked me is my tmobile store had it on display with the VR, actually promoting it. They also had screen protectors and incipio cases for it as well.

I was surprised also that T-Mobile had cases and screen protectors when I got mine. I wound up getting the clear incipio case.

Really? Their website keeps telling me they don't have any. Is it just in store only?

That's interesting. I went in to my local T-mobile this week and they didn't have the 4S on display at all. They actually still had the Fierce XL up.

Nice... Probably didn't even know they didn't carry it anymore. I was actually surprised my store knew about it on release day.

Will it work on ATT? I really eat one of these, but I'm on ATT.

Hm, didn't Nokia buy Alcatel for 16 billion? Nokia wants it WP market share back :)

Different part of the Alcatel company. The phone side is separate now.

Alcatel-Lucent owned by Nokia only have minority shares in Alcatel Onetouch (the phone company), majority holder is a chinese company

I wanted this so bad and wanted to stimulate the WM market with a purchase (not to mention prodding T-Mobile to keep a fresh line up of WM phones in the offering) but I got such a sweet deal on an Elite X3 - I couldn't pass it up. Good luck, Alcatel...

Re: aka squibcakes,
May I ask about your "sweet deal"?

An HP employee won it at an event and didn't want it. $400 - but no dock. Oh well.

Woohoo! Microsoft needs successful WP vendors to keep the platform alive.

Also needs to be released on all carriers

And people were asking "why would they make the idol 4s for Windows when Windows Phone is failing?". Obviously because the Fierce XL did well under the radar.

Where is that wallpaper from? Looks great!

I'm willing to bet that Alcatel, Acer Primo, HP and Lumia 950 series would see major success, if carriers actually had them available. There are many factors that play a part in Windows 10 Mobile drastically losing share. When people go into a carrier store, they will look at what's being offered. Unfortunately, Win10 Mobile device are not one, let alone, high end ones. The fact that Alcatel is doing well on T-Mobile kind of proves that point, I think. There are people that want a good Windows 10 device.

The other side of the problem ahs been the carriers. When I bought my L925 at T-Mobile, not only did they not have any on displsy, they tried their best to talk me out of it (to the point I had to threaten to leave and order it online). Had I not been a Windows phone fan, I would have never even known it existed. And if I had casually heard about it, I would have given into the pressure from the sales people and chosen something else. It's nearly impossible for MS to win a battle like that. That's why (even though I know I'm in the minority) I'm glad that MS decided to retrench and take a new direction, even though that will take considerable time. Until then, as long as a few companies keep introducing new phones, it can tide us over until that paradgm shift.

I had the same experience at a T-mobile store when looking at the 925.

I would be interested in seeing the actual sales numbers. I know they are not really high, but would still be interested to see.

Had the Fierce XL for one week and returned it to t-mobile. Battery life sucks, only 5.5 hrs with constant use in a warehouse setting. Went back to my Samsung ATIV SE with removable battery. (8.2 hrs killing it daily!)
Yet, still no Win 10 upgrade for us!!!

The Fierce XL is not the Idol 4S.

Yeah talk about night and day when it comes to those phones! lol.

You mean a high end phone is not the same as a low end? =P

Re: Dean Richard E Desroches,
I think it is time to give up the ATIV SE again, and try the Idol 4S. You seem to be in a good position to review it and comment on it for us.

Good but give me users not percentages. Translate 5.6% to me? 2000 users and no I'm not being funny. I mean I could have 5.6% of 1% of a Million dollars and I'd still be broke.

So many? Okok sorry. Yeah we know it isn't a good situation but it's also Microsoft's fault :'(

You completely missed the point.

Windows Mobile has 1% U.S. market share. There are about 200 million smartphone users in the U.S. 1% of that is 2 million. 5.6% of 2 million is 112,000 phones. Still impressive.

I wish I could be broke with that kind of money.=P

That's actually the opposite of impressive.

Windows phone might be 1% of phones in the US and Windows 10 Mobile is only 15% of that. Your numbers are really high. They did not sell many phones at all.

I'm sure these phones will make a huge difference to the market share in the US. Could do with being released in places where Windows Phones sell well. UK and Europe. If they're coming then fair enough but if not then they're near pointless. These companies don't half make some weird business decisions.

These numbers are just comparing within the Windows phone platform. They didn't even increase the market share of Windows 10 Mobile compared to Windows Phone. It most certainly won't move the needle in overall market share.

Come on, T-Mobile! Let's see those TV commercials featuring the Idol 4S in the hands of a celebrity. Maybe while being driven through the Mojave Desert?????

Nice work Alcatel, but what is stopping the clowns in Redmond from putting this phone of the front page of their store??? The more I think about how stupid Microsoft are once again becoming, the more I consider leaving the Windows 10 platform altogether :-(

Because they failed at making consumer phones and don't promote them anymore.

Nothing wrong in ignoring your partners phone, they still using your OS

Which is exactly why they should carry it...

MS is not satisfied with the current state of "Windows 10 Mobile" (W10M) When MS thinks W10M is ready to attract new users they will advertise. I hope that HP E3, Alcatel, Acer Jade Primo, being released are good signs that MS and these partners have some level of confidence that these phones will be adequate for the next big thing.

Even though my 950 has a better camera and a glance screen, plus wireless charging which I don't have a need for anyway. The Alcatel blows it out of the water in construction and ergonomics, plus it does everything faster. That SD 820 really makes a difference in this device and does tasks more reliably. I can't articulate very well but this phone has a sleekness that makes the 950 feel downright awkward and clunky in use. No hate for the 950, it is still a good device.
Nice balance and weight distribution to the Idol 4. Makes it 'fun to drive' so to speak. I will take the fingerprint scanner over the iris scanner (which is cool btw !) anyday. It works well for the most part and more so than the iris scanner. This is a zippy and buttery smooth device running an OS that will continue to improve.
If someone could help me out on how to post pictures and links I would be glad to contribute more. I'm learning as I go lol.

Blu Win HD LTE was an wonderful device. I don't understand why they stopped.

Wasn't market share of WP like at 1,3% what is it now? 4% ?

This is 15% of the .5% or so that was already there, so no.

How to get that phone unlocked and imported to India, sorry but any Idea.

I would love to see it here in India. We had a great app support before MS retrenched. Now its slowly decreasing. Should sell more windows mobile in India

Get someone to buy it here and ship it to you. TMO should unlock it once its paid for.

They only unlock if you're on a plan with them for 40 days

I believe this is if you actually activate it on the network first and not just directly buy and request the code. ATT says roughly the same thing and they will provide a code without having had service.

For non us citizens, this is difficult

The US crap on the rest of the world all the time. I switched to Mac years ago when they dropped the price of the Mac Mini $500 over one night. Now I am back with Microsoft and Lenovo tablets are way overpriced here in New Zealand compared to the same device in the USA.

Actually, T-mo is much more restrictive in their unlocking policy than AT&T.

I switched to this phone from am android phone. Loving every minute. Something that shouldn't be taken for granite is the sheer power of this phone. I never have apps stall, lag, or suddenly stop. This phone is truly a joy to use. I thought I'd miss my android phone but everyday I'm more and more addicted to the windows operating system. Loving it so far!!

the best part about windows mobile 10, in case you didnt know is that you can plug that to a monitor and become a full PC. Just have a bluetooth keyboard and youre set.

Hoping to see you (Alcatel) come to Australia.

This 4S will do just fine. It is priced right, and it's a high end phone. The X3 will fail because of the pricing as it has nothing better than this new Alcatel phone and costs nearly double! And now I've just seen that they sell the 4S also without the VR at a much lower price: 369$ I think, so even better pricing.
HP should come back to earth and rethink the price for their flagship unless they want it to be a complete flop!

Really? I have no interest in the VR and that $100 price drop would be great!

No way that it would drop the price that much... This is like one of those 20-30 dollar headsets you can get off of Amazon.

I'm hoping they make it unlocked. I know I could buy it from T-Mobile get a cheap prepaid plan for 45 days then get it unlocked, but I'm holding out hope for straight unlocked.

I'm still wondering that Acer didn't gain any marketshare

I am very surprised that T-Mobile has not promoted this phone as they did to iPhone and Samsung. I called and went to many stores and they still do not have it in display 12 days after the official released date ☹

Mmm... I think you might be able to answer your own query here. Win10M, one or two signed up. iPhone + Samsung?? Thousands sold per week to shallow fashionista's who crumble under peer pressure

People need to let Alcatel know on social media they need to release phone globally unlocked or to more carriers

I went to their website and told them so. But we need many more than me.

They should sell it worldwide because WM always had more succes outside the US.

Rendering a tiny fraction of 1% in a full cake is delusional and leads to corresponding results.

And what about europe? We have only lumia? Make something for europe, i have to change my lumia 735.

Me too. For now I'm fine with my 550 but then?

I'm not really surprised that Alcatel has made this headway. MS has done pretty much everything it can to burn it's Lumia line to the ground, bar actually taking the "old" 950's off the shelf.
The Idol 4s absolutely kills the 950's in most respects, save NFC/1080p/Camera.
If MS had maybe just given away the 950 Imaging module to it's partners then I think most of us would happily be trading Lumia's for Idols or Elites. One wonders why they're content to just sit on their pure view portfolio where it's doing no one any favours.

What, you expect Microsoft to actually help their partners??? Well, it is kinda obvious which is probably why the bozos from Redmond have not done so :-(

Maybe they want to mirror their PC strategy and produce what I call EEEDs (Excellent Experimental Example Devices) for their OEM partners to look into. While maintaining a modest presence in the market so as to not alienate them and drive them away from producing Windows based devices.
Their aim is to inspire OEMs to create fresh concepts running Windows. The Idol 4s is a great example of that.
Despite its atrocious button placement.

The question is is did Nokia license the camera technology to Microsoft ? Or do the parents still belong to Nokia? If Nokia owns the patents to pure view then I guess it would be up to Nokia to license that feature to other makers..

With billions paid by Msft, i think it included licenses and patents of the then Nokia phone division.

Re: Wafi Zain,
I wouldn't be so certain that the deal included Microsoft purchasing the patents from Nokia. I think it is more likely Microsoft licensed the patents from Nokia, for some period of time.
Just my thoughts.

MS took all of the Imaging patents and know how with the Nokia sale.

Ok, not so sure now, some patents we're licenced for 10 years, these were utility patents, hardware however is different.

@patcherd; I also was thinking along that line but Microsoft is keen enough to have bought these patent/s because they make $ licensing patents to others. The question is would they allow someone like HTC , Alcatel, etc. to use such patent/s which can help their product line I mean what kind of partner is Microsoft if they don't. But this is all speculation on my part because Microsoft may not have bought the patent/s and therefore may not have ownership.

A success story after HP Elite X3 then...

Selling maybe a couple hundred or thousand phones isn't a success story. The Moto Z has sold 1 million phones already. This is nothing.

This is something for W10M. As you may know that msft isn't competing with other platforms, it's invalid to compare.

Sure. You think Alcatel or T-Mobile care about that? They want to sell phones. Microsoft might not care, but that is not a good thing.

"They want to sell phones." As long as something is catching up, they'll be selling more of it and that's a good thing for the mobile part, no matter msft cares or doesn't. HP turned things around, wanted more from msft and they've got it because all msft want are OEMs so they can finally do something about Surface phone. It's a mutual advantage.

I'm quit positive that any OEM entering the Windows 10 Mobile market has done some research and adjusted it's expectations accordingly. The fact that these devices come to market shows that these OEMs have faith they can make a profit of, of these. Especially because these smartphone OEMs want to sell their devices above all else!

Agree. They would not come to W10 just to spend money for kidding....

@19Michael87; I agree and truly believe someone like Alcatel is going to hit the sweet spot and wp market will take off.

That is why the big names aren't making Windows Phones. They know it isn't worth their time. Alcatel is just making this for T-Mobile. If they thought it was worth it, they would release an unlocked version.

This is not surprising because Microsoft downplayed this area as if it can't make a go despite the success of the 520 and other phones which gave Microsoft 3% of the market but was growing before the introduction of several low ended phones which were below specs of a low ended Android. However I think truly that inside of Microsoft is where the problem lie and not everyone share the same view and by continuing adding to WM some OEM like Alcatel can make a go of it because quite a sizable number of consumers don't require a million apps and can still access their business via the browser absent of an app and maybe more secure doing it in this way.

Wow that M8 sold and has a lot more presence that I expected.
Windows Central Newsletter
Get the best of Windows Central in in your inbox, every day!
Thank you for signing up to Windows Central. You will receive a verification email shortly.
There was a problem. Please refresh the page and try again.