Alcatel grabbing some Windows phone US market with Fierce XL and Idol 4S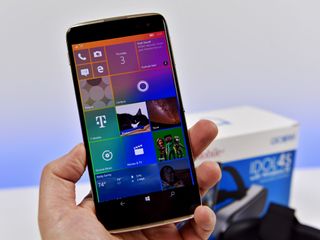 Microsoft retrenchment plans for Mobile centered around the idea of the company backing away from its Lumia line with the hope that OEM partners could fill the space. That plan was always risky as businesses see little advantage in winning that market since the numbers are so small.
Alcatel, however, seems to be finally making inroads. That's impressive if only because the company produces just two Windows 10 Mobile phones restricted to one US carrier (T-Mobile). Nonetheless, the latest numbers from AdDuplex, which focuses only on the US market, shows that the company is having some success.
Alcatel largest Windows 10 Mobile OEM in the US
In breaking down current Windows 10 Mobile market in the US, the Alcatel ONETOUCH Fierce XL has 5.6% of the pie. While not a huge number that is more than the Lumia 1520 (4.7 percent) and comes close to the Lumia 950 XL (6.1 percent).
Keeping in mind, of course, that the number of all active Windows 10 Mobile devices in the US is tiny making that 5.6% just a sliver. Nonetheless, Alcatel clearly had to expect that going into the deal.
The Fierce XL is a low-end handset with a 5.5-inch HD Display, 1.1 GHz Snapdragon 210, and just 16GB of storage (with micro SD expansion). It retailed for $139 fully unlocked but was cheaper with plans. Since the higher-end Idol 4S went on sale, it has since been dropped from T-Mobile's lineup.
Speaking of the Idol 4S, which we gave a very favorable review, that phone is already in the #16 spot of US Windows 10 Mobile market share. Considering that phone only went on sale less than two weeks ago it is already ahead of the more expensive and harder to find HP Elite x3 (#19). It will be interesting to see if that number improves over the following months, or, as AdDuplex notes it is just "a splash from the new phone setup activity."
With so few Lumias on the market and no carrier pushes for Windows 10 Mobile besides T-Mobile this trade-off in market share is expected.
All that activity with the Idol 4S and Fierce XL gives Alcatel a 6.2% share of the manufacturer market for Windows 10 Mobile in the US. That nearly doubles HTC (3.4%) and leaves BLU (0.5%) in the dust. Microsoft and Nokia still account for 89.4%. It's small progress but progress nonetheless. At the very least, if a manufacturer makes the right device with a suitable price and carrier support it can see some traction.
In the top spot for the US is still the Lumia 640 with 20% of the Windows 10 Mobile market followed closely by the Lumia 950 (19.3%) and the Lumia 650 (18.5%). Interestingly, the HTC One M8 has 3.4% on Verizon.
Stepping back from Windows 10 Mobile devices to all Windows phones (Windows Phone 8.1 and 10) and the Lumia 640 is king with 26.2% followed by the Lumia 635, Lumia 640XL in a distant third. The Lumia 650 is now in the #9 rank, which is a new addition.
Regarding carriers in the US, it should not be surprising that AT&T controls 42% of the Windows 10 Mobile market with Cricket at 24.6 percent followed by T-Mobile (15.6%) and Verizon with 9.5 percent. MetroPCS is at just 1.9%, and Sprint and other MVNOs are folded into "other." As AdDuplex notes, however, AT&T owns Cricket resulting in a 66.6 percent combined total for Windows 10 Mobile users in the US.
To put in perspective, however, how small the user base of Windows 10 Mobile is that OS only accounts for 15% of all Windows phones. If you assume the total install user base of Windows phone users in the US is between 1-2%, which is being generous, 15% of that is going to be a small number of people.
Some U.S. Windows 10 PC data
AdDuplex's November numbers also highlight PC usage. Compared to globally HP does better in the US. Even though it is the top Windows 10 PC manufacturer that number goes from 22 percent worldwide to 32 percent in the US. Dell is in a strong second with 25 percent.
Lenovo is a distant third at 8.9 percent with Toshiba, Asus, and Acer rounding out the bottom. Microsoft with its Surface line is in the 7th spot with 4.3 percent of active Windows 10 PC users.
OS Versions
Finally, AdDuplex reveals that 90 percent of those on Windows 10 Mobile are using the Anniversary Update while 83% of PC users are on the same release.
At the very least, you can say that Microsoft is having success with its Windows as a Service (WaaS) system as most consumers who want to be on the latest OS appear to have taken the update.
About AdDuplex
The numbers from AdDuplex are collected through their in-app advertising that is prevalent in over 5,000 apps in the Windows Store. That data serves as an important metric within the Windows Phone ecosystem. The full AdDuplex report for November will be posted on their blog at https://blog.adduplex.com/ on Wednesday (November 23). You can view all our previous AdDuplex Monthly Report analyses here.
Daniel Rubino is the Editor-in-chief of Windows Central, head reviewer, podcast co-host, and analyst. He has been here covering Microsoft since 2007 when this site was called WMExperts (and later Windows Phone Central). His interests include Windows, Microsoft Surface, laptops, next-gen computing, and for some reason, watches. Before all this tech stuff, he worked on a Ph.D. in linguistics and ran the projectors at movie theaters, which has done absolutely nothing for his career.
I am very impressed that they were able to do this!

Me too. They are also doing a lot of videos about this device.

Internet only that's doesn't really reach average consumers. The ad from T-Mobile I've seen on the web is good and should be on television. I think out could help, but unfortunately won't be promoted on TV.

Even without ads on TV, a consumer focus phone is easily outselling an enterprise focused phone.
Nadella's strategy of enterprise for mobile is clearly wrong.

Maybe this lends some small credence to the rumor of HP working with Microsoft on a consumer focused device. Maybe they saw the numbers against Alcatel and new they needed go that way.

But his strategy of shutting down Nokia is right.. Right?! Lol.. BTW the Elite and Alcatel run the same OS.. and is the same chipset.. don't know what your point is..

Impressed that the Idol is the 16th most used Windows phone? The display models alone should put it ahead of the HP x3...

I want something from Alcatel-Lucent which is already up to manufacture and release Nokia designs. I hope Nokia considers W10M, at least in the same variant that's released with Android.

I'm getting this phone asap

This is a very pleasant surprise. I can imagine HP and Alcatel as rivals competing for Windows mobile marketshare, would be nice.

Yeah maybe in a near future... I mean, i hope so XD

I hope Lenovo also joins the race. They built great stuff die last view month.

HP primarily seems business focus but it will be really nice for a variant for consumers with a much better camera and media. Alcatel since this is primarily consumer focus with a vr included in the package make's it a very compelling purchase even more if the vr support grows can make this a hot product and something no one else is packaging on the market. I think it's really worth keeping an eye on...

If it had a 4K screen, was on AT&T with HDVoice and Visual Voicemail, and it's camera was as good in low light as the 950 I would probably happy switch from my 950.

So, if it was an entirely different phone, you would consider it.

Main thing is it is a really nice phone, but just misses some check marks in the box that would make it a near perfect Windows 10 Mobile phone.

Why would you want, let alone need 4k on a 5.5 inch screen. Useless. If your eye can see 4k on a screen that small, the NSA needs to launch your ass into orbit and use you as a spy satellite.

Depends on how good your eyes are. I have been able to tell the difference between 1080p and 4K at this size screen. Text is easier to read as the curves of the fonts are more crisp.

you're getting downvoted, but you can definity tell the difference between 1080p and 2K on a 5,5" screen, but fat chance you can't tell the difference between 2K and 4K. Therefore, 4K is absolute overkill at this point. Maybe on a 7" screen though.

I would think the one benefit would be for VR purposes.

I think phones need to have a toggle switch to change between 1080p and 4k to save battery but allow for VR experience when inclined.

I wish we could switch between 720P, 1080P and 2K. 2K resolution is cool to have on my HP x3 and Lumia 950 but 1080 would be fine too. Battery is more important to me.

Yes, let's totally incorporate Windows and select resolution sizes!

That's not how that works.

I didn't ask how it works, I am saying make it work that way.

Switching between resolutions won't prolong battery life. If you have a 4k display and you downscale it to 1080 the same number of pixels are still firing, it's just downscaled.

I@irrelevantone, I think you are suggesting a 1080p mode that would use pixel doubling to fill the 4k screen. In that case, you are still driving all of the pixels in the 4k screen and using the full backlight. There would be no power saving there. Your apps would only have to calculate the 1080p pixels, which would be a battery savings, but then there would be additional battery usage to upscale (Pixel double) to 4k. I don't know if there would be much net battery savings. I think this is a case of there being no such thing as a free lunch.

I am pretty sure it can be accomplished, we invented a DeLorean that can time travel for crying out loud.

OK .... ? I guess I wasn't thinking fourth dimensionally. Maybe someone that actually knows more about this has an answer.

4K for 5inch device, right?
You know s*** about technology... :-)

4k on a phone is just a battery drain, but wouldn't it be cool if a 4k phone could display 4k in continuum. A boy can dream...

Yeah, running a pared down version of Word in 4k on your phone connected to a monitor would be unbelievable

Man that font looks amazing!!!

If it was an orange, I'd probably buy 2 or 3.

Visual voicemail? Ick. MMS-based voice-to-text is drastically better, IMO. Visual voicemail is the best of the worst, you still have to listen to the message to have any idea if it's worth listening to. Voice-to-text converts the message to text, sends it as an MMS, and attaches the audio file. Your voice messages are chronologically inserted into your text messages, and backed up to OneDrive for you (if you have that setting turned on). The text conversation isn't always word for word accurate, but it's enough to give you a good idea of how time-imperative the message is which is what I need from it. Visual voicemail is holding back the prison of voice-to-text, which is a shame. Vice-to-text send to be common in Canada (offered here by Rogers, TELUS, and Vonage), but not well known elsewhere.

Any chance Alcatel will have to start selling this phone across the ocean as well?

I hope. Alcatel is just a tiny goldfish in the Android ocean but they could be freaking whale in the Windows Mobile lake, if they play there cards right ;-)

It's almost a puddle now! I hope they do get good success though, would be interested in picking one up here in the UK