You can now order the Alcatel OneTouch Fierce XL from T-Mobile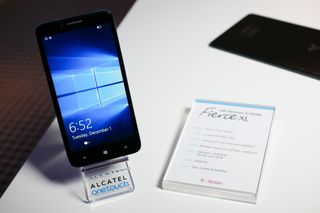 The Alcatel OneTouch Fierce XL is now available for order at T-Mobile in the U.S. We last looked at the handset heading to the carrier on Monday, highlighting that today would be when you'd be able to pick one up for yourself. T-Mobile is selling the Windows 10 Mobile phone outright for $139 or on a monthly plan.
Opting for the monthly payment option would see you charged $5.84 each month for two years. The handset listed is the cyan variant and is expected to be running Windows 10 Mobile build 10586.63.
Alcatel OneTouch Fierce XL specs
Windows 10 Mobile build 10586.63
5.5-inch HD Display (1280x720 pixels)
1.1GHz Qualcomm Snapdragon 210 Quad-Core Processor
Cyan color exclusive to T-Mobile
4G LTE Cat 4 (B2/4/12)
8MP AF Main Camera with x2 Digital Zoom + 2MP Front-Facing Camera
2GB of RAM + 16GB of storage
2500mAH battery for up to 14 hours of talk time and 820 hours of standby time
Additional Features: VoLTE, FCC Mandated Anti-Theft Protection and T-Mobile Wi-Fi calling compatibility
Be sure to check out our hands-on with the OneTouch Fierce XL before you hit the link below for the T-Mobile online store.
See at T-Mobile (opens in new tab)
Rich Edmonds is Senior Editor of PC hardware at Windows Central, covering everything related to PC components and NAS. He's been involved in technology for more than a decade and knows a thing or two about the magic inside a PC chassis. You can follow him over on Twitter at @RichEdmonds.
Look is awful...never dream to buy this one

I think it looks quite good, especially compared to my older Samsung ATIV S Neo

I loved my Samsung ATIV S Neo. I miss that phone even with my 640.

Me too! 640 now, But Ativ S Neo was better minus the absolute lack of support the phone got. I only went away from it because it never got any firmware updates to fix the myriad bugs I was facing. But I waited for a loooonnnngggg time, loved that phone.

Does support continuum???

Ya. Continuum support is sure

It only has 2GB of RAM. All the handsets that support Continuum officially have 3GB of RAM, I thought. Lumia 950, 950XL, Acer Jade Primo, and Vaio Phone Biz.

Not terrible for the price. Too bad the screen isn't full HD.

Well the specs are decent for the price. I don't believe the SD210 supports 1080p screens.

Not to bad, its only competition on TMO plans is the Grand Prime at 190 with 720p screen. So it matches the resolution and undercuts the price by 50 bucks, throws double the storage and more ram into the mix, with a bigger screen and longer battery. It's a steal.

TMobile has the Grand Prime frequently on promotion for $115-150. Currently promotion price is $150. Last time it was $115 was two weeks ago.

Since this is T-Mobile, does that mean that it won't work in Norway?

Look at the frequencies, most probably it will get 2G/HSPA+ only

From the TMobile site. Quad Band GSM; LTE: 2, 4, 12; UMTS: Band II (1900), Band IV (1700/2100), Band V (850) ****Edit**** I see that someone bellow has posted the bands already.

No band 12? Is walmart selling this as well at a cheaper price on prepaid like they did with the 640?

Waiting for this myself :-)

It has band 12... From the T-mobile page, "LTE: 2, 4, 12" It's also on their phones with band 12 page, I think you misread: http://www.t-mobile.com/cell-phones.extended-range-lte.html

The article you're commenting on says it supports band 2, 4, and 12. :-)

All new phones offered by T-Mobile since Q4 2015 have Band 12. They still sell older phones (like iPhone 6 and 5s) that don't, but models added since then must support Band 12.


Physical control buttons!!!!!!!! I miss them. I might just have to pick up this device....

Great deal for its price.

Is it ? The 640xl offers more in my opinion, at the pricing shouldn't be different.

The 640XL costs almost double this phone, it's way overpriced than the competition. 199 and below for the LTE variant would have been decent.

Ah yes...but is the 640X available on T-Mobile?

Since Nokia Owns 80% of Alcatel. We have another Nokia Windows Mobile :)

Yes Owner Nokia (80 %)[2] Nokia and Alcatel-Lucent Finally Seal the Deal After a long and drawn-out process, Nokia and Alcatel-Lucent plan to start operating as one company on Jan. 14, which could produce some truly compelling results for Nokia's stock in the years to come. http://www.fool.com/investing/general/2016/01/06/nokia-and-alcatel-lucen...

Alcatel-Lucent and Alcatel OneTouch are two different companies...

Yup, same name different companies. Weird.

Alcatel-Lucent and TCL Communication formed Alcatel Mobile Phones, the brand. A year later TCL bought out Acatel-Lucent's share and then made a sub brand called Alcatel OneTouch which is on display here.

Nokia owns now 92% of Alcatel-Lucent and the rest will be assimilated pretty soon. Nothing to do with Alcatel brand phones though.

You mean Alcatel Mobile Phone's Alcatel OneTouch brand. But yes.

I might have gotten this but I scored an AT&T Lumia 640 for $30 from BestBuy. Once I get my unlock code from att I'm going to follow the xda instructions to flash a tmobile rom onto it which will give wifi calling and band 12. I'm sad to downgrade from my icon but I'm getting tired of the network issues inherent in using a Verizon phone on T-Mobile.

Can you send me the XDA instructions?

If you don't need WiFi calling then better flash the LTA MX unbranded ROM, it'll will surely get WM10 when launched. I'm skeptical about T-Mobile even supporting the 640 anymore.

True. I will wait a little bit and see. They phone is working without problems for now

Xda links for this???
I have to root the phone to do this?
Any custom rom for Lumia 640 xl dual sim???

Just search "debranding Lumia 640" and click on the first xda link. You don't have to root the phone, push some cabs and then flash the ROM using either WDRT or the Thor flash tool. Let's not go off track here.

Now I saw the 210 Snapdragon...
So with this specs its a 130$ 650.
Gj ...

The 650 is rumored to come with a SD212 due to it's higher mentioned clock speed (1.3GHz). Plus its premium design geared towards business users. The most important part is support directly from Microsoft.

Also, does 650 have 16GB storage?

650 also has less RAM though (1 GB instead of Alcatel's 2). Also, the display size of the 650 is smaller. Unless I'm not remembering correctly.

I'll be looking forward to the reviews and first impressions.

Watch the already existing video perhaps?

First impressions and all already exist....read the last sentence of the article...

We got you covered in the Forums. Real owner reports are coming in. http://forums.windowscentral.com/alcatel-onetouch-fierce-xl/

it looks nice but no thank you. i rather wait for the Lumia 650 hopefully MS will be selling an unlocked version at their stores which I can use on either AT&T GoPhone or Cricket Wireless.

650 has smaller screen and less RAM, though. Might be something to consider at this price.

yes but if a 650 XL also comes out then that should take care ofthe screen size issue. as for the ram...we'll have to be wait and see official unveiling of the phone from MS and the official specs not the rumored specs circulating around

That's a pretty big "if" you're waiting on then. The 650 is still supposedly the "last" Lumia, for now at least. Haven't seen anything regarding a 650 XL, so that's a pretty large bet you're making that might never pay off. Consider that the 640 XL is way pricier than this device. A 650 XL, if it were to come out, would certainly be at a higher price point than this Alcatel one.

You can get the 640 xl for $199 or lessin some variants

So much for OEMs taking up the slack from lower Lumia sales....

The only windows phone people should get are lumia. But I still plan to buy it

Good thing Microsoft is cutting back on their smartphone strategy then, that'll do wonders for sales.... /s

that attitude is part of the problem

Windows Phone fans are always waiting for something better just around the corner. Get off the wall and dance.

What about for those who don't want to leave T-Mobile and can't afford a unlocked device from MS? This is the perfect device for them. I may get one myself.

only good thing is the 2G mem.

And that it's on T-Mobile

This is great because I need a new phone ​today. My ATIV S Neo finally died last night. Will just no longer turn on. I'll be picking this up ASAP.

Well if you're a Tmo customer and a windows phone enthusiast then you might as well grab this. It may be the best you can get for the time being anyway. Not that bad really. ​

IT IS INDEED BAD DUDE. see the hardware and pricing of the phone.. Insanely poor.

Lol...not bad. Great price for the hardware in the US. Plus T-Mobile US can subsidize it for you. Which is nice for people who can't afford or don't want to buy an unlocked device outright.

Only if you're poor and aren't aware of the plethora of choice from unlocked phones.

Lol...i must be poor then ....

That is what I was thinking. I really need to upgrade my 520. $139 bucks is not a big commitment so I am going to check this out.

No one will buy it.. Except Windows Central.. :P

Especially being online only and with no advertising....

It would not matter if they had it in the store. Only fanboys will be buying it either way. There is no reason to choose this over the competition. Posted via the Windows Central App for Android

As an Android user since 2009 and seeing how it went downhill after JellyBean (mostly performance wise to force obsolescence), I'd buy this one, having an optimized OS with the essential apps leaves me no reason to choose the competition.

It will be in stores,,,,its available online early. Posted via the Windows Central App for Android

I don't know why everyone is bashing it. Other than processor its good speced at price. 2GB ram would definitely help, plus low resolution screen not necessarily bad if the display panel is good. Moreover, it will give good battery life. So if someone is looking bigger sized wp and care about battery life it wouldn't be bad. However, they could've put bigger battery there. And if you can wait few more days I am sure it will be few dollars cheaper soon

Low resolution? Isn't the iPhone 6s not even HD? Lot of people pay 3x of this without batting their eyelid

I can't remove the battery?? That could be a deal killer for me. I'm so used to having the option of swapping out batteries on the go.

is this online only? anybody seen these in store?

Just called our local store (CO USA). They have them in stock (and on display) this morning.

woohoo did the same they definitely have them in store, gonna pick mine up after lunch!

Yes, I asked a few times just to make sure LOL. In stock and on display in the T-Mobile store here.

yep i got mine (or rather one for my wife!) not only was it in stock but they had the freaking thing up on the wall AND IT WAS ACTUALLY TURNED ON AND FUNCTIONED PROPERLY Truly a turning point for Windows Phone :D

Working Windows phone display shocker! :-)

Its supposed to be in stores on monday i heard from a buddy of mine who is the manager of my local Tmobile. Posted via the Windows Central App for Android

When I look at these specs, not sure why 640XL was not given 2gb RAM and 16gb storage while price was $300

Because it is a Microsoft phone.

I have a Luminia 521 and I just bought this phone. Great upgrade for me. I am on T-mobile and I want to run a Win10 phone and LTE They gave me free shipping so it was $149.89. I have a Iphone 6 plus for a work phone and its okay but it breaks a lot due to my job. I like the sim card feature because I can use this phone to take pictures and then give it to the other side of the house without losing my phone. Looking forward to a good experiencve with Win10 mobile. My desktop and Laptop both use Win10 and I have been using 8.1 since it came out on my Desktop after I built my computer. ffh

One quesstion. The site indicates 32 GB of "expandable memory". Is that the micro sd max? Seems really low, if so.

Sounds good to me. 16GB onboard and 16 more in the slot.

"Up to 32 GB Expandable Memory". Uh...

If only it was 1080p. 720 is junk.

Can you even tell the difference between 720 and 1080? If it makes you feel better you can white out the 720 and write in 1080 Lmao Posted via the Windows Central App for Android

Lol. 720 is junk? Haha can you even tell the difference in a 5" display?

I need Wifi calling on TMO... Im worried this is the only phone they'll put out in the next year. I've legit had an available upgrade for 2 years waiting for TMO to pick up a flagship. Sigh..... So disappointed

I just gave up and bought the 950 unlocked outright. I'm not sure I'd trust Tmobile to provide me with any support even with wifi calling.

Just picked it up. Been stuck on an aging and defective HTC One M8 for a while now. Should be a good stop-gap

So far so good. Can't really complain abut anything! It's certainly not a high end phone in terms of screen quality and performance, but what I have noticed is that none of it's flaws will keep me from doing anything I was doing before!

Hi all !
Any suggestion to replace my broken ICON, I have a budget of $150 USD. I accept your suggestions, I have thought of these phones. (I use T-mobile carrier).
+ ALCATEL ONETOUCH FIERCE™ XL with Windows 10 $140.00 + Samsung ATIV SE $ 145.00
https://www.windowscentral.com/e?link=https%3A%2F%2Frover.ebay.com%2Frov... + Nokia Lumia 1520 $150.00
https://www.windowscentral.com/e?link=https%3A%2F%2Frover.ebay.com%2Frov... + Nokia Lumia 1020 $140.00
https://www.windowscentral.com/e?link=https%3A%2F%2Frover.ebay.com%2Frov... + BLU Win HD W510u 8GB $115.00
http://www.amazon.com/BLU-5-Inch-Windows-Camera-Unlocked/dp/B00NQGFQ7C?t... + Lumia 550 $140.00 Thanks

Of that bunch I'd probably get the Alcatel or the SE.

the BLU Win HD will be on sale on Amazon Feb 13th only one day for $89.99 if that helps.

If you're going to go with the BLU Win, go for the LTE, it will also be on sale then too. If band 12 is really important for you in the area you are at, the blu, Alcatel, and 550 are your best bet, even though all of them would be a step down from the icon.

Got mine earlier today from T-Mobile...

Uh-oh Looks like I got one with screen bleed. I'll trade it in tomorrow for a new one. Things happen... I do like this phone. Loving the 5.5 inch scree​n!

Picked one up this afternoon. It's not high end. But it's not junk either. Build quality is solid. Screen is quite acceptable. It's nice to have Win10 actually do what it's supposed to do, when it's supposed to do it. Very little "Loading..." delay. Seriously guys, for $140, it's a solid phone. Oh, and it does recognize 64gb mSD cards.

Sick! Thanks for the insightful comment!

What are these trolls talking about? They just announced it for sale online,,,do trolls get 1 hour shipping? Lmao Posted via the Windows Central App for Android

What are you talking about? The phone is available in US T-Mobile stores right now.

My bad,,,i guess that's what happens when you listen to the tmobile employees. He said it would be instore Monday,,,,,maybe he meant his store? Posted via the Windows Central App for Android

I wouldn't mind getting this phone I have the Lumia 640 but im so ready for Windows 10 mobile to roll out for Tmobile I might just purchase it for the hell of it..but if Snapchat and Grinder dont come to the platform soon im going to get an IPhone in sick of waiting for popular apps to come..i love Windows phone cause there different but im starting to get annoyed after 4 years of them being behind in the app game.... Sorry folks I had to vent.

Why are so many people bashing and hating on this device? It's great for the money. Especially for those that can't afford an unlocked 950 or 1520.3

Glad it has the .63 build. Hopefully it gets added to insider preview soon

I picked this Alcatel up in store Wednesday to replace a Lumia 925 running 8.1. I actually think the 925 is a little faster even though its dual-core processor is much older that this quad-core (and some benchmarks do show that to be the case). But overall really enjoying Win 10 Mobile on this device. I have 4 different email accounts and at first I was very dissapointed to see that the pinned Outlook tiles (one pinned tile for each email acct) wouldn't show me which acct had new email msgs waiting, but an update to Outlook that was already in the store fixed that problem. This is a decent way to inexpensively try Win 10 Mobile on T-Mobile.

I bought this Alcatel yesterday and it's exceeded my expectations completely. After limping along with the insider builds on a Lumia 635 for months, this phone has made me excited about Win10 mobile. The Start screen loads quickly, Facebook Messenger doesn't crash, and all the other problems I had on the Lumia no longer exist. Granted, I knew that the 512 MB RAM in the Lumina wasn't enough, and I attribute the stability of the Alcatel to its 2GB RAM. After two days of use I have all my apps loaded and it's still quite speedy. Two recommendations: 1) the auto brightness is too dim. The T-Mobile salesperson was surprised by how good the screen looked after I manually set the screen to just 50%. 2) I found the default display size setting of 200% to be too large. Setting it to 175% allows four columns of tiles on the start screen and looks sharp. But the best part was watching people's jaws drop when they found out how inexpensive this phone was lol. Thanks, T-Mobile and Alcatel!

I got this phone and I appreciate what you mentioned about it as well. But my volume level settings all the way up are just not acceptable, Way too quiite for music, alarms and ring tones. I have a Lumia 640 and my wife has the Lumia 635. Both have way more volume in high range. Sad, its such a nice phone with a nice screen. I will look here for help before I return it.

I agree that it's quieter than the 635. It isn't a dealbreaker for me but yes it would be nice if Alcatel had ported their Android Idol 3, which has excellent stereo front facing speakers, to Win10 rather than the Fierce XL (which was originally Android)

Fairly pleased with the one I bought today. I wish the 950/XL had WiFi calling/VoLTE but this will suffice for now.
Windows Central Newsletter
Get the best of Windows Central in in your inbox, every day!
Thank you for signing up to Windows Central. You will receive a verification email shortly.
There was a problem. Please refresh the page and try again.