Alcatel OneTouch Fierce XL priced at $139 for T-Mobile US this Wednesday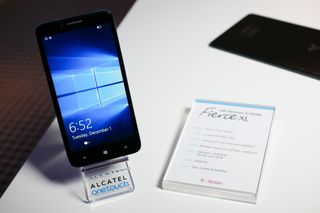 T-Mobile users in the US, who prefer Windows 10 Mobile, have the OneTouch Fierce XL from Alcatel to look forward to for early 2016. First announced at CES back in January, the phone did not get a firm price nor release date at the time. But now we do.
Now, a source familiar with the matter has told us the phone should be released on Wednesday, February 10 with a no-contract price of $139. The price was always assumed to be near the $140 mark due to Alcatel's previous pricing of a similar Android device on the carrier.
A recent support page posting on T-Mobile for the Alcatel OneTouch Fierce XL revealed that the phone should be shipping with Windows 10 Mobile build 10586.63, which is newer than the new Lumias from Microsoft.
Alcatel OneTouch Fierce XL specs
Windows 10 Mobile build 10586.63
5.5-inch HD Display (1280x720 pixels)
1.1GHz Qualcomm Snapdragon 210 Quad-Core Processor
Cyan color exclusive to T-Mobile
4G LTE Cat 4 (B2/4/12)
8MP AF Main Camera with x2 Digital Zoom + 2MP Front-Facing Camera
2GB of RAM + 16GB of storage
2500mAH battery for up to 14 hours of talk time and 820 hours of standby time
Additional Features: VoLTE, FCC Mandated Anti-Theft Protection and T-Mobile Wi-Fi calling compatibility
T-Mobile has yet to officially confirm the pricing and release date for this budget Windows Phone, but we should expect something shortly from the US carrier.
Daniel Rubino is the Executive Editor of Windows Central, head reviewer, podcast co-host, and analyst. He has been covering Microsoft here since 2007, back when this site was called WMExperts (and later Windows Phone Central). His interests include Windows, Microsoft Surface, laptops, next-gen computing, and arguing with people on the internet.
I think I'm gonna bite at this price, although I already have 4 windows phones :-(, oh well, what's one more device? :-)

Ha tell be about it I just got 640Xl was like I all ready have 640 925 etc haha

How different is this from the upcoming 650 ? I already have the 520, 720 and the 735. Dont mind adding another..he he

Im glad Im not the only one collecting phones. I have the 928, 820, 530, 635 and 640 now. But I am interested in the 650 coming out... :)

Nope :) 520 925 1520 640 640 XL

650 is coming out with SD410

650 has 8gb storage. That one has 16gb

I think I'll get it for my four my wife for valentine after she broke her both pricy iPhone and LG g4 piece of shiit.

@Pierrerv
At the rate she's going maybe you should just get one of those old classic Motorola brick phones (heh heh)

2 gigs of RAM and 16 gigs of storage.

Me too I have Lumia 530 and 521 and 640. I might get 650 when it comes out

How do you think about 640xl compared to 640? I have 640 and thinking to have xl.

My wife and I ogt two L521s, two L635s - still have those for kids to play games on, now she has a 640 and I stuck to a L435. Now I definitely have to have this onetouch. All Lumias were great phones to us, all were dirt cheap. My new 435 actually cost me less ($29) than a protective case for my old 521. GOtta love that! :-)

I'm curious to find out if they back pedal on WiFi calling, like they did with the HTC M8 for Windows.

I'm curious about this too. If it comes with W10M and WiFi calling, then there is evidently an updated version of WiFi calling that works with W10M - and then I should be able to get it on my upgraded L640 (eventually).

W10M's baked in Wi-Fi Calling feature works with TMoUS on my Lumia 925. I am currently running .71. I did have some issues with Wi-Fi Calling when I was using .63.

WiFi calling on my 950XL with TM doesn't work. There's no setting that I can find to even turn it on. Running .71

It has wifi calling and VoLTE as well as LTE700

I haven't tried mine, because I shut it off in the settings, but WIFI calling on my L635 on W10M fast ring was baked right into the OS under the SIM settings, so youdon't need TMO's WIFI calling app anymore. It's right in the OS

Maybe a little high, but not a bad price for an entry-kernel device like this. Meanwhile, when is their loud-mouthed CEO going to get the Lumia flagships onto his network?

Not his fault... It's ms that chose not to put it on T-Mobile

i would look to blame that idiot for anything! glad to see a wp for fans that like that network though.

Why Posted via the Windows Central App for Android

Source? I dint see that as necessarily being true. TMo and ATT have the same bands. Not sure why they would choose to not just allow a phone to be on both.

Not quite the same bands. TMo uses some bands that ATT doesn't use. The phone will work without them, but data speeds will suffer in some areas.

There was a whole big thing on twitter about it when the Lumias were announced as being exclusive to AT&T. You could check Ledgere's Twitter feed plus if memory serves there was an article both on Tmonews and here on windows central.

Nope that's not right if Mr. Legere wanted any windows phone MS would have done what he wanted.

NIce price if I was on T-mobile I would get that immediately.

Not a bad looking device and 2gig of ram!! I guess storage was reduced to allow for 2 gig

139 is too high hope walmart undercuts the price on prepaid to 99 o 69 bucks. Either way I may pick this up

It's the ram probably. Decent price in my opinion, especially because the Lumia 650 is rumoured to cost $220 dollars off contract. Hoping that is false!

They both seem like entry level prices that will be reduced for sales. I'm sure 2G Ram over 1 in phones like the 640 is the reason, but I bet it will $99 on sale at some point. You just have to be willing to wait...

That's not false. See Galaxy A line prices like A3 2015 and A3 2016. Lumia 650 is going to that segment and will have that price.

I agree, this seems like a great price to me. I'll be getting one.

Well I hope you're right, since that's where all three of my T-Mobile Lumia's came from. And since the Android edition is on sale at MetroPCS for $60 after rebate. Either way one of these is coming home with me.
Now a couple things to speculate on. 1. Wi-Fi Calling, Band 12 and VoLte. 2. How soon will it make the Insider list? 3. Who will do the first "Hands On"? Daniel Rubino, or me.

Sorry Daniel, I forgot to read the specs you included. And...LTE bands don't include 12.
(what happened to "Edit" in the Windows App?)

LTE Band 12 is in the specs!

The Support site only lists 2,4,5. I haven't looked at the Alcatel site for a while. I does make sense, usually Band 12 and VoLte go hand in hand with T-Mobile.
Thanks

The specs are listed in the article above.

As usual, I opened my mouth on a few things before I read Daniel's spec list. I'm just trying to remember where he saw the Band 12. If was something I questioned when I saw the Support page. Then again when it first came out they had under "Operating System" Android 5.1.
But anyway, we have a nice looking Windows Phone on T-Mobile again, that's what counts.
Now all I have to do is find a black back cover for it. The case and Screen Protector are already lined up....just can't do the Blue.
The question still remains when we can use it with the Insider Program.

I found it! Geeze, Daniel's specs come from Alcatel,

WiFi calling yes, VoLTE yes, Band 12 yes, insider list? unsure. I had about 30mins hadson, not enough for a full write up. It did not hiccup during the hands on.

Compare it to any TMO phone... LG Leon: 1GB Ram, 8GB ROM, 5MP Camera, 4in non-HD display. Priced at 139.99 on sale for 99.99
Samsung Core Prime: Basically the exact same specs as the LEON, 4.5in non-hd screen, price 139.99
Samsung Grand Prime: 5in screen, 8GB ROM, 1.5GB RAM, 8MP Rear Cam, 5in 720p Display...189.99 Enter Windows pricing
5.5in 720p screen, 16GB ROM - SD Slot, 2GB Ram, 8MP camer with iso/shutter/focus control and flash, LTE just like the others...139.99 It is better than the same priced phone and better than the 190 phone. This is in no way overpriced compared to the current competition. If anything it underpriced. The Grand Prime debuted at $250!

Stop comparing shitdroids to Windows devices. Phew !!

"820 hours of standby time". Good joke.

Can I use it on AT&T. If so, #activatebackupphone.

The Microsoft store is supposed to be selling this unlocked as well

I don't think so. This is not a Microsoft product. However it will be available at some stores.

They Blu and Yezz phones at the MS Store. Posted via the Windows Central App for Android

The blu phones and other non Microsoft phones aren't from Microsoft either but they still sell them unlocked what's the difference?

To be fair, there are no locked BLU phones in general, so it's not like there's even a carrier version so I think there's a difference here.

Yes, it has sd card slot.

Looks great for the price. A nice secondhand 830 is more interesting to me, because I don't care about 10, but if I were on TMO US, I'd certainly consider it.

Better design the 950 familly, IMO

Better than i want to write, sorry

Well, it ain't far off, that's for sure.

Do you own a 950 I just bought one and it is beautiful everybody has there option but it's is one of the best windows devices ever released. Not just looks but performance and features don't knock it before you try it

That is the one thing that I wonder about. Athough that is quite similar to SD400 in performance, so probably not too bad.

the 210 seems to be a trend with low end phones recently or maybe just never noticed.

Qualcomm is very impressed with the 210. Great reviews from them. Hopefully the 2G Ram will help.

I played with the Lumia 550 at the store the other day, and it was pretty laggy. Then again it was running .29, but that's no excuse since they call it their "official" build. I really don't like the 200 series processors though.

The 550 I used also seemed buggy, too. I had trouble with the settings menus. 550 works little better than my 520.

I was the source, we were under no clause to not speak about it, even giving away prizes to use twitter and instagram a picture of the phone. It is solid. He'll I dropped it playing with it. They said it was ips certified something will reask later. He did confirm price. When agents are looking at the phone he asks two main questions...one being how much the phone would cost, after his talk of the specs. The camera was good too even took a picture of the light bulb playing with iso100 and shutter1/6400. Compared to other Tmo devices its a steal. The Leon or grand prime is all they have in the price range all with inferior specs.

Thanks for the news. I've been aggravating everyone I could think of trying to find this out.
With this, and some information someone shared about T-Mobile having a training manual for employees about Windows Mobile, I hope they're going to make an effort this time.

Who do you think talked about the training manual ;). At any rate, it was nice to see most of the employees guessing a price range of 250$ or more, because it out does the 200 buck grand prime. Then the 139 price drop during the continued presentation...mic drop.

I want to take credit for some of this, I've been beating on John Legere about Windows Mobile and a few other things. If all this is true, he'***** my top three. Well, I hear he sent out a lot of T-Shirts, but I'll still count that one.
About the training manual, send me one. I used to write those things. I'll even volunteer to teach it. My business card did say Sr. Trainer. (Ret.)

The manual is online, but the front page does look like this. http://i.imgur.com/NyLjF7n.png

Nice pic. I can't seem to find it, if you get a chance send me a link.
Thanks for all your work on this.

Thanks for the news. I hope this "leak" (?) wont cost you your job.

Not to be confused with Lumia 950 XL.

I'm looking forward to T-Mobiles official announcement, marketing campaign, commercials, etc... Lol who am I kidding... it's a windows phone

They'll tell you which T-MobileMart you can find it.

I think it will still be announced anyway. We'll see. Good to see a new Windows device for once on T-Mo.

Remind me to send John Legere a thank you note.

That's about what I expect, too. After the announcement there will be zero advertising, you will have to manually search their online store for Windows to find it, and you will practically have to mention it by name to get on in a carrier store. As for Wally, etc. there might be a display slot tucked away in a bottom corner of the rack for the one, maybe two, sent to the store.

Highly doubtful it'll be actually on display in a physical store. If it is... it's be hidden away in the back corner where nobody goes... and if some sorry person happens to specifically ask for it, the sales associates will try to talk you out of it (at this point, I don't blame them)... just like at att, and verizon... wait nvm, there are no wp on verizon.

Speak for yourself I walked into my local att store and the Microsoft Lumia 950 was set up right beside the iphones and the galaxies. So at least att ain't doing to bad of job and when I told the sales men that I want to by the 950 he didn't argue or try to change my mind at all not one mention of a android or iPhone ever came from his mouth. So its hit or miss some carrier stores do good jobs some don't

Wow! Complete opposite of every experience I've ever had at the 3 local att stores near me

Just did the same thing 20 minutes ago.. Walked in and asked to see the phone and was taken to it straight away, unfortunately the battery was dead so couldn't play around with it but took this as a good sign that other people got to it before me.. Lol But the only the he said was if I need help, let him know... Well, since I'm with Verizon, not much he could help me with but when my contract is up and they still have a decent collection of Windows phone's, I might switch Posted via the Windows Central App for Android

What's with this crap storage? I have tried different SD cards and they always end up messing up at some point.

I had a problem with SD card errors on my 640. Most of them turned out to be a glitch. I've got a PNY Turbo in it now with absolutely no problems.
Also the last build had some SDcard improvements in it.

The storage is better than what previous low end devices have had. I'm just happy to see something more than 8gig. Never had an issue with SD cards though.

i got to say i am a little annoyed that some of the specs seem to be a little better than the 550 and upcoming 650.

at 139 i'll bite, the only way they'll keep offering these is if people buy them and at that price i'll try it out! I'm honestly very surprised this phone is even available let alone on tmobile, anybody know if this will be in store or if it'll just be on the site for 2 months then pulled like the 640?

there is talk of a 650XL being released soon over at phonearena has anybody heard about this?

Yep it pass fcc 16g internal storage, 5.4 inch screen, front camera flash.

It has one....sorry, it's been that kind of day.

I'd rather have a faster processor than 2GB of RAM. Too expensive for $140 considering the Lumia 640 has been $30 - $50 brand new. Product destined to fail ...

So, you'd have a slightly faster chip and less ram?? Bottleneck waiting to happen IMHO. I don't know about too expensive. It's works out to roughly £95 GBP. As we don't have the 640 at big discounts, they still pull around £100, this has to be a contender. Ok, for a bit less, you can have the 550, but having played with it, well errrrr yuk comes to mind. It's not a nice piece of tech. I love the 640, but I can go 2gb ram and bigger screen for a few pennies difference, providing we get to see it in UK. I don't get the processor one up manship. The 200 series has been, and remains, a solid performer.

lumia 640 has been 30-50 new ??? what on earth does that mean ???

Here earth means only US ! I bought several 640 @30 each

On AT&T they have been which means nothing if you're on T-Mobile and if you're looking at this device, then you probably are.

Another american centric view. 640 is more expensive than this in other countries and they still sold well. Suck it up 'murican. You got the cash. You'll appreciate the extra ram.

The specs at gsmarena say Micro sim. That's the only place I could find it.

Reasonable entry price. I wish they had a bigger battery with it ! 2500 with huge screen is not enough.

Now if only that other company that makes Windows 10 Mobile handsets could announce and release a phone in that short a period of time. I'd be shocked.

Moly X1 is another Windows 10 mobile

I spoke to an agent The other day and they said that they will have it first day in the store.

Seems very competitively priced for the specs. Good job Alcatel.

I played with the android version at a Metro pcs store the other day. It felt like pretty solid phone, decent screen and not overly thick. Will definitely be picking one up on release day. Posted via the Windows Central App for Android

Does it have double tap to wake and or glance? it would be difficult to give those up.

Does not have glance, from what i saw, didnt have to much hands on with it. Just long enough to play with the camera manual settings, set the display down to 150% i believe it was, and look at waze and a few other things.

THIS is why they pushed back the Lumia 650 announcement is it? Thats cool :).

Understood, but the 650 looks way better design wise

This doesn't support Continuum, correct? Posted via the Windows Central App for Android

You need Snapdragon 6XX and up. This only has Snapdragon 210.

Funny you bring that up. Alcatel also has an Idol 4 coming, they just changed it to a Snapdragon 617. Could we see some possibilities here. They say they want to make more Windows phones.

Does anyone have any idea if this will only be sold online, or in stores too?

I called the tmobile store near me, the sales person told me he will have it in store on Wednesday.

I wish it was a removable battery but I have a 521 and no lte and on t-mobile. I think I will pick it up, I want glace but I like the tmobile network.

Great device, good upgrade by far from the 521. The 1520 works great on TMO, but no wifi calling. Nor LTE700a

I'm hoping this phone will be available at Wind Mobile in Canada. They have a similar network as T-Mobile and also carry phone by Alcatel.

Hmmm? I wonder how long before it becomes available unlocked and if that version would cost more or less? I guess I could ask T-Mobile if I can have it unlocked. Even though the CPU is lesser then my 640 I like the 5.5" sceen size (that's my preferred size) and the 2GB of RAM kinda make up for the lesser CPU. I really enjoy my 640 and 640XL just the XL is just a little to big. After the 1520 I have decided no more flagships for me on WP's. Trying to sell them when no longer needed due to upgrade is impossible. Either no one responds or they want to offer way less then it's worth. Maybe if WM gets to 10% market share I'll rethink it.

and it will be discontinued by Thursday. ;)

That sure is possible :) That's the reason I have three AT&T Go Phones and not one T-Mobile 640. T-Mobile dropped theirs. I waited too long. NOT THIS TIME :)

I might bail out of T-Mobile JUMP and get this phone. A working Band 12 is the clincher.

Well, I just bit the bullet and ordered one so I will know how it compares to my Lumia 925 by next Tuesday I think. My local T-Mobile Store had a good laugh when I asked if it was in stock. I'm a little more pumped about this purchase than I thought I would be. I am also thinking of buying an AT&T Lumia 640 since the price has fallen so low just for comparisons/backup-backup sake. Not sure how that will work on T-Mobile tho...

Does anyone know what the camer apertures are out back and at the front? I cannot find any info about this other than the MP size.
I'd either go with 640XL with a f2.0 or this Alcatel, unless it has some slow aperture. just that one stop from 2.4 to 2.0 can make a world of a difference when shooting low light or indoors.
Windows Central Newsletter
Get the best of Windows Central in in your inbox, every day!
Thank you for signing up to Windows Central. You will receive a verification email shortly.
There was a problem. Please refresh the page and try again.