Alcatel Idol 4S full specifications and included VR apps revealed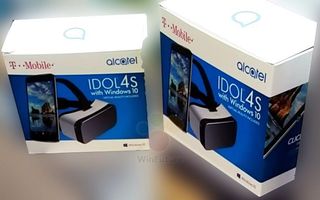 The Alcatel Idol 4S coming to T-Mobile (US) on November 10 is quickly garnering interest as more information leaks out. Besides the street date and price for the phone we can also now share the pre-installed VR apps and full specs.
Like the Android Idol 4S, the Windows 10 Mobile variant has a focus on VR. Alcatel makes the shipping box for the Idol 4S double as the VR headset, which is a great twofer. (You can watch the unboxing of the Android version below to get an idea of what to expect).
What's interesting though is the fact that up until now Windows 10 Mobile has never had much of a VR game, but that is evidently starting to change. Here is what is pre-installed related to VR on the Idol 4S:
VR 360Gallery
VR 360Video
VR Gallery
VR Launcher
VR Store
VR Video
It makes sense that Alcatel would have a few VR apps on hand to demonstrate the power of the feature, so while not surprising it's still nice to see.
Combined with the recent VR push by Microsoft last week and the announcement of new VR gear, we should begin to see more UWP-based VR apps in the coming weeks and months.
Also, we received a more detailed specifications sheet, which we'll use to update what was already known:
Alcatel Idol 4S with Windows 10 Mobile
Swipe to scroll horizontally
Category
Features
CPU
Snapdragon 820 | Quad Core CPU @2.15 GHz
Display
5.5-inch FHD AMOLED
Dragontrail 2.5D Glass
180-degree viewing
Memory
64GB ROM
4GB RAM
microSD
Camera
21 MP Rear
8 MP FF
Dedicated camera button
Video
4K @ 30FPS
1080P @ 60 FPS
Battery
3,000 mAh
Quick Charge 2.0
420Hrs Standby
15Hrs Talk
Continuum
Yes
VR
Yes
Windows Hello
Yes (Fingerprint)
Audio
Dual speakers with Hi-Fi surround sound
Dimensions
153.9 x 75.4 x 6.99 mm
Data
4G LTE
T-Mobile Extended Range LTE
3G/4G Band
I, II, IV, V
LTE Bands
1, 2, 3, 4, 5, 7, 12, 20
HD Voice
Yes
VoLTE
Yes
Wi-Fi
802.11 a/b/g/n/ac
Wi-Fi Calling 1.0
Bluetooth
BT 4.1
A2DP, OPP, HFP, AVRCP, PBAP
Of note is the inclusion of HD Voice, VoLTE, and Wi-Fi calling, which are must-haves for many T-Mobile customers. Unfortunately, there does not appear to be support for T-Mobile Video Calling.
It's also great to see 60 FPS video recording at 1080P, which is something the Elite x3 cannot yet do.
The only serious feature that the Idol 4S is missing would be Qi wireless charging, but the inclusion of Qualcomm's Quick Charge 2.0 will go a long way to ameliorate that deficiency.
The T-Mobile Alcatel Idol 4S with Windows 10 Mobile comes out Thursday, November 10 with a full-retail price of $469.99. It is not yet known if the phone will be sold non-carrier branded or in other parts of the world.
Neither Alcatel nor T-Mobile have announced this phone yet, so information could change.
Windows Central Newsletter
Get the best of Windows Central in in your inbox, every day!
Daniel Rubino is the Editor-in-chief of Windows Central, head reviewer, podcast co-host, and analyst. He has been covering Microsoft since 2007 when this site was called WMExperts (and later Windows Phone Central). His interests include Windows, laptops, next-gen computing, and for some reason, watches. Before all this tech stuff, he worked on a Ph.D. in linguistics, watched people sleep (for medical purposes!), and ran the projectors at movie theaters because it was fun.
It's raining Windows 10 phones!!!! (see what i did there)

runs outside with a big net.....

I think as long as none of them falling from the sky are Lumia 920s , I think you should be safe without a helmet...

Lol! Flaming bricks incoming.

Uh oh, its listed at $999?! http://www.t-mobile.com/TMOsearch/Search.html?count=20&do=redesign&i=1&p...

my guess is the price is just a placeholder until its announced. based on what other phones are out there and what you can get with them, that phone would never sell at that price.

I'll look forward to trying out those apps; I bought the VR that was on sale a few days back

I might actually get this phone. Alcatel had a pretty bad reputation, hopefully this one proves otherwise

Agreed. The specs of this phone are hard to beat! Definitely edges out the HP Elite X3, particularly as a consumer and business phone in one.

Its got fairly good reviews. Check out the blackberry dtek60 which is alcatels blackberry version of this phone has pretty much the same camera as the windows version

Nice looking phone. Sad about BlackBerry though - they had a good run up until the last few years.

Huh.... WiFi calling 1.0, I wonder if that was a typo on their end.... Either way it looks like this is my new phone!

Wifi calling was my biggest fear of them not having. I have horrible reception at my house. Knowing I can walk around will be great.

They have Wifi calling on the Onetouch Fierce XL. I will be upgrading

I currently have a Fierce XL, but it has WiFi calling 2.0

How's that phone going for you,would you rate it against the Lumia 640?

640 is way better. Double tap to wake, glance, equalizer, better (albeit smaller) screen, better camera, only 8 GB onboard storage, though. RAM vs CPU differences seem a wash. 640 looks better, XL is bulky. Also XL wifi calling is flaky, it just drops calls.

I haven't had any issues with WiFi calling where I'm at but the experience will vary GREATLY based on the network you're on.

Lumia 640 with Win 8.1 sitting in the EXACT SAME SPOT: rock solid.

That is unless you want to install preview builds, then you have to delete everything just to download it. That's the main reason I'm abandoning my 640. The 8GB is a major issue. The camera average IMO.

I got a Lumia 650 for my mom. I can safely say, it's a pretty good upgrade from the 640. Lighter thinner looks much better. And also 16 gb internal.

For what it cost me it isn't a bad phone, but I went from an aging 925 to my Fierce XL. That being said, the camera on a 640 will probably be a bit better, the Fierce lacks both glance and DTTW, and W10M is pretty much what you expect.

I'm actually thinking about buying this one as well, I'm on a 950xl, and really don't have any complaints...the interest alone is interesting.

MMmmmm....
LTE Bands 1, 2, 3, 4, 5, 7, 12, 20
Works in Europe, too!
Oh!
Camera 21 MP Rear
8 MP FF
Dedicated camera button
YESSSHH!!!!

I would kill to see Microsoft, with Nadella, take the stage with Alcatel, HP, Acer, and any other OEMs supporting Windows 10 Mobile and Continuum. I know he won't do it though, and its so frustrating.

That would be a Windows 10 Mobile party for sure! With specific OS feature demoes for each OEM as they come onstage.

Are those VR apps locked to Alcatel phones (like the Lumia apps were) or can I try them out on my 950XL when they launch?

Is the display officially 1920x1080? Seems awfully low for a high end device, though it should give it better battery life. Also, is it USB-C, or MicroUSB?

USB-C and yes, seems to be FHD and not QHD.

Ah, I skipped right over "FHD" up there. Sorry. Thanks for the clarification!

Full HD "FHD" is 1080p. Means better battery life and consistent frame rates. I'm glad for that more than extra pixels on a screen 1/10th the size of my 1080p tv

But it's far from enough when VR is considered..

Ah, but size relative to normal viewing distance, a phone is like a 50-60 inch TV, while in a VR headset, it's more like a 100 inch TV screen. But I agree on the frame rate point.

looking at the Bands offered im taking a guess this isn't comptabile with at&t?

Does this device have NFC and Glance, Daniel?

Blackberry version has QHD

It's strange to read that 1080p is extremely low, when my 5 inch 535s resolution is 540x960, and I'm happy with it :D

1080 is good. The 4K and other QHD or more are an overkill. Only specs maniac love those super high end specs that they barely used. I have a Galaxy S7 (non-edge) and the first thing I did was disable all those pesky features. I don't even like it that much since the screen is too slippery which makes it hard to type fast.

Again, This would be true if it wasn't marketed as a VR phone

Awfully low? At 5.5" screen size it is decent. Better battery life is a good trade off here...

I guess "awfully" was a bit of an exaggeration, but when compared to other higher end phones, it seems below the norm. Especially when they're marketing it as a VR device. But I do agree that the increased battery life is a good trade off. Plus, FHD helps to keep it at that nice price point. Hopefully this phone lives up to the hype.

So will we see done vr offerings via a generic headset for the 950s? That would be great and one step ahead of apple who don't offer vt at all!

What's really sparking my interest is the price and specs, seems like a bump up from my 950xl....

Faster processor, more storage and ram, a fingerprint reader and VR glasses. But the XL has a better screen, wireless charging, SD card slot, Iris scanner and a better camera.

To be honest, this not wireless charging, but rather non contact charging... Or close contact. I almost never charge my L950 w/lessly... Waste of time...

I've never put a cable in my Lumia 950XL wireless charging is much more convenient. "Plugging a cable in waste of time"

Doesn't the 950 have quick charge? Wireless charging is frustratingly slow when you have quick charge available.

Specs show microsd. And as far as the camera is, it will have to be tested for complete knowledge of it.

The camera will probably lag behind the Lumia because of the proven Nokia technology. Of course by the specs i am hoping this is the only lagging issue.

More excellent news from WC!
Anxious to see this phone in the hands of actual users.
Very exciting stuff!


No LTE band 17, which makes sense since this is T-Mobile and not AT&T. Still should work for AT&T, though.

very disappointing maybe in 6 months an at&t variant will come out, until a surface phone arrives and shreds everything lumia including its horrid camera algorithms im dying to use a windows 10 phone NOT built by microsoft

Yeah, the lumia cameras tended to make things over saturated. In some cases it worked, but I found it truly awful for olive skinned folks. We came out looking orange. Totally unusable photos without some editing, and even then it took so long to edit it wasn't worth it. Really sad they never fixed that. And kind of offended, tbh.

i think alcatel has always been exclusive to tmobile, but at&t gets all the good phones like Lumia 950, 950 xl, HP Elite, Acer.. i dont understand why you want this one.

Is the Elite an ATT exclusive? I though it was unlocked and would work with both ATT and Tmobile?

ATT only has the 950. If you want the 950 XL, Elite X3, or Acer, then you buy from separate retailer like MS Store unlocked and the phones will work on ATT and Tmobile. I think ATT only offers the Elite X3 through corporate channels if they even do offer it themselves. It seems to me that Tmobile now leads the carriers in support of Windows Phones and it's pretty sad since there are only a few phones.

That's not true. The Alcatel Idol 3, Idol 4S, and Idol 4 are available unlocked from Alcatel direct. The Idol 3 and 4 were both offered through Cricket (ATT's MVNO). They aren't exclusive to T-Mobile.

Use proshot to avoid the stupid algorithms on wincam

is this compatible with AT&T?

Find an att phone online, compare the bands, let us know what you discover.

As of now I'd say no more than yes. It's still only known to be exclusively for T-Mobile. So for now its locked to that carrier until we hear otherwise. The bands listed are compatible except band 17 is missing which I am still researching as of late on whether that is an issue. Also band 30 is not there...AT&T recently turned on the use of Band 12 on their network but has been working on it for about the past couple years. I don't think they plan to discontinue the use of band 17 but rather aggregate between the two, although I could be wrong. Anyone else have any thoughts?

Ok. Just re-read a little up there...so it's unlocked, is this correct? Then obviously one should be able to pick this up off Alcatel's webstore at some point.

I seriously considering this phone. That or picking up a LUmia 950 XL which you can get for around $400.00. The question is- take the older phone which has a better display and camera? Or take the newer phone which has the better processor and is T-Mobile branded (with added features.)

the 950 xl has a sub par front facing camera and it it takes forever to complete a shot. its always "finishing touches"

Pretty sure that's down to the camera app itself isn't it?

The picture taking doesn't take more than a few milliseconds. The after touches doesn't affect that. You can shoot multiple photos while it is working on them.

Yeah but only from 8 to 10 then it stops taking pictures

Right now, outside of a small bit in Continuum I don't think you'd see much of a real world performance difference. Although the OS os far from slow on phones like a 950 etc. I think its the OS that's the bottleneck when it comes to performance right now more so than the hardware, so small improvements in CPU over the 959/XL isn't going to mean night and day performance differences

An 820 vs 810 is not a very small advantage... It is about 30% and more compared with lower powerconsumption especially in high usage szenarios.

This should help the price of the 950 drop further. As of now that would be my W10 mobile of choice if I couldn't get another 1020.

It's already £249.99 I don't think it will be around much longer tbh.

I still don't understand not including Quick Charge 3.0! This has the snapdragon 820 chip which supports that. It should be no cost difference.

It will have 3.0. See http://www.alcatelonetouch.us/press-alcatel-idol-4s-windows-10-tmo/ 3000mAh Battery for up to 20 hours of talk time and USB-C charging featuring Qualcomm® Quick Charge™ 3.0 technology

If I ever end up getting one, I want mine to come pre-installed with whatever that guy is watching in the ad. :D

Excited about this phone, finally something new to the WP staple. Side note, instead of VR housing if MS/Alcatel can make the $299 holographic thing tender to 4S it will be even more awesome.

We just got the HP Elite X3. It hasn't been that long since the last high-end Windows mobile.

Here is my question, we are "10 days" away from launch and neither T-Mo or Alcatel have confirmed anything; I hate to be a skeptic but it seems odd that we are supposedly ten days out from availability and there is nothing but "leaked" information, is there anything solid from either one of those companies?

Leaked information is usually the only thing available until it has launched.

They sure will. T-Mobile will not pull out their reps from taking in calls just to do some training about the idol 4S for nothing. See leaked training documents for reference (https://www.windowscentral.com/t-mobile-us-alcatel-idol-4s-guide)

It's on their website, it has a phone Number to ORDER - 1-877-413-5903
https://www.t-mobile.com/cell-phones/alcatel-idol-4s-with-windows-10-vr....

I hope "November 10" is a solid date. Still haven't heard anything from T-Mobile and still nothing on their website denoting it (since the original was taken down). Here's hoping! I really want one!

True! That would be awesome. I'm just glad I have a store within a mile from me.

It's on their website now with all the information. the 11/10 is for real I talked with a customer rep. They will be available in stores at that time as well.
https://www.t-mobile.com/cell-phones/alcatel-idol-4s-with-windows-10-vr....

I prefer fingerprint sensor on phones specifically, but I hate how they decided to place it on the back just like HP did. Can't they learn from OnePlus and make it a fingerprint sensor + capacitive button?! That is perfect on the OnePlus 2... Not to mention the waste of space at the bottom

Does this come with the Continuum dock?

Looks like it will be an accessory

For that price? That would be insane!

dedicated camera button /!\

I'm a little bummed I got the Lumia 950. This seems like a great price for a great phone!

I think it is pretty much on par with the 950XL. Some better and some worse. Not enough better for a change to it unfortunately.

SD 810 vs SD 820. It should be better when using it heavily. Let's see the difference between SD810 and 800. They were different obviously.
We will see it soon anyway.

The difference between 810 and 820 is much smaller than the difference between the 800 and 810. Basically... The 820 is just a souped up 810 whereas the 810 was an entirely new generation compared to the 800.

But battery life is something to consider. Not that i have a problem with my 950xl but this is a very tempting phone.

Seem like an awfully good deal! Can't wait for the unboxing/review.

Will there be a continuum dock?

Fortunately, I won't need one. I got one with each of the 950XLs I bought. I almost immediatelyy returned the phones because they were almost unusable due to the state of W10M at the time. But the "free" docks still showed up after I returned the phones.

That's great for you, but I'd need one, so the question still stands, will Alcatel have it's own sock?

The continuum docks are USB c standard. Any of the existing ones or any standard usb-c dock should work, as long as it doesn't require thunderbolt. As for branded ones for this phone specifically, there are no leaks yet... no one here will know.

Which would you recommend?

"Incipio Continuum dock not included"

This will be my phone in 10 days, guaranteed. This is perfect to replace my One M8. With a display dock, this will replace my low end PC for media. Can you connect a display dock to a standard HDTV?

If it has hdmi or display port, it will work. U can search for "Continuum Gaming" on Youtube to see it in action.

I think I am more excited to get this phone for my wife than she will be to get it! What is T-Mobile Video calling? Have I not heard of this being a WP user forever with them?

I was getting worried about an eventual replacement for my 1520.3. I had hope for the 950XLs but I had to return both (mine and my wife's) because they were total crap (at least at release time). This looks promising. The ONLY thing I will miss from the 1520 specs is the physical screen size. I have Qi chargers in the house but don 't use them so won't miss that. Everything else seems the same or better on paper than the 1520.3. Not sure about the glass but since I've never scratched or cracked a screen, I'm not worried. The FHD is a big plus compared to recent competition. I don't see any benefit to a higher resolution screen and prefer the lower cpu and battery drain with FHD. Hope it has a replaceable battery. I still get at least a day and a half out of my non-removable 1520 battery but it was twice that when new many years ago. If decent Windows phones dry up, being able to replace batteries without paying a tech to do it is a plus. I am very interested in why T-Mobile is selling these unlocked. Pleased, but curious. I hope its part of the un-carrier philosophy that trickles sideways to the competition. If I buy one, I'd prefer to not pay any extra for a VR viewer. Since I am basically blind in one eye, even the regular world isn't 3D. So I hope someone sells the phone for less without the viewer or T-Mobile does after the launch. But I have no idea what it costs to make the viewer. If its not much more than a regular box.....

3D wont help me out as well. I can't see too well out of one eye either.

Elite X3 is natural successor for 1520.

Not if you want FHD and not if you want a 20MP camera and not if you want a camera button. If you gave me an X3, I'd trade it in on the Alcatel.

Display panel will be a lot worse than the one on 1520

Thank you random internet voice. How about a hint as to why you think the 1520 has a better panel? They both have the same resolution, so that's not it. The Alcatel is amoled which I and many prefer the look of. The 1520.3 was the best phone overall but I much prefered the oled screen on my 925 because black pixels matter. Size is obviously subjective. Some prefer smaller and some prefer larger, so that's not it. Gorilla glass instead of Dragontrails? Maybe if you play hacky sack with your phone.

So excited!!! Woohooooooo

Are those apps will be available for all Windows phones?

I'm most curious to know what apps will be in the VR store

Just to mention it... The store already offers some VR apps. I tested them out a month ago and they are solid. For instance Video 360 => watch 360 degree videos, crazy swing vr, frogger vr, zombie vr, etc.

Yea, nothing really cool or exciting like many of the Google Cardboard apps on iOS and of course many more on android. I am curious of Alcatel is bringing developers over to Windows 10 just for them.

Seems lots of us are excited about this phone and that's great. I might get one too. Just wondering if it's really unlocked as previously mentioned. Are you positive about that, Daniel?

I hope they make it available globally. I want one in the Philippines!

Agreed, I want to buy one in Australia

One of the most glaring issues for me with Windows 10 Mobile (I got bored with Android and picked up a Lumia 640) is the issues with group texting. Several times a week the group text function goes wacky and I have to reset the phone a few times times for the messages to download/ send to their recipients (very aggrevating. I'd love to know if this issue is simply an older MS phone issue (ones upgraded from 8.1), or a Microsoft phone issue, or just the platforms problem in general. I wonder how an NON-MS phone performs such as this phone or the X3.

You cannot compare L640 to the X3. It's different beast. There is something you have to accept using the L640 (although it is king of budget phone)

No, I think you misunderstand what I was asking. I'm talking about group texting and issues with it either sending or receiving? Or if you have to enable your data like you do with the L640 on another Windows phones such as the X3. I'm curious if the issues I've experienced are system wide? Or is it just a Lumia thing? Or is it the lower end Lumia phones specifically? I'd love to hear from X3 owners or even 950XL owners if they have any issues with the group text features.

VoLTE support is very important for me. Reliance Jio have great offers for LTE users in India, but none of Windows Mobiles supports VoLTE. Even my Lumia 950xl cannot take the full advantage of a Reliance Jio SIM, because at present it don't have VoLTE support. And besides many feedbacks through Feedback Hub, Microsoft is not looking very serious towards it. I am sure that the hardware of Lumia 950 and 950xl is compatible with VoLTE. I request all Windows Phone users to up vote these feedbacks over VoLTE through Feedback Hub. Thanks.

The sad thing is that the Windows version is 1080p while the Android version QHD. Dear Alcatel, I'm begging you: Bring this phone to Greece. Please!

Every other spec is updated and I'd say is more important. USB C, SD820, 4GB Ram, 64GB storage and 20 MP camera are all pretty big upgrades.

yeah but the big selling point of this phone is the VR. And 1080p at 5.5 inches is not ideal for VR

That means better battery life

accidental comment. Please delete it.

Is that 64GB ROM supposed to be 64GB onboard storage (same as x3) before installing an SD card? It must be, right? I wouldn't think anyone cares how much ROM it has.

Yes, 64gb is it'd onboard storage. Are you referring to its RAM?

No, just the what appears to be the misuse of the term ROM to describe it. But not a big deal. As you say, I'm sure it must mean 64GB internal storage, which is very nice. (Note that 64Gb would would be 64 Gigabits, or only 8GB -- little b = bits, capital B = bytes, and 8 bits per byte so 8Gb = 1GB).

ROM is another way to say onboard storage. So yes, people definitely care about that. And RAM for that matter is also very important.

@apocacrux, maybe I'm just too old-school. Technically ROM is definitely not storage, but maybe that's a new terminology convention. I'm sure Daniel knows today's terminology a lot better than I do, but I suspect he just quickly grabbed it from the T-Mobile site (my apologies, Daniel, if that's not the case), which I see uses the same language. ROM is Read Only Memory and is the circuitry that holds the code that's built into the device, as distinct from changeable RAM (Random Access Memory). By definition, you can't write to ROM, making this a pretty bad term to use for user-writeable storage. And RAM isn't really right either, because RAM is volatile and clears when it loses power, but it's closer than ROM. While firmware could be considered ROM, user storage is never (or at least historically has not been) called ROM. A few years back, it used to be common to list the amount of ROM, because that gave users/customers an idea of how much UI and software came pre-installed. As I said, no one cares about that anymore, so you don't typically see ROM amounts listed. It's like talking about how many cells in the battery or how many channels the tuner on your new TV can support. These are obsolete measurements that no longer matter to the majority of customers. As an example, if you look at the Microsoft page for my phone, the Lumia Icon, it calls the storage area "Mass Memory" to distinguish it from RAM, but still does not call it ROM: https://www.windowscentral.com/e?link=https2F%2Fclick.linksynergy.co... Here are a couple of pages that describes the HP Elite x3, again not calling it ROM: http://www.pdevice.com/product/hp-elite-x3-specs http://store.hp.com/us/en/pdp/Laptops/hp-elite-x3-and-hp-elite-x3-desk-d... And even on Alcatel's page for the older Android version (couldn't find anything on their site with tech specs for the new Windows version), they call it "internal memory": http://www.alcatelonetouch.us/idol-4s-5-inch-vr-smartphone?gclid=CInCx_r... I have always referred to it as built-in storage or internal storage, to distinguish from RAM and SD storage. At least as far as I can tell by this quick Internet search, that seems to be consistent with how the manufacturers describe it. I suspect using the term ROM here was a minor mistake. In any case, now that I've researched this some more, it looks like the answer is probably YES, it has 64GB of internal storage, double the Android version's 32.

Internal Storage certainly is a more accurate description for what is being referenced, but it is becoming increasingly common, mostly on Chinese websites, to use ROM to denote internal storage. So yes, ROM is incorrect but it is becoming a more common mistake as people are reading descriptions from less technically accurate websites.

Any way to find out if these have double tap to wake and Hey Cortana? I can probably learn to stop double tapping if it doesn't work, given a few months of practice, but no Hey Cortana is a possible deal breaker.

Found more specs and the owners manual at T-Mobile. According to those Hey Cortana is supported. But a chat rep says double tap isn't. I can live with that.

Why do you need double tap to wake if it's got a finger print sensor to awaken it?

The rep may have been wrong about double tap. I received an e-mail from Alcatel saying the phone does support double tap. I'll guess I'll know when I see one next week. As for the fingerprint reader and double tap, I know the fingerprint reader will unlock the phone but not everyone locks their phone. I have never locked my phone because I didn't want to have to key in a pin every time. I will use the fingerprint reader if it dioesn't delay access. I know locking a phone is important to many and not locking could be a risk, but I never set my phone down anywhere but home so have been willing to chance someone forceably taking it from me. I have to wait and see how the fingerprint reader relates to Hey Cortana. I use Hey Cortana a lot at home and if Hey Cortana doesn't bypass the fingerprint reader I definetly won't be using the reader. I can see the designers going either way on that, depending on how likley they think a 3rd party's voice could be mistaken for mine. I'm sure its documented but I haven't seen it.

Last phone on the TM page. No ads. All about the ip7 on their phone list.

Yeah, not seeing any mention of it...

This looks like a solid Phone. I'm looking forward to it coming to the UK. Seems like a perfect gift for my wife!
Windows Central Newsletter
Thank you for signing up to Windows Central. You will receive a verification email shortly.
There was a problem. Please refresh the page and try again.