Alleged 4K video sample from Lumia 950 shows off its prowess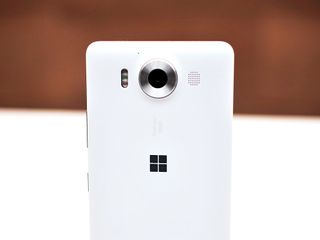 A video sample posted on October 29 by the YouTube channel -[videotistik]- shows off what they claim is the Microsoft Lumia 950's camera. Just how -[videotistik]- got their hands on the phone or if the video sample is really from the said Lumia is unclear. However, the channel does specialize in nothing but smartphone video and photo comparisons, and they have been around since 2008, so just maybe.
The three and a half minute video goes up to 4K resolution and shows a few nature shots including some macros of fall foliage. If the video is from a Lumia 950, then users would be quite happy with the level of details, smoothness and color representation, which look phenomenal. Whether or not the software used is finalized is also not known.
For now, we're filing this under rumor only because at no point in the video do you see the phone in question, which would have been nice. Nonetheless, the channel looks credible and in this day and age we suppose anything is possible.
The Lumia 950 should go on sale later in November on AT&T with an early December release for Europe and elsewhere.
Source: -videotistik-; via Windows Blog Italia, Reddit; Thanks, Alexander, for the tip
Get the Windows Central Newsletter
All the latest news, reviews, and guides for Windows and Xbox diehards.
Daniel Rubino is the Editor-in-chief of Windows Central, head reviewer, podcast co-host, and analyst. He has been covering Microsoft since 2007 when this site was called WMExperts (and later Windows Phone Central). His interests include Windows, laptops, next-gen computing, and for some reason, watches. Before all this tech stuff, he worked on a Ph.D. in linguistics, watched people sleep (for medical purposes!), and ran the projectors at movie theaters because it was fun.
Amazing quality. Another reason why I really want this phone, I'm just hoping its available everywhere once it comes out...

Whenever they it's super beast camera but whenever it is compared to others the worst appears on our lumias

Well it's already not available on T-Mobile(my carrier) and the other US carriers so there's that. For the just buy it unlocked camp, still only T-Mobile customers will benefit from that as Verizon/Microsoft (not sure who's really at fault) hasn't enabled the handsets for use and I'm assuming Sprint is out of the question supporting CDMA tech instead of GSM as well. It's one thing to leave Android, and I've only been on it a year as opposed to the four years I was with WP, for a less saturated and outdated app ecosystem(and I would 100% if T-Mobile carried either one) but it's another thing to actually save up the money to purchase a brand new phone unlocked when I can get everything else easily for $20-30 a month. And especially with the option of being able to take the phone back and get a new one later.

We really are sorry that you cannot afford the phone (not joking). Can't you even switch to AT&T? Anyway if you cannot afford to pay for it they teach you that even paying by installments is not the best thing to do. I understand that in this society everyone wants an iPhone and they would sell their mom to get one, but it is wiser to get something cheaper, at least this is how my father teached me, never buy something that you cannot afford.

My point is that I can afford any phone in small chunks at a time. Why should I go out of my way to drop $550 on a Lumia 950 when I can have any phone I want for $20-30 a month? No matter what argument you make it doesn't make the phone easily attainable. Posted via the Windows Central App for Android

You end up paying more that way, and you are letting carriers decide for you, if this is what you want that's perfect!

How are you paying more? It's the retail price divided my how many months you're paying for it. Posted via the Windows Central App for Android

I understand that on a tech site it is difficult to say what I'm trying to say, but it is just common sense, being able to buy something does not mean you can pay it over time, neither that you can buy it and spend 50% of your bank account. Common sense is that you can afford something when it costs a fraction of your bank account, like if you have 2000$ in your bank account you should not buy a 600$ phone be it by installments or not, you should go for like 200$ phone (and 10% is already a lot). But it is not something against you, it is more about people in this day and age, all about finance, banks etcetc. I'm 28 years old and I already feel I'm of another world :D

I would have to agree with everything you are saying. Most people can't grasp the idea. I see so many people with 700-900 phones that are living paycheck to paycheck (or even on welfare).

Probably most people in the U.S. already have credit options from Visa and Mastercard, and therefore don't need their carrier to have a monthly payment plan. Just buy the phone with a credit card, and pay $20-$30 on your credit card every month. Either way, you're paying more than if you had the money to buy the phone up-front.

Bro, wait for a month, you will find mint condition phone for far less on swappa. P.S You gotta rely on impulse buyers.. ;D

How much does a mom go for these days??? I agree completely. God forbid we save up money to buy something we want.

Depends on what model she is. I think saving and getting cheaper phones is the more responsible thing to do, however, doesn't matter what you do corporations will find a way to take your money and lock you as their slave forever.

Oh trust me for other things I do save up for. But for phones it's just easier for me to do it this way. Besides I just got tired of buying unlocked phones as I've purchased the HTC Titan, Samsung Focus, Lumia 920(which I'm typing on) and Lumia 1020 all independent of my carrier. You guys try to make me feel a certain way about how I purchase phones but still don't acknowledge that availability is an issue. Most people get phones through a carrier in the US. The fact that the new flagships are on one out of four major carriers has not changed. Most people aren't going to buy an unlocked Windows Phone with less apps when they can just get an iPhone or a Note 5 or an LG V10(in my case) through their carrier. Facts.

Totally hear what you are saying and it is shameful that guys on here would try to belittle what you are saying.

The Lumia 950 seems like a good choice, as a less expensive alternative to the Lumia 950 XL.

Wow. Awesome quality been waiting for ages for this phone, glad its almost here

OK, I'm going to say it. This doesn't look any better or worse than the 4K video from my 1520.

Really hard to say without a direct comparison. Also, other things like speed of saving, auto-focus performance, low-light ability, noise reduction and 5th gen OIS need to be tested. But sure, any 4K-capable camera could do pretty well on a bright day. Even the iPhone looks good then.

When are they going to deliver slow mo video or 240 fps recording which iPhone provides in their front cam too

Pretty sure that's a software thing. It will come, I'm sure, but not until Win10m's core functionality is complete.

even my Lumia 930 can do 4K resolution video and it's quite comparable to this alleged video​

In the absence of a 930 shooting exactly the same scene, at the same time, there's absolutely no way of comparing the two and determining which is better or how much better the 950s sensor is. Your assertion is completely baseless.

Genuine. You can see the phone reflected in the fly's eye.

I'm not saying the video is fake at all. Instead I would wish it is genuine. I'm just giving my opinion

Pretty sure it's really a video.

Hehe "Even the iPhone looks good then"

Exactly that's why they sell 13 million in 3 days

Samsung sold more smartphones than apple, LG, and hauwei combined last quarter.

This really needs to be said more! Samsung has everyone beat right now despite what Apple would like us believe. They rave about their first week sales and then you never hear a thing again.

Silly argument, they sell 13 million because every surburban mom and dad and kids need to own one like everyone in their social circles do. And yes, it's a great phone with great camera quality but that's NOT the reason they sell 13 million in 3 days...

Bingo. It doesn't matter that that is the reason, though. What matters is the outcome. The outcome right now is that it means dreadfully slow or recalcitrant development/ adopters. If Microsoft can break that social barrier this would solve itself. That specific apps, either in the 10s or 1000s, is NOT the reason Microsoft mobile platform hasn't exploded. People must want to convert and apps are the only easily understood and quantifiable excuse. I'm not kidding when I say that trend setting celebs, youth, and hipsters are the key.

I agree. I'll be getting a 950XL anyway and then I'll be able to make an informed decision.

Agreed. I suppose 4K is 4K...

Nope. There are many factors inside the hardware. One of those is the lens. These kind of things can dramatically change the look of the whole video.

Did they actually bring the demo units back into the microsoft stores and was it ever lifted why they removed it in the first place?

Demo was not back yesterday at my local kiosk. Employee said that it was removed after a week because they needed to make some changes. Who knows, though. He also told me the 950 had a quad-core processor, but backpedaled when I said it was a six-core.

THey might need to upgrade them to latest build

Couldn't they have done that at the store? Or are the employees incapable?

They do have them in their flagship NYC store. A lot of people who notice them quickly ask workers when it's coming out. They are of course disappointed when they are told that even the staffers don't know.

Was told early November by a Microsoft store employee here in Dallas. Also told me that demo units were returned for software updates.

This would be nice if it were true. But I'd tend to think it'll be late November at the earliest.

I was told at my store that the demo units were returned due to a defect. I was under the impression he meant a hardware defect.

The enthusiasm wears off day by day. Wake me when there's a release date....

Sad to say...a lot of truth in your comment. Wait for it...wait for it... :(

What a way to launch a product... This one is for the fans too.
Edit. Swipe always does that on my w10m.

Well I certainly hope they wouldn't package their product for someone's lunch...

Knowing Microsoft and being in South Africa I just went off 2 months ago and bought a Samsung.
This phone will probably get here in July 2016 at this rate. And if it's expensive I won't bother. I'll just get a Surface phone in 2017. Posted from my Note 5

Lumia camera is annoying and low rated in every way

What does that have to do with the comment you quoted?

Do you know about slow motion

"need" is a relative term.

Considering every high end phone can do it. Windows needs to do it too! Plus I want it!! Lol

My bet is we'll be hearing US release dates within a week or two.

Ha! That's supposedly when it will be releasing, or at least when they first said it would be out. I kinda wish they would be more conservative with their estimates and give a real date instead of the now Trademarked "Soon". Knowing that it would be on sale for sure December 1st would be easier to take than "sometime in November".

They said sometime in November. Last I checked there are 4 weeks in November not 2 weeks.

Definitely! It won't be long now.

I've been dying to change up my 1520 but I get the feeling that these phones will get quickly forgotten by MS. Perhaps they know of another phone coming in Q1/2. After waiting 2 years + to get a new phone. Im weary of getting a phone now that will get superceded in a few short months.

Mid range coming Q1/2 perhaps. Not high end.

Enough with the pessimism already. What is wrong with you people? LOL! Why don't you speculate about something nice for once?

Because we've been waiting over 2 years, and we still don't have a release date for this phone.

So what? They said late November and it's only the 2nd of the month so why is everyone being so spicy & acting like it's all gloom and doom? Have patience. Like you said, you've already waited two years. What's two more weeks?

Oh, no doubt. Two weeks is nothing, but it would definitely help if we had a firm release date. Every other major phone manufacturer is able to provide an actual date for their products when they reveal them. MS should try and do the same. Again, it's not that big of a deal for me, since I'll be getting one regardless. Just want MS to look good, and they're not doing themselves any favors.

They'll give us a date when the phones are ready & considering all the listings popping up they'll launch pre-orders in several countries around the world once they announce one. It really isn't that bad & I wouldn't worry. There'll be plenty of hype when all the YouTube reviews & TV ads start rolling out and the phone is in people's hands.

Because they just very successfully released the Surface Pro 4 and Surface Book. That would have been the perfect time to introduce the Lumias side by side with them and use them to push the Lumias. Companies have been using their successfull products to push other products for centeries. MS doesn't seem to understand this.

There is a lot of wobbling going on in the video, that's unfortunate.

Also the contrail above and to the right of the tree is jumpy instead of smooth.

I like that pointing out something negative about the video (that is clearly true) gets me down votes. Fanboys at work. Don't get me wrong, I love Windows Phone and MS in general. I've had a Windows Phone probably longer than most of you (had the HTC Titan, Touch, Diamond, 7Pro and before all that I had a Motorola MPX200) and currently have a Lumia 925. Been waiting 2 years for a new Windows Phone. I'll be getting the 950 or 950 XL. So don't think I, or anyone else who points out flaws is some kind of hater or troll.

Need to make an apology here. It was Youtube's compression algorithm that made the contrail seem jumpy. Just watched in 4k, and it is smooth. Again, apologies.

At 2:31 it looks like an OIS at work. Very similar to what x20 have. Could be the real deal.

uh...is no one else freaked out by the way they got a floaty leaf in this video...wth am I watching? lol @-@

Spiderweb. Or proof that some sort of gods or fairies do exist after all? :P

It's an antigravity leaf.

Clearly this is a hologram. Hololens app for W10m confirmed!

Dear Microsoft and T-Mobile, please work out a deal to make us happy too. This was just impressive. I want one at the same monthly rate I can get other non Windows Phone flagships. It's T-Mobile or no deal for me. I already bought the HTC Titan, Samsung Focus, Lumia 920(which I still own) and the Lumia 1020 all unlocked from other sources(eBay). I have been a faithful supporter and have paid my dues. I need Microsoft to return the love.

I really, really really hope this is legit because MY GOD that is any exquisite camera. It renders colour so beautifully without oversaturating colours or overexposing the shot like the G4 & S6 tend to do. The video looks so detailed & buttery smooth with none of stuttering you see in other smartphones. Almost looks like it was shot with a DSLR or at least a bridge or point and shoot camera with a full inch sensor. That is looks this good after YouTube's compression is impressive too. Oh and that Bokeh!? Damn! Okay, I need a minute to catch my breath. If this IS actually legit then hats off to Microsoft for giving us another camera smartphone king!

Also guys keep an eye on Detko Dave's Instagram as Microsoft has loaned him a Lumia 950 to try out. As soon as he gets the ok from them I'm sure there will be plenty of jaw dropping images om his page.

Low end outside, high end inside.

I was so excited after seeing this . . . .then I read the comments. I know we've been waiting a long time but Christ you lot are the most pessimistic and chronically cynical "fans" ever. How can we be a community of enthusiasts who never, ever have anything positive to say about anything & are always complaining & asking for more without end.It's almost as if nothing will ever be good enough. SOME of you are just toxic & seem to get a kick out of venting & killing the vibe here. I don't know how you do it Dan.

Lot of androiders here lately... ;)

If only there were a way to weed them out. :) We're all entitled to our opinions (even if they're negative) but if you've never got anything good to say & you're frustrated with the state of the platform then why are you still here? Go away! Lol. . . . I dunno. I'm just sick of it now.

I for one love the phones and have from the start!

@Yanano Amen to that. They literally gave fans what they've been asking for in a phone for years and people are stuck on the fact that they aren't made of metal. It's why I had to disappear off of this site for a few months. It's like dealing with an extra set of kids in addition to the real life ones. -_-

"They literally gave fans what they've been asking for in a phone for years . . . " You've hit the nail on the head! People want to act like the Lumias of old were flawless when they whined and complained about every single one of them just like they're doing now. I remember seeing "Ugh this is a deal breaker." everytime a new phone came out. Things like: "Oh the 920 is such a heavy, bulky BRICK. Oh and it doesn't have an SD card slot or removeable battery. Did I mention it gets so so so hot?" "Oh no the 925 doesn't have wireless charging. Why did they use such an ancient processor? Where's the cyan version?" "Oh look at that gigantic hump on the 1020. It wobbles when you use it on it's back. OMG the camera is soooo slow. Lumia Cyan ruined the white balance. Who needs 41MP anyway? It's not about the megapixels." "The 1520 is so big & bulky! Who needs 6 inches? Why didn't they just make it 5.7. That 20mp camera is a regression and can't beat my 1020. f.2.4 appeture? My 920 takes better low light photos and video." "The 930 has no GLANCE and no SD Card. It looks so boxy and boring! The battery's too small. Why are they using the SD800 & not the SD801? Not interested! It's a 6 month old phone coz it's basically a recylced icon." . . . .on and on and on it goes! They've LITERALLY addressed every single gripe people had about previous flaships from size, to weight, to image quality, lower appertures, expandable storage, glance & even threw in a removeable battery. No Lumia will ever be good enough.

Good lord, I remember every single one of those complaints. I'm convinced that Microsoft could hop a time machine and bring back a phone that could make people fly and people here would still complain about it being outdated or ask why it won't give them the ability to make jellybeans rain out of the sky. It's that level of crazy.

I know right? LOL! I refuse to be a part of that. We have to be the one's who champion the platform and what it stands for more than anyone else if we really care about it as much as we say we do. It won'r survive otherwise. Also, when we proffer criticism, why not do so within the context of a solution rather than just malign Microsoft for every single tiny flaw in the OS. Balance is key. There's a reason why we're all still here and that's because Windows Phone already has so much to offer.

Microsoft CAN make jellybeans rain out of the sky... with Hololens. :)

LOL, very true. But don't you know, the field of view on Hololense is so bad that it just negates any and all advances it makes. How dare MS create a new gadget category and demonstrate real uses for it. It's doomed, doomed, I tell you. ;-P

Very true. I don't think the WP community is the only group that does this, though. I'm sure iPhone and Android fan bases have the same amount of complaints.

True. Nothing will ever be perfect for all people. We just need to make sure we don't become cynical about everything. Given the stigma surrounding Windows Phone it's on us to believe in this platform if we really want it to stick around instead waiting on it to become this flawless & unattainable thing. Each of us can do this in our own small way.

I've got the 920, 1020, 530, and now using 640. Wife with 920, now 1520. Daughter with 920, now 1020. Son with 920, 820, now 930. Mom with 620. Mother in law 620, now 625. And more people in the family with 520, 1020 (four of them) 920, 830...
And I can't wait to get my hands on the Lumia 950 XL. Think it's gotta be the best phone ever made. iPhone? Android? Forgotten all about them years ago ;)

Sad thing is, that will never change. You just can't please everyone. That, and people don't seem to understand a "perfect phone" would probably cost $1200. Lol. Posted via Note 4/Nexus 7 (2013)/Lumia 1020/ Lumia 2520

Looks pretty good. And don't forget that youtube applies compression to the video so it should look even better before uploading.

Wow stunning. and 950/950xl gets price cut in europe to put a cherry on the cake.

When will att pick up the 950xl?

Beautiful and enticing but for me as long as it's quick and smooth with this quality for my daily use I don't care about comparison

later in November probably means Nov 30th. Sigh

It's still November no? Here's a tip that'll save you from future dissappointment. When something is announced to release in a certain month, always expect the end of the month.

Do you guys think its done by Joe? :)

Looks wonderful, but does it have a Camera Obscura lens?

Third party should fill in the gaps here. I can't wait to pick up a magnesium flash add-on.

Pre-ordered the 950XL at the Microsoft Store in San Diego... can't wait.

looks too good to be true!

I've seen a Lumia 1520 outperform a Note 4, so I have high hopes for the 950's camera!

Hmm, I don't know if I'd agree with that, personally. I previously owned a 1520 and I own a Note 4 now. They are extremely close and both excellent! I might actually prefer the Note 4's camera abilities, personally. Pretty sure its the same sensor in the S6 and Note 5 but with software tweaks, too. So its still darn good. The great thing is they are both amazing, and I'd have to be splitting hairs to pick a better camera. I wonder how much better Microsoft can get from that this year... Smartphone cameras have evolved so quickly. Posted via Note 4/Nexus 7 (2013)/Lumia 1020/ Lumia 2520

I want the 950 i like the size of the Phone and for me is cute

Man, this is worse than waiting for Christmas when I was a kid. I'm going for a 950, and if that "washer" around the camera lens bothers me too much, I'll get a cover from Mozo (http://mozoaccessories.com/). Some of them are pretty slick.