Ally Bank working on Windows Phone app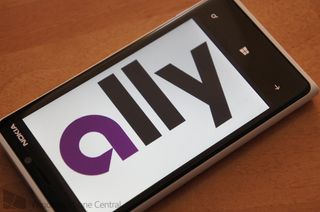 Ally Bank has revealed on Facebook that the bank is working on a Windows Phone app. Already sporting an app for both Android and iOS, this move would see Ally join other establishments worldwide who have also launched Windows Phone apps, enabling consumers to take full advantage of mobile banking.
Last week a Facebook fan commented on the profile of Ally Bank, asking why there hasn't been an app released for Microsoft's platform. He included a report detailing a kantar report illustrating a surge for Windows Phone. There are also calls from other users for an app to cover all versions of Windows Phone.
Unfortunately, no timeline has been provided but we'll be sure to update when more details are available. The good news is one is on the way.
Source: Ally Bank (Facebook); thanks, Kyle, for the tip!
Rich Edmonds is Senior Editor of PC hardware at Windows Central, covering everything related to PC components and NAS. He's been involved in technology for more than a decade and knows a thing or two about the magic inside a PC chassis. You can follow him over on Twitter at @RichEdmonds.
I am happy because my bank has an App on windows phone 8 :)

Can't wait, been tethering my old android phone to my 8x to access the ally app

This made my day. People, set up an Ally bank account. No ATM fees! Love it

About time. Was about to dump them over this.

You'd dump a bank, where you have direct deposits, pay bills, and possibly other things linked to, all because they don't have a Windows Phone app? Really?

I would. I've given Wells Fargo tell the end of this year and I'll move on.

I moved from Wells Fargo (was a customer for 10+ years) to Chase the other month. Aside from the amazing Chase mobile app, their customer service is honestly much higher quality than WF. If you dump WF, I'd look to Chase.

The only reason I wouldn't go to chase is my personal account is with chase and I don't like having my business & personal accounts at the same bank. just personal preference.

Glad I'm not the only one.

Absolutely. I never use ATMs except overseas where they don't reimburse you. For an online only bank I expect the best technology, period. And they fail at delivering that. So really, they offer me nothing of value. Oh and they have no Chip & PIN cards.

Would absolutely dump any bank instead of my yellow 920, gladly my bank DO have an "app"... ;)

Most definitely. If you have to make manual deposits (not direct deposit) their current check depositing method is TERRIBLE. We need an app for windows phone. Somehow I don't think Bofa likes me depositing my checks into that account (via the WP app) and transferring them to my Ally account as soon as they clear.


I would be really annoyed if my bank didn't already have an app for my phone. So im glad to hear you guys have one now :-)

hello HSBC - are you there?


That'll be the day when I can access my account online...

Citi, WF and HSBC are the only 3 big banks of the US that have no app. Any news on there?
By the way Soutwest is allone sinbce all the other major airlines of the country have apps too.

I was told by the branch manager at WF who has L920 that WF WP app coming soon that was in late November so I tweeted WF last month and they said we never talk about upcoming projects. What BS

Hah, US Bank has an app for credit cards, but not checking and savings accounts... What gives?

Great news for ally customers. I'm looking for Capital One to get onboard.

Very cool. Everyone should tell their bank they want a Windows Phone app.

Windows Phone really feels like it's finally starting to catch on now.

This is great news. Been seeing a lot of other banks release apps so was hoping Ally would jump on board soon. My wife and I have been very happy with them since we switched last year. Just curious for others who have Ally, I've got an 8X and anytime I try to access their mobile site in IE, it nevers displays as the mobile site. Doesn't matter if I have IE set up as Desktop or Mobile preference. It always defaults to Ally's desktop site. Anyone else have this issue?

I have same problem but with Wells Fargo.

For Wells Fargo go to www.wf.com instead of their regular URL. wf.com is a mobile site only and it works well.

You can't do mobile deposits from the site, hence the need for an app :)

Thanks for the tip. It works :)

Yes I have the same issue on my Lumia 900. I spoke with them through online chat and they said they only support the mobile site for webkit based mobile browsers. When you point mobile IE to the page they force the full site because they think you're using a PC.

Interesting. I guess I could try another one like UC Browser or something but the whole point will be moot when they get this app out. Thanks for the info!

#screenShotsWp8 use this hash tag on twitter along with your screen shot. Microsoft won't show off the features of this great device then I think we should.

I talked to Ally Bank back in December and they said the same thing. I'll believe it when I see it.

NAVY FEDERAL CREDIT UNION...ARE YOU LISTENING? I SENT A REQUEST JUST NOW SO GET A MOVE ON!

...still not available....

Reply from a request sent:

Dear Sir,

Thank you for contacting Ally Bank. At this time Ally Bank has no plans to develop a Windows mobile app.

If you have any additional questions, we are here for you 24 hours a day and seven days a
week. Our toll free number is 1-877-247-2559 (1-877-247-ALLY) or you can always
visit us online at www.allybank.com.


Thank you
[Removed for comment]
Ally Bank Customer Care

Same here - why I left Ally back in 2012. Hopefully 2014 they'll release and get business back. Ally, don't complain that WP8 is too hard to develop for :) For now - BofA (they include check deposits over windows phone too)
Windows Central Newsletter
Get the best of Windows Central in in your inbox, every day!
Thank you for signing up to Windows Central. You will receive a verification email shortly.
There was a problem. Please refresh the page and try again.