Alpha Wave, a great time killer game for Windows Phone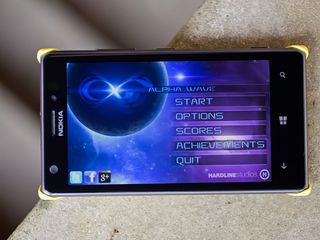 Alpha Wave is an arcade styled Windows Phone game that reminds me of a cross between Galaga and Asteroids. Think of it as a version of Impossible Shoota that has less movement and more graphic punch.
Alpha Wave has three levels of difficulty, three gaming arenas and over sixty-five waves of enemies and dangers to destroy. Add twenty-four gaming achievements and there is plenty of gaming involved to help you kill time. Alpha Wave is a fast paced, eye appealing, fun game to add to your Windows Phone gaming library.
Game Setup - Throwing everything at you but the kitchen sink
The premise of Alpha Wave is that you are piloting a space ship that must survive wave after wave of asteroids, enemy ships, mines, and other dangers that are hurtling towards you. You have asteroids of all shapes and sizes that explode into smaller asteroids, space ships that shoot back, space ships that drop bonus items and bosses that are rather stubborn. The only thing missing is a few kitchen sinks being tossed at you.
The main menu for Alpha Wave has options to jump into game play, access gaming options, view the local leaderboard, check out your gaming achievements and exit the game. You also have buttons to follow the game over on Twitter, Facebook and Google+.
Alpha Wave's settings cover turning on/off the game's sound and music, choosing the graphics quality and turning on/off the game's vibration feature. Load times are somewhat timely with Alpha Wave and if they become painfully slow, consider dialing down the graphics level. The high quality graphics adds a good bit of detail to the game screen but if you opt for the low quality, Alpha Wave looks rather nice.
I like the vibration feature in that it alerts you when space rocks or enemy fire hits your ship. The game is rather intense at times and without the vibration alert, you may not realize your ship is taking on damage.
Alpha Wave's game play has three difficulty levels (easy, normal and hard) with three gaming arenas that include Stonewall, Black hole and Darkstar. The three arenas delivers a slight variety of dangers to destroy and a change in outer space scenery.
Prior to each game, Alpha Wave presents you with a help section that you can scroll through either to refresh your memory or skip by tapping the Start button. The help section does a good job covering game mechanics, specialty weapons and weapons power-ups.
Game Play - Blink and you may get blown up
Two words describes Alpha Wave's game play (one if you prefer hyphens) - fast paced. Objects will enter the gaming screen from the top and both sides. Things start out slow with single asteroids you have to blast then they progressively pick up speed and volume.
The layout of the gaming screen has your vital stats running across the top of the screen that includes your ship's health, score, wave number, any points multipliers and your consecutive hit counts. The more consecutive targets you hit, the greater your points multiplier.
Weapons control is automatic and you move your ship from side to side with two, on-screen directional buttons. About midway up the sides of the screen are two specialty weapons. The super bomb destroys everything on the screen in a single blast. The hyper mode gives your ship's weapons a shot of adrenaline to blast everything on the screen into space dust. Both specialty weapons essentially wipes the screen of enemies just with two different styles. The nice thing about these specialty weapons is that while they are single use, they will recharge with time.
There are a handful of power-ups that fall from enemy ships as they are destroyed. They include three different weapon styles and a health power-up that will repair some of your ship's damage.
Overall Impression
Alpha Wave is a fast paced, intense, challenging, eye-appealing Windows Phone game. It is well suited for killing short bits of time or can hold up to longer gaming sessions.
The only complaint I can lodge against the game's performance is that load times are noticeably slow. Granted the graphic quality is probably the culprit and if it gets too bad, you can dial things down to shorten this delay a bit. It is not an issue where you can cook a pot of spaghetti while the game loads and on the plus side, the game looks so good it is worth the wait.
While Alpha Wave is an attractive Windows Phone game, the deal killer may be the lack of a trial version. It shouldn't be too difficult to restrict a trial version to one gaming mode and cap game play at a certain point level. I think Alpha Wave is worth the price of admission but why developers refuse to offer a trial version is still a mystery.
Alpha Wave is available for low-memory devices such as the Lumia 520 and load times are on par with the 1GB+ devices; a little on the slow side but not agonizingly so.
While I would have liked to have seen a trial version, the bottom line is that Alpha Wave is an enjoyable arcade styled game for Windows Phone.
Windows Central Newsletter
Get the best of Windows Central in your inbox, every day!
George is the Reviews Editor at Windows Central, concentrating on Windows 10 PC and Mobile apps. He's been a supporter of the platform since the days of Windows CE and uses his current Windows 10 Mobile phone daily to keep up with life and enjoy a game during down time.
Looks fun, gonna buy it soon.

Wow this looks awesome-and all for 28MB! I wish they had some kind of limited time trial for it.

It once had it, had lots of problems, so we nixed it. We may bring it back if we can get it working properly.

Not available here in Brazil.

But you have the world cup out there...:)...

Should be now. Please check and let us know!

Still not available. You upload a certificate in the place of the Brazilian one (DJCTQ) but probably forgot to check Brazil in the country list. Can you verify that?

I verified that DJCTQ has a valid certificate, might just take a little longer to show up on your app store front.

The certificate is right. I am saying that besides that you also have to select Brazil as a country of distribution of your game. There are a specific page for that in the submission process.

Good catch! I updated that and re-submitted. Got the approval this morning so now, FINALLY, it should be on the Brazillian app store! Yes? :)

Yes, is available here. Thanks a lot. :)

Cool looking game but why does it need so many unrelated permissions?

Wow that is a lot of permissions! I never noticed that before. I was considering buying it but maybe not now.

I think it would be nice to have an article explain exactly what those permissions give the app access to. Most are self explanatory, but some could use explanation. To answer your question though, a lot of these are on by default unless you disable them when developing the app.

Ohhh, so it's probably just a rookie mistake then.

Please see my write up below. It ended up being a pain in the ass and we ran out of time. BUT we will try and fix this just as soon as we can! I didn't want all those permissions. Hell we only needed the very bare miminum BUT we just ran out of time before we could get it working properly. We don't do anything sketchy at all with your phone or private data!!! The only thing we do is heat up the CPU/GPU and wear down your battery! :P

Permissions fixed and reduced to the bare miminum!

its a good game.. got it for free from myapp free few days back..

Same here. Very enjoyable and well put together. As such it is definitely worth paying for if anyone can't decide whether to shell out or not.

Not buying anything that is not a universal app.

Which phone it is ... Shown in picture ???

Guess Xbox is done for WP games? That was the main reason I got one lol......

Na, still enough games get it. But you have to be a special developer to be able to get access to the xbox parts..

Exactly. Of which we aren't.... yet :)

What do you pay for your coffee in the morning? Support the developers.

I was just pointing out that it was only $.99 for me, as opposed to the $1.29 it says in the article.. That's all!
Don't get my post twisted....
I do support the developers. I bought this one, as well as numerous others this week. In fact, I've spent over $30 on apps and games this week alone... just to support the devs! If you look back at my comments on the articles like the Photoshop express app (where I bought all the IAPs) and RED for example you'll see that I totally believe in supporting these devs for WP!

Yep was just going to point out that the article says $1.29 but is listed in the store for $.99

I've got no time to kill these days.

This game looks and sounds appealing. I really want to demo it first though.

Thanks for letting me know. Rock on dude!

I picked this up early this morning at the hotel, and it is definitely a time killer. Worth a buck, especially if you like this type of game.

Hello all, First off a big thanks to the Windows Phone Central team for a great (and fair) write up. Also a big thanks to all of you who have supported us on WP8 and really enjoy our game. It means the world to us! I just wanted to address a few concerns the editors (and some people here) have brought up. 1) Regarding permissions. We use a 3rd party engine called Marmalade that helped us port our game to Windows Phone 8, the main issue is that Marmalade builds the final executable for us which also includes building that permission list as it also requires certain permissions to function. I tried to reduce that list down to the bare miminum but the game would crash so I had no choice but to leave them in there. The other problem is that our Maramalde license expired just as we got the game out for WP8 and because of that, we didn't have time to iron out the various kinks. 2) Load times are long oh WP8 devices! I don't know what's going on under the hood but even my 3 year old Nexus One Android phone or iPhone 3GS loads the game faster! I tweaked the whole load sequence and it helped greatly on other devices so I'm going to see about doing it on WP8. 3) The game was to have trial functionatlity in place but we had a lot of issues getting it to work just right and then we ran out of time and I really dreaded people running into problems where they bought the game but they don't get the full version so we just priced it at $0.99 (down from $1.29) and hoped for the best. In the end, StarBucks charges you triple that for a decent coffee so we figured it wasn't so bad. Right? :) I'm going to see if Marmalade will grant me a few days extension to sort these things out, especially the load times which was a problem across all platforms BUT we managed to fix on some. Thanks again for all your support and feel free to connect with us about any concerns or issues you might be having here: www.hardlinestudios.ca/contact Cheers!

Alpha Wave rocks and well worth the buck. Post your scores and try to beat the crazy ass top scores. Love it!

We've posted an updated version of Alpha Wave to the app store. The following issues were addressed: 1) Much better load times 2) Fixed potential crash bugs on certain phones 3) Removed all uneeded permissions 4) Added trial version Cheers!!