AlphaJax version 1.7 brings new player rating system and matchmaking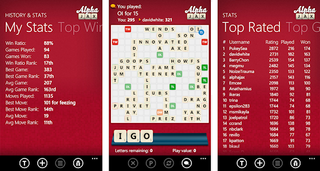 AlphaJax -Everyone's favorite Scrabble clone, I mean, word game - has received a steady stream of updates since its release in October. We were excited when a February update added unlimited, ad-supported play to the trial version of the game as well as user statistic tracking.
Today's update overhauls stat tracking. Previously, the leader board just put the players with the highest number of wins at the top. Now player skill is also a factor. The new rating system is based on the Elo rating system. Gamers increase their rank via wins, but rank goes up a lot more by defeating a higher ranked opponent. On Xbox 360, the Xbox Live TrueSkill system works much the same way.
How does AlphaJax's rating system affect people who are new to the game? Players aren't ranked until they complete ten online games. Pass-and-play (local multiplayer) doesn't affect rank. Even if someone loses all ten of their starting games, they won't receive a negative rank. When they finally do win, they should jump up in rank a fair bit since other players are likely ranked higher than zero.
Now that players have a proper skill rating, random matchmaking has significantly improved. There are two options: Skill Match and Random Game. Random works just like it did before, throwing one player up against a completely random opponent. Skill Match, however, pits the player against someone with a similar skill rating. This should result in much more competitive games. Winning a Skill Match is also more likely to have a significant impact on a player's rating. A high AlphaJax rating, I assume, helps you get all the girls. I'm… not quite there yet. ;)
AlphaJax, is the leading Scrabble-style game for Windows Phone 7. It supports two-player online play against friends or random players as well as local multiplayer. Our review praises AlphaJax's features and presentation. Even now, AlphaJax remains quite possibly the most polished and addictive indie game on the platform.
AlphaJax is available in ad-supported and ad-free ($2.99) flavors. You can pick it up here (Zune link) on the Marketplace. WPCentral staffers Daniel Rubino (Malatesta), George Ponder (coppertop) and Paul Acevedo (eastx) are accepting challenges!
Head past the jump for the full version 1.7 changelog.
AlphaJax version 1.7 changelog:
New rating system
All players now have an overall rating which appears on their 'my stats' page. The top winners leader board has been replaced by a 'top rated' one which more accurately determines the leading players.
Improved skill and random matching
When creating a new game with either skill match or pure random match, we have improved the matching algorithm to improve the response rate as much as possible.
Rematch from within game screen
You can now rematch your opponent via an app bar option (plus replaces the recall button) within the game screen for completed games. It's now even easier and quicker to get your revenge!
Default create screen changes
We have changed the default create screen to 'match up' which allows users to start a skill match or pure random match. The Friends, Rematch and Pass and Play options are still there of course, we just wanted to make it real easy for new users to get started.
History page moved
We have moved the history page as another screen in the main turns screen for easier access. This means the old history and stats screen has been renamed to simply 'stats'.
Ad changes
Ads are delayed in the game and chat screens now to be a little less intrusive and allow reading of the opponent and scores before the first ad appears. Ads are also now appearing consistently in chat screen.
New Words
As always, we've verified and added a bunch of new words.
Bug Fixes
Fixed a bug where an error was occurring when app was exited whilst resuming by pressing windows button.
Get the Windows Central Newsletter
All the latest news, reviews, and guides for Windows and Xbox diehards.
Paul Acevedo is the Games Editor at Windows Central. A lifelong gamer, he has written about videogames for over 15 years and reviewed over 350 games for our site. Follow him on Twitter @PaulRAcevedo. Don't hate. Appreciate!
Is anyone getting push notifications from this app? I reset my phone and they started working for a bit, but now I keep getting the error about not connecting to the push notification channel.Other than that, this game is great.

My push notifications stopped working after upgrading to 1.6I have a Samsung Focus.

I've noticed the push notifications have been hit and miss for the past few weeks. Hopefully this will be one of the bugs fixed with this update.

Okay. Are push notifications app specific or do they all run through Microsoft? I'm coming from an iPhone 4 and I think some apps have their own push servers and I think some use Apple's servers.

They are specific to the app.

Push stop working for me a looong time agoo.

Well, someone hit me up for a game.ctt1wbw

Hi, Push notification problems can be the app the servers (both app developer and Microsoft) and the internet in between;).In the case of AlphaJax we have never had any reported problems on our servers processing subscription and push requests which get sent to the MS Servers. The MS Servers then send these requests onto the device. What has happened in some cases is that people's devices have stopped being able to connect to the MS Servers to register and get their unique url (a "channel"). We have a post on what to do if this happens to you: http://alphajax.zendesk.com/entries/432880-there-was-a-problem-connnecti...Also, sometimes you will find the tile doesn't update. There's very little we can do about this because even if you played the move we can only update the tile via a push notification and if the push notification doesn't make it through then you'll have to wait until you play another move or someone else does. So in summary push notifications are not guaranteed, they are there to enhance the experience and for the most part, my own personal experience is that they work pretty darn well. There is that annoying bug as I said and it doesn't look like NoDo has fixed it, but hey, nothing's perfect.