Amazon pulls Windows Phone app from search, but you can still get it for now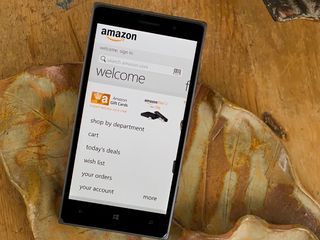 Amazon has confirmed that it has pulled its long-running Windows Phone app from the search results of the Windows Store. The company does not appear to have any plans to launch a similar app for Windows 10.
The removal of the Amazon app from the search results was first noticed a few day ago. The German-based site WindowsUnited.de reports they have received an official response from Amazon. The (translated) statement said, in part:
It is important to point out that people who have already downloaded the Windows Phone Amazon app won't be affected and it will still continue to work. Most importantly, the app is still available via a direct link to the Windows Store page. There are no indications that a universal Windows 10 app from Amazon is coming soon meaning this may be the end of offical support for some tmie.
We've also reached out to Amazon for a comment and will update if any new news is given.
Download Amazon from the Windows Store (opens in new tab)
Two steps forward and three steps back....

Here comes the doom and gloom posts, followed by The Verge quoting their own "Windows Phone is dead" article

As it should..I have been a fan boy since the Samsung Blackjack and there is only so long one can hope

How did you get along back then? There was no Amazon app. No Snapchat app. No Instagram app. No <insert app name here that is big today but will be forgotten tomorrow>. I too had a Blackjack, and I knew the experience was horrible because it didn't have an Amazon app for it. My life was horrible. Then Amazon released their app for my WP and life suddenly had meaning. No more going to a web page. No, I got to use an app. It made me feel special. Like I was better than all those people why used a full-featured web site, while I used my simplistic app - the same app that I have on my iOS devices. This is the same thing that happens over and over again. If you want to criticize WP, you pick one of the following that best fits the attack: 1) Small number of apps on the store. 2) Most of the apps are web wrappers 3) Most of the apps are ports 4) Most of the apps are Windows Phone only. 5) Most of the apps are junk. Then you point out: 1) The number of apps on the Windows store is comparible to the number on the competing app stores 2) Love this argument. The Windows store has web site wrappers. But the biggest complaints about apps that are or were not avaialble for WP was web wrappers. There were people complaining about Facebook not being in the store, and then when it was would claim that it was a web wrapper so it didn't count. But then you look at the highest rated apps in the iPhone or Android store, and they are web wrappers. Steve Jobs himself told us all you needed was a web page, that an SDK was not necessary. But when he is proven wrong, then they convieniently forget that argument. So while you use you little app on iOS, I will be using a full featured web site. 3) If we do get an app that was on iPhone and Android, then they call it a port. If it was on iPhone or Android, then one or the other is a port. 4) Of course #3 conflicts with #4, but that is OK because they are arguing against WP. Have original content on Windows, no body wants it. Have it on iPhone/Android first, then it is a port. Microsoft Office are one of the highest ranked apps on the iOS store. It was on Windows desktop first, then portions ported to iOS. But somehow that doesn't count. 5) Yep, there are fart apps. But they started on iOS, and somehow the dozens of them on the iOS store are precious gold, while the ones on the Windows store is just junk. The interesting thing is that a couple years ago an analytics company (the ones that releases software so that people can count how many of their apps were downloaded) announced that 60% of the apps on the iOS store have not been downloaded a single time. Not once. Zip. Zero. Zilch. And only a handful has a download rate that makes it possible for developers to make it worth their while. But yet, everyone claims that every app is perfect - as if they know since obviously have experience with all of them. And, of course, when you get to the list of arguments then they just mock you for your choice in phones, or start at the beginning of the list again.

Number of apps in the Microsoft Store is comparable to Android or iOS??? How do you get to there from here???

Last September Microsoft announced there was nearly 700,000 apps in the store. That was 9 months ago, and the count has gone up since then. Currently (an exact count today) there are 889,184 iPhone specific apps on the Apple store. There are 789,191 iPad apps. 544,716 of those are universal, running on both devices. Yes, some of those on the Windows store are specific to one platform while I broke out the number of iPad/iPhone apps. But I also wrote "comparable." No one doubts there are more on the iOS stores, but claiming there is a dearth of apps is just propigating the myth to scare people away. Incidentally, there are 10,181 apps on the Mac store. I guess, if the same standard is applied, Mac is about to die a miserable death some time around, oh, let's say now. I also like how you skipped over all that other information I had in there to focus on that one item.

He didn't skip over any of your "information", he just fell asleep on chapter 12 of your archive.

Some of this could be excused if 10 m wasn't pure ****

Do you ever have an original thought? can you not ever be influenced by these Verge articles? Do you sucumb to peer pressure? Answer them.. I know what it is going to be..

Everyone knows Apple is still going to build and develop Macs. Apple would never allow that question to even be asked. Its really isn't Windows 10 Mobile, or the apps, its that Microsoft (Nadella) isn't making his intentions clear. Its his leadership, or lack thereof, is what people are fleeing from. They don't want to buy a phone, or build an app, for a platform he doesn't publicly endorse. The losses from market share to apps is 100% Nadella's lack of leadership.

100% lack of leadership.. Right.. sink some more money into the phone noone's buying.. Elite X3, Alcatel are all coming out.. guess why? because they don't feel threatened by Microsoft.. Ever wondered why is MSFT at it's all time high in a long long time..

I'll believe this if those OEMs release a second generation of their phones.

Thank you nohone! Finally someone with common sense. I freaky don't understand why people come here just to ***** about WP. These iPhone and Android fanboys have nothing better to do than spam a Windows site. It's sad really. Posted via the Windows Central App for Android

Well they are actively pulling apps now

love you man! nice comment! :D

When Amazon pulls their app, you know that there is absolutely no way of getting back. Why? Because unlike others, Amazon makes money on the fact that you use the app. If they don't see the future in W10M, who the hell will?

Actually, Amazon doesn't make money. They never have actually turned a profit, and actually have operated at losses for years. Posted from Windows Central for Windows 10

I'm calling BS on that comment.

https://finance.yahoo.com/q?s=AMZN $2.43 per share in earnings, and a stock price of well over $700. Oh, they're makng money all right! https://finance.yahoo.com/q?s=AMZN

$700/share only means Bezos is making money. Earnings = revenue - production costs. Profits = total revenue - total expenses Now show me "profit"

Your definitions of earnings and profits are BS. Even if it wasn't and somehow there were such weird equations - Amazon's earnings would be equal their revenue, as they pretty much have no production costs - it's a trading company. That would make ca. 100 BILLION DOLLARS a year of earnings. Anyway, EPS more or less shows how much profit they make per one share. In the first quarter of 2016 they made 1.1 BILLION operating income and 0.5 BILLION net income. That is profit, net profit, after tax, for the owners. In just one quarter. You can't manipulate that into loss. Here's the source: http://phx.corporate-ir.net/phoenix.zhtml?c=97664&p=irol-newsArticle&ID=2162972

@Thorgal Aegirsson, that's incorrect. Amazon's expenses on their largest business line (retail) are high, as they operate at very slim margins. They buy and inventory most of the items they ship (everything they ship by Prime). By choice at Bezos' direction, Amazon has run at about break-even for the past several years. As you mention, they did recently turn a profit based on a surprise spurt in revenue on the cloud services side of the business (AWS). But their general operating model has been to plow all of the profits back into the business, unlike Google, Apple, and Microsoft, all of which have turned substantial profits for the past several years.

@GraniteStateColin I never said that their expenses are low. Of course they're high - it's a trading company and as such it has low margins. All I said is that Amazon has no/low production costs pointing out the incorrect equation for earnings. As for the profits - you are either wrong or you deliberately misinform. A quick look at their historical financial data indicates that most of the quarters are profitable. For example, out of the last 8 quarters they had profit in 5. Here's the data: http://www.streetinsider.com/ec_earnings.php?q=AMZN You actually said that, contradicting yourself: "their general operating model has been to plow all of the profits back into the business​". That means you admit that they have profits. What your statement says is merely that they reinvest what they earn as opposed to paying dividend. But so far no one has even mentioned dividend. The point of contention was whether they are profitable or not. And they are.

@Thorgal Aeglrsson, we're not really saying anything different here. The term "plowing profits back into the business" is a pretty standard business term, at least in the US (not sure if you're in the same country as I am or not). It means taking the pretax profits and re-investing them in the business -- whether for hiring, R&D, opening new facilities, etc. After a business does that, it doesn't have profits. That was what I was saying earlier. Sorry if I my US English shorthand made that confusing before. You'll note I've not said anything critical about Amazon's business model for doing that. It's entirely legitimate, it's just that they have had a management philosophy of growth over amassing a cash war chest (say for future acquisitions) or returning to shareholders (via dividends). This also saves them having to pay taxes on the money. It is, however, unusual for a company of Amazon's size. It's much more common with early stage startup companies to behave this way, because they tend to prioritize growth over cash or returning liquidity to shareholders. Mature companies can't sustain 100% growth rates, and so tend to look at ways to get cash back to their investors. In the link you included, you'll note that only the last two quarters showed profits of any significance. As I mentioned above, that is really driven by expectation-beating growth in their AWS cloud business line. The previous quarters were all at about break even (some just above that point, some slightly below).

So again "taking pretax profits". It was really only about one simple thing: Are they profitable or not? They are. The fact that their margins got significantly lower since mid-2011 is not the point. Nor is looking for the reasons they suddenly make less money. Profit is profit. More so if you consider only operating income, before their maneuvers to lower the tax. =========
ATARI 4EVER

@Thorgal Aeglrsson, I don't mean to bicker, but technically that's not right. Yes, they have been profitable in the past two quarters. Before that, all that matters for an overall assessment of "profit" is the bottom line. And while it is because Amazon chose to re-invest what COULD HAVE BEEN PROFIT, the fact is that they made that choice, erasing their profits. Again, this is really a difference in semantics, because I'm not suggesting that Amazon is doing anything poorly. But by GAAP or even non-GAAP, Amazon has basically chose to run not at a profit (except for the past 2 quarters), choosing growth over profitability. To be precise with terminology, Amazon has not turned a material profit, except for the past two quarters. They have (by choice) run at about break-even for years.

I belive they will come back with Universal app for wins 10, the community is big enough to ignore.

@TLRtheory : It'll be followed by Jason's 5 part series, "Amazon pulling out of appstore is part of Microsoft's big future plan and how no one will shop from Amazon once the surface phone is launched".. !!

The only thing useful the app did was allow barcode scans to check prices. If they don't release a UWP version then I'll use a third party scanner which will show me prices on other shopping sites as well as Amazon, meaning I'll more likely order from another store.

Yeah, but I just hope this doesn't mean other Amazon apps like Kindle and Audible are going to get pulled too. I have no problem using the mobile version of most apps, including Amazon(dot)com, but Kindle and Audible are actually two apps that need to exist, unlike most apps (which should just be mobile websites instead).

Yea a lot of my kids books are on there!

This! For Kindle, you can't even use it on the mobile version on IE and Edge. Either one is just not supported. I think the Audible app should be okay, since they have a UWP now (I think).

What barcode scanner do u use & how do u scan it well in the amazon app as well plz

It's right there on the first screen when the app loads up. Look for the words that say something about a scanner.

To the right of the search box is a small picture of a barcode. Click on that, or just below where it says pin barcode scanner to the start screen.

It also has parcel tracking which is very useful. Posted from my o2 joggler.

You can just as easily use their website to do the same.

I'm going to send your comment to amazon.
Perfect. Lumia 950xl :)

Sad thing is that the site is 10 times better than that sh*tty app so there was not a lot of space to go back!

I stopped using it a while ago and been using their mobile website. It is so much better. This is something I am fine with going away. Just pinned the website to my Start Screen and Amazon logo pops up which is good enough for me. Maybe they might revisit a universal app in the future.

When browsing from my phone they could at least have the decency to stop offering me the stupid Android app..

The Windows app wasn't good-it was just as bad as the android app

The Android app is awesome, I have no idea what you're talking about. Posted via the Windows Central App for Android

Hey guys,dont think Amazon is pulling the app permanently. Had a conversation with them today about a feature on the windows phone app and they said they are working on it. https://twitter.com/AmazonHelp/status/740125904022671360 Maybe my feedback today reminded them its time for some enhancements? :P

I hope you're right. I was just using the app the other day to access my wish lists, shopping cart, and check prices. It was working fine, why would they pull it?

Same here just used it to place an order and now tracking it through the app. I thought this was one of the apps most people would definitely have on their phones and I can't see no reason why the app is being pulled.

Yeah, I was a frequent user of the app on my windows phone. It was convenient and easy. Why would they suddenly withdraw it? Seems like we'll have to pin its homepage to start or move over to some other store. Sad.

Reminder: The Windows Phone world before Nadella took over just 2 years ago... http://allaboutwindowsphone.com/news/item/19042_Kantar_data_shows_Window... http://www.latinpost.com/articles/8186/20140302/ios-vs-android-windows-p... It's incredible to read those articles and remember the damage he has done in his "Mobile First" mistake at Microsoft as CEO. And don't say "Mobile First" meant mobile apps and experience across devices, because he's failing hard on that too. http://www.computerworld.com/article/3072583/enterprise-applications/goo... In fact, the Nadella's whole "Mobile First, Cloud First" was quietly dropped by Microsoft to hide his complete failure in mobile. Now it is, "Create more personal computing, Reinvent productivity & business process, and Build the intelligent cloud platform" (notice that Mobile isn't even mentioned anymore) http://www.winbeta.org/news/watch-microsofts-computex-2016-keynote-right (@2:16 in the video) He seems like a nice guy, but failure is failure. He took a clearly 3rd place (but growing and viable) position, and ran it into the ground. Continuum will be huge, once iOS or Android has it. But it is a failure now because he allowed the market share to drop to nothing for his OS. It's sad. He was given challenges, and turn them into defeats. Don't we all wish we could become multi-millionaires turning big companies into smaller ones?

Nadella has to resign asap (of course not due to the amazon app, but for the damages and failures in the long term period)

Lost what little market share they had, but has seen uwa come to fruition. Also, company wide microsoft has staid relatively static on income and profit. Hardly a total failure

Actually UWP had some momentum (I can say as dev that can see his app results), but after all those recent news it had completely lost it and gone downhill. Extremely small market that doesn't even go up any more. I think they'll announce that strategic retreat next year.

Yes that's why Microsoft are doing so well with rising stock prices. There's only so long you can pour money into something before people get tired of no results. Nadella hasn't put a foot wrong Imo.

If you accept that terms in technology are long and in the first six months of his work stocks were still moving mostly thanks to Ballmer's good or bad moves, then you will see that the rise of price of Microsoft's stocks has significantly slowed down during Nadella's time. Though it is to early to make some final conclusions, but that's what maths and logic say. I am unsure if there were some difference in the dividends paid to shareholders that would make up for this loss.

Most new CEOs get a honeymoon bump. Look at Marissa Mayer at Yahoo. At some point, revenues and profits need to stop falling, or that bump will vanish. Like when IBM concentrated more on their "big iron" than the new PC world, Nadella is focusing more on PCs than mobile. Also, enterprise buyers are consumers first. If they see Google as more cool, mobile and innovative, if they use Google OSs on their phones, and Google browsers, they wilk buy Google services for their work. Walking away from mobile will cost Microsoft, and their stock holders, 10s of billions of dollars in the long run. This was a fight Nadella couldn't afford to walk away from, he had to fight. Well, personally it wont matter so much to him, he's set either way.

I found the app frustrating as it didn't offer a lot of features. I ended up going on the web for a lot of stuff. Kind of sad. But they make a bad app and then when they see people are using the web instead they think it's because they don't want an app. We do, just a good one haha.

Not really, it was a pretty crappy app, and any thing advanced it fired you off to the browser anyway. Posted from Windows Central for Windows 10

It was a crappy app because they never worked to make it better like they do on other platforms. And the reason why they never worked to make it better was because nobody was using it. They know the numbers on which apps are actually being used on the various platforms, and the Windows Phone app obviously wasn't being used. Posted via the Windows Central App for Android

Aaaaaaaaaaaaaaaaaaaaaanother one bites the dust

Lol 1 can wonder how long till audible's demise

Finally reported on this! Well done WP 2 days late to the party Please downvote me. I'm aiming for the most.

Well, that's not good....

This is bad news.. Hope a uwp comes up.. Because many offers in India are app only these days

Windows 10 Mobile - Rediscover the web

Edge browser is worse than IE6... Broken as hell.

This is true. Fanboyism aside it's been pretty terrible both on desktop and mobile. And that's saying a lot coming from IE.

Heavy surfer, using it on both mobile and pc, it's super fast. Give numbers about how it is slow or broken compared to other browsers (I use chrome too so I don't live in a bubble)

Edge is horrible on W10 Mobile. It's damn near unbearable sometimes, crashing, slow, broken pages. On Desktop I've had good luck though.

You must be using Redstone.

No, it was like this before Redstone. Webpages load slow, or don't load at all, and I have 5 Lumia's on Windows 10 so I know it's not my phone. Browsing the web on any of my Lumia's is a painful experience compared to my other handsets. Posted via the Windows Central App for Android

This. it's so painfully bad on Mobile, when I look at something and require to click through a link I often just choose to not view it, just to stay away from the garbage that is Edge. It's slow, sluggish, buggy, likes to crash. And the times that a page actually loads, it gets rendered incorrectly, in a broken form, it is slow or it gets endless redraws, but most of the time a combination of them. Like 1 out of 10 webpages actually gets rendered properly, and even then it's an experience I'd rather not have.

They should use Islandwood at least to port the app from iOS. It is better to have something than nothing.

Don't know bout you, but I'm not impressed with the iOS ports. FB messenger and Instagram are very laggy and buggy. :(

They don't use Islandwood, but you've got the point. Islandwood is also slow and buggy and will be for a long time, but Facebook has the control over its bridge and can eventually fix the problem, while on Islandwood you can only hope and prey that Microsoft will fix it one day. That's one of the reasons no one uses it aside from low revenues that can't pay any effort, even of making screenshots.

Islandwood is open source, so no you don't have to hope and "prey" that Microsoft will fix it.

I am aware, but iOS devs won't care about fixing Islandwood and learning Windows development to fix it. Really.

You're assuming only iOS devs would contribute to it.

No I am just saying that if I was an iOS dev (and I can't say I am as I mostly use Xamarin for now), I wouldn't be crazy to use a newly released bridge that by definition has bugs and problems and I have no single way of fixing it. And the reallity is that no one uses the bridge so if you don't have a better explanation you might accept this one.

If I'm not wrong, those app don't use islandwood but instead Facebook's homegrown OSMeta. A good example of Islandwood is Candy Crush.

You're right. You should also be aware that porting of the game is silly compared to the porting of the app, so the fact that few games work properly on Islandwoood don't prove much.

Candy Crush is fully functional, but the performance is lame considering my phone's hardware (950 XL). The game works perfectly smooth on my brother's LG G2, while the game takes forever to start on my phone, and scrolling through the map is not smooth.

I think it worked reasonably well on WP8.1 even on very low end devices. Haven't tried in on W10M.

Likely the phone too. Loads far quicker and performs better on my 1520 than it did my 950 XL.

Amazon on iOS is written in Swift.

Didn't know that. Is swift catching up that fast?

Yup. A lot less coding than, Objective C and stuff.

Why would they port their app using Islandwood when not enough people were using it to begin with? Posted via the Windows Central App for Android

This is incredibly bad news. I use this app all the time and if it goes away completely it's likely enough to push me back to an iPhone :(

This app more than any other we lost might actually make me do that

I like the app, but the mobile site works well too. Not a deal breaker for me. What if it actually *does* seem faster?

I like the app, but the mobile site works well too. Not a deal breaker for me. What if it actually *does* seem faster?

Really? I always found the wp app to be poor quality in comparison to the other platforms. The website was always my preference. A new UWP would be great though.

In my opinion, every single multi OS app on WP does not have a good quality, even if those look awesome. Right now, many companies are pushing back their apps because they think is a waste to keep up the support and the OS is not and won't be strong enough for them to make a good profit of it. Well, that's what I think and it is sad, because I like WP, but I'm starting to get tired with all those news about tha future of the OS, to be honest. Looks pretty dark.

Can you guys please start praying this stuff on the Microsoft twitter page please do they know the importance and impact this you're of thing has on us?

If you already have it, nothing will change. But to those who do not have it or are new to WP, they will be unable to download it.

What happens when I factory reset my phone though? Sure, its available _now_, but what about the day they pull it completely? Posted from Windows Central for Windows 10

You have back ups of your settings and apps. It will download because you already have it installed.

And you can always go back in the list of apps you have previously installed and install it again.

In my experience this is not how it works. Once an app is pulled, it's no longer available to you, doesn't matter if you bought it for actual money or not, pulled from the store (or made "incompatible" with your device) = not available. Whereas on iOS, if you own an app you actually can install it even after said app is pulled. Posted from Windows Central for Windows 10

As the article says, the app is not pulled. Just removed from search.

OMFG, stop being dense and re-read my initial comment. What happens when I factory reset my phone if they, by then, have pulled the app... Geez, the youth of today... Posted from Windows Central for Windows 10

Yes, then you will lose it. But we have no indication that it is being completely pulled. Geez, the youth of today...

Historically speaking, yes we do. And even so, that wasn't the scope of my comment. I was just making yet another snide remark about how Microsoft ducks you over whereas Apple does not (in terms of apps you have purchased for hard cash). Posted from Windows Central for Windows 10

If it's removed from search, it will be pulled.

Not necessarily. Removing an app from search is a common tactic after finding a bug or issue that you don't want to affect new users, but without removing any functionality for existing users. It gives you time to fix it before re-releasing.

So you are asking what happens if they actually pull the app. Well then yeah it won't work, for anyone. Duh. Not what this article is about though.

It stores a history of all the apps you "own". Even free apps. Just go to that and download from there. That's how I still use Photsynth on my 950XL. Now if you mean the publisher actually completely pulls it and it's not even reachable via link (and looking at your other posts this is exactly what you mean) then you can either download the file (assuming somebody has a copy of it somewhere) and sideload it or just use the browser to get to Amazon's mobile page.

You can continue using it (even if the mobile website is more complete and faster than the app)

https://s32.postimg.org/4pmj5d3o5/wp_ss_20160607_0001.png Is not exactly what I'd consider more complete (or faster) than the app. If there is a different mobile website available im all ears but going to http://m.amazon.com (or de, fr, co.uk) this is what I get - oftentimes redirected to the non mobile site for actual product pages. (yes, my Edge setting says "desktop" version because that's what I generally prefer - hence going directly to the m... site). Posted from Windows Central for Windows 10

Can't click on links on this damned central app. Anyway, what are you missing compared to the app? I can browse my account and orders, browse things, pay, super fast and looking clean. Maybe I'm just not aware about advanced features that we have in the app.

:D now I see the screenshot, it's not what I get on my phone obviously LOL Have you tried without the "desktop" settings? I simply go to amazon .it .com .co.uk , if I try to go to the m. amazon .xy it redirects me to amazon .xy

The website is far better than the app.

blame microsoft and their total lack of commitment to windows10mobile platform.

Post it on the Microsoft and twitter pages

Ehh the app is kinda pointless anyway. However, we are losing more and more apps every day and the app gap is becoming an issue again.

I don't see how it's pointless. I've made many purchases using the app.

Again? the app gap has been windows phone's main issue since its inception as windows 7!

Not really. Barely used the app anyway as the website performs much better.

Amazon take note from BOA!

One more app is gone.... Good job MS.

When a company as big as Amazon can't justify supporting a Windows Mobile app, you know it's bad.

I agree, and I would have thought that my purchases alone would have paid for the dev costs.

Amazon pays devs probably something like 20.000$ a month or even more if you take all costs. You have ordered luxury houses through Amazon???

When you add up the amount peachy, myself and 1000's of other Windows 10 based Amazon buyers spend, then yes, they can afford to write a basic shopping app and support it.

Possibly (I have no idea), but he hasn't included you or anyone else in his comment.

You speak of Amazon purchases through Windows 10, but it's pretty obvious that PC users use a browser to shop. There just wasn't enough people using the app to justify its existence. Posted via the Windows Central App for Android

People said the same thing about Bank of America. Also, nowhere does it say there won't be an app, it just say's the author can't confirm.

This. Come on Microsoft, where's your game plan? You can't just stop feeding the fish and expect them to swim again at your leisure.