Amazon rep hints at Instant Video app in the works for Windows Phone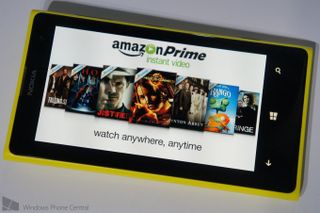 Amazon Instant Video is an Internet on-demand service available in the US. Fans of series and movies are able to enjoy access through rental or straight purchases and it has proven to be a rather popular alternative to the likes of Netflix (and the iTunes store to some degree).
The company currently sports an app for iOS, but we could well see some support for Windows Phone in the future. According to a shared chat log between a support representative and a customer, there's a definite hint of development on a Windows Phone app.
Now, before you all get too excited about the prospect of watching your favourite TV shows and films on the go, it's worth noting that reps have been wrong in the past, meaning this is by no means concrete evidence that an Amazon Instant Video app is on the way to the Windows Phone Store. That all said, "Prime might be available on Windows Phones soon" is a strong statement.
It certainly makes sense for Amazon to support Windows Phone since it's a growing platform, which has secured the number three spot in the mobile OS race. The Amazon rep even goes as far as to confirm that the company is aware of said demand for Windows Phone support and they've received "many requests" to make Prime available. We know just how vocal the community can be.
For now we'll just have to wait and watch out for future announcements. Amazon currently has numerous apps available on the Windows Phone Store, including Audible, Amazon Mobile and Kindle for you all to enjoy in the meantime. Did we mention that even the Xbox 360 has an Amazon Instant Video app?
Would you like to see Amazon Instant Video on Windows Phone?
Source: WMPU; thanks, guyjkh, for the tip!
Windows Central Newsletter
Get the best of Windows Central in your inbox, every day!
Rich Edmonds was formerly a Senior Editor of PC hardware at Windows Central, covering everything related to PC components and NAS. He's been involved in technology for more than a decade and knows a thing or two about the magic inside a PC chassis. You can follow him on Twitter at @RichEdmonds.
How is prime compared to Netflix?

To me, Netflix is still a better deal for streaming video. Prime video is iffy, and it's more of a value add if you already have prime service for the shipping. But I would be super excited to see Amazon video on Windows 8 and Windows Phone.

Netflix is plainly better. Netflix has better quality, faster buffering, more selection, and a much better interface. However, now that we have Prime we will always have it. We will probably go back to Netflix for the bulk of our viewing content late this year (we are taking a break for them to get some new content up), but Prime does have a few shows that Netflix does not have, and all of the other benefits like free 2 day shipping are must-have services which saves much more money than the $80/year membership fee.

As has been said, they each have some content the other doesn't. With Prime, you can rent newer movies (along with the free 2 day shipping). I always say if you can afford both, subscribe to both. If you had to choose one, I say Netflix if your only desire is to binge watch TV shows and catch up on older to fairly recent movies.

Also they tend to have stuff that has yet to be rereleased for dvd earthworm jim was a good example though i did hear it was released on us Netflix. To bad its not available in canada yet.

Me too. I just joined Amazon Prime three days ago for the shipping and ebook library, so watching videos on my phone would be a nice perk.

This is one of the reasons that I chose Netflix instead of Prime. But, with the free 2-day shipping and a Windows Phone app I might go back to Prime.

As a streaming service? Clearly Netflix. However, Amazon Prime has a bunch of little benefits and extras that really make it worth it (2-Day shipping on almost everything, special Kindle promotions, etc.). If you're looking for nothing but TV Shows and Movies to watch, go Netflix. But still, Amazon Prime has a bunch of nice bonuses and extras, that really make it worth it. If you can cover the bill for both, go for it.

This would be great but give me an Amazon Cloud player on WP8 first!

YES. This is what I really need from Amazon

Yeah weren't they talking about a cloud player app like a year ago?

I agree. Thumbs up and what not. I will never get iTunes and don't really want to give google my CC number, and it seems that amazon is cheaper as far as songs go in most cases (cheaper than MS/xbox and Nokia music). A lot of my music is already from amazon, so YES, please give me a cloud player. I do love how WP is picking up speed!

Absolutely. Cloud Player please!!!

This is not the first report of this from WMPU. Not that I don't believe it, but it's taken a while to come to fruition. http://wmpoweruser.com/amazon-working-on-making-amazon-instant-video-ava...

This is an awesome news. If they do have the app for WP8, Win8, I may finally get off to pay extra for Netflix.

I don't use Amazon Instant, but I of course support more big-name apps coming to WP! Amazon did a great job with their shopping app. I hope they put the same effort into the Prime Instant app!

Personally i think they need to work on their amazon app & their mobile site. I can browse BB mobile site better than this. Their audible app i have no problem with.

Y don't u use flash cinema

I've been waiting forever in this. Hopefully it will come to fruition.

To be honest, I'd rather have a windows 8 app for instant video :P

Yeah I'm in the same boat.

My guess is they release them side-by-side, or very close. There's been more and more apps doing this lately.

At least you can access it online. Not sure if that is true for RT.

For Lovefilm (the UK equivalent) you require Silverlight meaning you need to run IE from the desktop, it will not work from Metro so I'm guessing it wouldn't work on RT.

I used to have issues with amazon instant in the US due to silverlight, but I have since been able to tack on "?player=flash", which forces it to use flash instead of silverlight for the player. Hence I could use it in metro. However, after awhile I feel like something changed because I don't need to do that anymore :)

Yes, you can access prime instant video through the web on RT. I've used it on my Surface RT many times.

How do you do that ? In the UK it does not appear to work.

Amazon prime works with Surafce RT 2 - I haven't had issues with it. Although an app would be a much better way to experience the service.

That's one thing severely hurting Windows 8. Companies are slow to develop apps for Windows 8 when their sites can be viewed in Windows 8.

At least with win 8 we can use IE. Its not ideal but it works. With WP we have no ability At all.

Agreed! Windows 8.1 app would be more useful to me. Much more likely to watch on my tablet.

This is called Lovefilm in the UK, and it would be nice if we got apps for that and W8 too.

How about a windows 8 app? Yes i know use the browser but fuck that......

Good news. I want to know how Prime stacks up against Netflix.

Oh my my, oh hell yes! Would love to be able to take full advantage of my prime account on my 920.

With a Student discount it's $39 a year subscription not bad at all

If I'm not mistaken IMDb is owned by Amazon aint that right? If so, they should first get the damn app updated like Android and iOS. The app is lying dead since 1 year 7 months. After that they can focus on releasing new apps.

What's wrong with the current imdb app? I think it is pretty good. Besides, I can look up movie info on my browser but I can't watch prime without an app.

Does this mean we will also get a LoveFilm app or not?

Lovefilm for windows phone needed too. Along with blinkbox

Wish all these video streaming apps come to India soon... :/

This is good news!! I could finally leave Netflix.

I want this so badly! I use it on my Xbox all the time. Luckily I watch Prime videos on my Surface for now. But it would be cool to watch a few shows on my phone.

Part of the reason that the Netflix streaming services has done so well is because of its availability. Basically, any device that can stream content from the web has a Netflix app, even Windows Media Center running on Windows 7 (maybe even Vista and XP). Anyway, if Amazon Prime wants to really compete, they need an app on all platforms. I didn't realize that they don't have an Android app either in the Google Play Store. It will be interesting to see if they do release a Windows Phone app before Android. At least on Windows 8/RT, you can view videos in the browser. Still, an app would be nice in the Windows Store too.

Is Prime the US version of LoveFilm? If so would there be a chance of UK getting a LoveFilm app?

They don't even have a win 8 app so wp8 would be highly unlightly, i switch to Netflix because of the love they show for windows.

This is excellent. The option of watching movies on the go would certainly be another great reason to renew my amazon prime subscription.

Would be nice to see an RT app as well. I'd use this over our Kindle Fire with Miracast anytime.

The lack of a WP client is what's keeping me from getting Prime. I watch Netflix on my Lumia 520 all the time, but would love getting Prime as well.

They need to completely redo the web interface for Prime Video as well. It's terrible. I use Prime for shipping (only $40 a year since I'm a student), but I never watch video with Prime because it's just not very engaging. But yeah, I hope they make a WP app soon.

Hope how else am I going to watch the newest top gear uk season

This would be a good thing. It would also be nice if they would make an app for Android, so that I could access my Prime videos on my tablet.

Yes please!!! I'm a prime member ready to view videos on my wp8!!!

In comparison with NetFlix and others i always preferred Amazon because you can enjoy it without commitment. with NetFlix you need to be a subscriber. Amazon allows you to rent or buy a la carte. Makes a lot more sense for people who don't watch movies all the time. Beats the cable company in price and selection for video on demand.

Yes please! I just signed up for a Prime Account and it would be really awesome to stream movies from my WP8 device!

Does amazon even have a android instant video app?

No, they don't. Amazon reps are renown for creative chats. They work hard to ensure customers leave the chat happy.

I wish iTunes app available for wp8

I sent a page long email on why I think they should take a chance on WP. I'd like to think it helped a little.

They don't produce a win 8 app so why should they show love for wp8 , Netflix are currently on win 8, win rt and wp8 and that's why they have my money.