AMD provides list of VR-ready processors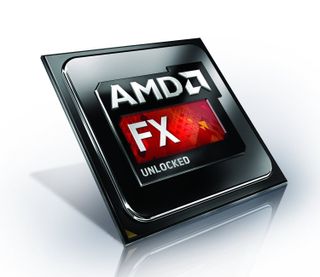 If you're planning on building a new PC rig specifically for VR gaming in the near future, AMD has finally made picking parts a tad easier with a list CPUs the company suggests for VR gaming. Of course, we've known which Intel CPUs were recommended for a while, but those who find themselves on team red can now start planning their necessary upgrades. Here's the current list of nine CPU models AMD recommends for VR applications, as reported by Forbes:
FX-9590 - 4.7GHz/5.0GHz
FX-9370 - 4.4GHz/4.7GHz
FX-8370 - 4.0GHz/4.3GHz
FX-8350 - 4.0GHz/4.2GHz
FX-6350 - 3.9GHz/4.2GHz
A10-7890K - 4.1GHz/4.3GHz
A10-7870K - 3.9GHz/4.1GHz
Athlon X4 880K - 4.0GHz/4.2GHz
Athlon X4 870L - 3.9GHz/4.1GHz
Of course, this list is only for those planning on building their own PCs to handle VR. If you're planning on being an early adopter of the Oculus Rift, you can always pick up an Oculus Rift PC bundle later in February.
Dan Thorp-Lancaster is the Editor in Chief for Windows Central. He began working with Windows Central as a news writer in 2014 and is obsessed with tech of all sorts. You can follow Dan on Twitter @DthorpL and Instagram @heyitsdtl. Got a hot tip? Send it to daniel.thorp-lancaster@futurenet.com.
agreed - they need to get a move on with that one. no one is interested in the over 4 year old bulldozer achritecture that was slower than the competition even when it came out and has not made headway since then ...

Indeed. This is all decrepit Piledriver junk. I'm still holding by breath for Zen, don't want to have to go to Intel for my next PC.

The Athlons are Steamroller

I just can't fathom VR ever becoming main stream. Where am I missing it?

How about anyone that plays racing/flight sims. Right there is a ton of business. Then there's the Porno business, and possibly certain movies of other genres (or another genre all together).

imagine being spiderman in vr swinging through the city. Edit: in reply to Wilbur

Yeah that would be amazing.

Horror games, zombie games, and games like Skyrim are perfect for VR.

For all those scenarios...i would rather want AR. Cutting yourself off does nothing for me. I want to sit in a homemade cockpit that puts the world around me, where my arms are real, not vr 'maybes'.

I used to think this, but have you tried HTC Vive yet? It. Is. Mindblowing.

was planning on A10-7890K. on a tight budget now. but still looking forward for the zen processors :) need to complete my build anyways.

Might as well wait a few months for Bristol Ridge

Can't wait for Zen, first new core for over 6 years

That's nice of AMD to make a list, but how about actual Processors..? O.o

People complain about AMD, but the truth is my 8350 has handled and held strong with everything its been against so far. Maybe because its paired with nice equipment but still. The CPU is old-ish now but thing is still kicking. Damn good buy if you ask me.

Yup. Both my 8350 and 8370 rigs run great paired with R9 290's and Kingston Hyperx 240 PCIe SSD's. Bang for the buck.

Its nice but will never buy a cpu by them again. But im fine with their gpus

Lulz. So my FX 6300 can't handle it? Well, I'm not planning to get that VR stuff anyway.

If you have a decent CPU cooler you can just overclock your 6300 to 4.0 Ghz and match the 6350. The only difference between 6300 and 6350 is how high clock speed you are guaranteed to get and that the 6350 is already overclocked when you buy it. They basically select the best ~10% 6300's from the assembly line, overclock them and rebrand them as 6350. Depending on your luck, a 6300 can be overclocked to anywhere between 3.5 and 4.6 Ghz, while a 6350 gets at least up to 4.5 but probably not 5.

I just put together a PC with FX-8350 and the R9-390X and 16 Gb of ram a few months ago. Looks like I'm ready for Quantum Break an VR. Maybe at the same time?
Windows Central Newsletter
Get the best of Windows Central in in your inbox, every day!
Thank you for signing up to Windows Central. You will receive a verification email shortly.
There was a problem. Please refresh the page and try again.