Oculus Rift PC bundle pre-orders begin on Feb. 16, starting at $1,499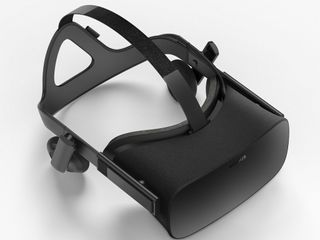 Oculus has announced that beginning at 8 a.m. PT on February 16, customers will be able to pre-order its Rift virtual reality headset in bundles with different PCs. The computers, made by ASUS and Dell, along with Dell subisdiary Alienware, will be completely VR-ready. The bundles will start at $1,499.
See at Microsoft (opens in new tab)
Each bundle includes a Rift headset, and all of these PCs are VR-ready. They are powered by Intel Core i5 and i7 processors, and sport either an NVIDIA GeForce GTX 970 or GTX 980 graphics card. In addition to the Rift headset and PC itself, the bundles also include an Xbox One controller, along with the Rift sensor and remote, Eve: Valkyrie Founder's Pack, and Lucky's Tale.
These bundles are expected to start shipping some time in April. If you've already ordered your Oculus Rift headset separately, you can get discounts on one of these bundles if you check the 'partner offers' box on your order status page. That option will also appear on Feb. 16.
Source: Oculus (opens in new tab)
Windows Central Newsletter
Get the best of Windows Central in in your inbox, every day!
I'll stick with my virtual boy.

That's all? Just 1.5K USD. Let me reach in to my virtual reality money bag. /s

Headset + high-end gaming PC for $1500 is not that bad.

High-end is a stretch. Cheapo PC with decent video card would be more acurate.

You're right. That's not a bad price. I'd like to see what it comes out priced separately, but either way they are still making some money on it.

Not necessarily - Oculus/FB may well view this is a loss leader. They have that kiddo with deep pockets behind them, after all.

That would be the Xbox model where you make the money on the games. But is Oculus/FB selling their own games?

Yes. Oculus is providing a home screen + store front for the Rift called Oculus Home. (Although you can still use the Rift with games from other places if you want, such as Steam)

Yes. For that price everyone should wait because then the oculus should be 30-40$...

Gonna have to hit the googleverse to see what constitutes vr ready, although I can't see it being more than a beefy cpu, video card and adequate ram. I'm about due to build a new rig. Although with all the issues with Skylake I may still wait for it's predecessor. Oculus should be more refined (and more useful) then too. Hmmmm.

Aren't AMD cards better for VR?

No idea, though NVidia has traditionally gotten better marks for power/heat efficiency and driver quality.

That's not all that bad, considering the VR is $600 alone. $900 for a decent CPU and GPU, a controller, and the OS could be worse. I'd have to see what exactly you get, but it's not terrible.

Yeah, I mean, high-end gaming PCs are not exactly cheap to begin with. But starting at $1500 as a 'all in one VR starter pack' ain't bad, imo.

Not high end; high end is the package with the Alienware Area 51 which is $3,150. The Asus option is decent but in no way 'high end'. For $1500 you only get an i5, 8gb ram, and a HDD, with the lower GTX 970; high end would be i7, 16 or 32gb ram, SSD, GTX 980 or better

For $3k you could get a far better pc tough - that's including the rift, monitor, keyboard & mouse, Win10. http://pcpartpicker.com/p/2HrH6h

It'll be interesting to see how much better the Oculus experience is versus the (most likely) cheaper PlayStation VR experience. I'm unsure whether I'll be going down the VR route yet; I keep buying more gaming hardware than I can realistically use...

This thing is going to be a novelty bust. Fast sales dwindling to nothing. 2016 Wii here we come.

Better tell my kids to go play with the rich kid.


I have trouble figuring out the price.... anyone can please tell me how much it would cost?

$1500, plus another $3000 when your kid is wandering around aimlessly with these on and knocks your plasma off the entertainment center.

You made me spit my coffee out.

I already have a VR ready PC with GTX 980 and i7 4770k overclocked, though i don't think i'll buy Oculus Rift, and probably not even HTC Vive, there really are not enough games or important developers involved into VR games so far, and even though they're calling those retail version that Oculus still looks like a prototype to me, something that has potential but still needs a few years to be really ready, so for me it isn't worth 600$ at all.

I tried cod on 3D mode on Xbox 360. It was awesome! Too bad no game Dev taking advantage of 3Dtv. Probably cheapest way to get close to VR.
Windows Central Newsletter
Thank you for signing up to Windows Central. You will receive a verification email shortly.
There was a problem. Please refresh the page and try again.