Linksys Velop vs AmpliFi HD: Which should you buy?
We're a virtual company made up of tech experts from across the globe. As such, we enjoy having a reliable connection to the outside world from the every corner our homes and recognize a great mesh Wi-Fi system when we see one.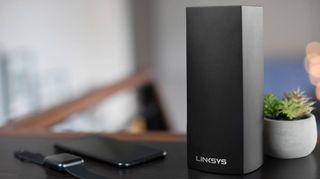 Versatile

The Linksys Velop is a flexible system for your home, but adding more points isn't easy on your wallet.
For
Each mesh point has Ethernet ports
Ethernet backhaul is possible
Available in white or black
Against
Additional mesh points are more expensive.
No wireless backhaul
On the market for mesh Wi-Fi that gives you plenty of options and features? The Linksys Velop system offers what you're looking for with few sacrifices. The AmpliFi HD is a decent system if you're starting from scratch or don't want to spend a lot of money comparatively, but for an all-around better package, you should go with the Velop.
Wi-Fi features with prices to match
With an ever-increasing number of smart devices around the house, from speakers to TVs to appliances, the popularity of mesh Wi-Fi systems is steadily growing. When it comes to blanketing your home, paying a little more can give you some well-received benefits. That's what you can find with the Linksys Velop over the AmpliFi HD system.
Linksys offers several things in its mesh system, but not all of them will matter to everyone. Although AmpliFi includes one WAN to connect from the modem and four LAN ports for other devices in its HD Router, the wall-plug mesh points don't have any ports, making a wired backhaul non-existent. The Linksys Velop are not wall-plug mesh points, giving it room for two WAN/LAN ports on each device and making an Ethernet backhaul and wired connections throughout your home possible.
Most routers nowadays host Dual-Band Wi-Fi, but more Tri-Band routers are showing up. Between Linksys and AmpliFi, only the Velop includes Tri-Band, with two 5GHz bands reaching 867Mbps each and a single 2.4GHz band reaching 400Mbps. Although it's slightly slower than AmpliFi's 5GHz/2.4GHz bands, with speeds up to 1300Mbps/450Mbps, respectively, the extra band on the Velop means your devices won't congest your networks as much, especially if you have a high-speed data plan and several 5Ghz-compatible devices.
Swipe to scroll horizontally
| Category | Linksys Velop | AmpliFi HD |
| --- | --- | --- |
| Wi-Fi | Tri-Band | Dual-Band |
| Speed | AC2200 867Mbps + 867Mbps + 400Mbps | AC1750 1300Mbps + 450Mbps |
| Coverage | 6,000 square feet (3 Velops) | 10,000 square feet (Router + 2 meshpoints) |
| Ethernet Ports | 2 per meshpoint | 4 (HD Router only) |
| Ethernet Backhaul | Yes | No |
| MU-MIMO | Yes | Yes |
| Assistant | Amazon Alexa | N/A |
However, when it comes to coverage, the Velop can't match what AmpliFi offers. Each Velop covers 2,000 square feet, giving you 6,000 square feet of coverage when you configure all three. AmpliFi's HD Router gives you the same 6,000 square feet of coverage all by itself. Adding both wall-plug mesh points pushes the coverage to 10,000 square feet. People with larger homes or spaces to cover would save money going with the AmpliFi.
Overall, the Linksys Velop has more to offer its owners when it comes to a mesh Wi-Fi system and the functionalities that come with it. It even has Amazon Alexa built in, making things like enabling guest access possible by voice with your Alexa-enabled devices. You even have the option of choosing white or black Velops to blend in to (or stand out of) the space they occupy.
The AmpliFi is not a bad system, and it might be worth it if you have more space to cover and less money to work with. However, to get all the best features in one package, you're going to want to go with the Velop.
Versatile
Built-in features worth its price

There's a lot going for the Linksys Velop system, including Ethernet backhaul, Tri-Band Wi-Fi, and an extra color option to match your taste. If you need to extend the range, just remember the extra mesh point is not cheap.
Budget-friendly
Just the right things to get you connected

This Dual-Band mesh Wi-Fi system from AmpliFi what you need to cover your home. If you don't have too many devices to keep connected, you won't be missing out on a great experience.
Get the Windows Central Newsletter
All the latest news, reviews, and guides for Windows and Xbox diehards.