Ancient Rome 2 for Windows 8 is today's myAppFree deal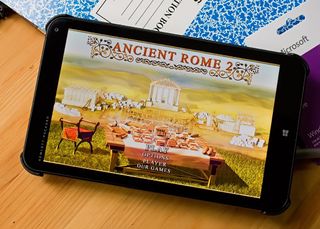 City builders can be a fun way to invest a little time with and the Windows 8 game Ancient Rome 2 hopes to catch your eye.
The game has you building residential districts, schools, markets and more to build an empire. Ancient Rome 2 has thirty levels of city building challenges, plenty of structures to build and plenty of gaming time. The Windows 8 game is also featured on myAppFree and for the next twenty-four hours, you can pick up Ancient Rome 2 free.
In just tinkering with Ancient Rome for a short while this morning, it comes across more of a SimCity styled city builder than an Age of Empires styled city builder. You are more focused on building an economy and thriving city than venturing off and conquering the world.
Ancient Rome 2 has farms, warehouses, mines and other manufacturing facilities to construct to support your city's economy. Then there is the residential structures, roads, schools, theaters and other structures to support your city's population.
There are thirty levels of challenges to take on and with Ancient Rome 2 being a Windows 8 game that will take some time to complete, you can save your gaming progress. You will also find support for multiple player files so you can share the game without jeopardizing your own gaming progress.
While graphics are nice and game mechanics simple, Ancient Rome 2 does not appear to be tablet friendly. Touch controls work good but a mouse is required for a few of the actions, such as building roads. I couldn't find a work around for this with a Windows 8 tablet without plugging in a mouse, which may not be convenient.
Still, while not tablet friendly Ancient Rome 2 is a nice city builder to consider having in your Windows 8 gaming library. Ancient Rome 2 normally runs $5.99 but as a myAppFree deal for the next twenty-four hours, you can pick the Windows 8 game free. This definitely adds to the game's appeal.
If you try Ancient Rome 2, let us know what you think of the Windows 8 game in the comments below. Ancient Rome 2 is currently scored at 3.6 Stars in the Windows 8 Store, which is about right for this game. If Ancient Rome 2 was more tablet friendly, I could see the rating move a little higher.
Note: Due to the various time zones involved, it may take a little while before the Ancient Rome 2 deal shows up in the myAppFree app. However, the deal is already live in the Windows 8 Store.
Download Ancient Rome 2 for Windows 8 (opens in new tab)
myAppFree
Windows Central is proud to be partnering up with myAppFree to bring you savings on Windows Phone apps and games. myAppFree is a free Windows Phone app and service that highlights special deals for software on the Windows Phone Store. Make sure you download their app to keep track of all the specials they run weekly, as you'll never know what you may find.
Windows Central will continue to highlight select Windows Phone apps and games, such as Ancient Rome 2, from myAppFree on a regular basis as a benefit to the Windows Central community. Additionally, with myAppFree expanding to offer deals from the Windows Store, look for us to shine the spotlight on the myAppFree deals for Windows 8 apps and games on a regular basis as well. Many of these deals will be universal apps so you'll double your savings.
Windows Central Newsletter
Get the best of Windows Central in in your inbox, every day!
George is the Reviews Editor at Windows Central, concentrating on Windows 10 PC and Mobile apps. He's been a supporter of the platform since the days of Windows CE and uses his current Windows 10 Mobile phone daily to keep up with life and enjoy a game during down time.
Another microtransaction game.. No thanks

Really? Six bucks and microtransactions... Yikes. Though I didn't read that...
Still can only dl these in green store.
Also...booo on no charms. This kind of thing is perfect to SHARE via the charm via email, fb, whatever... Charms are so nice... Needs them on WX all versions.

Conker says: "Uh, micro what? This must be new. Whatever happened to just paying up front?" so he doesn't like that. But, I don't know what you are talking about with "microtransaction game", I opened it and play it and feels like old AoE game. it doesn't have like a store to get boosters or anything. the only "gold" or currency i see it's the one you spend while you play. It's a $6 game anyway, not a free one. I have gotten these paid games that have a store and whiel you get the money in game they still give you the option to buy it with real money... but this one nope, I didn't find it (or maybe I am too blind and dumb, I only see a load and save button ;))

Made by the same people that did that train gave that was free two weeks ago. No transactions in that one, and a good game to boot, albeit a bit short.

yes yes, Ancient Rome is been a good game. kind of addicting, not as deep and nice city builder as Black and White (oh I wish Microsoft brought B&W3) but it's been nice. it's not even a challenge game. I am on level 10 and it's been nice. $6 doesn't seem much for this game, but it's nice it was free today.

@brorim are you drunk, dude? Where does is say there's microtransactions? I'm playing the game and can't see any

Just started and so far looks nice. Feels kinda like AoE2, more so than Castle Siege. With price being free, I am not gonna complain. Gonna see how hard it'll try to nickel&dime as some commenters are suggesting.

Don't know what the issue is, but I can't even play it. It wants me to unlock it first, but am unable to unlock anything. It fails to connect to the Windows Store to verify I own the game. Support page for the app states it is Microsoft's fault due to a problem with the store. Complaints have poured in for over a year with the issue with no fix. Is anyone able to successfully unlock?

"Unlock"?? I installed the game, opened it and started playing... I didn't see any "locking" requiring "unlocking"

Using a mouse is essential - I tried using touch controls and they work for the menu screens but placing buildings or roads are twitchy as hell
Windows Central Newsletter
Thank you for signing up to Windows Central. You will receive a verification email shortly.
There was a problem. Please refresh the page and try again.