The Nokia physical QWERTY keyboard surprise was... the Asha 210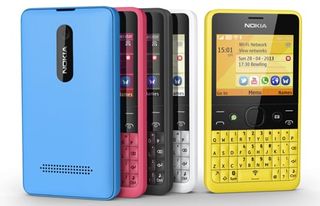 So the other day we ran the story where Nokia teased a QWERTY keyboard that was either part of an unexpected Lumia Windows Phone, or a new feature phone from the Asha series. We went with the latter and Nokia today announced the Asha 210. While it's not a Windows Phone, the family of products is an important one for Nokia and it's worth covering to squash any speculation of a Lumia with a physical keyboard.
So, out of interest, what does the Asha 210 sport in terms of specifications? We're talking both single and dual SIM versions, sporting a 2.4-inch QVGA (320x240) display, 2MP camera and SD support with 64MB internal storage. Not bad at all. The design is actually really pleasing and looks like a sibling to the Lumia line of Windows Phones.
Here's a short video of the Nokia Asha 210:
Source: Nokia Conversations; thanks, slayerjayslb, for the tip!
Rich Edmonds is Senior Editor of PC hardware at Windows Central, covering everything related to PC components and NAS. He's been involved in technology for more than a decade and knows a thing or two about the magic inside a PC chassis. You can follow him over on Twitter at @RichEdmonds.
i actually really like the way that phone looks. announce the 928 already, though, so i can use my upgrade!! sheesh! verizon takes so friggin long.

Make me look up pricing and release all on my own...I expect more out of you Rich!

The Nokia Asha 210 will be available in yellow, cyan, black, magenta and white. Before taxes or any operator subsidies, it is expected to be priced at around USD 72 and will go on sale in the second quarter of 2013.

You could find such details on a site that was titled "Nokia Central", or even "S40 Central". But perhaps others will agree that here we focus on Windows Phone, so this was simply Rich clarifying yesterday's teaser

Nice presentation by the way yesterday Jay. Best session of the evening by a mile.

Thank you very much I'm glad you enjoyed it!

Well in Curtieson's defense, the author does go into detail on the specs of the phone. Surely the price of the phone is the most important spec, given the market that its targeting.


Haha, I had no idea what S40 was...but apparently that is the software running on the Asha lines. (My first thought was "that's a Volvo")
As Aaron also pointed out...in the same "out of interest" vein that ended the article...my comment was to add to that! Because...c'mon...the most asked questions on a phone reveal HAVE to be "When and How Much?" At least in the top 5 questions...?

Yeah it's a very fair argument that you and Aaron put forward, but hopefully you'll forgive us not putting too much time into articles not directly for our target audience? :)

64MB...that's a joke, right? Looks cool, though.

I was thinking 64 GB SD card but maybe that's not what it meant.

"Up to 64MB, support for up to 32GB microSD card" For contacts, appointments and messages, 64MB should be VERY ample. Add the SD if you want more. Smart design choice IMO.

Its a 70 dollar phone. How much on board storage were you expecting?

15TB...but seriously...more like 1GB. Then again it doesn't matter since I'm not the target market and it has a microSD slot.

Would love to see an asha on sprint.

Is it just me, or does that look an awful lot like the aluminum "catwalk" images that were leaked?

It looks absolutely nothing like the supposedly leaked Catwalk. It had a round "huawei-esque" camera lens on the back as opposed to the classic Lumia chrome plate.

Hahaha, thats the perfect response.

Nokia makes such beautiful devices.

That is a decent entry-level phone.

My wife would like one as she's a frequent texter. Too bad we're on Verizon.

That's actually a really nice messaging phone that they could launch in developing nations, or if it ever came here, launch in Walmart and others as a PAYG device, especially since it looks like it's a $60 device.

It's also working to undercut BlackBerry should they ever decide to try to bring BBX to entry level.

Was anyone -actually- expecting a keyboard Lumia? Although it is nice to see a consistent, yet distinctive design language coming out for both Lumia and Asha lines.

Not expecting, but wishing. This gets us a little closer and is exciting for me. I'm not even sure if WP8 as it is supports keyboards.

It's highly likely the reason why we don't have qwerty phones yet is because Microsoft had no time to add keyboard support when released the wp8

Windows phone has support for physical keyboards. Just that there are no devices.

Windows phone 7 does, but not sure about windows phone 8

The WP8 emulator supports keyboards. I believe the page up and page down keys emulate keyboard slider open and close. There's nothing to do to support keyboards. When you press a button it sends text just like the OSK would.

I think Nokia already stated that they're not going to make a qwerty Lumia, but who knows.

this looks like a direct to pre-paid special.

Great phone. Very good for messaging and post on social site and very attractive design.

not interested and it a Symbian total fail. Cost is only $79 oh wonder why it so cheap price. Looks like a old blackberry device. What a total waste of time announcing this.

Asha is S40 you numpty, not Symbian. ihavewp8 should rename to ihavenothingtosayyetsayittooloud.....

Hee.hee this made my laughbox chuckle

I have a 205 unlocked sitting at home... Shame I can't use it on att

I think it would be interesting to see a qwerty Lumia I'm the future.

If the future is now...and Bob Hoil is the future....that can only mean that Bob Hoil is now!

Further proof that keyboards - as opposed to soft keyboards - are needed in order to avoid so many typos we've been seeing since iPhone killed accurate input on mobile devices.

Well, shame on us who taught that would be Lumia with physical keyboard. But that would be fun if it is really released as it will use longer space for putting physical keyboard. LOL :D

Dedicated Whatsapp button. Nokia & Whatsapp getting cosy together.

I think that is just a "Phone/Dial" button. Like how on the opposite side it has a camera button.

Nope, they speicifically said in video that it's a dedicated whatsapp button and in some markets they will replace that button with a facebook button.

Wow, really? That seems kind of silly and exclusive. It would be much more convenient if they had put a dialer button there. Since it is QWERTY I guess that is not needed. But, the people who do not have those social networks will always be reminded of them. Sounds annoying to me.

Looks allot like a blackberry wearing a Lumia coat.

You know it looks nothing like a Blackberry right?

uhhm. Because it has QWERTY?

With a dedicated whatsapp button, combined with the qwerty keyboard, it's all about messaging. The design look beautiful. That my money

Well at least it will have a WhatsApp that doesn't suck.

If I wasn't already invested in Windows phone (or whatever smartphone), I think I would really want this one.

You could always get this one as a second phone .. Pretty cheap

That's too bad. O was really hoping to see a windows phone version of this phone. Ah well...

this phone is nice as hell. what a deal! omg. blackberry say what?

The Nokia E71 was made back in like 2007, 2008 and still is a better phone than any blackberry made. But if I wanted a good QWERTY Nokia I'd get the e71. Can find it on Ebay for about $60 more but still worth it's weight. Just me. This is a nice entry level phone. I'd buy it just on Nokia name alone.

That is one good looking device. I'd throw all kinds of money at a Lumia version of that.

The second nokia releases a WP8 phone with actual keyboard either slider a la N900 or Dell Venue pro or even candy bar like the blackberry... I dont care how they do it I just want one

Reminds me of an old school blackberry. Not my style

and whatsapp are FREE forever on this phone!!!

This phone will sell like hotcakes in India. A dedicated whatsapp button, qwert keypad this is a messagers dream come true. Well those colours are also attractive. Really neat phone for a nice decent price :)

There's still no release date on the 301 let alone the 210 as cool as it looks unless i missed that piece of info? Lol

Great! This will be my new sports-phone

I wonder if it's possible that eventually the Asha line will be replaced with a form of Windows Phone. I mean, I'm sure Microsoft would absolutely love to sell phones for $72 a pop.

I miss my Nseries nokia phone.

its beautifulll!!!!!!!!! i love it :-) its like my phones little brother :-)

Its lovely! Wish it ran wp8 though. I'd love to have a physical keyboard again.

I actually kinda want one. It would be a nice "phone to bring out camping"

So...what OS does this use?
Windows Central Newsletter
Get the best of Windows Central in in your inbox, every day!
Thank you for signing up to Windows Central. You will receive a verification email shortly.
There was a problem. Please refresh the page and try again.