Angry Birds Seasons and Bad Piggies for Windows Phone are now free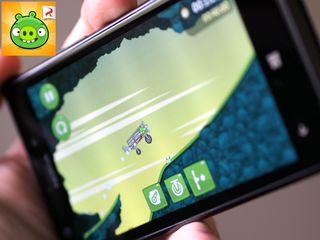 Rovio has quieted updated both its Angry Birds Seasons and Bad Piggies games for Windows Phone and have made these titles free to download and play, and has even added Xbox Live to Bad Piggies.
Aside from those updates, there doesn't appear to be any new content added to both games. But if you have not wanted to get these titles before because you had to pay for them, there's really no reason not to go ahead and download them now. Which game will you choose to play first?
Thanks to the many folks who tipped us!
I would love to play these, bit not until they add support for saving progress to the cloud. Very tired of playing the same levels when I switch devices. Not going to do it again.

I hate that too, and one game I can't believe that does not support it is temple run 2

This is the reason I stopped playing Temple Run 2. So much progress lost many a time!!

Many many many times for me

Same here but i loved this game a lot :D

Is it me or is the same link used for both?

Here's the link for bad piggies... Also it has Xbox integ icon in article doesn't show that... http://www.windowsphone.com/en-in/store/app/bad-piggies/9ccfb504-1e48-4f...

Just search it in the store! God, it's only a game with pigs.

Xbox live for free! Great!!
Edit: The Xbox banner at the top of the game icon is deep green.

Yes. Whats worse is Angry Birds RIO have the old banner with "Xbox Windows Phone". Annoying.

Both links are taking you to seasons

Two links for the same game... Something is wrong :P

Need the transformers angry birds

Screw that.. Where's Angry Birds Transformers??

I had downloaded the original angry birds game when it was free about a year ago, I had to restore my phone after the bitlocker issue and now I can't download the game for free again as it should be, so no I don't think I'll download any Rovio game again

Just click on buy, enter your wallet password and then it'll say you have already bought it and don't need to pay again. That's a glitch in the Store. It should simply say install for apps already purchased/downloaded.

Have you tried tapping the "buy" button? It may appear that you have to buy it again but instead of showing the "Purchase Confirmation" it shows that you can download it.

That's worked for me with other apps, but no luck this time I'm afraid

Where is the bad piggy ? I see there is only link for angry bird season !

Purchased the game long ago but never played, LOL.

In the end of the writeup, the author surely means - theres really no reason to not go ahead and download

Goood now i will have more than 1050 xboxpoints

There's no reason to download now. Say the article . Why that's just mean.

that's sweet. That's the ones i do not own jet

Thanks, now I've 4 different versions of angry birds and all of them for free

Now we need angry birds transformers

Free means annoying ads. I'll have to pass on these.

I have Angry Birds Rio on my 810 and got it free. There are NO ads! :)

No ads? Well that changes things. I really try to limit apps with ad blocks on my phone. Props.

May this "add Xbox Live" trend continue beyond Rovio...DO YOU HEAR ME, GAMELOFT?

Yea I would love to see Gameloft adding Xbox Live support to its games.

There was once a Store glitch which made different flavors of Angry Birds available for free in various countries. People were on a region changing spree back then. I got all Angry Birds titles for free that way.

And I bought Bad Piggies a couple months ago... Great.

This and announcements from other developers are showing great confidence in the platform, which when entirely unified will be massive!

Already bought it, and now the ultimate sandbox costs money too (to re unlock actually)...

I was waiting for the Xbox banner to buy Bad Piggies, but this way is even better.

What???? I bought it yesterday!!!

I wonder what their rationale is for adding Live on Bad Piggies just now. No complaints, it's my second favorite from Rovio. Hopefully we'll see something along these lines with Epic soon. Just from downloads it appears that Epic is their most popular yet.

Probably compared it with sales of their games with XBL support

If anyone knows : Does the Xbox sign means that the saves are stored in my OneDrive or it's only for the achievements? Does anyone know when is Rovio making the Rovio account available for WP users? Thanks!

Bad pigges is in WP???????? Damn i didnt even know.

I m stuck on loading screen in bad piggies

Wow! It took just few years...

Where is angry Birds friends ??!!!

Both both I love both in my msi all in one

As Jim Cramer says: Buy buy buy!

Cool. Out of all the Angry Birds games, Seasons is definitely my favorite. I never could get into Bad Piggies, though. Going to download Angry Birds Seasons to my 810.

Angry birds....Meh, been done a billion times now...I get board playing it after 2-3 min now... Bad Piggies I never tried, due to No xbox but, now with Xbox and free, I'll give it a shot but, I bet it's the same old crap...At least in for a few free achievements..

I still dont get it why it was paid game in first place. It was free from the beginning on other systems.

Few reasons: rampant piracy on some systems, faster recuperation of investment for supporting a new platform, low marketshare on WP.

Why are the Xbox logos different in color ?

Well, file this under awesome!
Very good move Rovio, would be great to have them back with Xbox on WP.
This is so important for the ecosystem.

Lets hope this is the beginning of XBOX Live integration from now on with games that already exist in the WP Store!

Go download it! Xbox support! What are you guys waiting for?!

Maybe they make their games free when they achieve a certain profit margin. ​

Wow, 111 ratings. I'm guessing IOS has thousands or hundreds of thousands of ratings.

I hope Rovio upgrades Angry Birds Epic with Xbox Live functionality too. Bring it on Rovio!
Windows Central Newsletter
Thank you for signing up to Windows Central. You will receive a verification email shortly.
There was a problem. Please refresh the page and try again.