Take your Instagram selfies to absurd levels with Animal Face for Windows Phone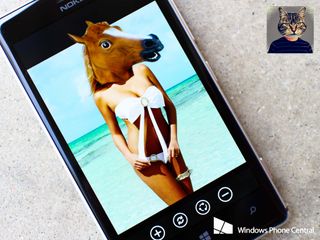 Every now and then we come across an app so ridiculous in the Windows Phone Store we can't help but love it. We recently covered an app called Warp Photo Booth that produces hilarious selfies on Windows Phone. Ready for another zany app? Of course you are. Let's check out Animal Face for Windows Phone.
Have you ever wanted to be a tiger or a duck? Who hasn't? Sadly we're not talking about an Animorphs today (does that technology or magic even exist yet?). Instead, Animal Face allows you to superimpose animal faces over yours or your friends.
Animal Face can use images from either your photo library or you can take one on the spot. Images can be edited using a photo editor before applying animal faces. Faces can be applied once you've made tweaks to your saturation and cropped your images.
You get 15 animal faces for free in the app. Some of those free animals include a bear, tiger, cougar (sadly not the O.C. kind), Chihuahua and fox. Although we think it's worth dropping $0.99 to get the full animal roster. Anyways, you select your animal face and drop it into the image. From there you'll resize and adjust as needed. Select share to save the image to your saved photos and send your new animal face to your various social networks. It's awesome.
Apologies to Kate Upton for giving her a horse face up there. Be sure to tweet us some of your funny animal face pictures once you download the app. I especially want to see them. Send them to @samsabri.
Want Animal Face? Of course you do. Go download it from the Windows Phone Store. The app is free, but you can remove ads and get more animal faces for just $0.99.
Windows Central Newsletter
Get the best of Windows Central in in your inbox, every day!
Sam you are such a fox! :p

OMG, do you have a snake??? Is the animal I most fear!!! :(

Ha no! That was on the street in Santa Barbara. Local reptile society had a bunch of them out for people to look at and take pictures with for donations/info/etc. I don't like snakes either.

Now you can be friend of mine again... :P

Hey Sam!...What does the fox say?

It scare me, even in my thought.

OMG, what's next? Love that body of that horse, hmmmm. Nice.

Kate Upton is a babe for sure.

Maybe i will take a wolf face and pose as Man With A Mission.

Sam, what does the fox say?

Dingdingding ding dingding

You win, although if Sam replied it would have been epic lol

I take that Sam likely owns one of these: http://www.amazon.com/gp/product/B003G4IM4S/ref=s9_simh_gw_p21_d0_i1?pf_...

Nope! Haven't jumped that shark yet. Soon though.

Ha! When that happens, we'll be looking forward to your review.

I'll pass! Stick with cloning in Fantasia painter and it's free!

Wait, the horse head mask IS NOT included? Dreams = shattered!! I'd fork over moolah if it was...

This app is awesome so far! Much better than the built in messaging in the full app. My only problem is that the notification sound is a little quiet.

Like catwang on androud i think
Windows Central Newsletter
Thank you for signing up to Windows Central. You will receive a verification email shortly.
There was a problem. Please refresh the page and try again.