Announcing 12 Days of Hidden Gems for Windows 8.1 and Windows Phone!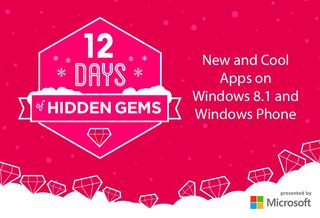 The Holiday season is upon us and at Windows Central we're celebrating with a fresh season of "Hidden Gems", highlighting new and cool apps on Windows 8.1 and Windows Phone.
12 Days of Hidden Gems, presented by Microsoft (opens in new tab), will showcase some amazing apps in the scenarios that matter most to you, such as Health and Fitness, Smart Living, Travel and Entertainment, while giving the community a chance to win some awesome prizes!! We'll also be exploring the Internet of Things in depth, bringing attention to connected devices and wearables that deliver an exceptional experience with Windows devices.
Beginning Monday, December 15th and running until the end of the year, we'll publish a series of 12 Hidden Gems feature articles. And in the spirit of holiday giving, as part of the 12 Days of Hidden Gems, we'll also run a series of 12 sweepstakes, with $1,000 in prizes available to be won each day. The prizes will be relevant to the Hidden Gem(s) of the day, which means there is an awesome mix of items up for grabs. We'll follow up shortly with another post outlining the sweepstakes rules and how you can participate each day for a chance to win.
Keep up with 12 Days of Hidden Gems!
Hidden Gems features will be clearly labeled as such so you don't miss them (just look for the cool little graphic above that will be featured on each article). We are also creating a primary event page, where you can view all of the Hidden Gems articles and sweepstakes as they are published and re-visit in case you miss any and need to catch up. You can find that page at windowscentral.com/hidden-gems — make sure you bookmark it! Below you can find the themes we'll be diving into during the 12 Days of Hidden Gems, along with our tentative publishing dates.
We really enjoy running events like this that are fun for our community of fans and also help spread the awareness of Windows 8.1 and Windows Phone apps to a broader audience. Big thanks go to Microsoft – without their support we wouldn't be able to wind down 2014 with an awesome feature like the 12 Days of Hidden Gems. We are confident we can deliver an exciting and unique series for you, our core audience. We are not expecting you to love everything we cover, but we are sure that you'll find something to like.
Help us make this a fun series – be sure to join in and spread the word!
Daniel Rubino is the Editor-in-chief of Windows Central, head reviewer, podcast co-host, and analyst. He has been here covering Microsoft since 2007 when this site was called WMExperts (and later Windows Phone Central). His interests include Windows, Microsoft Surface, laptops, next-gen computing, and for some reason, watches. Before all this tech stuff, he worked on a Ph.D. in linguistics and ran the projectors at movie theaters, which has done absolutely nothing for his career.
Brace yourselves. 40,000+ commenst are coming!

Yay three!!!
(I'm out though) :P

You already got one prize, please leave :P XD

That's why I'm out. As I told on winning, I won't participate anymore.
Would love watching others winning :)
I remember your rap, though.

Feel free to participate again, it's not about winning. I wrote that rap just for fun, maybe made somebody laugh XD everything is about participating. Cheers men!

Hey, great inspiration mate! I still write a lot of reviews on apps within the Store, and one more hidden gems winner (and a friend of mine) named Toàn Lê, does the same.
Best wishes for you and others! Would love reading more of your raps :D

You should participate in the sake of developers. Though you can't win. Your review will be helpful to developers.

Thanks there! I'll write a review each day of the apps highlight, in the Store itself or without being a participant :P

Haha! All the best, everyone!

Oh yeah! Your suspicious mind shall be sufficed by SS :P

12 days hidden phones? :P

I would tell you, but I'm not sure you'll read this comment. Read the article and you'll find out! :)

Lol, the ones in between your long nails which you refuse to trim

Why 12? Is it just because the song?

The tradition has always been 12 Days of Christmas. I don't know why, it just has.

Nice. Looking forward to this.

Awesome! The previous Hidden Gems series was great, it helped me discover a lot of apps and accessories that I wasn't aware of. Really looking forward to this one, and of course the prizes as well!

Of all the apps that were showcased in the previous series, "How to cook everything" is still on my phone :P

Cool, but is this US only?!!........ ;-)

uhh... what I must do? xD

Hidden Gems has never been US exclusive :).

USA exclusive, what about us?

As per usual Windows (Phone) Central did not disappoint, I absolutely love it, they are the first place I come to for my windows phone/phone in general news and I love their competitions and just update of the industry as a whole!!!! Keep it up guys!!!!

Are the terms and conditions required are same as of last hidden gems series...???

The very last line of the third paragraph :)

Great way to end the year. Thank you Windows Central and thank you Microsoft. :)

Awesome, looking forward to it! Thanks WC!

A hidden gem for me would be to discover that Verizon released the Cyan update.

Cyan? Don't you mean denim, cyan came out in April your carrier can't be that shit surely?

Haha.this comment by nez99 just adds salt to the wounds of Verizon customers . :P

Oh boy ... Verizon CAN be that bad!! Microsoft gave them the Cyan update, and they sent it back saying it didn't "play nice" with their system. Who knows when and if Microsoft can make it work for them. Back with WP7, Verizon never did release the 7.8 update, which really hacked me off because I loved my HTC Trophy!!. I'm sure that they just don't want to invest in the equipment to make Windows work, when most of their customers are on Android and iPhones. If they didn't have such great coverage, I'd leave ... but it would be cutting your own throat, BECAUSE THEY HAVE SUCH GOOD COVERAGE! You can't win for losing! Microsoft just needs to release their own updates, to heck with the carrier. Now I have this totally AMAZING Lumia ICON, and can't get the friggin' Cyan update, and Denim is out! I would love to go crack some heads together!

Official unofficial Rule: No Grinching on Windows Phone during the 12 Days of Hidden Gems.

I want to say, thank you WC for your hard work, thank you for helping make the most of my phone, thank you to help me make the best relationship with my Lumia and My VAIO. THANK YOU WINDOWS CENTRAL...

Will there be a Lumia 1030 announcement and will Cortana come to phillipines? *troll troll* lol ;)

Microsoft supporting WC community is great! More to come.

Hell yeah. Let the season of silly comments start that have nothing to do with the articles and will make it impossible to find the relevant comments. :/

I loved it the last time and I enjoyed collaborating with this.

Nice...like the '12 Days'....graphic..lol.

Maybe, this time I'm luckier *crosses fingers* :3

Don't tell me.......U.S only...?

Give me that L930 ,we L5**,6**,7** users need that for your market growth msft or I'm also happy with one m8 :P Bring it on :D

Dude I m new to this. Someone please tell me what I exactly have to do this in 12 days? -.-

Waiting for it.. Yay
... Hopes to win this time....
Thanks windows central

where's the US-only catch​?

Whay 100MB over not downlood....?

looking forward to this series, thanks WC!

Hey everyone! our new game "Don't hit the spikes" is out now on Windows Phone Store Windows Store!
Game links:
- Windows phone - http://www.windowsphone.com/en-us/store/app/dont-hit-the-spikes/a2b19098-63b1-4d7b-8bbe-e90bc59754d3 - Windows Store - http://apps.microsoft.com/windows/en-us/app/dont-hit-the-spikes/d2df68db-11d6-4973-b782-61c141e4540c

Bring on the prizes wohoo!

NYC work Microsoft hope u will get success!!

Yayy. Was not able to win last time. Hoping to do this time.

Nice! Waiting for the Hidden gems articles

lets see how many of them work on 512 MB phones(L620).

tis the season to be jolly with windowsPhone!

1000 in prices? No no 830 price here u.u... so sad

This is a very good idea!

Just another fantastic offer from the Windows Central, you guys are fantastic. I enjoy your articles on the Windows and Android sites, plus you provide us with opportunities to win something to boot. Keep up the good work and thanks as always for keeping us up to date on the latest trends and developments.

It's pretty cool! I'm into it!

Thank you for the chance today!!!This is inspring and cheers to all!!!

No Hidden Gems over the weekend?

When you announces the winner of 12 days of hidden games..

I'm Bold and under Stress.
Windows Central Newsletter
Thank you for signing up to Windows Central. You will receive a verification email shortly.
There was a problem. Please refresh the page and try again.