'Another Case Solved' is a sweet mystery game for Windows Phone 8 and Windows 8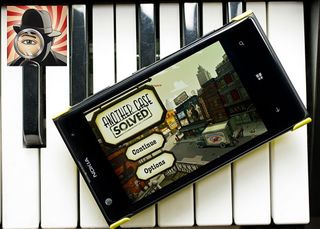 Another Case Solved is a new puzzle game for Windows Phone 8 that has you playing detective to solve the mystery of a curious candy conspiracy. The story line has your city clamping down on candy cravings by outlawing the source. You will need to figure out what is behind the candy craze by gathering clues, interviewing witnesses and solve a series of mind-bending clues.
Another Case Solved has seen a decent amount of success over on iOS and based on tinkering with the game for a short period, it should be well received on the Windows Phone and Windows 8 platforms as well.
Another Case Solved is a well-illustrated game with the following key features:
Create your own personalized detective which includes custom outfits, props and more
Multiple gaming styles that include matching clues, identifying suspects, and tracking down hidden items
Story driven cases to keep you hooked into the candy mystery
Minor cases are available to help you keep your detective business in operation
Ability to customize your office with new furniture that will increase your detective skills
As you solve mysteries, you will earn candy and cash that can be used to buy office furniture or props to further customize your detective.
We've only spent a short time with Another Case Solved and the game comes across as a nice mixture between puzzle solving, strategy and deductive reasoning. Another Case Solved is an entertaining and challenging game that is available for both Windows Phone 8 and Windows 8. We'll take the game out for a test drive over the next few days and get a full review of Another Case Solved on the site shortly.
Both versions are free and you can pick up your copy of Another Case Solved at the following links.
Windows Central Newsletter
Get the best of Windows Central in your inbox, every day!
George is the Reviews Editor at Windows Central, concentrating on Windows 10 PC and Mobile apps. He's been a supporter of the platform since the days of Windows CE and uses his current Windows 10 Mobile phone daily to keep up with life and enjoy a game during down time.
Just remembered the forensic science course I took some time ago. Made me feel one-time like a detective. And it's still part of my work as I always try everyday to decipher how Microorganisms behave and make us sick. Would love this game.

Can you guys please check out this game 'Muzies' ... It's a great game and I think worth a review or mentioning or an article or whatever you call it in your own language here.

That's the one with birds and shit right?

I cry every time I see "Not available for low memory devices" :'( I mean are the grphics/memory usage really that high?Are their higher requirements than Asphalt 8? :(
My poor 620 :'(

Seriously dude, I mean the graphics for this game are DEFINITELY not that much that it will require 1gb ram. I feel your pain. And before some smartass replies to my comment saying I shouldn't have brought a low memory device, I would graciously request them to fuck off.

Agree with you. Blame the graphics engine they use and their laziness to use it. In fact 512mb ram devices can play most of the games listed under 1GB ram requirement with a little optimization (GTA SA, Spiderman etc) and with no optimization (Subway surfers, Real Racing etc). Developers ignore it, losing a major portion of the market to share their apps/games. It is not intelligent marketing I would say.

There,'may' be a chance that they don't want to compromise for their graphics quality. While other devs just want money and more money. Subway surfers does lag BTW on my phone. Real racing is just plain awesome. But these devs need to get up their asses and do something about the current situation. Seriously.

That maybe possible but most of the times their laziness for the ignorance seems to be the cause to me. Subway Surfers works smoothly in my 720. Just change the live tiles to icons and disable most of the background services, restart the phone, then start playing to play completely lag-free. Reverse the changes when done. Otherwise it lags sometimes (mostly after 2-3 gameplays when the cache memory reaches its limit).

BTW which device are you using?

I'm with you.. Did you see "level 22" ? It is the hands down best strategy stealth game, with an amazingly humorous storyline, but just 2001 type graphics. It also required 1GB.. I was dying to play it after seeing it on my bro's tablet on android.. But no, it wasn't meant to be..
Same for this one..
(though i can play it on my laptop, but it isn't touch screen so it wont be That much fun)

I want to play that game so desperately. The only prob is that there is no cracked xap available for low memory devices.

I haven't dev unlocked my phone so its hopeless for me, i cant use a cracked xap and i dont have a 1GB ram phone.. Planning to buy a new Lumia soon and then buy some nice games..

Dev unlocking is a child's play. Really. And there are some xaps which can make 1gb ram games run on 512mb devices. Like subway surfers. It's really convenient.

I know how to do that,I did that before but now I dont do it because it is literally piracy and I feel guilty to have commited it before :(

Dude chill out. Maybe you don't have that feeling of doing something bad and feeling good about it. But I am an evil guy..... Just kidding. I also try to avoid doing it and only use it if I want to play a game very desperately and there is no other option available.

LOL! Not to mention microsoft knows all this. If they want to put a barrier, they easily can. But hey as long as they have one more comparable reason to make people buy WP as it can be unlocked, (like Android), and as long as it maybe a selling point for a few, they won't stop you doing that! But I suggest, buy apps to support developers. I'm a small developer too and I know how it feels when people appreciate my work and vice-versa. I've two student developer unlocked phones as well, I can easily sideload apps / games. But I always buy them whenever possible ot just install the trial.

Oh, sorry if my views offend you or any developer here. I'm just trying to make a point, which is that if the devs don't optimize the games for low memory devices, some of us will be left with no other option.

Agree with you on the optimization part ;)
That's why I said you may "buy apps to support developers", didn't say games!

I'm sorry but PIRACY is NEVER an option. Does your life depend on playing a game? No. There ARE options. Save your money and, eventually, purchase a phone that CAN play the games. You've basically used a situatioin to validate illegal activities. Have I done the same? YES... I have. But I don't pretend to state that I have no other choice. Besides if I enjoy a film or music I ALWAYS buy the original. Some of the people creating these things NEED your cash.

Shut up and stop preaching.

I know that man.. I'm probably a bigger tech geek than you (I'm over geeky :-P) but just that i dont like to mess with piracy once I've switched to a secure system like windows.. It just doesn't feel right.

"What is behind the candy craze" lol nice

I think it must take a while for devs to optimise the app for low memory devices... Or something. It is a real shame - I mean if one looks at the device sales, it is the 520 and low memory devices that are selling, ergo where the money is!!! If Microsoft wants a unified app ecosystem they need to sort this out!!!!

520 and 620 are the first and the second most selling lumias..

Yep. Optimization dude.. The ultimate nightmare of any developer.

It's not a nightmare, some developers are simply too lazy to realize that most of WP market is based on low end devices

Lagdroid at 512 ? No thanks, i dont want a paper weight for INR 6000-7000... Those phones work properly just for 2-3 months and then, then what happens is..ahem..
I'd rather buy a 520 with less games (that's what i did) than buy a lagdroid with even 1GB ram ! Infact i might even upgrade to the 930 (no mid range Lumia coming up :( ) but not a lagdroid half its cost..

520 is the most selling Lumia in India right now. Even after the lauch of Lumia 525. So yeah, it definitely is a big issue if microsoft really wants to compete against the giant droid system. Those lagdroid fanboys can always show a good reason to choose droids (512mb androids can run a lot of games that 512mb WP cannot, please don't tell me next how ram is divided and utilized differently in these two OSs on virtual and physical level, at the end of the day, marketshare is what all are running after).

Sorry, replied to wrong comment..

Why don't you both try it and see how difficult it is. It's hard enough getting a good app finished, let alone spending even more time to optimise every facet of it so the cheap users can play it too (who are probably too stingy to pay for it anyway). You bought a cheap device - that device comes with limitations. If you don't want those limitations then buy a better device and quit whining about the developers.

You may read my/others' comments above for a better explanation. If a developer is able to share his/her app to the "cheap users" (majority of Windows phone users outside USA in reality) by spending a little more time in his/her code, then its worth the pain she/ he'll get back his reward. And I believe its not that difficult either, considering the amount of individual developers who were able to modify huge games to make it run in low end devices. The games engine they use and their laziness (as I said above already) are the two main factors responsible for this behaviour. Come on, get real! Do you really think this game is really huge enough not to run in low ram devices?
Talking of "cheap device", whether you agree or not but this ram limitation problem is a big issue that needs to be addressed if WP really needs to be on par with Android. Ex: An Android user with 512mb ram won't ask how much ram is there in Lumia 520. He will just flaunt "See my phone of same budget price can play subway surfers, yours can't".

I have been waiting for this to be released!!! wohooo

Mmm, who plays piano ;) Whos piano is that ;)

"not available for low-memory devices" f*ck..

Free? Win8 and WinPhone8? AWESOME! My kid is gonna love this...

Syd F: Wait for the 512 RAM cracked xap release & sideload it on your phone..

No need to crack it - just download the updates package ;) [Note: I'm not developing ACS but I work for the publisher and upload the packages to the store]

Haven't played the game yet, but it reminds me of Dirk Dagger :'( I really wish Nokia-Microsoft at least brings back some of the N-gage 2.0 titles to Windows Phone8/Windows 8. Would love Reset Generation and Hooked On: Creatures Of The Deep when I eventually get my Lumia 1520. Perhaps we could start a pertition to plead with Nokia-Microsoft to bring these titles back? At least Reset Generation. I know people who would buy into WP8 solely for that game

Can you please start including the app's size in every review?

This game runs smoothly on my mom's Galaxy Trend which has a single core processor with 512 MB RAM! And it has Android which a quite RAM-demanding OS! Windows Phone is lighter than Android and yet this game requires a GB of RAM on a lighter OS than Android! Idiotic.. Developers, are you reading this?

Have you tried lately? App was updated in the store with support for low mem devices. I just doublechecked it on a test device. [Note: I'm not developing ACS but I work for the publisher and upload the packages to the store]