Another day, another official app in India, Airtel Money arrives on Windows Phone 8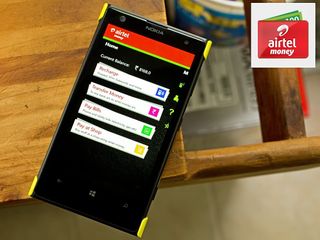 The next time I'll meet evangelism folks from Nokia or Microsoft, I'll give them a tight hug. Forget the market share discussions and fanboy arguments, the Windows Phone ecosystem is thriving in India. It's a great time to follow the ecosystem, and makes my job easier (I hope Daniel is not reading this!).
Yet another key example of how Windows Phone continues to do well in India is the release of Airtel Money for Windows Phone 8.
I'm excited about Airtel Money landing up on Windows Phone Store because it has been one of the apps on my wish list. I've been an Airtel Money customer since its inception via USSD (*400#). For those who don't know, Airtel Money is a Reserve Bank of India-authorized payment service.
Airtel Money subscribers can use their bank account or debit/credit card to load up their account, and use the service as a mobile wallet. A caveat though, the service is currently available only for Airtel subscribers.
The service allows prepaid mobile recharge, DTH recharge, Datacard recharge, postpaid and land line bills for Airtel, and electricity bills. You can also transfer money instantly to over 50 banks in India seamlessly and shop online on sites like Myntra, Bookmyshow, and Jabong.
While you get great deals on prepaid recharge and offers and discounts on online shopping and bill payments (details here), the app usage is completely free. There are no data usage charges for the app as it doesn't utilize your mobile data. When you fire the app, it asks for turning off the WiFi which is an awkward requirement and adds additional step for users like me who keep WiFi on all the time.
Download the free Airtel Money app for Windows Phone 8 devices from the Windows Phone Store. If you are an Airtel subscriber and would like a mobile wallet service, I'd highly recommend the same. Give it a whirl, and let us know how you like it.
Windows Central Newsletter
Get the best of Windows Central in your inbox, every day!
Great for people who uses it, but sucks for them that the WP app store doesn't work yet

Indian election 2014 is also available. Remember Microsoft partnership with IBN LIVE regarding election.

Haha and today, no one can get it!

Downloaded it yesterday morning -_-

Downloaded it and used it.. The UI is simple and clean and does the job well. Kudos to Airtel for releasing it for WP

India is on a roll with Official apps.

i see as a positive sign for the ecosystem.

But my Airtel app is 1000 miles away (-_-")

M still wondering why he said that he hope dan does not read it.....?

Because if he knows that my job is easy, I'll get less credit for my work. ;-)

Its about time now for the ibanking app from ICICI bank...

+920. When it comes to private banking, ICICI is the best. All other banks have apps, but ICICI.

Axis too, we need an Axis bank app

it's grt but why it is not working with wifi???

Pretty Good for Indians user, WP seems to be gaining a lot of popularity in India ... Hope there will be more official apps of Banks and Regional/National Newspapers ..

Strangely, all the mobiles used in airtel money tv advertisements r Lumia phones only...

Hey is there anyone having the problem to find Asphalt 8 in store. My store is not showing that. Please reply.
And one more thing I have Lumia 525 which was under Gameloft offer. The listed games(like Asphalt 7, MC4,etc.) were free before the update to 8.1 . But now it is not showing them free. I think that this is due to the update to 8.1 . Please leave your opinion about this guys. Help me to get them again as free. Lumia 525, India