Anycubic launches new Kobra and M3 series of 3D Printers
Here's what you can expect from Anycubic's latest offerings.
(Image credit: Anycubic)
What you need to know
The Kobra series of FDM 3D Printers has launched with two models, including a large-format machine.
The M3 series of MSLA printers has three new models and is available now as well.
Get ready for a lot of new printer options. Anycubic's 3D printing portfolio just got an upgrade, and there are a number of new models for interested consumers to choose from.
Starting with Anycubic's Kobra series, there are two printers, the Kobra and the Kobra Max. The Kobra is a mildly updated Anycubic Vyper that swaps the strain gauge auto-bed levelling system for a more traditional inductive probe mounted next to the nozzle. Anycubic made this change because, with the extra weight of the direct drive toolhead, the strain gauge would likely have been under too much pressure and wouldn't have given a reliable reading otherwise. With a build volume of 220x220x250mm, the size on offer is respectable for printing the majority of models you're likely to come across. That bed has a PEI-coated spring steel sheet that allows you to flex the plate to remove tricky items or replace it entirely if it gets damaged.
The Kobra Max is a large format printer, with a truly gargantuan build volume of 400x400x450mm. That's the same as the older Anycubic Chiron, but with the Vyper's strain gauge bed level sensor. It has a large sheet of glass for a build plate with Anycubic's UltraBase texture on it, it sticks incredibly well, and self releases when cool. The Z-Axis is controlled by two large leadscrews. They are bound at the top with a separate timing belt. Both the Kobra and Kobra max use the same large 4.3" Touchscreen with a useful and simple user interface.
The M3 series of printers are the new MSLA kids on the block, comprised of the Photon M3, the Photon M3 Plus, and the Photon M3 Max. The Photon M3 appears to be an update to the Photon Mono 4K, with an even larger 7.6" 4K+ screen (4096x2560), an improved build volume of 163x102x180mm, and an upgraded UV LED Matrix for faster, more accurate curing of layers.
The M3 Plus is even larger, with a 9.25" 6K Screen, resolution of 5760x3600, and a print volume of 197x122x245mm. If this sounds a lot like the Photon Mono X, it should. This is a half-step upgrade, with a new touchscreen and upgraded UI, but the coolest feature is an auto-refilling resin system, meaning long prints are less of a worry now.
Lastly is the Photon M3 Max, which is, as the name suggests, the largest of the three, with a 13.6" 7K Monochrome LCD screen (6480x3600) and a build volume of 298x164x300mm, making it a truly monstrous machine ideal for prop makers.
These printers are available on Anycubic's website right now and will be on Amazon soon. the Kobra is on sale for $299, the Kobra Max will sell for $739, The Photon M3 will retail for $299, the M3 Plus will sell for $699, and the M3 Max is going to sell for $1099.
Correction : a previous version of this post had incorrectly stated the price of the Kobra Max, Anycubic has since sent us the correct price, we have since updated it.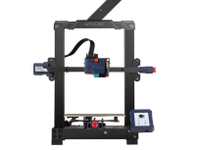 (opens in new tab)
Anycubic Kobra (opens in new tab)

The Kobra is one of the least expensive ways you can get into 3D printing through Anycubic.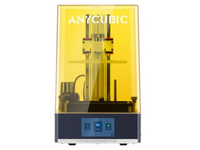 (opens in new tab)
Anycubic Photon M3 Plus (opens in new tab)

If you want to pay a bit more than the minimum to level up your 3D printing experience, that's where the M3 Plus comes in.
Windows Central Newsletter
Get the best of Windows Central in in your inbox, every day!
Windows Central Newsletter
Thank you for signing up to Windows Central. You will receive a verification email shortly.
There was a problem. Please refresh the page and try again.