Migram, Instafont and Vieather gain new features, while Readit and Beats Music pick up bug fixes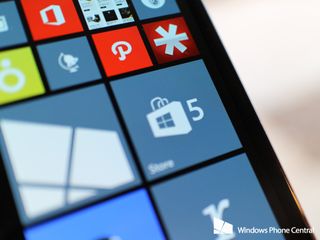 We love when apps get updated. Performances improvements and bug fixes are nice, but new features really get our engines going. Today we've got a handful of apps picking up updates of all degrees. Let's see what's new with Migram, Readit, Vieather, Beats Music and Instafont!
Migram
It was only just yesterday that we first covered Migram. As you'll recall, it's a beta client for messaging service Telegram. The app is now at version 0.0.4.46 with the usual big fixes. You'll also find custom background images, media support for secret chats, the ability to edit a contacts name and the option to save incoming photos.
Head to the Windows Phone Store to gram Migram.
Readit
Our favorite app for browsing Reddit on Windows Phone is Readit. The app was updated a few weeks ago to version 1.5. Now we're looking at version 1.5.2 in the Windows Phone Store. The update includes fixes for all crashes that the team has known about. If you've had any troubles with the app crashing or other weird behavior you'll want to maybe consider uninstalling and then reinstalling of Readit.
Grab the latest version of Readit in the Windows Phone Store.
Vieather
Vieather has always offered a very unique weather experience on Windows Phone. The app has been updated to version 1.6 and is even better.
What's new? Not only is the app now free, but there's no ads to be found anywhere. You'll also get wide Live tile support on Windows Phone 7.8 and Windows Phone 8. Vieather can now auto update locations by geolocation. UI has been redesigned to be clean and clear. As part of that redesign you'll find vector icons with detailed design and support for full HD resolutions. The ability to customize the accent color, Live tile and more has also been added.
It's a big update for Vieather and one worth checking out in the Windows Phone Store.
Beats Music
The newest streaming service to drop on Windows Phone, Beats Music, has just been updated. The app is now at version 1.3.221.1 and addresses three issues. There's been a fix for users unable to change their profile image and for when the app would crash on signup with low/no data connection. In addition, a fix has been implement to prevent playback pause issues.
Grab the latest version of Beats Music in the Windows Phone Store.
Instafont
It's a niche app, but we really like Instafont for Windows Phone. It's a nice app for adding texts to your images. Various fonts, sizes and styling styles are supported in the app. It's not at version 2.0 in the Windows Phone Store. You can look forward to weather overlay in the most recent version.
Pick up Instafont in the Windows Phone Store.
Thanks for the tips everyone!
Windows Central Newsletter
Get the best of Windows Central in in your inbox, every day!
I don't know if is just me, but I don't like Readit. Baconit is so awesome for me.

Baconit seems a bit faster than Readit but personally Readit gives you a better UI

Baconit just feels old. It's quick but lacks features compared to Readit.

Sam, don't forget calendar app Chronos. It got some new features too. Not too shabby either.

Not forgotten, covered in a previous article bu George that just focuses on Chronos.

So these apps were updated and I think that's great. (The hell I wrote this in Arabic! How did it change)

People if you are having trouble using vieather after this update then you need to reinstall it.

I tried to uninstall and reinstall, but it's still not working properly. Live tile is now only orange and won't go wide. I'm sad this update has killed my favorite weather app.

NBC Sports Live was updated

Thank you Sam for the tip of Instafont. As a thnx I give "Photo Caption" as a tip back. Looks horrible but gets results.

Thanks, I installed all but Beats

Ngram were also updated today. I wonder what changed.

Migram keep crashing in secret chat after the upgrade. Totally unusable.

Off Topic: Facebook inc for Windows 8.1 is updated with these improvements New features: - Turn off chat
- Narrower margins for snap view to show more content
- Create/join/leave groups
- Black and white high contrast modes
- Edit privacy when editing posts
- Double-tap to zoom photos full res
- Accessibility enhancements
- Bugfixes Note: Windows 8.1 is required to run this app. Last update : 02/28/2014 sorry did not know where to publish this information

Vieather is nice, but I see two UI problems. In the app, the icons for current condition show in front of the location name, blocking some of the text. Since the blocking is irregularly shaped (because the icons vary by condition), the location name is a bit hard to read. On the live tile that "can't see something important" problem is worse because the forecast icons and the high and low temperatures are shown overlapping and all three things are shown in white, making the temperatures appear to disappear into the icon. I picked a location in Australia and set the app to Fahrenheit. The temperature appears to be 90 degrees right now, increasing to 99 degrees in the next hour and staying there until it jumps to 108 several hours later. (The actual temperatures are in the 70s and 80s.) The multi-day forecast shows 108 today and 99 ever other day.

Beats music for 720 pls make update....pls

Official telegram is out on BB10, when is it coming to wp ?

Vieather seems to be broken as mentioned in the posts above. No wide tile etc. Tried uninstall and reinstall.

its funny how migram bocomes the best client in your eyes, so youre ignoring other apps
Windows Central Newsletter
Thank you for signing up to Windows Central. You will receive a verification email shortly.
There was a problem. Please refresh the page and try again.