Apple, Microsoft, and others may benefit from forced labor in China (update)
Let's hope it's addressed soon.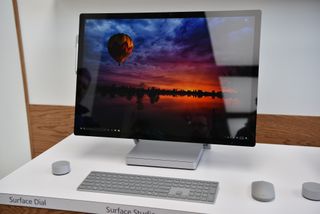 (Image credit: Windows Central)
What you need to know
The Australian Strategic Policy Institute recently issued a report about forced labor in China.
Microsoft and other companies like Apple and Sony appear to be benefiting from it.
China has allegedly moved Uyghur and other ethnic minority citizens to factories across the country.
We've reached out to Microsoft for comment on this report.
Updated March 2, 2020: A spokesperson for Microsoft reached out to us and said the following. The company is investigating the report and will act accordingly.
China does not have a great record with human rights and it seems like another issue has come to light due to the research of the Australian Strategic Policy Institute (ASPI). According to the organization, many brands around the world, including Apple, Microsoft, and Sony, are benefiting from possibly forced Uyghur labor in their product pipelines.
You can read the complete report on the organization's website, but we've included the pertinent excerpt below.
Hopefully, Microsoft and other companies will investigate this further and work with Chinese manufacturers to end this practice. We've reached out to Microsoft for comment and shall update you as soon as we receive a response.
It's the responsibility of the company to uphold standards with its partners because these are serious allegations.
Asher Madan handles gaming news for Windows Central. Before joining Windows Central in 2017, Asher worked for a number of different gaming outlets. He has a background in medical science and is passionate about all forms of entertainment, cooking, and antiquing.
We should have just shut down all trade with China and diversified away years ago. They're no better than the Soviet Union was, and in a lot of ways they're worse because they now have the capital and technological ability to truly create a dystopian surveillance state.

Absolutely, the world has played into their hands and payed for it. They are a bully and get away with so much. Look at those 2 Canadians detained for a year now living in filthy conditions while Meng lives under house arrest in Canada with a chauffeur driven car and luxury accommodations.

Long overdue, but it's time for the world to drop its dependency on China for cheap goods. Those goods are only cheap because of forced labour, and appalling work conditions. Obviously, having our phones, tablets, televisions, cars and clothes manufactured in the West will mean they'll be more expensive, but so what. It just forces us to make our things last longer. Its forces us to use our stuff until its really all used up. We don't need new electronic devices every 2-3 years. We don't need a new car every 5-10 years. It's all just marketing hype, stewed up by companies that want us to keep buying their crap. Let's do the right thing here.

I totally agree with you, it is way crazy how people use and buy stuff those days, but again, you can read only 4 comments on this subject comparing to other ****** subjects, no one cares about real value anymore. 😟😞

@Jcmg62 You're living in lala land if you think most Americans can survive without cheap Asian imports. It's been shown most Americans have less than $1000 in savings and with the low wages that are paid in most cases have little hope of improving the situation.
The U.S economy would collapse without cheap imports.

Most Americans can survive, if they separate out the needs from their wants and get their priorities in order. It's actually not hard. I mean, it's going to be hard for anyone to survive if they think they need a Galaxy S20 Ultra when a Galaxy A50 is more than meeting their needs. The easy availability of credit has a lot to do with this. Americans are allowed to finance too much, so many people grow up with a warped idea of what money is actually worth.

@Bluey Ross I would agree with @iN8ter on this....it's about needs versus wants. Most of us want the latest smartphone, the shiniest car and the smartest smartwatch, but the fact is that we don't actually need it. What we need is a phone. Not the smartest or the newest or the shiniest. Just a good, reasonable, dependable phone that'll last for years. Same with cars, tablets, watches, etc. This is not unreasonable. A few decades ago, people made their cars, TV's, watches and gadgets last for decades. We can do the same. I live in the UK, so can't really speak about where the USA stands in all of this, but over here, and across Europe, there's a big push toward financial and environmental sustainability. That doesn't mean that we're going without, but it does mean that there's more emphasis on making things last longer, and recycling absolutely everything. China has flooded the earth with cheap goods. They, along with the marketing guru's at Apple, Microsoft, Google, etc have convinced us that we need to have new stuff all the time. It's wrong. It's financially irresponsible and does massive environmental damage. Let's just slow down. China can keep it's crap

The goods are not cheap because of forced labor or appalling labor conditions. They're cheap because China and Vietnam and other countries that do this assembly work are still poor. The hideous actions of the Chinese government and some Chinese companies (if true - they're not too hard to believe really) are besides the point. In fact, they're probably resorting to forced labor because of labor shortages - because China is becoming richer and the cost of doing this sort of assembly business (which is ideally suited for middle-income countries) is going up for them.

Why not both? Forced labor means you don't have to pay people. Appalling conditions like 12+ hour workdays mean you cut costs. It's despicable but it definitely contributes to products being cheaper when manufactured in countries that don't regulate labor.

Hopefully, Microsoft and other companies will investigate this further and work with Chinese manufacturers to end this practice. Hahahahahahahahahahahahahahahahahahahahahahahahahahahahahahahahahahahahahahahahahahahahahahahahahahahahahahahahahahahahahahahahahahahahahahahahahahahahahahahahahahahahahahahahahahahahahahahahahahahahahahahahahahahahahahahahahahahahahahahahahahahahahahahahahahahahahahahahahahahahahahahahahahahahahahahahahahahahahahahahahahahahahahahahahahahahahahahahahahahahahahahahahahahahahahahahahahahahahahahahahahahahahahahahahahahahahahahahahahahahahahahahahahahahahahahahahahahahahahahahahahahahahahahahahahahahahahahahahahahahahahahahahahahahahahahahahahahahahahahahahahahahahahahahahahahahahahahahahahahahahahahahahahahahahahahahahahahahahahahahahaha.
- Yes,yes of course,now take the pill and come back to dream.

Didn't we already know this? Or is it just something people joked about that actually ended up being true?

We didn't already know this. This is orders of magnitude worse than anything we've heard about China recently.

I don't see the likes of Hisense, Huawei, Oppo, Xiaomi, ZTE, complaining about this, or actively opposing it.

It is hard to exaggerate just how hideous this is. If true, US companies need to divest very soon. This is not about a handful of Chinese companies, this is their government not only putting people in massive camps, but forcing them to work. The good news is, it's getting easier to assemble stuff in places like Vietnam. That's where my phone was "made" (i.e., assembled).

Cheap labour is a drug, it is opium.
Windows Central Newsletter
Thank you for signing up to Windows Central. You will receive a verification email shortly.
There was a problem. Please refresh the page and try again.