Inspired by Microsoft, Apple applies for a Surface-style keyboard patent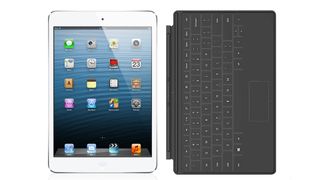 Apple likes to create stunningly beautiful technology, but sometimes it may appear that they are simply imitating others and slapping on the word "Magic" or "Super" to create unique branding. This situation may be the case with a very Microsoft Surface-style keyboard cover that Apple is trying to patent. We say 'trying' because Apple is only applying for the patent, but they have not yet been granted one. That process could take months or even years before it is approved.
The new patent filed by Apple showcases a new smart cover within an attached keyboard. It appears that the keyboard itself would disconnect from the smart cover when needed and work wirelessly with the Apple tablet. The patented device is apparently a flat surface that could operate through "capacitive, resistive, optical, acoustic, inductive, mechanical, chemical, or electromagnetic" means. The patent application also contains coverage for users being able to use multitouch commands across the keys.
Apple and Microsoft borrow ideas from each other very often, so it might be a bit unfair to stare Apple down for what simply might be a great business decision. It does not take a scientist to figure out that Microsoft found inspiration for their stores within Apple and that the Cupertino based company might simply be borrowing back. That, and they probably see the advantage of having this accessory to compete with the Surface.
Connecting the new smart cover to the tablet would be available through a new series of magnets that would also be able to transmit electricity for charging the device. That being said, we are not sure if adding magnets to your keyboard and flattening it out is the same as stealing an idea.
What do you think – is this patent application an Apple original or a rip off of Microsoft's Touch Cover?
Source: Patently Apple; via WinBeta
Get the Windows Central Newsletter
All the latest news, reviews, and guides for Windows and Xbox diehards.