Meet Appy Text, your new favorite text editor for Windows 10
By George Ponder published
Appy Text is a plain text editor for Windows 10 that offers a host of features in a lightweight package.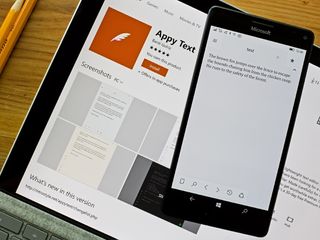 Available for Windows 10 PC and Mobile, the free app comes from the same developers who brought us the feature-laden Windows 10 weather app, Appy Weather (opens in new tab). Appy Text shares the clean-cut appearance of Appy Weather and is an appealing alternative to the traditional Notepad text editor. Appy Text also avoids weighing down your device storage, coming in at just under 23MB.
The free version has enough meat on its bones to get the job done, but to get the most out of this Windows 10 app you should upgrade to the premium version ($0.99) to unlock the app's full potential. Either way, if you are searching for a capable text editor, Appy Text is well worth a try.
The lowdown on Appy Text
It's hard to make a text editor shine and stand out from the pack, but Appy Text delivers a no-nonsense design that looks good and lacks clutter. The layout of Appy Text's display has a menu button resting in the upper left corner and a menu bar runs across the bottom two-thirds of the display.
The upper menu reveals options to create a new text file, open an existing file, access the app's settings, purchase the premium version and view the about screen. Settings cover everything from language support to font style and size. Appy Text has in-house support for four font styles (Light, Mono, Sans and Serif) with the option to alternatively use a custom system font. Font sizes are illustrated, as opposed to being displayed in point values. If I had to guess, the size ranges from eight points to 18 points.
The bottom menu bar holds options for file management (save, save as, print, and rename), editing options (word count, find, find and replace), front and back buttons to move the cursor, an undo and redo button, and a share button.
Here's a neat feature Appy Text throws into the mix to help it stand out from other text editors: If you swipe to the right on the menu bar, a secondary menu bar appears with app actions such as creating a new file, opening an existing file, changing the theme and fonts, and accessing the app's settings. This is a nice touch, and it reduces the need to access the top menu and gives the app a more fluid user interface.
Additionally, if you purchase the premium version and have multiple files opens, swiping to the left on the menu bar allows you to switch open files. Again, the premium version is currently priced at $0.99 and is available through in-app purchase. The premium version unlocks additional features that include:
Tabs that allow you to open multiple files at once.
The ability to open, edit and preview Markdown files.
Auto Saving.
Adds dark and sepia themes to the existing white and gray themes.
As far as performance is concerned, Appy Text does a good job. Typing is responsive, and with the Windows 10 Mobile version, predictive typing remains in place to help speed things along. The menu locations are conveniently placed, maximizing your typing area, and they are easily accessible.
While a text editor isn't the most exciting app to review, there's something refreshing about Appy Text. I like the clean appearance the app's design offers, and the gesture-based option to navigate between menus and files is handy, especially when working from a mobile device. All in all, while a text editor may not be on everyone's must-have list of apps, if you are in the market for one Appy Text should be on everyone's short list.
Download Appy Text from the Windows Store (opens in new tab)
George is the Reviews Editor at Windows Central, concentrating on Windows 10 PC and Mobile apps. He's been a supporter of the platform since the days of Windows CE and uses his current Windows 10 Mobile phone daily to keep up with life and enjoy a game during down time.
NotepadX is much better 😊

Why? What are pros and cons? I'm looking for a good text and xml editor

NotepadX looks much better in my opinion, it supports more languages, is more personalizable, has a wider range of font sizes (from 8 all the way up to 32), has an autosave option, you can turn on row numbers, and it's free (etc...) 😉

As far as what you think looks better, I guess that's subjective and it's not for me to comment. As for the other points: 1) unfortunately I can only speak English and rely on the goodwill of the community to get the app translated to other languages. Fortunately, I'm lucky to have kind users, and so I expect to be adding more languages with time, starting with Polish and Chinese soon. 2) text size based on user feedback can now go up all the way to 72. I could reduce the min text size to 8 too. Will do that in the next update. 3) Premium has an autosave option 4) Row numbers is something I'll consider adding support for in the future, but I'm not going to lie, based on how I implemented the app, it won't be an easy thing to support, so can't say this will definitely be coming. 5) if you've the time to point out what personalisation options you think are missing that you consider to be important to include, that would be super helpful 6) the app is free too, but with a Premium IAP for what I consider to be non-essentials (think of things that are not in regular Notepad either - the idea was for the free version of the app to be on feature parity with Notepad, so that the app can be a free but modern alternative if that's all you need, and if tabs, dark theme, markdown support, auto save are not important to you)

I guess you're the dev. I wasn't trying to hurt you or something, having alternatives is a good thing. For the points you've made, one thing I absolutely love about NotepadX is the "darker" theme. It's like dark, but even darker 😂 Another one is that the header can be resized or completely hidden, and the toolbar can be at the to or at the bottom if you like. Btw, I can help you translate your app into Hungarian and German, I already did it with so many apps (OneLocker, 8Zip, Awesome Tube, ZTwitch, Piny, 9GAGs, NotepadX, Realarm, Exchange Rate, etc...). And lastly, I never was a tab guy, I like having multiple instances open, like NotepadX does it.

I wasn't hurt, but I can't deny it's unhelpful when you work very hard on an app for months, get it covered on arguably the biggest Windows fan-site, and for the first comment to say another app is 'much better'. It may well be, but I question the ability to make such a snap judgement without giving the app reasonable testing opportunity. Also, it's not a bad thing for Windows users to have more than one choice in every app category. Everyone knows we're not exactly spoilt for choice compared to competing platforms, so the more options available should be welcomed rather than quickly dismissed, as not everyone will have the same taste and requirements as you. Other small points: 1) the app has always had a dark and darker themes, 2) header can be hidden - there's a full screen mode, in there since the start, and there's also now a new Focus Mode, which hides all the UI, and 3) Filebar can now be positioned in the top or bottom (was the latter only previously). The app was available in German to begin with, but still not in Hungarian. If you'd like to help translate it to Hungarian, please email bardi.golriz [at] gmail.com - that will be appreciated. Finally, giving the ability to open multiple instances of the app is something I'll look at adding support for in addition to tabs.

NotepadX looks better? You should get your eyes checked, and I'm saying this for real now. Maybe next thing you say will be "Windows 10 looks better than macOS". C'mon, you must be kidding.

You really think, that this app looks better than NotepadX? And yes, Windows 10 indeed looks better than macOS...

NotepadX even replaced the built in Notepad app on my PC. And I am seriously productive with it and even more than Microsoft Word.

For me as well. I didn't even touch Notepad since I installed NotepadX 😁

Bad app link. Links to AppyWeather
Edit: Clarification, the app link attached to the article (shown on bottom bar of app) is AppyWeather. The link at the end of the article is correct. Here is link to AppyText www.microsoft.com/store/apps/9nblggh51knm

Is this app's premium valid only for that specific device? I installed on my PC, purchased premium, then installed on my phone - and all I get is the non-premium or a "free trial." It doesn't recognize my purchase. (Yes, same MS account.)

Hi Per - Bardi, Appy Text developer here. No, it should be valid for all your devices. Can you please email bardi.golriz [at] gmail.com, so I can look into this more carefully?

The Store, even after how many years, can sometimes still be unacceptably unreliable and/or slow when it comes to these things, unfortunately.

I have the same issue, bought the premium and it is only premium on my laptop, not the desktop and phone. I'll email you as well then I guess.

Nevermind, it seems to have just taken a little while to realize the IAP was made on it, and after relaunching again the other devices now work as a premium feature.

Thanks, yes it seems to be - now. There appears to have been a delay of 20+ minutes before the store updated that I had indeed purchased it.

Happy this fixed itself eventually for you both.

I love the design of the app + tabs is a killer feature!

Love it too, Bardi! Keep up the good work.

I have to laugh at the app bloat. 23MB, to me, is a lot of space for a mobile app. Especially when my text editor of choice (Notepad++) is under 7MB.

To be honest, the amount of space the app takes up is not something I considered to be noteworthy. Primarily because I am not entirely sure what is considered to be an average storage size for a UWP app.

That's understandable. I've seen enough apps come in at under 10MB, but couldn't say what a an average UWP app should be, if it isn't graphics-rich. It reminds me of an old clock app that offered a live tile showing the time. It was rather large in size, I think around 30MB or so, and I extracted its contents to find it had 2880 image files in it, one for every minute of the day, in two tile sizes. So when I see the size, I still wonder why.

Ha right. There's definitely not that many graphics in Appy Text ;)

I just want to know what happened to the brown fox.

Installed Appy Text just a few days ago when a friend told me about it. The premium IAP was an instant buy for me. As a notepad enthusiast I've tried many of the noting apps available in the Store, and AT is already one of my favorites.

Thanks Flavio, glad you like it and it's filled a previously unfulfilled need :)
Windows Central Newsletter
Get the best of Windows Central in in your inbox, every day!
Thank you for signing up to Windows Central. You will receive a verification email shortly.
There was a problem. Please refresh the page and try again.