Appy Weather updated to add a host of Live Tile options and more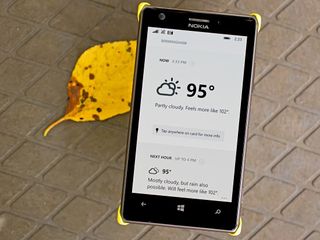 Appy Weather is a Windows Phone weather app that has a bit of a personal touch about it. The weather app has a minimalistic appearance and delivers a decent amount of forecast information to your Windows Phone.
Along with a simple interface and weather alerts, Appy Weather delivers the forecast information in a traditional sense but also in a practical sense. For example the app will often compare the forecast temperature with the prior day's weather. The app was recently updated to version 1.1 that includes a host of changes to the Live Tile settings and a few layout tweaks.
The change log for version 1.1 of App Weather includes the following changes to the Windows Phone app.
Added new "Now only (minimal)" and "Now + Today" live tile options for the wide front tile.
Slightly increased temperature size on the "Now only" wide live tile.
Streamlined text on "Now only" wide live tile when the weather is mostly cloudy.
Added setting to use bigger icons on live tile's regular tile size (by hiding 'Tomorrow' column on back tile).
Regular live tile's front side will now display your location's name.
Later column in all live tiles will now always cover the entire remainder of the day (previously it covered the next 12 hours).
Added setting to hide today's weather from the Next 7 Days chart (now hidden by default, and so if you want to bring it back must go into Settings to do so).
Fixed issue when changing themes where the icon colors would sometimes not immediately update.
Additionally, if you tried Appy Weather before the version 1.1 was released and your trial version has timed out the developer has reset the trial database. This will allow everyone to give the updated version a try to see if the changes are enough to knock you off the fence.
Appy Weather – Windows Phone 8.x – 3MB – Trial / $3.99 – Store Link
Windows Central Newsletter
Get the best of Windows Central in in your inbox, every day!
George is the Reviews Editor at Windows Central, concentrating on Windows 10 PC and Mobile apps. He's been a supporter of the platform since the days of Windows CE and uses his current Windows 10 Mobile phone daily to keep up with life and enjoy a game during down time.
Great app with a dedicated developer. Always answers when you got suggestions.

Thanks Tafsern. I should add that beside the improvements listed in the post in 1.1, there have been many more incremental updates since the WPCentral review on August 26. 8 updates, in fact, albeit mostly incremental (which included more than a few user suggestions for improvements/additions). Here's the full changelist of all updates for anyone interested: http://www.mtrostyle.net/appyweather/changelist.php.

Really good looking and well organized app. I wouldn't mind having it, but having trouble spending 3.99 on an app when I've already purchased the cheaper Amazing Weather HD and it gives me the same information. 4$ is a lot to justify.
I will say though, I love the minimalist look. It's exactly what I like in apps. Straight to the point.

I know for some people it's not how the information is presented that's important, but what information is available. For these people, I appreciate spending another $4 on Appy Weather is a tough sell.

I own AW HD, Weather Flow and after trying Appy Weather I immediately bought it -it is on completely different level of accuracy!

Great app and with that amount of options and information, I would love to pin two tiles on my start screen? Is that possible to do?

Not at the moment, no. But it's on the list of things to add in a future update.

Such a big cost for a weather app. Try Vieather its free & best

I rather pay for something thats minimalistic, lightening fast and good looking.

I'm going to start using "god looking" more often. It's a minimalistic way of saying it better than good looking... it even uses 1 less 'O'!

I can confirm that it's god looking entirely by accident!

God looking= having the appearance of a god ;) :P

It's expensive, but worth it! Best looking weather app I bought till now. :)

True.... Viather is more than enough at least for me

Viather works like garbage for me

... And Vieather's live tile never worked for me.

Said it before, still not paying $3.99 for a weather app. Makes absolutely no sense when there are so many good freemium options.


I don't really want to make this thread be just about price (again), but I totally understand it's an obvious discussion/pain point. I do have a few questions for you though that I'm genuinely curious to read your answers for: 1) which weather app do you use? And which IAP did you buy (if any) in them? 2) what app category would you consider spending $3.99 on? I'm assuming games, but any others? 3) at what price (if any) would you consider giving Appy Weather a go on? Thanks in advance.

Let me answer:
1 - Forecast and Atmosphere (this one I regret)
2 - Photo editing apps
3 - I would pay proudly $ 2,00
The app is amazing, I used the trial and it was, by far, the best experience of weather apps I had.

Forecast is always late with its forecasts. What's the point of standing in the rain soaking wet and reading that it is raining... Atmosphere is great disappointment, even though developer is trying...

Agreed with you about Atmosphere. Cheap look, ugly tile... This one is 3 times more expensive, but 30 times better!

I disagree about Atmosphere the forecasting and mapping is spot on the last update really put some nice things in place. so it's what I use. But I'm going to give this one a shot too, about the price, buy a coke or something like that or a sandwich, I look at things as time spent developing and maintain it's really not that expansive.

Happy you said that jabtano. Unfortunately, I feel apps have got commoditised to the level that people have started to expect to get everything for free. If I'm being honest, I don't blame them really for having these expectations. I feel indie app developers are devaluing their work to a certain extent by giving their apps away for free or next to nothing. But I totally appreciate and understand it may be economically unwise to not charge nothing/little when you have big-name competitors like Bing Weather available for free. And when one weather app does it, the rest feel inclined to follow. I get that. What I did when I decided on a price for Appy Weather was to ignore what else is out there and not to price relative to the competition, but price according to what I think was fair on the development costs (both in the past and expected in the future in the form of updates). People might think that that was an incredibly foolish business strategy. And I've had people tell me that to my face many times when I was obsessing over the price over many months. But I decided to go with my gut that was telling me that the 9 months of development will hopefully show when people try the app making them feel more inclined to hit the buy button. And it's these people that have been motivating me to keep adding value to the app via updates.

Bardi, you keep doing that as well. the app is fantastic. people always tend to miss the time one spends developing an app it's not something that gets whipped up over lunch and submitted by dinner time. though i expect there are apps like that. but they tend to be pretty much junk. also It takes work and effort to maintain when an app works right, when it feels right, then it's worth paying for. sure one can go out and download Bing weather or news but they are not the same My view has always been that if i see an app that i like, if it has a try before you buy and i like it i have no issue at all paying for it. i would much rather buy a good app to support the efforts of the developer than i would to say download one from a major company even if that app happens to be free. Some may ask why and the reason is simple. if i email you with an issue i may be having with the app. i get an email back with the person spending time on correct it. one would not get tat sort of treatment from Bing. secondly the more WP draws in quality developers the better the eco system will be for all.

Atmosphere forgot where I am half the time...hard to find a great weather app.I'll try this.

Thanks for that. This does inform me. Not with just Appy Weather but anything else I may end up developing in the future. Good to know.

To answer your questions Bardi,
1) I use Appy Weather (used to use Amazing Weather HD). Always bought the full version.
2) $3.99 is not a concern. If it is a more significant amount ( say $39 or $49 which I have paid in the past for Navigation apps) then I make sure it is something I value that much.
3) See above. IMO small amounts support this community and encourage more high quality apps. Glad to pay them

slepr, my answers to the questions I asked are the same as yours. And it is pretty much with that thoughtset that I came to that $3.99 price.

I think Weather Hound is the nearest weather app to Appyweather. I used it for a long time. As to the price I've already paid it so it makes no sense for talking about it.

Yep, buy it because it's expensive! ;)

Hi Bardi,
living in an place other than US, I also share the price concerns my other commenter colleagues have.
I'm also happy to support developers for Apps I like, but I agree with the concept of price range per categories. For example, I bought the Plex App for about 5 USD, an XBMC one for about the same price.
I bought Weather Flow and Amazing Weather for about 2 USD, which I considered being the maximum amount I would spent on this category.
At the time I'm using Blue Skies (the paid version) and Bing Weather. Don't get me wrong, your App is beautiful, I'm trying it as I write this.
I really love it's minimalist visuals, but as others pointed out, I would wait for a red stripe week to grab it for about half the price. Keep up the great work! Cheers,
Daniel

Thanks Daniel. Totally understand your hesitation in spending another $4 on a weather app when you've already spent more than $4 on alternatives. Based on my interaction with my users, I know there are others like you. That is, people who jump from one paid weather app to another. I know Appy Weather's price will scare away some users, but I'm quietly confident that for those who pay the $3.99, they're likely to stick around. I'm determined to continue adding value to the app over the coming months that eventually the $3.99 feels like money well spent if you're on the fence to begin with. (note: for reference, there have been 14 updates since August 6)

I'm glad you understood what I meant. Altough I think that the $4 are a little high, I'm probably going to buy it anytime soon, since I'm really liking it! ;) I'll be following your developing very closely!

Just don't understand the out of hand dismissal based on price. As with a lot of things, you get what you pay for.

It's only £2.59 which I consider to be great value for money for such a great app. It's worth every penny as far as I'm concerned.

How does this compare to Blue skies? Already paid for that one but the reviews of this seem pretty great.

I like this better, especially the live tile. Better stability and updates more frequently. I've tried most of the weather apps and this one can't be beat for the concise and practical display plus the performance. Highly recommended.

Blue Skies is cool but misses my current location. I always move from the city I live in to the suburbs where I work and Blue Skies often says me wrong place.

Blue skies is nice but radar map is outdated quite often (not developers fault) and it doesnt send rain warnings too. I added thunder sound for Appy weather toast notification and every time there's a thunder in my pocket + I know what to expect. Appy weather has everything layed out nicely and handy, where blue skies needs too many different gestures to navigate and DOES NOT SHOW wind direction at all. Everyone in the northern Europe knows that northern wind of just 6 m/s can be cold as **** and if you don't see direction - you cant be aware of that.

Accuweather is too reliable and accurate for me to change to appy weather

Accuweather crashes on my Lumia 1020 from the day 1, so I didn't even bother to pay for it. I'd contacted developer but it's 6 month from that now. I don't expect hearing from them and honestly - don't care. Appy has its long history of improvements and I love direction it is taking.

Accuweather has never crashed on me. Plus, its free :)

Accuweather? Lol accurate

Live tile doesn't work after last update

Strange, it does on me. What phone do you have and what is your region?

I love this app, and I gladly paid the price. I have no problem supporting active devs for our platform.

It looks great. The most useful livetile of them all.

Hello Bardi, your app is very nice and unique (although a bit overpriced) and I really appreciate the effort you put in it and the frequent updates. However, in my place it's sometimes a bit inaccurate, especially with current conditions (which are not too hard to get, I think). For example, today around noon it was showing "heavy rain" as current condition, although it was just drizzling. My place is Thessaloniki, Greece. Which weather provider do you use?

Thanks for the kind words, v_emman. I'm using Forecast.io and these are their data sources currently. I've actually spoken to the guys there (because there have been a few inaccuracies reported by users in the last month), and they've let me know that a major infrastructure update is planned (hopefully before the end of the year) that should improve weather accuracy throughout the world, especially in Europe.

So we are looking forward to a better accuracy from them. Isn't it possible to add other providers too and let the user decide which one to use?

It's possible, yes. But it's not an straightforward job. Neither to implement nor to maintain (keeping in mind, every weather provider has their own unique API with potentially different data points that are also potentially formatted differently). What I'm planning to do is to wait until this update rolls out and evaluate the improvements made then. If they are not satisfactory, then I will begin to consider alternative optional providers. Having said that, based on my communication with the guys there, I'm pretty relaxed and confident that the improvements will be noticeable. Hope that makes sense.

Great news about Forecast.io update! It's pretty inacurate here in Croatia, but since weather stoped changing every half an hour it's better. In spring was disaster! Back then I used Blue skies wich also use their services.

I actually specifically told them about issues with Croatia, and they confirmed Croatia should be covered in the update.

Hands-down one of the BEST experiences to be had in weather apps.

Looks nice so far, but I'm not willing to give up Amazing Weather or Weather Flow until I get the complete package including lock screen support.

Lock screen support is planned, and I aim to have it completed before the end of the year. Why so long from now? Well, I want to make sure it's as reliable and flexible as the live tile. Based on my (painful) experience getting the live tiles to the satisfactory state they are in now, I know this won't be a weekend job.

i don't know how long can trial version run, but this app is really nice ...

The trial runs for three full days. So if you installed it on Friday afternoon, it will be valid for the remainder of Friday as well as Saturday, Sunday and Monday. Here's another question for people on the fence about $3.99: if the trial lasted for more than 3 days, would that make any difference? Say a week.

Interesting that some will pay $500 for a (really needed?) phone, but balk at a $3 app.

Great weather app that is accurate for my UK location because forecast.io use UK met office data & it has a dedicated, friendly developer who has done a great job in perfecting what has been released so far.

If you guys complaining of high price then just cheer up the dev rather than posting that you can not afford or it just too expensive :3. peace yo

Thanks to everyone on here for their support of Appy Weather and more specifically their defending of its price. I'm incredibly humbled that users are justifying the price on my behalf. Really. I know you wouldn't be if you weren't enjoying the app, so I take that as a positive sign. But I'm not going to get complacent either. The agile development cycle will continue for the foreseeable future. Lots of things still to come, both big and small, over the coming months.

Sorry Karvan, but a WP7 version is not currently planned.

Nice app, but still, BlueSkies is the best.

Thanks Lucas. I'm however very curious to read why you prefer Blue Skies. I know there's a lot to like about BS, but I don't want to make any assumptions about the things you may prefer about it. And so I'd rather you clarify for me if possible.

i am new here ok pls i am in search of a friend to adapt
Windows Central Newsletter
Thank you for signing up to Windows Central. You will receive a verification email shortly.
There was a problem. Please refresh the page and try again.