ARK: Survival Evolved coming to Xbox Game Preview on Dec. 16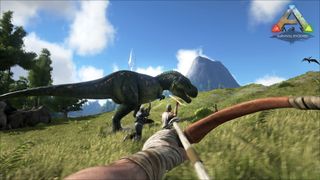 ARK: Survival Evolved, a first-person survival action game that has already made a splash through Steam's Early Access program on PC, is destined to get a little early access love on Xbox One on December 16. As reported by IGN, ARK: Survival Evolved will be available in mid-December for $34.99 through the Xbox Game Preview program, which debuted earlier this year. Speaking to IGN, developer Studio Wildcard's co-founder Jess Rapczak talked a little bit about the studio's goals with ARK on the Xbox Game Preview program:
Rapczak says that when ARK: Survival Evolved makes its XPG debut later this month, it will have all of the same content that is currently in the PC preview.
The game is due to officially launch on consoles and PC in June 2016. Will you be snagging the game early through the Xbox Game Preview program? Let us know in the comments below!
Source: IGN
Dan Thorp-Lancaster is the former Editor-in-Chief of Windows Central. He began working with Windows Central, Android Central, and iMore as a news writer in 2014 and is obsessed with tech of all sorts. You can follow Dan on Twitter @DthorpL and Instagram @heyitsdtl.
Been looking forward to this but don't wanna wait....do you get achievements with the preview?

No achievements with game previews

Let's hope there are less hackers than the pc version or else this is doomed. I played for a month straight on pc, but the hackers got out of control to the point where you couldn't do anything without getting killed. Let's hope the devs get their heads out of their ***** and put in an anticheat.

Do you need to sign up for anything to be able to get this or will it just show up in the store on December 16th? My kids been wanting this game for ages and I keep telling him its released next year, if I can get the preview for him for Christmas that would be brilliant.

Yeah it'll just pop up in the store. There is a Game Preview section in the store as well. Looks like your son will have a nice Christmas surprise coming ;)

Excellent, great news. Thanks for the quick response evilernie667.

No worries buddy, happy to help!

Hope the frame rates have improved. I seem to remember Paul had a look at this one in the early stages. Interesting to see what has improved.

You need a fairly beefy gaming rig to play this game on higher settings

Fairly is an understatement. Posted via the Windows Central App for Android

Love this game. Played it during the alpha tester on Steam.

Hope its decent. All game previews have a free time limit before buying right?

No this is the actual game... Meaning you won't need to purchase it again when it is officially released. It won't be free at any stage. It's just an alpha version, it could be full of bugs etc...

Can I ask how do you know this could you give me a link of the website that says this if you could give me any of this I will be very thankful

Lets hope for decent controller optimisation, PC version is horrendous! On a side note, I hope one day that Dino Crisis gets a next gen reboot, we need more Dino games!

One advantage of xb over ps4

Hardly Posted via the Windows Central App for Android

One of the MANY advantages over ps4

Do we need to be on the preview program to get the early access or is it for everyone?

Everyone, they are game previews. Like demos but you get the full game, not a free taster. They have nothing to do with the OS.

So we are essentially getting the game for a discount ($35 instead of $60) in return for being beta testers?

That's a way of thinking of it. You can also think of it as you are supporting the dev and in return they are giving you the game. It's sort of like a Kickstarter thing but for games. I don't know about the track record on Xbox, but on PC it's pretty hit or miss. You give your money to the dev, they work for a bit and sometimes abandon the game. I've been lucky, the 2 I've supported have gone very well.

Will I be able to get this game before it fully releases after the 16th for Xbox or is it only available on the 16th?

Will you need Xbox live to play the single-player mode?
Windows Central Newsletter
Thank you for signing up to Windows Central. You will receive a verification email shortly.
There was a problem. Please refresh the page and try again.