ARM aims to match laptop performance with new Cortex-A76 CPU
ARM is gearing up to give Intel a run for its money in the laptop space.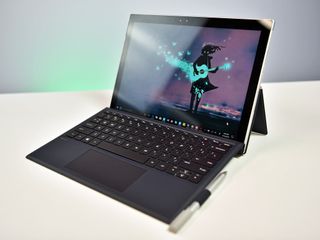 ARM has unveiled its next-generation CPU design, and it's setting its sights firmly on Intel's laptop throne.
ARM is billing its new Cortex-A76 CPU as a laptop workhorse, citing a 35-percent performance improvement over its last-generation design. That's backed up by a 40 percent uptick in power efficiency and a fourfold increase in performance for AI and machine learning tasks.
"The new Cortex-A76 also delivers 4x compute performance improvements for AI/ML at the edge, enabling responsive, secure experiences on PCs and smartphones. This level of performance, power efficiency, and flexibility changes how consumers engage with their new PCs," ARM says.
With the Always-Connected PC effort from Microsoft and its partners now in full swing with Windows 10 on ARM, it's no wonder ARM is going all in on pitching its next chip design as a contender for laptops. One of the main selling points is battery life, which can exceed 20 hours with current ARM-based Windows 10 devices. And while a persistent LTE connection and instant-on capabilities are nice, battery life gains are what could ultimately threaten Intel's stranglehold on the market if Windows 10 on ARM is a success.
Still, there's a long way to go. Currently, very few Windows 10 on ARM devices have been announced, leaving the market mostly to single offerings from HP and ASUS. However, as the year wears on, there's plenty of potential for the market to expand, especially if ARM's claims hold up.
The next step is up to partners like Qualcomm to release chips based on ARM's Cortex-A76 design. Microsoft is working closely with Qualcomm with its Windows 10 on ARM efforts; the current generation of devices, for example, is based on the Snapdragon 835 platform. A Qualcomm chip based on the Cortex-A76 could prove to be a valuable boost to future laptops and tablets.
Windows Central Newsletter
Get the best of Windows Central in in your inbox, every day!
Dan Thorp-Lancaster is the former Editor-in-Chief of Windows Central. He began working with Windows Central, Android Central, and iMore as a news writer in 2014 and is obsessed with tech of all sorts. You can follow Dan on Twitter @DthorpL and Instagram @heyitsdtl.
Any idea of when on their roadmap these might make it to market (implemented in end user devices)? And yeah, count me in as a "wow" too - this is exciting :)

As long as the battery life remains exceptional this is pretty cool! ACPCs running on ARM are about the ONLY bright spot I can see in the disastrous mobile "strategy" Microsoft has put in play.

I would say this is even better than the old Windows phone, because they can make a device that can be both "mobile" AND a full-fledged "desktop" app that can run real productivity apps that people care about.

Yes, as long as battery life remains unchanged.

This is going to be my next tablet/well-to-do PC once this CPU is launched :) Omgosh...I'm elated!!

That's great news! I have been using the HP Envy x2 this week almost exclusively as my go to device for work and I have to say, I'm impressed with the performance.
I am mostly working in Office and it really works well. With this new processor, a device like this will be a extremely viable alternative to laptops.
Can't wait.
The always connected PC changed the way I work fundamentally.
This IS the future and ARM is on the right track here.

I am also Envy X2 owner and i am also happy about its performance and in particular the always-on feature with extreme standby-times.
Ironically Microsoft Office is emulated x86 code - but this shows that even emulation can be viable in many cases :)

I read somewhere that Microsoft Office is running as emulated x86 code to make it compatible with the existing third-party plug-ins.

I too have one, and use it a lot. This device is ideal for light computing tasks, like responding to this thread, and browsing the internet. The OS stability on this platform is incredible. So far, there has been no force reboot in about 2 months of daily use.

If a Surface Pro arm version is released I might finally buy one. Or better yet a Surface Book arm version. But that may well happen in a decade.

The HP one is really good. Give it a try if you really want WoA.

If Windows devs recompile to Arm64 because it's easy to do so, Intel will have a massive problem on their hands in less than 2 years. 2019 = $40 snapdragon 650/655 that is as fast as the 835 and 850/855 >60% faster than the 835. The high end snapdragon with LTE is 1/3 the cost of the core U/Y. The only reason the HP X2 is so expensive is because HP has no phone business. They are not buying in huge quantities and have no other use for the SOC unlike the mobile OEMs. Intel loves delivering <10% annual performance increases compared to the 30-40% annual performance increases of the arm SOCs. That is one of the main reasons Intel failed with Atom on mobile. They would/could not match Samsung, Qualcomm & Apple with a x86 Atom that could also be used on the PC side and threaten their higher revenue Core line. Hopefully Qcom forces Intel to slash the outrageously priced Core M/Y, which probably already happened allowing Microsoft to release a $400 Core M/Y Surface.

You better wish that Microsoft would release a WoA Surface, since Intel is trying to prevent ARM to take foothold in the laptop market by price dumping - which is extremely bad for the customer since it prevents the better ARM architecture to be an alternative for Windows users. How long do you think can Microsoft push OEMs to produce ARM devices when they themselfs do not have any and showing anyone around - we are preferring Core M/Y?

Wait for release of the new 10 inch Surface.

Supposedly Microsoft isn't happy enough with WoA performance to put the Surface name on a WoA laptop.

A long lasting NB with pretty good performance is more useful than one with 3, 4 hours super fast NB in business departments.
I'm a lead game programmer, we need desktops & Intel, but people in business departments don't. Supporting ARM isn't just about PC. AR, MR, IOT also depend on it.

Recompiling is not necessarily easy to do, and depends very much on the application. Something like Office will probably never be ported, hence the usefulness of x86 emulation. But many apps should indeed be easy to port.

A lot of people were rightly cautious about the first generation of W10oA devices but there is undoubted potential in the platform. Hopefully a so-so first generation doesn't sour the market on the idea but it seems like Qualcomm is throwing their weight fully behind the platform so I am optimistic about its future.

I am excited about these new-generation CPUs...I eagerly anticipated the first devices like the HP Envy x2, but the x86 emulation performance was just not there yet (I depend on x86 Win32 apps for work), so maybe the later chipsets can boost that performance and give me that magical 12+-hour battery life.

I don't get it, these are the microprocessors later incorporated into Qualcomm products like the Snapdragon 835?

835 used an earlier entry of the same Cortex family.

I think ARM engineers and designs the processor structure which they then license to companies like Qualcomm who builds them and does wireless... I think both pieces are combined for Intel. But I've also been confused by this distinction in the past and would be happy for someone to clarify.

I really want to see an ARMv8-A performance part that we can use in custom PCs running Windows 10 on ARM. I don't care if it sacrifices some power efficiency. Something with 8+ cores and a beefy GPU rolled into an SoC. This would make a good candidate for an awesome HTPC.

Everyone is thinking of Windows 10 on ARM in terms of a portable tablet, but no one (but you) are looking at this with desktop PC's. It's an interesting proposition.

Because a desktop PC is always plugged in so efficiency isn't a concern. When efficiency isn't taken into consideration, ARM is a tough sale. This looks promising though for laptops though. It could make a great stick PC too, they just need to get Chrome performance figured out.

Efficiency should always be a concern. Power costs money.

Not to mention a strain on non renewables.

v_2samg. It would be interesting, personally I see most benefits for smart TVs and IOT devices. These devices will need heavy encryption and safe guards to prevent use as data nodes for malicious intent. In regards to the PC market, it will take awhile as it is nowhere near ready to displace the gaming sector. Maybe if they could find a way to work with gpus (external) and goes to low power mode (soc only) when GPU is not used. This will drastically improve power efficiency, power drain and cooling performance.
Windows Central Newsletter
Thank you for signing up to Windows Central. You will receive a verification email shortly.
There was a problem. Please refresh the page and try again.