HP Envy x2 Always-Connected PC review: Lots of potential — and some compromises
Windows 10 on ARM is not for everyone, but for me, the Envy x2 has become an essential daily tool that I won't give up.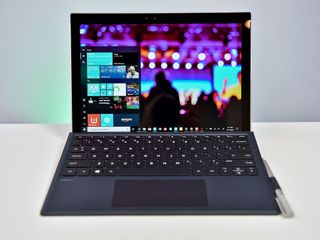 The HP Envy x2 is garnering a lot of interest – and skepticism – as it is one of the first new PCs to be powered by the Qualcomm Snapdragon processor. The Snapdragon 835 used in the Envy x2 is found in many popular smartphones and questions remain about how good it can be at powering a full desktop OS like Windows 10.
As it turns out, the Envy x2 with its exceptionally long battery life, always-connected 4G LTE, and instant-on abilities indeed is a marvel. It is, in many ways, an iPad Pro but with Windows 10. That's not to say there aren't some rough spots, but if you stick to apps in the Microsoft Store, it is a surprisingly satisfying experience.
The $1,000 price will deter some, but that shouldn't for everyone. The Envy x2 is made for a specific user, and it has become one of the most transformative devices I have used in recent years.
HP Envy x2 hardware is exquisite
I'll cut to the chase: The HP Envy x2 is the most precisely machined, thin, and gorgeous Windows tablet PC I have ever used. While the Surface Pro is right up there having a device this svelte and light is a different level. It's perfect hardware.
The Envy x2 features an all metal, unibody design. It is ridiculously thin too at just 6.9mm making thinner than most smartphones including the OnePlus 5 and iPhone 8 Plus. That changes a bit once you put on the including keyboard and folio cover, but it is no thicker than a DVD case.
Swipe to scroll horizontally
Category
HP Envy x2 (ARM)
Processor
Qualcomm Snapdragon 835
Memory
4GB or 8GB
Storage
128GB or 256GB UFS
Graphics
Adreno 540
Display
12.3-inch WUXGA+ (1920 X 1280)
Corning Gorilla Glass
Keyboard
Backlit, Precision Touchpad
Material
Metal
Camera
5MP front-facing
13MP rear world-facing
Stylus
N-Trig HP Pen (included)
Wireless
Qualcomm WCN3990 802.11ac (2x2) Dual-Phy and Bluetooth 5 Combo
Ports
USB-C x 1 (Gen 1, DisplayPort 1.3 Power Delivery), microSD, headphone/mic, SIM tray
Security
Windows Hello facial recognition
Battery
49.33 WHr
Weight
Tablet: 1.57lbs (0.71kg)
With KB: 2.67lbs (1.21kg)
Dimensions (W x D x H)
11.53 x 8.28 x 0.27 in
Price
$999
See at HP.com (opens in new tab)
The total package with the cover and the Envy x2 tablet is 2.7lbs (1.22kg) and solidly built. There are no creaks or flex, and the device feels perfectly balanced. The familiar HP mirrored logo adds an air of elegance to an already exquisite design.
Carrying the Envy x2 feels like holding a regal menu at a restaurant or carrying a stately ledger. It's the kind of PC that make you feel important.
Putting aside performance and the processor, everything about the Envy x2 exceeded my expectations.
Image 1 of 2
The Envy x2 reviewed here has 4GB of RAM and 128GB SSD. HP is supposed to offer a version 8GB of RAM and 256GB of storage though it is not yet available. Storage is not a huge deal as there is a micro SD slot to expand memory, which is very useful, but the 8GB of RAM would be nice to have too.
A display and pen to love
HP is using a 12.3-inch 1920 x 1280 IPS LCD touch display in the Envy x2. It has the familiar 3:2 aspect ratio that Microsoft uses in the Surface series and it works perfectly here. Viewing angles are superb, and color reproduction is accurate.
Brightness is excellent going beyond 300 nits though the stepping can be a bit haphazard towards the middle with one stop somewhat dim and the next bump brighter than expected. There is a sensor for auto-brightness with the display, which is welcomed and useful. The screen is glossy, but not distractingly so.
The bezels on the Envy x2 are a tad thicker than I'd prefer, but HP intends for this to be used a lot like a tablet, so the border to prevent accidental screen activations makes sense.
The screen is touch-enabled, and it supports an active pen (included in the box). The pen technology is N-Trig meaning you can take your newer Surface Pen or Wacom Bamboo Ink (dual protocol) pen and use it here too.
The HP pen has two buttons and takes a single battery. It's not the newer rechargeable Type-C pen that HP is using in some devices, but it's very good. It does lack the Bluetooth radio in it and corresponding button on top, which is disappointing for those who like to use it for secondary functions.
Pressure sensitivity levels for the pen seem to be about 2,048 levels, but HP at the time was not clear. It feels very similar to the Surface Pro 4's pen and the experience in using it excellent but perhaps does not meet the standards for all artists.
Two cameras, better than expected
HP built in two cameras into the Envy x2 – one front-facing for Skype and the rear as "world-facing."
While these are still tablet cameras in quality, they are much better than anticipated. For instance, the rear camera is 13MP, which is quite high (I even get the specs wrong in the video review). The front-facing camera is 5MP making both cameras better than 95% of the laptops and tablets on the market.
The Envy x2's camera won't replace your high-end smartphone, but they are also unexpectedly better than you would think and great in a pinch, or even for non-intensive quick shots. For Skype, the front-facing camera makes teleconferencing that much more enjoyable.
The front-facing camera also has an infrared (IR) component for Windows Hello facial recognition. It works most of the time, but there is a distinction between how well the Envy x2 performs and every other Windows Hello-enabled device I have used with occasional recognition failures due to being more finicky. This may be something that HP can tune, and it's not a deal breaker, but I do wish it could be a bit better.
A funky keyboard-folio combo that works
Like many, when I first saw the Envy x2's odd keyboard-folio cover combo, I wondered why HP did not just build the kickstand into the device. Moreover, the folding backend seemed weird.
I was wrong.
Building a metal kickstand into the Envy x2 would make it thicker, more substantial, or possibly reduce the battery size. Moreover, the Envy x2 is more tablet-friendly than usual, and HP is undoubtedly aiming to make this as iPad-like as they could. The design here works, and within a day I began to prefer it. Plus, that back cover now protects the metal chassis when tossing into your bag or briefcase, which is what I want.
The Envy x2's keyboard is outstanding. Take the Surface Pro's Type Cover and merge it with HP's EliteBook series and this is the result. The 1.2mm key travel is ample, the force-response curve is consistent, and the keys feel firm. I think this may be one of the most enjoyable keyboards I have used, which is excellent since the Envy x2 is perfect for messaging, email, and writing. It makes me want to write.
The keyboard is also backlit though there is no auto-sensor, so the user needs to turn it on manually through a keyboard shortcut. It's a single stage – on or off – type, but it looks great and contrasts nicely with the dark blue color scheme.
Turning to the trackpad, there is a lot of good news. The longer shape is an HP tradition, and it works here. I'll gladly take a larger trackpad even if it's only along one axis. The trackpad is glass, smooth and has a satisfying click. HP also uses Microsoft Precision drivers which is the right choice.
Real speakers that deliver on sound
HP puts to face-firing speakers in the Envy x2 near the top and the side of the display just like the Surface Pro. The speakers are tuned by Bang & Olufsen though there is no corresponding audio formatting app as found in other HP devices.
I usually don't expect much from laptop speakers, less so from tablet ones. These are excellent speakers, however. They're loud, crisp, and sound better than you think they should.
There's not a lot of deep bass, which I always find with HP's Bang & Olufsen hardware, but when using it for calls, watching videos, or listening to music, the Envy x2 is the top of its game.
Battery and performance is...complicated
The Qualcomm Snapdragon 835 brings many benefits to a mobile PC including instant-on, excellent thermals with no need for a fan, built-in LTE, and more.
For performance, I would classify the Snapdragon 835 well above the performance of an Intel Atom processor and closer to an Intel Core i3 or m3.
I own the Microsoft Surface 3 with LTE, which was powered by an Intel Atom x7 (Cherry Trail) processor and while I loved the concept of the Surface 3 its performance was frustrating. I don't feel that way at all with the Envy x2. Performance is outstanding and met my expectations (I did not imagine it could compete with a Core i7, for instance).
Of course, for this review, I did run Windows 10 April 2018 update (build 1803), and I kept the device in "S-mode" meaning locked to apps in the Microsoft Store. I did this because this is how HP and Qualcomm envision this device being used, whereas the emulation layer for win32 emulation as a fallback. This Envy x2 is also my device, and frankly, I choose to leave it in S-mode because all I need is found in the Microsoft Store. Your needs may vary.
I'll do a separate review of running win32 apps, but do not expect performance to be outstanding.
However, this situation is getting complicated because at Microsoft Build 2018 a preview SDK for developers was announced with the ability to recompile apps for ARM64. Qualcomm, Microsoft, and HP all feel that apps recompiled for ARM64 will drastically change how Windows 10 on ARM is perceived and used.
For now, this is what you need to know. Apps like Apple iTunes, Spotify, Slack, Amazon Music, Hulu, Slack, Sling, Polarr photo editor on the Microsoft Store all run without issue. Other apps like Adobe Photoshop Elements 2018, Affinity Photo, and any Xbox Play Anywhere games do not. Those latter ones should be fixed when they are recompiled with ARM64 – a trivial undertaking – but for now, those are a no-go. The amount of content on the Store that won't run on the Envy x2 is about 4 percent, which is not huge unless you need that one app right now.
When it comes to gaming, the Envy x2 is not going to be a champion here at all. Sure, you can run things like Asphalt 8, but the initial loading of the game is frustrating. This is where the iPad Pro comparison falls flat as Apple's tablet is very good at gaming, while the Envy x2 is not. I could argue the Envy x2 is not designed as a gaming machine just like a Lenovo ThinkPad, but the point about performance has some validity.
But, with the Envy x2, you can get real work done, which is something an iPad still struggles with especially with reduced user controls, menus, and input options.
I had no issue with 4GB of RAM for my everyday tasks including running Word, Slack, Skype, GroupMe, EasyMail, Mail app, and Edge. However, I would not say no to an 8GB option either as more RAM is always better.
Battery life is a much brighter spot. HP claims 22 hours, which is being generous, but not by a lot. Getting ten solid hours is a breeze for the Envy x2 but pushing 15 or 16 hours is doable (it depends on how much screen brightness and keyboard light you use). There is no need to recharge the Envy x2 in a single day unless you are spending your entire day on it, which is absurd.
Recharging is also a breeze with the single USB Type-C port. The included charger is petite although the three-pronged wire is odd and bit clunkier than should be. Luckily, you can use any Type-C charger out there including for your phone and get the job done. The Envy also supports rapid-charge giving you a 50 percent charge in 30 minutes.
Some perks and bonuses
All Intel-based laptops and PCs go into hibernate or standby after a few hours of having their display turned off. That is why when you come back to your computer after a few hours you need to wait for it to wake back up. This behavior is different than your smartphone, which never acts that way.
With Windows 10 on ARM, the HP Envy x2 is just like your smartphone or iPad. It's always instant-on with no resuming. This point sounds trivial, but if you turn your device off and on many times a day, it saves a lot of time. It also makes you want to reach for the Envy x2 when on the couch, or on an airplane and waiting at the gate.
That's exactly how I used it when traveling to Build recently. Being able to knock out an email, respond to GroupMe, and post to Twitter in seconds versus painfully typing on my smartphone is liberating. I even used the Envy x2 on the way to the airport in the back of an Uber to do some quick edits on the Windows Central website.
Because the Envy x2 is always on it also means Cortana can still be listening. Even when the Envy x2's lid is closed the microphones on top let you say "Hey, Cortana" and ask when your next appointment is, what is the current weather, etc. It's like having a Windows Phone again, or a mobile Harmon-Kardon Invoke speaker. It also means Skype is much better as the Envy x2 is always on, so you never mi