Wacom Bamboo Ink is an excellent alternative to the Surface Pen
Wacom's first "Universal Pen" stylus for Windows 10 PCs is here, and it's called the Bamboo Ink. Here is my review.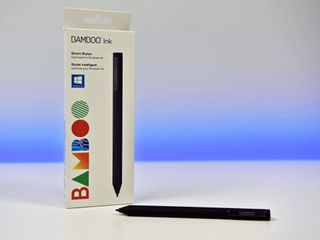 Wacom is jumping onto the Surface train with its new $69.99 Bamboo Ink pen. The Bamboo Ink is exciting because it's one of the first "smartpens" on the market that supports Wacom's Universal Pen Framework (UPF). That framework means it can seamlessly shift between Microsoft Surface devices and Wacom Active ES (electrostatic) ones, giving artists and pros more choices.
I spent the last few days with the Bamboo Ink, and here is what I think.
See at Best Buy (opens in new tab)
This is Bamboo Ink
The Bamboo Ink (CS321AK) is a digital-inking pen for modern PCs, including the Surface Pro 3, Surface Pro 4, and new Surface Pro, as well as Surface Book and Surface Studio. Besides bringing Wacom's well-known brand to the Surface line, artists and ink users can also use it on Wacom AES-enabled devices such as HP's Elite x360 or the Dell Precision 5285.
It does not work with the original Surface Pro or Surface Pro 2, which were based on Wacom EMR technology.
Microsoft's pen tech is based on N-trig. Before Microsoft bought N-trig, that company competed with Wacom in the PC pen space. Now, Microsoft's tech is branded as Microsoft Pen Protocol (MPP), formerly known as DuoSense2 under N-trig.
Wacom's new standard is referred to as Active ES, and it is why people always ask which pens work with what devices. With MPP and AES pens on the market, it can get confusing for consumers.
Image 1 of 2
With the UPF – first announced in March 2016 – the guesswork is removed because users can now switch between the two standards in the same pen. Bamboo Ink is the first to bring that feature to market.
How is Bamboo Ink better?
Bamboo Ink supports up to 4,096 pressure levels, which is a significant improvement from the Surface Pro 4's 1,024 levels. It also comes with interchangeable nibs in the box at three various levels (soft, medium, and firm).
Wacom is cagey on the exact specifications of Bamboo Ink, so the activation force is currently unknown (more on that below).
Wacom is also known for having a more triangular shape to its pens versus round barrel design as found in the Surface Pen. However, many artists may enjoy the more ergonomic Wacom design than the Surface's "metal tube" for long drawing sessions.
Image 1 of 2
Like the Surface Pen, the Bamboo Ink supports Bluetooth so that users can program the top "eraser" button. There are also two side buttons that work with Windows Ink or Wacom's configuration software. However, unlike the new Surface Pen (due later in June) Bamboo Ink does not appear to support tilt features.
How do you switch between AES and MPP?
To jump between Wacom AES and Microsoft's Pen Protocol you press the two side buttons simultaneously for two seconds.
A faint blue LED behind the buttons tells you the mode has switched, but it's hard to see.
Bamboo Ink real-life use
For the last few days, I tested the Wacom Bamboo Ink on the following devices:
Although Wacom does not specify the activation force required to initiate a pen stroke, the force needed for the Bamboo Ink feels much lower than the current Surface Pro 4's pen. That means the Bamboo Ink registers ink on the screen with less pressure. That's a good thing, because it behaves more like a real pen would.
For this reason, and the increased levels of pressure sensitivity, the Bamboo Ink works better on current Surface devices. It's not an enormous difference, but that extra sensitivity goes a long way. However, you cannot customize the force-curve like you can with the Surface Pen due to the lack of proper software. It works well with Windows Ink though and supports all the features users expect.
Unfortunately, there is no magnet on Bamboo Ink, so you will not be able to stick it to the side of a Surface.
Whereas the Surface Pen has a very satisfying click for the top programmable button, the Bamboo Ink is a soft and bit mushy. Surface Pen requires more force to click – but it does click – whereas Bamboo Ink just depresses.
I also found a bigger advantage with Wacom AES devices such as the EliteBook x360 and Latitude 5285. There, the increased pressure levels and initiation force were much better than on the Surface Pro 4. In general, I find Wacom AES to be more accurate, with less latency, than the current-generation Surface Pro pen. That is the case here; the Bamboo Ink just flows, and it's a joy to use.
The one caveat is Surface Studio, which seems to have better pen support than Surface Pro 4 and Surface Book, likely due to a newer generation co-processor in the display. As a result, using Bamboo Ink feels fantastic on the Studio's ginormous screen.
I also prefer the triangular shape of the Bamboo Ink, which is more ergonomic than the Surface Pen. The pen itself is also matte black with a hint of soft-touch paint, and it feels great in hand.
Weight is distributed evenly with the Bamboo Ink. It weighs 19 grams versus the 21 grams of the Surface Pen. Both pens take a single AAAA battery to power the Bluetooth component.
There are no differences in latency – the time it takes the ink to register on a display – because that is dependent on the screen and PC's hardware, not the oen.
What about Surface Pen and Surface Pro (2017)?
My experience tells me Bamboo Ink is slightly better for current Surface Pen users, but Microsoft is stepping it up with Surface Pro for 2017.
The new Surface Pen ($99) also supports 4,096 pressure levels and adds in tilt support for all current Surface devices. Additionally, it only requires 9g of activation force, which is an improvement over the last generation. Going further, the new Surface Pro (2017) has just 21 milliseconds of latency due to the new co-processor that connects the GPU to the display digitizer. That's down from 40 milliseconds to 45 milliseconds on the Surface Pro 4.
I don't have the new Surface Pen, expected this summer, to review or compare to Bamboo Ink, unfortunately.
Bambo Ink review conclusion: Who should buy it?
I have nothing bad to say about the Wacom Bamboo Ink. It's priced below the new Surface Pen ($69 versus $99), and it even comes with optional nibs (Microsoft charges $20 for a similar Pen Tip Kit (opens in new tab).
Not only does Bamboo Ink feel great, but for Surface owners there is a slight improvement in overall sensitivity compared to the existing Surface Pen ($59). You lose the magnet, but you gain a slightly more ergonomic pen that also works better with splendid angles.
New Microsoft Surface Pen: Everything you need to know
Likewise for devices that already support AES – you can see the list of tested and compatible PCs – I think the Bamboo Ink is a smart purchase if you use the pen and Windows Ink often.
Bamboo Ink is just better, with varying degrees all around.
If, however, you are thinking about buying the new Surface Pen or are getting the new Surface Pro, you may want to hold off until the reviews come. It appears that the new Surface Pen coupled with Surface Pro may be the best combination yet.
Either way, it's great to see Wacom and its UPF finally launch in the consumer market. Surface and Wacom AES users now have more choices and can jump quickly between devices without thinking about the technology. And if you just prefer Wacom's pen design, you can now use it with your Surface.
See at Best Buy (opens in new tab)
Pros:
Excellent triangular design and ergonomics.
Works with Microsoft Surface devices.
Slightly better than current Surface Pen.
Unified framework works across devices.
Pen tips are included.
Cons:
Users may want to wait for new Surface Pen.
No magnet to attach to devices.
LED for switching modes is dim.
No tilt support, with vague hardware specifications.
Windows Central Newsletter
Get the best of Windows Central in in your inbox, every day!
Daniel Rubino is the Editor-in-chief of Windows Central, head reviewer, podcast co-host, and analyst. He has been covering Microsoft since 2007 when this site was called WMExperts (and later Windows Phone Central). His interests include Windows, laptops, next-gen computing, and for some reason, watches. Before all this tech stuff, he worked on a Ph.D. in linguistics, watched people sleep (for medical purposes!), and ran the projectors at movie theaters because it was fun.
What is about pen jitter compared to the SP4 pen? Or is the display the problem?

Without a proper way to measure jitter I left discussion out; but to speak to it a bit I can say it seemed slightly better, but it may be just due to better sensitivity. Definitely not worse.

Ok thanks. The only more or less "good" way to test it, is probably with a real ruler. But yes there are too many human aspects in this test.
So you would day say that jitter comes from the Pens and not from the display technology? I always get confused what is based on the pen and what is based on the display. Same with tilt, sensitivity, latency... An article about digital pens in general would be great.

It's complicated and a combo of technologies.

Any idea if it will work on the Samsung Tab Pro S (SAMOLED one)?

Does it work with Samsung galaxy tabpro S?thanks

I've been waiting forever for this pen to come out. Thanks so much for this review. Looking forward to trying it with my ThinkPad 14 to see how it compares to the included pen. So many options out today, it's like a dream come true for digital artists. :D

I'm sure that the best Pen for a device is which comes with the device, not any other ones.
I say it only because of compatibility of the original Pen. I can mention the Bluetooth back buttons functionality of the Surface Pen and the eraser function too, which is a really useful thing when you're taking a note as fast as possible. The other thing is all about price!
Why you should buy an additional Pen when you have it in the box with Surface Pro 3,4?!
However, unfortunately we'll not see any Pen included with the Surface Pro 2017.
But still you can buy the most compatible Pen with the Windows 10 features if you buy a Pen which is a Microsoft product (When Windows is a Microsoft product too).

This may not necessarily be so. In the end, it all depends on how standardized the entire platform is. Take windows PCs for example, I'm pretty sure the upgraded video card and memory I put in my workstation works just as fine as if it came with the original workstation package. Also upgraded my SSDs - I don't think the HP oem parts could be any better (they all use third party parts anyways, probably all manufactured in the same plants in China). When truly standardized, all devices of comparable quality work the same (assuming all necessary drivers etc are in place).

Actually I'm not referring at what you are.
I'm not talking about the quality or performance of the third-party parts. And I'm not talking about that the Bamboo Pen doesn't have its total performance in compare with the Surface Pen.
What I'm talking about, is that Microsoft change Windows and add features to the Windows in order to make their own devices the best in the market, even if they aren't! Just look at the Windows Hello for example.
Which company could add a useful feature to their devices like Windows Hello except than Microsoft for Surface?
And is Lenovo (Example) able to add a feature as big as this to the Windows for their devices? Of course not. So we see that Bamboo is not able to roll Windows in the way for new features.
But Microsoft is able to add erasing, OneNote key, screenshot key, Windows ink workspace and so... if they want to.
Because Windows is a Microsoft product, and the Surface Pen is a Microsoft product too. And honestly, this is the main reason for me to choose Surface. When I heard that Microsoft is promising that Surface devices "will be the best Windows running devices on the earth".
Even if they aren't! If they aren't the best Windows running devices, OK, Microsoft will make Windows to be run on Surface devices in its best way. However, complex devices like Surface are not similar to costume desktop PCs.

I also prefer 1st party products (Nexus, Surface). With only one exception, I buy Alienwares because there's no Surface - Gaming. It's not just about specs and prices but the software and OS.
e.g. Samsung tempers the Android API and it's not a good thing. Sharp has it's own "Battery-Saving-Technology" and it interferes your apps. Sony... audio lag, touch screen goes malfunction in a year, etc... 1st party response to problems faster in general. And it is almost certain that if MS trying to add new pen features or API to the OS, Surface Pen will be the 1st to enjoy it.

In that case (Alienware), dear Hirox K, I want to open an discussion about gaming laptops. I really like if you join to this discussion because it's very important. Dear Hirox K, the main topic is this:
"Why even a gaming laptop?!" The answer is so clear. Because of a portable gaming system. But I want to issue a few things about this word, "portable". What is a portable device?
A gaming laptop weights at least 2.3kg, not lighter than this.
Could you consider it as a portable device, for real?!! OK, we demand that you could carry it easily. Even if you could, so what about the battery life?
How does it take long to have an empty battery from 100% fully charged when you want to play games? 1 hour? 2 hours? 3?
Have you ever seen a gamer who settle for only 3 hours of gaming?
Which is really a maximum number (3 hours) for a gaming laptop to respond. So we have major problems with this word, "portable". Let's get to the balance of value and performance
You totally now that you can buy the twice performance with the same price if you choose a desktop PC instead of a laptop.
So you would never be able to buy a real powerful laptop, coz of their Mobile category processors. And if you choose to buy a gaming laptop with the desktop processor, it would be really costly as price. When that laptop, is not a laptop at all. It's only a desktop PC which includes a monitor and a keyboard and a battery within that lasts only for 2 hours for gamin.
Also the main problem is cooling. Cooling a gaming laptop, a thin laptop as even 3cm, is very hard, as hard as you can't cool it at last. Which means that the motherboard of that laptop is under high temperature pressure, and will not stay alive too long, lol \f04a. However, if we accept all of those main problems, we can't accept games!
I'm talking about Uncharted, The Last of Us, God of War, Heavy Rain, Gran Turismo, Infamous the second son, The Last guardian, Horizon, and so… .
They are considered as the best games, we all know.
Even if you buy a real expensive monster PC (not a mobile processor laptop), you will not be able to play those games. So why you shouldn't buy a 2.5kg real cheap device like PlayStaion 4 which is only $399 in compare with any laptop (not gaming one).
A $399 device which is more powerful than every laptop for gaming. Because it's for the players.
As I mentioned, 2.5kg weight equals to a gaming laptop. And surly you'll need power cord out of the battery in order to gaming usage.
The only left thing is a monitor.
If you can carry a real 17" gaming laptop, you'll be able to carry a 17" monitor too. As we mentioned that we'll use power cord, not only battery is enough. So what is the conclusion?
What do you think Hirox K?
Let me know your opinions too.

This is like saying that the included keyboard and mice with all desktops work better than aftermarket devices from the likes of Logitech, corsair etc. It looks like Microsoft is trying to turn the pen into the same type of universal accessory which can only benefit the end user.

Yes, surly.
But not "all desktops", only the products which are produced by the Windows OS producer. So Microsoft is able to add features to and change Windows in order to improve its own devices.

I have to see if I can manage to get my hands in one of these (ie. if the bloody thing is put for sale in Europe). I'm not particularly excited about encouraging Microsoft's new "rip off the customers" strategy and giving 110€ for the new Surface Pen. I never really found myself needing the tilt support on the Surface Pro when designing anything so the lack of it on the Bamboo will make no difference to me. BUT I'm also still not convinced by any of these tablets capabilities when it comes to replace pencil and paper for drawing. "Unfortunately, there is no magnet on Bamboo Ink, so you will not be able to stick it to the side of a Surface." I honestly find that a plus. Not only the magnet only ads weight to the pen, it's a terrible solution. Which is why I bought a bunch of Surface Pen loops to always have around going forward, even if I replace a keyboard (which I likely won't since I've pretty much ditched the Surface line for the X360).

I do prefer a loop myself, but figured it was worth mentioning

We can now see why Microsoft chose not to include the pen in the new Surface Pro. To not force their pen on a consumer when there are other options out there. Don't get me wrong, in doing this Microsoft should've lowered the price to compensate.

Has the Euro suddenly dropped to below the US dollar or something?

No. But Microsoft (and most American companies) has always screwed us over with pricings over here. For example, when they say "the new Surface Pro starts at $799" yeah, not, in Europe. Here it now starts at 960€ ($1083). They do $1 = 1€ and then apply VAT over it.

That is absolutely insane.

It is.
Which is why I got my SP3 from the Microsoft campus store. Unfortunately, I don't have a trip there planned anytime soon so can't do it again. And honestly, since I just bought a X360, I don't think I would be willing to even pay as much for the new Pro 5 when my SP3 - apart from the hysterical fans - is still working perfectly for drawing.
Which is why I'm interested in this Bamboo Ink pen.

It has a Clip! I am sold! Would it work with the XPS 13? I am debating between a Surface Pro (2017) and a XPS 13 for note taking.

XPS 13 does not have N-trig or Wacom pen support at all, so unfortunately no. Much like non-4k Spectre x360 13t.

Is this compatible with the Dell xps 13 2in1? As I thought that was wacom.

i guess that's good MS didn't include the pen with Surface Pro, gives consumers the choice.

I definitely think that played into it; give their partners some room to innovate.

As far as price, my Surface Pro 4 pen, bought separately for my SP3, came with a nib set. It may be that the pens that came 'free' with the Surface 4 did not come with a nib set, so a set is available for $20. Just saying, if you buy the Surface pen or the Bamboo, they will both come with the extra nibs.

Tab Pro S support? I heard the Samsung pen is terrible.

Is it better than the SP3 p.o.s. pen. That thing always loses connection even on fresh batteries.

*sigh* One cannot have it all eh?
One has two Side Buttons while the other has a Magnet and Tilt.
As trivial it may seem for actually WORKING with it the lack of a Magnet is kinda a huge dealbreaker for me.

Does it work with any Lumia handsets?!

So got one and so far working great especially with the new 16226 build my only question is erasing is there no way to set the buttons on this thing and how do you get it to erase with the bottom button?
Windows Central Newsletter
Thank you for signing up to Windows Central. You will receive a verification email shortly.
There was a problem. Please refresh the page and try again.