Dell Latitude 5285 review: A genuine Surface Pro rival for the enterprise
What happens when you make a Surface Pro specifically for business users? Dell has the answer with its robust Latitude 5285 2-in-1 PC.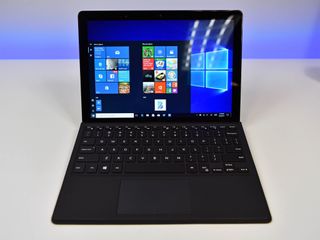 Microsoft's plan with its Surface Pro line was to inspire its PC partners to make similar devices that embrace all that is Windows 10. Dell evidently took that to heart with the Latitude 5285, which is a near carbon copy of the Surface Pro.
Why? Dell's Latitude 5285 is aimed squarely at businesses that need vPRO and mobile broadband, and are ready to jump on the USB Type-C bandwagon. I spent the last few weeks with the Latitude 5285, and it's an impressive offering that enterprise will love.
About this review
Dell supplied a loaner Latitude 5285 for review purposes. The unit tested features a Core i7-7600U processor, Full HD touch display with IR camera for facial recognition, 16GB of RAM, and a 256GB PCIe NVMe solid state drive (SSD). It costs $1,904.98 and includes the Dell Travel Keyboard ($129.99) and Dell Active Pen ($59.99). (The starting price for the Latitude 5285 is $899, and that does not include the Dell Travel Keyboard or Dell Active Pen.)
See at Dell (opens in new tab)
Dell Latitude 5285 features and configurations
One reason why Dell is making the Latitude 5285 is to meet the needs of its existing customer base. If you're a small or medium business with Dell as a partner, you may have employees itching for a Surface Pro 2-in-1 laptop for daily work. While Microsoft is ready to sell the Surface Pro to any company, Dell can leverage its manufacturing base to customize its own Surface Pro to meet the needs of enterprise.
With the latest dual-core Intel seventh generation Core-i processors, the Latitude 5285 has plenty of options to match the budgets and wants of IT departments.
Dell Latitude 5285 technical specifications
Swipe to scroll horizontally
Category
Latitude 5285
OS
Windows 10 Pro 64-bit with vPRO
Active Pen
Dell Active Pen PN557W (Wacom)
Processor
Seventh Gen (Kaby Lake)
Intel Core i3-7100U
Intel Core i5-7200U
Intel Core i5-7300U
Intel Core i7-7600U
Internal storage
M.2 form factor
Up to 256 GB SATA SSD
Up to 1TB PCIe NVMe Class 40 SSD
256GB or 512GB NVMe Opal 2.0 SED SSD
RAM
4GB, 8GB or 16GB
Smart Card Reader
Yes (with back cover option, which includes NFC)
Display
12.3-inch 1920 x 1280
3:2 aspect ratio
Graphics
Up to Intel HD 620
Windows Hello
Face IR camera (optional)
Rear fingerprint reader (chassis; optional)
Ports
Two Display Port over USB Type-C
One USB 3.0 Type-A (w/ PowerShare)
One Universal jack
One Noble Wedge Lock slot
One uSD 4.0 Memory card reader
One uSIM card slot (WWAN only; optional)
Wireless
Qualcomm QCA61x4A 802.11ac Dual Band (2x2) Wireless Adapter plus Bluetooth 4.1
Intel Dual-Band Wireless-AC 8265 Wi-Fi plus Bluetooth 4.2 Wireless Card (2x2) (Bluetooth Optional)
Mobile Broadband (optional)
Qualcomm Snapdragon X7 LTE-A Sprint
Qualcomm Snapdragon X7 LTE-A Verizon
Qualcomm Snapdragon X7 LTE-A AT&T
Battery
42 WHr
ExpressCharge Capable
Dimensions
Tablet only – Height: 0.38 inches (9.76 mm) x Width: 11.5 inches (292 mm) x Depth: 8.22 inches (208.8 mm)
W/ Travel Keyboard – Height: 0.59 inches (14.9 mm) x Width: 11.5 inches (292 mm) x Depth: 8.52 inches (216.4 mm)
Weight
Tablet only – 1.89 lbs (0.86 kg)
With Travel Keyboard – 2.64 lbs (1.19 kg)
Color
Black
Highlights of the Latitude 5285 compared to the Microsoft Surface Pro 4 and new Surface Pro include:
Optional mobile broadband certified for Sprint, AT&T, or Verizon with LTE-A.
More processor options.
Dual USB Type-C with DisplayPort compatibility and Dell ExpressCharge.
Intel vPRO and remote management security feature.
Multiple internal storage options including SATA, PCIe NVMe, Opal 2.0 self-encrypting drives (SED).
Wacom (vs N-Trig and Microsoft Pen Protocol) active pen support.
More security, such as FIPS 140-2, TCG certified TPM2.0, FIPS 201 certified smartcard reader, touch fingerprint reader, self-encrypting drive (SED) and NFC.
While any consumer could benefit from much of the above, the Latitude 5285 is an enterprise-geared device. Dell simply took Microsoft's winning formula for the Surface Pro and reprioritized it for business use.
Dell Latitude 5285 design
Dell borrowed heavily from Microsoft's Surface Pro 4 right down to the kickstand design, the display's 3:2 aspect ratio, and even the keyboard. Putting the Latitude 5285 next to a Surface Pro, it would be hard to tell the difference between the two. The one giveaway is the Latitude 5285 is jet black versus the gray found on Surface Pro.
While a Surface Pro 4 and new Surface Pro have slightly higher quality standards for some areas, such as the kickstand, the PCs feel and look identical. Of course, it is what is on the inside that matters, and there Dell breaks off from Microsoft with more enterprise-level features and options.
Image 1 of 2
The all-black chassis is brushed aluminum, and on the kickstand that feels excellent. A standard ridge vent allows cooling from the internal fan.
Combined with the Dell Travel Keyboard, the Latitude 5285 is a smidge thicker than a Surface Pro 4 and a bit heavier at 2.7 pounds (1.22 kg) versus 2.45 pounds (1.11kg).
The model tested for this review has an optional IR lens for the front-facing camera allowing for facial recognition using Windows Hello. An optional fingerprint reader is cleverly placed on the rear of the Latitude 5285 – versus the keyboard deck – that allows bio-authentication without a keyboard attached. A rear "world-facing" camera lets user take photos of whiteboards or any objects they're facing.
The optional Dell Travel Keyboard and Dell Active Pen attach to the Latitude 5285 via very powerful magnets. While the Dell Travel Keyboard's connector is like Microsoft's, they are not interchangeable. The pen sticks to the lower-right side of the Latitude 5285.
Image 1 of 2
Interestingly, Dell put a magnet below the trackpad that lets the Travel Keyboard stick to the Latitude 5285's display when closed. Such a design prevents the keyboard from flopping open, and it was a pleasure to use.
The somewhat-flush power button sits on top of the Latitude 5285 on the right side. A small white LED gives a visual indicator when the PC is turning on. The volume rocker is on the upper left-hand side where the 3.5mm headset and microphone jack can also be found.
In a nod to the past, Dell even includes a dedicated Windows Start menu button located on the upper right-hand side. While not as common as they used to be, the button was added here because of business vertical usage cases where the Dell Travel Keyboard will not be utilized.
Image 1 of 2
The front-facing and rear cameras performed adequately. While neither will replace your smartphone they both do well for conference calls or if you need to snap a photo while out in the field.
Overall, I have no complaints about the Latitude 5285's design. While derivative of the Surface Pro, it has a few improvements, too, like the magnet in the keyboard to keep it latched. The one area that is a little weak is the kickstand. While all-metal, it feels flimsy when opened. It does, however, allow the Latitude to open to 150 degrees.
Dell Latitude 5285 display and pen
For business use, Dell opted for a lower resolution Full HD 1920 x 1280 (188 PPI) display compared to the Surface Pro's 2736 x 1824 (267 PPI). At 12.3-inches and using the same 3:2 aspect ratio, it looks very much like the Surface Pro even if it's a lower resolution. Colors had excellent contrast, brightness went well past 350 nits, and it has good viewing angles. I like this display a lot.
The optional Dell Active Pen (PN557W) is Wacom Active Electrostatic (AES)-based versus Microsoft's N-Trig technology. That means you cannot use the Surface Pen with this device, but you can use the new Wacom Bamboo Ink pen as an alternative to Dell's.
In having used Wacom and the N-Trig (Surface Pro 4), I prefer Wacom due to the increased sensitivity (2,048 pressure levels) and better response. While the new Surface Pen and Surface Pro look to outperform Wacom, at least for now the Latitude 5285 and Dell Active Pen are better than Surface Pro 4's setup.
There is a user-programmable Bluetooth button on top, but it is a bit harder to press. Given a choice, I would opt for Wacom's new Bamboo Ink pen, which offers such a configuration but you'll lose the magnet for easy attachment.
Dell Travel Keyboard on par with Surface Pro
Revisiting a familiar theme is the Dell Travel Keyboard ($129.99), and it's the spitting image of the Surface Pro 4 Type Cover. With a similar layout, key design, travel and three-stage backlighting, the Dell Travel Keyboard is very well done.
Even the secondary keyboard position was lifted from Microsoft, whereby magnets let it attach to the display, creating an angled arc instead of laying flat.
Dell smartly made the large glass trackpad Precision to enable more Windows gestures and quick response. It's an excellent navigational tool and negates the need to carry a mouse.
Microsoft's Surface Type Cover was perfected with the Surface Pro 4, so I'm OK with Dell "recycling" it for its Latitude 5285.
Forward-looking USB Type-C ports
Dell – like HP and others – is going all in, or rather mostly in with USB Type-C. The Latitude 5285 packs two of the forward-looking ports, but they are not full-blown Thunderbolt 3, so forget external GPU or 40Gbps data speeds. Either port can be used for charging with Dell's 45-watt charger or its more powerful 65-watt option that costs an extra $3.50 (seriously).
Not to forget legacy users, the Latitude 5285 also has a single USB Type-A 3.0 port with PowerShare.
There are no dedicated DisplayPort or HDMI outputs because Dell is relying on adapters and dongles for the more powerful Type-C ports.
For expansion, there is a microSD card behind the kickstand, which can also house the SIM card should you configure the Latitude 5285 with mobile broadband (LTE-A) through AT&T, Verizon, or Sprint.
An optional back cover (+$40) delivers a Smart Card Reader, Finger Print Reader, and NFC to those outfits who need those features.
Finally, no business device would be complete without a Noble Wedge lock slot to secure the device to a surface. That slot can be found on the lower right-hand side of the tablet.
Dual-speakers deliver ample sound
Dell has dual-speakers on the lower sides of the Latitude 5285. While not quite front-firing, the position is decent enough.
Dell also packs in its MaxxAudio Pro software to fine-tune Latitude 5285 sound. The software adds MaxxBass, Details, Width, and Midnight dials with a user-configurable graphic equalizer. There are also some advanced settings for the microphones and environment profiles.
Sound can get thunderous with the Latitude 5285 with ideal music listening set at around 40 (out of 100) for volume levels. The audio of the Latitude 5285 is above average especially for this class of device.
Spatial distribution, clarity, and even resonance are quite admirable and enjoyable. Whether listening to music, watching a movie, or taking a Skype Business call, the Latitude 5285 delivers great audio.
Dell Latitude 5285 battery and performance
The Latitude 5285 falls in line with expectations for a device this size, with a 42 Whr battery (just shy of Surface Pro 2017's 45 Whr). After regular all-day use with the display setting at 50 percent, the battery came in between seven and eight hours, which is pretty good considering the Core i7 that is powering the review unit. Users can push it to nine hours with battery saver or more conservative display settings.
While eight hours may not seem ideal, the Latitude 5285 makes up for it with sheer performance. For a tablet PC, the Latitude 5285 bests most dedicated Ultrabooks in this class including Dell's XPS 13 with a Core i7.
Using Geekbench, which focuses heavily on the CPU, in single core tests it nearly matches the Precision 5520 and Latitude 5480, which are beefy quad-core Core i7 laptops.
Geekbench 4.0 benchmarks (higher is better)
Swipe to scroll horizontally
| Device | Single core | Multi core |
| --- | --- | --- |
| Dell Latitude 5285 | 4,635 | 9,289 |
| Dell Precision 5520 (Xeon E3) | 4,799 | 15,055 |
| Dell Latitude 5480 | 4,625 | 15,401 |
| Dell XPS 15 (9560) Core i7 | 4,503 | 13,587 |
| Dell Latitude 7280 | 4,381 | 7,935 |
| Dell XPS 13 (9360) Core i7 | 4,120 | 7,829 |
| HP Spectre 13 Core i7 | 4,100 | 7,469 |
| Surface Book 965M | 3,977 | 7,486 |
There are discrete GPU graphics with the Latitude 5285, which is unsurprising for a thin tablet PC. However, the Intel Graphics HD 620 is tuned and maxed like any other laptop in this category, as revealed by Geekbench OpenCL testing.
Geekbench 4.0 OpenCL (higher is better)
Swipe to scroll horizontally
| Device | Compute score |
| --- | --- |
| Dell Latitude 5285 | 21,921 |
| Dell Precision 5520 | 48,724 |
| Dell Latitude 5480 | 21,616 |
| Dell XPS 13 (9360) | 19,410 |
| Surface Book HD520 | 18,197 |
| Dell Latitude 7280 | 17,827 |
Looking at PCMark Home Conventional scores, again the Latitude 5285 ranks just below Dell's Precision 5520 Xeon laptop and slightly better than the Latitude 7280, impressive for a tablet PC.
PCMark - Home Conventional 3.0
Swipe to scroll horizontally
| Device | Score | Comparison |
| --- | --- | --- |
| Dell Latitude 5285 | 3,079 | Better than 57 percent of all results |
| Dell XPS 15 (9560) | 3,534 | Better than 71 percent of all results |
| Dell Latitude 5480 | 3,397 | Better than 67 percent of all results |
| Dell Precision 5520 (Xeon) | 2,994 | Better than 57 percent of all results |
| Dell Latitude 7280 | 2,829 | Better than 52 percent of all results |
| HP Spectre x360 15 | 2,472 | Better than 41 percent of all results |
If you order the Latitude 5285 with a Class 40 PCIe NVMe SSD, Dell doesn't cut corners. This review unit came with a Samsung PM961. That drive is the manufacturer equivalent of the Samsung 960 EVO, one of the top-tier SSDs available. Finding such a drive in a 2-in-1 tablet PC is impressive and blows away the Surface Pro.
CrystalDiskMark (higher is better)
Swipe to scroll horizontally
| Device | Read | Write |
| --- | --- | --- |
| Dell Latitude 5285 | 1,300 MB/s | 1,113 MB/s |
| Razer Blade Pro RAID-0 | 2,571 MB/s | 2,467 MB/s |
| Dell XPS 15 (9560) | 2,207 MB/s | 1,628 MB/s |
| Dell XPS 13 (9360) | 1,287 MB/s | 794 MB/s |
| HP Spectre x360 15 | 1,128 MB/s | 862 MB/s |
| Surface Book | 1,018 MB/s | 967 MB/s |
| Dell Latitude 5480 SATA | 443 MB/s | 469 MB/s |
| Dell Latitude 7280 SATA | 428 MB/s | 412 MB/s |
Of course, opting for the lower-cost SATA SSD will result in speeds closer to the Latitude 5480 or 7280. Those are still good speeds, however, especially for a business device. The important takeaway is the Latitude 5285 gives IT departments plenty of choice for processors, RAM, and storage configurations.
Finally, for heat and thermals, the dual-core Core i7 processor with ridge vent and fan stays quite cool. During extended benchmarking, the tablet barely went over 100 degrees F (38 degrees C), and while the tablet itself became warm on the back, it'd be a struggle to claim it was ever hot. Under regular workload running Windows Store apps, the device is cool and quiet.
Dell Latitude 5285 review conclusion: A worthy Surface Pro alternative for businesses
Dell has created the ultimate Surface Pro for business and IT departments with the Latitude 5285. With a more rugged build, aggressive hardware options with performance to match, and a downright mirroring of Microsoft's best engineering, it's an outstanding device.
Everything from the display to the keyboard is better than average, and while I didn't love the kickstand (it's a bit too thin), the Latitude 5285 should hold well up under long-term usage. Windows Hello logins worked great with the Face IR lens. The Type-C ports, while lacking Thunderbolt 3, are a great nod to the forward-leaning companies who are ready to go down that path.
You could criticize Dell for not thinking more outside the box with design, but I don't. Companies who want a Surface Pro with Intel vPRO, security, and hardware configuration cannot rely on Microsoft to deliver that. So Dell does. It keeps the familiar tried and tested design principals found with Surface Pro and marries them to rugged, business-focused hardware.
While I don't necessarily recommend the Latitude 5285 to consumers – it is bit thicker, lacks some pizzazz and is costlier – an average consumer would still be quite pleased with the experience. Indeed, if the new Surface Pro disappoints you with the lack of USB Type-C, I think the Latitude 5285 is an elegant alternative. Even the Wacom AES pen marks higher than the current Surface Pro 4's, which is notable.
I'm also pleased with the component selection Dell made for this device. Intel AC-8265 is one of the better Wi-Fi cards on the market, a Samsung PM961 SSD is top-notch, a Precision touchpad ensures optimal navigation, and even the speakers sound excellent.
Overall, the Dell Latitude 5285 is a successful blend of the best of Surface Pro with Dell's acumen in delivering a true Windows 10 experience to its business customer base.
See at Dell (opens in new tab)
Pros:
Two USB Type-C ports.
Solid hardware options.
Excellent built quality.
Outstanding performance with good battery life.
4G LTE-A options for mobile broadband.
Very good Wacom AES pen.
Cons:
No Thunderbolt 3 support.
Kickstand is flimsy.
Windows Central Newsletter
Get the best of Windows Central in your inbox, every day!
Daniel Rubino is the Editor-in-chief of Windows Central, head reviewer, podcast co-host, and analyst. He has been covering Microsoft since 2007 when this site was called WMExperts (and later Windows Phone Central). His interests include Windows, laptops, next-gen computing, and for some reason, watches. Before all this tech stuff, he worked on a Ph.D. in linguistics, watched people sleep (for medical purposes!), and ran the projectors at movie theaters because it was fun.
No SmartCard Reader, so it is not a device for our enterprise...

Actually, on the Dell page it does list a Smart Card reader. It's an extra $40 with the back cover that includes NFC and fingerprint reader. I've updated the review to reflect that.

We are currently a HP supplied company, but we are looking at the Elite X3 solution, Surface Pro and Laptop for the travel teams computer change out later this year. But this Dell looks more like what we really want. Thanks for the review.

Welcome! Yeah, Elite x2 (HP's business Surface) is super nice as well. I may see about doing a head to head.

Is that the Fitbit blaze you're wearing?

So... you are saying that even though this has USB-C it's not fully functioning and people with Thunderbolt accessories are not going to use them? Sounds like the confusion that Microsoft mentioned. Interesting.

Exactly, but TBF Thunderbolt 3 accessories basically means external GPU at this point or high-speed external drives (kinda rare, I think). This still does display out, charges the device, and presumably data too. But yeah, this is where Type-C gets confusing for users.

I have had Dell tablets/2-in-1's in the past. They stand their own. My kids are still using them.

Still using mine but with Windows 8.1. Windows 10 sucks on it.

This could very well be my next upgrade.

I'm happy for that we're seeing the new category of devices of all brands now.
It means that we'll not see those stupid stick-in-gen old laptops like MacBook 2017.
After a few years, you'll have to buy this category of devices and you'll not have any other choices, I'm happy for that. I like to call this category of devices as "Surface".
And no doubt that the best producer of the "Surface" devices, is only Microsoft.

What about graphics? With an i7 processor, the new Surface Pro sports Intel 640 while this Dell supports Intel 620. Will this make much of a difference? Probably not for business users. Maybe for consumers looking to do light gaming. This may be an academic question until the new Surface Pro models are available for testing.

We don't really know yet as Iris Plus is still very new; it's a slight bump in MHz, but not sure what else. I'll do a deep dive into Plus in the coming week/weeks to get more info. It may matter for "heavy lifting" apps like Ps, or any kind of compiling, but it's not like a discrete GPU a la NVIDIA, so we're talking slight improvements. Will find out in benches.

I wish MS had a better Tablet based OS like iOS