Surface Pro with LTE review: Impressive but not for everyone
The Surface Pro with LTE is finally coming to retail markets on May 1st. Our review explains why this may be the best Surface yet ... for a specific type of user.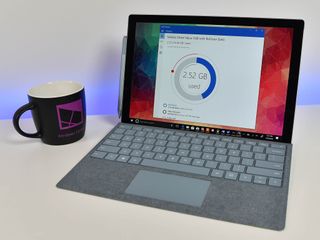 After an initial launch for businesses in late 2017, the Surface Pro with LTE is coming to retail markets in the U.S., Canada, and Australia starting on May 1st (preorders start March 6). Featuring an Intel Core i5 processor and 4G LTE Advanced the Surface Pro may now finally be the perfect laptop and tablet combo for those who travel or need always-connected abilities.
I spent the last week using the Surface Pro with LTE on T-Mobile and AT&T in the U.S. Is the custom-engineered LTE data solution that useful and how well does Windows 10 handle it? All of that and more are answered in my full review.
Surface Pro meets LTE
I've already reviewed the Surface Pro (2017) with a Core i7 including benchmarks, display accuracy, battery life, noise and more. Additionally, I did a deep dive comparison review with the Core i5 Surface Pro – and compared it to the Core i7 variant.
While I'll reuse some of that material this review will focus mainly on the experience with 4G LTE and the Surface Pro including battery, network hand-off, and new cellular features in Windows 10.
Related: Surface Pro keyboards that cost less than Microsoft's Type Covers
Surface Pro with LTE specifications and design
Microsoft is keeping the Surface Pro with LTE very much the same to the Surface Pro launched in summer of 2017.
Just one model is available with LTE Advanced, and it uses the Intel Core i5-7300U with 256GB of storage and 8GB of RAM ($1,449). That price does not include the new Surface Pen ($99) and Surface Signature Type Cover ($159) as is typical of all Surface Pros.
Update: Microsoft mistakingly noted there were would be two models with LTE as there were with enterrprise. However, there is no longer a 4GB/128GB variant, just the 8GB/256GB option. This review has been updated to reflect that change.
The reason for no Core i7 model is simple: the area for the CPU fan in the Core i7 Surface Pro is now used for the LTE and modem in the fanless Core i5 one.
Swipe to scroll horizontally
Category
Specification
Display
12.3-inch Pixel Sense display
10 point multi-touch
Display Resolution
2736 x 1824 (267 PPI)
Aspect Ratio: 3:2
Processor
Intel 7th gen Core i5-7300U
Storage
256GB Solid State Drive (SSD)
Memory
8GB RAM at 1866Mhz LPDDR3
Graphics
Intel HD graphics 620
Rear Camera
8.0MP autofocus camera with 1080p HD video
Front Camera
5.0MP camera with 1080p HD video
Windows Hello face-authentication
Speakers
Stereo speakers with Dolby Audio Premium
Ports
One full-size USB 3.0
Mini DisplayPort
Headset jack
Surface Connect
microSDXC card reader
Sensors
Ambient light sensor
Accelerometer
Gyroscope
GPS
Network
Wi-Fi: IEEE 802.11 a/b/g/n/ac compatible
Bluetooth Wireless 4.1 technology
LTE Advanced
Battery Life
12.5 hours of use
Pen
Surface Pen
Weight
No keyboard: 1.78 lbs (809 g)
With keyboard: 2.45 lbs (1,111 G)
Dimensions
11.50 inches x 7.9 inches x 0.33 inches (292 mm x 201 mm x 8.5 mm)
Pricing
Starts at $1,149
Availability
March 6 (preorders) / May 1 (ship)
Regions
U.S., Canada, Australia (initially)
4G LTE Advanced Modem
Swipe to scroll horizontally
Category
Specification
Modem
Qualcomm Snapdragon X16
Speeds
LTE Advanced / Cat 9 up to 450 Mbps
GPS
Yes
Antennas
Seven
SIM
Nano SIM and eSIM
Carrier unlocked
20 Bands
Band 1 (2100 MHz), 2 (1900 MHz, 3 (1800 MHz), 4 (AWS), 5 (850 MHz), 7 (2600 MHz), 8 (900 MHz), 12 (700 MHz), 13 (700 MHz), 17 (700 MHz), 19 (800 MHz), 20 (800 MHz), 26 (850 MHz), 28 (700 MHz), 29 (700 MHz), 30 (2300 MHz), 38 (2600 MHz), 39 (1900 MHz), 40 (2300 MHz), 41 (2500 MHz)
While Microsoft could have made a Core i7 model, it would have had to cut something from the Surface Pro – most likely a reduction in battery size or a thicker device – something the Surface team avoided.
Instead, the Surface Pro with LTE is indistinguishable from the non-LTE variant save for the top of the Surface Pro which is now polycarbonate (for the LTE antennas) merged with the magnesium chassis. Microsoft boasts that this required "the development of an industry first process" to fuse the two materials into a "gapless and stepless fusion." It works too as you can't see the difference, and cannot feel it either.
Regarding weight, the Surface Pro with LTE is a smidge heavier (0.05 lbs, or 22 g) than the Core i7 model, but the difference is so small that it is a technicality.
Microsoft placed the Nano SIM tray next to the micro SD slot underneath the kickstand. A SIM tool (long pin; included) is used to eject it. In a clever move, Microsoft made the tray magnetic, so it sticks to the Surface Pro making it more difficult to lose.
SIM, eSIM, and cellular abilities
Dropping in a SIM to the Surface Pro is simple and does not require a restart of Windows 10. After a few seconds, the network is detected. The SIM does not even have to be on a data-only plan. Take your current SIM from your smartphone and drop it in and it'll work too. (Alas, even then you cannot send text messages though using the Windows app).
Users can then follow the carrier experience to learn more about that data usage, remaining data, and billing. For T-Mobile, this just takes you to a simple web page where you can data consumed and plan details.
AT&T customers, however, get a free recently updated app from Microsoft Store called AT&T Communication Manager (also on Android, but not iOS) that is just outstanding.
The AT&T app lets you visualize data usage, remaining data, how much time left on the billing cycle, program data usage alerts, make the Surface Pro a mobile hotspot, and get notifications from AT&T including billing reminders. The app is linked to the cellular signal area in the taskbar, or you can pin AT&T Communication Manager to your Start menu and use the excellent Live Tile.
Later this year, Microsoft will begin offering customers the ability to purchase data plans directly through the Microsoft Store. With embedded SIM (eSIM) technology customers can buy for instance 700MB of data for a few dollars and have it immediately enabled with no physical SIM.
The ability to use eSIM means if you travel to a foreign country you could buy a data plan through the Microsoft Store and be online instantly. You can also manage and re-up the data plan all without having to go to a carrier store, talk to a sales representative, or get a physical SIM.
With a physical SIM (say from Verizon) you could also add an eSIM account to the Surface Pro and have two data plans at the same time. Users can swap between them using the data connection manager, but this process is no different than switching Wi-Fi networks. That makes Surface Pro with LTE a dual-SIM PC.
Windows 10 and cellular controls
Despite appearances, Microsoft did not just drop an LTE modem into the Surface Pro and call it a day. Instead, the company has done a startling amount of work in Windows 10 to give complete control to the user over how cellular data is used.
There is the expected global toggle for cellular, so the Surface Pro stays only on Wi-Fi, and the LTE modem is off. But there is much more too.
For instance, users can choose to use cellular instead of Wi-Fi when the signal is weak (the other option is 'never'). Users can also restrict background data on cellular automatically when you are near your carrier data allowance, always restrict, or never.
Image 1 of 2
For finer tuned controls users can go into cellular data advanced settings and toggle which specific apps can use mobile data (independently of Wi-Fi) and which do not. That's great if you have Steam on your Surface Pro, but do not want to waste precious LTE data on updating a video game.
Microsoft also breaks down data usage between Wi-Fi and cellular with an exact megabyte count. Going deeper, you can see which apps are using LTE data and how much – ideal for tracking down any rogue programs that may be using too much data behind your back.
Windows 10 is smart too. When I dropped my AT&T SIM into the Surface Pro, it grabbed AT&T Communication Manager by opening the Microsoft Store automatically. I didn't even have to log in – AT&T Communication Manager took about 30 seconds and pulled in all my info from my account. That information is then automatically ported to the OS. Under cellular settings, Windows 10 "knows" my data limit for the month is 6 GB and even when my plan expires and resets. (You can also edit and override these limits and set roaming options).
Overall, Microsoft went beyond my expectations with the deep integration of cellular data and account management. Everything felt native to the OS and not bootstrapped. AT&T also gets credit for offering an outstanding app to manage your account. Considering 4G LTE can be expensive having these Windows management tools gives relief for those worried about a potentially data-hungry OS.
Thankfully, in my tests, Windows 10 did not seem to consume much data at all by being on 4G LTE save for running Microsoft Edge, doing bandwidth tests, and just using the internet as expected.
LTE data performance, battery, and GPS
The Surface Pro with LTE has a theoretical data limit of pulling down 450 Mbps and uploading at 150 Mbps. Both numbers are highly unlikely for real-world usage – for now – but the powerful Snapdragon x16 modem is future proofed supporting technologies not-yet-available on carrier networks. Microsoft notes they can enable these features through firmware updates as carriers will allow them.
Though 450 Mbps may seem crazy, there are significant benefits. At home, I managed three out of five bars on AT&T for a signal using the Surface Pro (matching my phones). Despite that, the Surface Pro pulled an astounding 85 Mbps for downloads. I'm embarrassed to report that the Surface Pro on AT&T LTE is around 20 percent faster than my home cable Wi-Fi network.
Evidently the Surface Pro can haul some significant 4G data!
Pushing closer to a full signal and the Surface Pro yielded upwards of 100 Mbps on AT&T, which is something I am not accustomed too at all for any connected device. (My hunch is when within line of sight of an AT&T cellular tower the Surface Pro could hit past 100 Mbps).
My average download speed over multiple location tests was 68 Mbps – an impressive number for a mobile laptop. Location, distance to cellular towers, quality of the 4G network, and how far indoors you are will cause variations.
Uploads speeds peaked around 45 Mbps but often hung around the 20 Mbps mark on average.
The Surface Pro with LTE also supports GPS. Combined with the built-in Maps feature of Windows 10 and the ability to download maps for offline usage that means you can use the Surface Pro with LTE as a glorified navigation tool in your car (yes, the car navigation function in Maps works), when in the woods, or on a hike. That navigation capability opens many doors for the hobbyist or those just wondering where they are in the big city.
For battery things get complicated. Microsoft cites one hour less – 12.5 hours versus 13.5 hours – with the LTE-enabled Surface Pro using a video loopback test (but no active data pulling). How much battery is consumed by LTE depends on how many data-hungry apps you are currently using and the strength of the LTE signal. Toss in complications like display brightness and how hard you are pushing the CPU and battery life is tricky to estimate.
The Surface Pro with LTE is much more efficient, however than previous PCs with 4G modems: when the Surface Pro is idling or in standby the cellular data connection shifts to a low-power mode. Likewise, when not connected to Wi-Fi, but in standby.
Compared to my non-LTE Surface Pro Core i5, I barely noticed a difference. When wandering my neighborhood and using LTE, the Surface Pro draws battery as if it were pulling data from Wi-Fi. Same when in standby. Nor did I witness any rogue apps pulling cellular data like crazy when on standby. Quite the opposite as my mobile data barely budged after 12 hours in standby.
If you are using the Surface Pro with LTE to hit a few websites, pull in the mail for Outlook, or use Twitter the toll on battery life compared to the non-LTE model feels almost negligible. I can still yield nearly eight hours a day of work and usage.
Of course, a lot of this can be mitigated by the user partially because of how fast it all works together. When at home or working in a building with Wi-Fi and on battery, the user just taps a single software button to turn off the cellular radio saving some juice. The time it takes to turn on cellular before it connects to the LTE network is just two seconds making it nearly impossible to be inconvenient.
Combined with the previously mentioned data-saving tools built into Windows 10 OS the Surface Pro with LTE is not only easy to manage for data and battery but is also very efficient too on its own.
Who should buy the Surface Pro with LTE?
For those who just love the Surface Pro, it is hard to argue against the Surface Pro with LTE save for the usual pricing gripes. If you are a diehard user, the addition of being always-connected and eSIM technology is very tempting. For me, the Surface Pro has taken on a whole new life. I take it everywhere, because why not? It gets excellent battery life, is quiet, is fast, and is super portable.
Those who travel for business around the world will appreciate the global LTE bands, unlocked SIM, and ease of adding networks (two if you use an eSIM).
I'd also not hasten to add reporters and journalists should love this combination of portability, inking, and the ability to work anywhere without relying on shoddy Wi-Fi or public networks.
College students would also love the functionality, but now pricing becomes a significant factor. While $1,450 is still within the range of many U.S. college students' budget (who often put PCs on their loans) – and still comparable to some Apple offerings – it's still a pricey option.
Some would argue that they are always near Wi-Fi ergo cellular abilities are redundant. While I see the point, I believe if all laptops and tablets had LTE, people would use them. The more significant problem is most people (rightly) don't want to commit to a monthly, recurring data plan for something they may use.
Luckily, this is something that should be alleviated through the Microsoft Store and eSIM in the coming months.
Surface Pro with LTE is impressive, but it took too long
My one big complaint about the Surface Pro with LTE is just timing. Microsoft took nearly ten months between its announcement and consumer availability. Even then, the initial launch is in only three countries.
While some wiggle room is allowed for being Microsoft's "first" Pro device with 4G LTE that is entirely too lengthy. That may rub some who bought the Surface Pro in the last few months the wrong way.
Nonetheless, I do not expect a new Surface Pro in 2018, and when combined with the powerful, forward-leaning Snapdragon X16 4G modem this device has some substantial shelf life. That makes reselling and a purchase a viable option.
The other obvious complaint is the limited hardware configurations. Some users will also lament the lack of 16GB of RAM or a zippier option with a Core i7 processor – all valid points. If you are one of those, who want a Surface Pro with LTE, with an i7, with 16GB of RAM and 1TB of storage…well, this is not your year.
From my usage, I'm more than OK with the 8/256 option and the Core i5-7300U processor. It's fast, ran my web browser with a dozen tabs, and with no fan, it is quiet to use. In short, this Surface Pro is nothing short of my dream tablet.
While all the original complaints of the Surface Pro 2017 still carry here, such as no USB Type-C, limited availability, higher than average pricing, and no 8th-gen processor, the overall experience of taking a Windows 10 computer of this caliber with me always is game-changing in balancing my job and life. The seamless integration of LTE is just icing on the cake. And Microsoft should get credit for that - the LTE experience here is excellent, seamless, an it feels native. The company did an excellent job in hardware and software.
Finally, with Windows 10 on ARM and Always Connected PCs around the corner, the lower price point and instant-on capabilities may be more appealing (the tradeoff: a less powerful CPU) for those interested in this form factor.
Pros:
Excellent LTE integration, performance, and controls.
Battery life not really affected.
Snapdragon X16 and eSIM help "future proof".
Cons:
Late to market and last gen CPU.
No USB Type-C.
Still expensive.
Further reading
Get the Windows Central Newsletter
All the latest news, reviews, and guides for Windows and Xbox diehards.
Daniel Rubino is the Editor-in-chief of Windows Central, head reviewer, podcast co-host, and analyst. He has been covering Microsoft since 2007 when this site was called WMExperts (and later Windows Phone Central). His interests include Windows, laptops, next-gen computing, and for some reason, watches. Before all this tech stuff, he worked on a Ph.D. in linguistics, watched people sleep (for medical purposes!), and ran the projectors at movie theaters because it was fun.