Microsoft didn't cut corners to ditch the fan in Surface Pro (2017) with Core i5
How does the Surface Pro (2017) with Core i5 compare to the Core i7 model, and did Microsoft cut corners to achieve its fanless design? Read on for answers.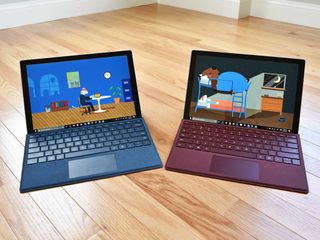 Microsoft's Surface Pro for 2017 brings a plethora of slight changes that add up to an outstanding experience. One of those shifts is the new fanless Core i5 model, which is priced to be the better selling of all the models available.
Almost all the professional reviews, including our own, however, featured the high-end and expensive Core i7 version with Iris Plus graphics. How does the Core i5 model compare to the i7 experience for heat, battery life, and performance? I'll put it through a set of tests to discover the answer.
See Surface Pro at Microsoft (opens in new tab)
Surface Pro Core i5 performance comparison
The Surface Pro comes in two models with the Core i5-7300U. One model has just 128GB of storage and 4GB of RAM ($999) while the second one has 8GB of RAM and 256GB of storage ($1,299) – that second version is what is being reviewed here.
I've already written a deep dive into why this Core i5 is a "true" Core i5 and not a rebranded, low powered Core M or Y-Series chip as many users doubted Microsoft could make such a device fanless without compromise. Of course, the next question is whether Microsoft is intentionally reducing the i5's thermal design power (TDP) from 15W to 7.5W – again to kind of "cheat" by putting in a real Core i5 but making sure it never reaches its full speed and power potential.
Surface Pro's new Core i5 versus Surface Pro 4
Swipe to scroll horizontally
| Category | Surface Pro (2017) | Surface Pro 4 i5 | Surface Pro 4 i7 |
| --- | --- | --- | --- |
| Processor | 7300U (new) | 6300U (old) | 6600U (old) |
| Number of Cores | Two | Two | Two |
| Number of Threads | Four | Four | Four |
| TDP | 15W | 15W | 15W |
| Base Frequency | 2.60 GHz | 2.40 GHz | 2.20 GHz |
| Max Turbo Frequency | 3.50 GHz | 3.00 GHz | 3.40 GHz |
| Cache | 3MB SmartCache | 3MB SmartCache | 4MB SmartCache |
| Graphics | Intel HD 620 | Intel HD 520 | Intel Iris 540 |
Like all laptops and mobile PCs, there is some degree of power throttling (which is different from CPU thermal throttling) to keep the magnesium chassis of the Surface from getting too hot. Nonetheless, for a passively cooled system, Microsoft's Surface Pro with Core i5 does quite well.
Surface Laptop Core i5 vs. Core i7: Comparing performance and battery life
Before we dive into the thermals, here are raw benchmarks to see how the Core i5 Surface Pro compares to other Surfaces.
CPU
Taking a closer look at Geekbench 4.0, which is a short-duration (~3 minute) CPU-intensive test, we can see how well the new Core i5-7300U holds up compared to its siblings.
Geekbench 4.0 benchmarks (higher is better)
Swipe to scroll horizontally
| Device | CPU | Single core | Multi core |
| --- | --- | --- | --- |
| Surface Pro 2017 | i5-7300U | 4,302 | 8,482 |
| Surface Laptop i7 | i7-7660U | 4,714 | 9,535 |
| Surface Pro 2017 | i7-7660U | 4,513 | 9,346 |
| Surface Book | i7-6600U | 3,977 | 7,486 |
| Surface Laptop i5 | i5-7200U | 3,725 | 7,523 |
| Surface Pro 4 | i5-6300U | 3,319 | 6,950 |
The new Core i5-7300U (4,302) trounces the Core i5-6300U that it replaces in the Surface Pro 4 (3,319) showing substantial gains in performance. The Surface Pro Core i5 even beats the Surface Laptop at Core i5 due to different processor models – the Pro's 7300U has a turbo to 3.5 GHz versus the Laptop's 7200U, which only turbos to 3.10 GHz.
Yes, the fanless Core i5 in the Surface Pro is a better performing processor than the Surface Laptop's Core i5 with a fan.
GPU
Geekbench OpenCL focuses on the Surface Pro's HD620 GPU. Compared to the Iris Plus found in the Core i7 Pro and Laptop, it should not perform as well, but it should beat the Surface Pro 4.
Geekbench 4.0 OpenCL (higher is better)
Swipe to scroll horizontally
| Device | GPU | Compute score |
| --- | --- | --- |
| Surface Pro 2017 | HD620 | 20,688 |
| Surface Book | GTX 965M | 64,108 |
| Surface Laptop i7 | Iris 640 | 31,010 |
| Surface Pro 2017 | Iris 640 | 30,678 |
| Surface Laptop i5 | HD620 | 19,256 |
| Surface Book | HD520 | 18,197 |
| Surface Pro 4 | HD520 | 17,395 |
The HD620 in the Surface Pro Core i5 slightly edges out the same graphics chip on the Core i5 Surface Laptop. There is, however, a bigger gain between the Surface Pro 4's HD520 (17,395) and the Surface Pro's HD620 (20,688), as anticipated.
CPU and GPU
PCMark (Home Conventional 3.0)
Swipe to scroll horizontally
| Device | Score | Comparison |
| --- | --- | --- |
| Surface Pro 2017 i5 | 2,703 | Better than 46 percent of all results |
| Surface Laptop i7 | 3,156 | Better than 62 percent of all results |
| Surface Pro 2017 i7 | 3,055 | Better than 57 percent of all results |
| Surface Laptop i5 | 2,494 | Better than 40 percent of all results |
The popular PCMark Home Conventional benchmark shows the Surface Pro Core i5 again beating the Surface Laptop with the same configuration.
SSD
Microsoft is using slower solid-state drives (SSD) in the Surface Laptop due to design (it's embedded on the motherboard instead of a module), but the company is not skimping on the Pro line.
CrystalDiskMark (higher is better)
Swipe to scroll horizontally
| Device | Read | Write |
| --- | --- | --- |
| Surface Pro i5 | 847MB/s | 801 MB/s |
| Surface Laptop i7 | 486 MB/s | 244 MB/s |
| Surface Pro 2017 | 1,284 MB/s | 963 MB/s |
| Surface Book | 1,018 MB/s | 967 MB/s |
| Surface Laptop i5 | 423 MB/s | 237 MB/s |
Microsoft is using the same Samsung PM971 (KUS030202M) SSD as the Core i7 variant in the Core i5 model too. That's good news because the PM971, while not the fastest SSD on the market, ranks rather highly in performance and is certainly much quicker than the Surface Laptop.
The speeds here are slower than the Core i7 model due to it being a 256GB drive versus 512GB. SSDs scale in speed as storage size increases due to the parallel nature of multiple NAND chips and we see that here. In short, the more storage you get, the faster the drive's benchmarks.
Overall, performance with the Surface Pro Core i5 is outstanding and significantly better than the same Surface Pro 4 configuration even without a fan. Those concerned that the fanless Surface Pro is underperforming to stay below thermal limits can be assured that not only is that not the case, but in fact the Pro is faster than the Surface Laptop with a Core i5 configuration.
Surface Pro Core i5 stress test and throttling
The flipside to benchmarks like Geekbench, which has only a short duration, is prolonged duress to the processor to see how heat affects performance. The question of whether Microsoft is purposefully limiting the Core i5 on the fanless Surface Pro is a valid one.
During a stress test using Intel's Extreme Tuning Utility (XTU) app, the Surface Pro with Core i5 processor ran for 30 minutes at 100 percent utilization. The Surface Pro was AC powered and set to "best performance" to ensure maximum processor output. The room temperature was 76 degrees F (24 degrees C) during the test (this matters for reasons explained below).
The good news is, like in our Surface Laptop tests, there is no evidence of thermal CPU throttling, which is a big concern for many enthusiasts. CPU thermal throttling occurs when the processor hits temperatures that are so high it could damage it. This situation can happen when a manufacturer has improper or inefficient cooling – like perhaps a fanless Core i5 running at 3.5 GHz. CPU thermal throttling can see extreme downshifts in processor speed to cool the processor resulting in a rapidly oscillating performance curve.
There is some throttling occurring, however. Like all laptops and PC tablets, the Surface Pro Core i5 (and i7) will use power limit throttling to keep temperatures in check. Power limit throttling (or PL1) is more about keeping the entire device – specifically the chassis – cool enough to touch and handle, which is necessary for a magnesium tablet. There is a secondary sensor that has a threshold set by Microsoft to ensure the body of the Surface Pro does not burn users (or become uncomfortable to handle).
I noted earlier that the room temperature was 76 degrees F (24 degrees C). Ambient room temperature directly affects power limit throttling since a cold room can help dissipate more heat from the Surface Pro chassis reducing the need for PL1 to take effect. Some enthusiasts even use a USB-powered fan to cool the back of the Surface Pro as this allows the device to run at faster speeds for longer durations. While the overarching results in this article are accurate, there will be variation depending on your exact testing environment.
Surface Pro CPU – Observed traits
Swipe to scroll horizontally
| Category | Core i5-7300U | Core i7-7660U |
| --- | --- | --- |
| Max TDP observed | 18W | 21W |
| Base frequency | 2.6 GHz | 2.5 GHz |
| Turbo frequency | 3.49 GHz | 3.95 GHz |
| Thermal throttling | No | No |
| Power throttling | Yes | Yes |
The results for the fanless Surface Pro with Core i5 are impressive. For one, Microsoft did not reduce or halve the thermal design power (TDP) from 15W to 7.5W, which is something the company could have done to keep the Surface Pro cool. In fact, during peak turbo bursts the Core i5 regularly hit and stayed at the max 3.5 GHz, and it would peak at 18W TDP.
Over a 30-minute stress test of 100 percent CPU usage, however, the Surface Pro's chassis did get warm. As a result, the TDP is reduced to between two and eight watts towards the 30-minute marker. The average processor speed at the end of this stress test was 2.6 GHz, which is the 7300U's base frequency.
Still, even at the 10-minute mark, the CPU was hovering at around 3.1 GHz with a TDP of 11W and 13W. In other words, power limit throttling is an iterative process – the Surface Pro will reduce power to the processor gradually to keep the chassis temperature in check. But even after running for 30 minutes at 100 percent processor usage, the overall speed never fell below the base frequency for the 7300U at 2.6 GHz.
Surface Pro i5 temperature comparison
The Surface Pro (2017) with a Core i5 is a fanless system relying instead on passive cooling – heat just rises out of the radial vent.
During the 30-minute stress test, both the Surface Pro with Core i5 and Core i7 were observed for temperatures. As noted earlier, power limit throttling keeps the Surface Pro from getting too hot to touch, and that is seen in the results.
Surface Pro peak temperatures
Swipe to scroll horizontally
| Category | Core i5-7300U | Core i7-7660U |
| --- | --- | --- |
| Back max temp | 108° F / 42° C | 112° F / 44° C |
| Display max temp | 111° F / 43° C | 113° F / 45° C |
While the Core i7 Surface Pro certainly ran warmer than the Core i5 version, it was within only a few degrees, resulting in an overall similar feel.
Of course, the Core i7 Surface Pro has an active fan to keep it cool, and the fan was certainly audible during the stress test but still significantly quieter than the Surface Pro 3 or Pro 4.
Surface Pro Core i5 battery outlasts i7
Contrary to my Surface Laptop results, there is an observed difference in battery life between the Surface Pro with a Core i5 compared to the Core i7 model favoring the former.
Real-world tests are difficult with modern Intel processors due to the rapid stepping technology that lets the CPU jump from base to turbo and back to base frequency again in milliseconds. Battery life is completely task-dependent with games and rendering programs zapping much more power than running a web browser or using a Windows Store app. Therefore Microsoft (and other companies) use fixed video loop tests to estimate battery life – those tests are consistent and repeatable.
The PCMark Home Battery Accelerated test uses the CPU and GPU together in a looping cadre of tasks like photo editing, video calls, and web browsing until the computer hits around 20 percent remaining battery.
PCMark 8 Home Battery Accelerated
Swipe to scroll horizontally
| Category | Core i5-7300U | Core i7-7660U | Battery consumption |
| --- | --- | --- | --- |
| Time | Five hours and six minutes | Four hours | 81 percent |
While that number falls short of Microsoft's claimed 13.5 hours for the Core i5 model remember that a run-down battery test is extreme with non-stop CPU-intensive tasks looping endlessly. Additionally, there is still 20 percent battery left in both devices tackling on a few more hours. Indeed, in my everyday usage between the Core i5 and Core i7 Surface Pros I cannot say that the battery life is that different – they both hit the "roughly eight-hour" mark depending on usage.
Conclusion: Surface Pro with Core i5 is legit
There are a few inferences that can be reached about the fanless Surface Pro with Core i5:
Microsoft did not reduce the i5's TDP to achieve a fanless design.
The Core i5 model sustains peak turbo 3.5 GHz for short to medium durations (~5 to 15 minutes).
Even after 30 minutes of constant CPU usage the processor never dips below 2.6 GHz (base frequency).
There is no CPU thermal throttling, but there is power limit throttling, which is expected.
Chassis temperature is slightly cooler but similar to the Core i7 model.
Battery life appears to be better than the Core i7 model.
Surface Pro (2017) Core i5 is significantly faster and gets better battery life than Surface Pro 4 with Core i5.
Surface Pro (2017) Core i5 is faster than Surface Laptop with Core i5.
There is some power limit throttling, but as nearly every laptop (and every Surface) uses PL1 to keep the PC from getting too hot.
The important conclusion is that while the Surface Pro cannot maintain running at peak turbo speeds for more than 10-15 minutes, it very gradually tapers down to its base frequency after thirty. You can see this in the Intel XTU graph below – the orange is the CPU speed and while it slightly oscillates it never rapidly drops. That behavior is the same for almost all Ultrabooks that try to balance fan noise with keeping the device cool – even the Surface Laptop does this to a lesser degree. The Surface Pro – both Core i5 and i7 – use power limit throttling more often simply due to the super thin chassis, but there is no significant difference between the Core i5 and i7 Surface Pros.
Surface Pro 2017 full review
For those considering the fanless Surface Pro with Core i5, you don't have anything to fear. Microsoft did not pull any tricks, and the processor does what it is meant to do. Granted, had Microsoft put a fan into the Core i5 it could run at higher processor speeds for more than 15 minutes of 100 percent CPU usage, but for regular consumers running Windows Store apps, photo and video editing, browsing, the Pro with Core i5 behaves like any other PC.
Obviously, for long gaming sessions in a warm room, or video rendering all Surface Pros will exhibit a winding down of processor speeds to its base frequency, but that is the tradeoff for this form factor versus a 4.5-pound, quad-core laptop.
Overall, I'm quite pleased with the Surface Pro with Core i5 and have no problem recommending it to most people. If you can afford the Core i7 model the performance is better, but the lack of fan with the Core i5 is tempting.
See Surface Pro at Microsoft (opens in new tab)
Windows Central Newsletter
Get the best of Windows Central in in your inbox, every day!
Daniel Rubino is the Editor-in-chief of Windows Central, head reviewer, podcast co-host, and analyst. He has been covering Microsoft since 2007 when this site was called WMExperts (and later Windows Phone Central). His interests include Windows, laptops, next-gen computing, and for some reason, watches. Before all this tech stuff, he worked on a Ph.D. in linguistics, watched people sleep (for medical purposes!), and ran the projectors at movie theaters because it was fun.
I love reading your thorough reviews/analyses. It's always pretty entertaining too, not some dull sludge through the statistics. A couple of questions: So if I understand your analysis correctly, battery life is lower for the i7 when heavily utilizing the CPU and GPU for intensive tasks like editing, games etc? But would you say it's about the same if you use it for, say, Netflix, YouTube, Local video playback, Microsoft Office applications, and PDF reading?

Thanks! Yeah, for me using it's for regular tasks both devices feel very similar for battery life, which makes sense if you're not hitting and sustaining peak turbo for long durations. Like, I couldn't say using the i5 felt like "OMG so much more battery".

So, for most everyday tasks you don't need the i7. For most of the time, you are not asking the i7 to do anymore than the i5. Therefore the power demands are similar. So save your money, buy the i5 and call it a day.

Or for everyday tasks the i7's battery life is very similar to the i5 so why not get the i7 for the power when you need it and call it a day.

I'd really like to also have the M3 version into the benchmarks.

Same here. Don't need power of i5 either so I wonder how m3 compares. For SP4 they were actually about same for light workloads so most likely similar. For some workloads i7 can give you better battery life than i5 since it can finish faster. Same for i5 over m3. Difficult to give a definite number. I'd say for light workloads they are probably all comparable.

Nice review. Now if Microsoft can only get a good batch of screens in so I can actually buy one of these things. I pre-ordered 2 Surface Pros, an i5 and i7, and returned both of them due to significant light bleed on the bottom 1/2" of the screen, something my SP3 doesn't have at all. Tried another i7 in the store and it had the identical bleed. I'll wait 6 months or so and then reevaluate. Hopefully by then they'll have a good batch of screens in. I've seen other people complaining about screen bleed as well. So it appears the first batch of screens are no good and that the review models that went out were handpicked to make sure there was no bleed, because Daniel specifically mentioned that there was no bleed on the i7 device he reviewed. Anyhoo... Hopefully the fanless trick ends up being rock solid and people don't start complaining of a hot device or accelerated hardware death. I'm hopeful.

I've just sent back an i5 SP for this very reason and awaiting a replacement.

I bought the new SP i5 version at the Portland, OR Microsoft Store. No light bleed at all. None of the store model devices in that store showed the issue either. My SP3 had three light blotches at the bottom of the screen, but it worked fine other than every day from its launch in 2014 until I traded it in with my purchase of the new Pro.

I had just the opposite experience. Zero light bleed on two SP3s (3 actually, because I had to get a new one after smashing the screen on one), but material and very annoying light bleed on 3 new Surface Pros.

Good luck. They opened a new box in the store and it had identical bleed to the two I was returning, so I just said keep them and give me my money back. I'll wait. I've mentioned this to Microsoft via Twitter, but zero response.

Interesting. I'm not sure what you mean by light bleed, but I plan to buy an i5 Pro 2017. Could you tell me more about what to check when I receive it so I know if I need to send it back? I don't want to keep a deficient model just because I don't know what to look at when I receive it! Thanks.

In my case, the light bleed was a very noticeable bright line, about half an inch wide, across the entire bottom of the screen. What I mean is that say the screen was solid blue, like during the initial device/Windows setup. If you have the bleed that I did, what you'll notice is that while most of the screen is a solid, consistent blue, the bottom half inch of the screen looks like a bunch of screen trolls are shining flash lights all along the bottom of the display, making the blue look very, very light blue, almost white. It was so bad that it was the first thing that caught my eye when the setup process started. I immediately said, nope, I'm taking these back. And then when the setup process hung just after the facial recognition setup, requiring a hard reboot, after which the setup process started at the very beginning again, I said eff you Microsoft and I went to the store immediately to return them. While in the store I said, OK, I'll give them one more chance. Let's try another i7 and see if there is no bleed. And if not, I'll take the device. But no, the bleed was literally identical to the other two machines. Clearly a bad production run. I'm sure not every screen is bad, but be on the lookout. I wouldn't pay the price these things are and have to settle for a bleeding screen, particularly when one of the big selling points of these things is how good the screens are. Panos almost drools when he talks about it.

I already sent back two i5. I'll try the i7 and see if I have better luck. It's not only light bleeding at the bottom, but also more subtle patches of different brightness throughout the whole display. How can Microsoft mess up yet another product launch is beyond me.

Most surface pros I've seen in person have light bleed, my SP3 does in the top right, annoying for such an expensive device.

I actually had significant light bleed on my SP3 when I first got it. Swapped it out for one with less light bleed, but it was still significant (and I didn't have time to swap out again). The light bleed has grown over the years, too, but I've gotten used to it. Other than that, amazing device to this day!

This is a great review Daniel. I'm personally more curious about the new i7 vs old i7... how much faster are the graphics? I would love to play Forza Apex, but my 16GB Pro i7 just can't hack it.... slows down to probably 5 frames per second disturbingly frequently. Also curious to know how effective the fan is at only kicking in when it's really needed... is there a big downside to buying the i7 vs i5 noise-wise if you spend 95% of your time using Office apps (does it know to keep the fan off during those times)?

"is there a big downside to buying the i7 vs i5 noise-wise if you spend 95% of your time using Office apps"

I'd say it's negligible. You really don't hear the i7 fan unless doing prolonged CPU-intensive tasks. Sure, it can get a tad warmer, but these are very quiet machines. Now, if you do a 15-30 minutes stress test at 100% CPU the i7's fan will roar, but it's still quite tame compared to most modern laptops.

Excellent review Daniel..
Enjoying my new i5/8GB, also using battery bar pro to gauge how much better battery life is over the sp4 i5/8GB.

My i5/8 GB/256 GB is shipping today!

Congrats! That's probably the best/most rationale model.

You got it! Thanks, Daniel!

surface pro i5 beats surface book i7. that's just sad. hopefully surface book refresh is soon!

Not really when you're concerning generational jumps in CPUs. I mean, a new CPU i5 should beat a 2 year old i7...no? That's how progress works, it's what we actually want otherwise, what is the point in upgrades? Either way, look at the Surface Book with Perf. Base and see who the champ really is ;) We also know that if/when Surface Book 2017/2018 arrives it will get a significant bump in performance.

This is why i buy i5 over i7. By the time i7 maxes out and gets hot, it ends up being the same speed as the i5. Why not get a system that maintains speed AND doesn't burn itself out.

Yeah, I mean, it's great for short bursts...launching apps, doing some photo edits, etc. the i7 holds up, but for longer things it does equalize a bit.

Thanks for the excellent article, seems like the i5 is a winner. Something I haven't seen mentioned anywhere is how the new Surface Pro performs with an external display. With my Surface Pro 4 i5, attaching an external display is a sure fire way of getting the fan going. For example a 27 inch display running at 2560 x 1440 @ 100% scaling and keeping the Surface Pro 4 at it's native resolution with 200% scaling. You wouldn't even have to be doing anything intensive with it, perhaps just sreaming some video, but the fan kicks in and everything feels noticeably more sluggish. Is the new Surface Pro the same? I would love to see some testing or comparisons that cover the use of an external display.

Thanks and yeah, will be doing some external display stuff in the coming weeks.

Still thinking of the lte model. I'll wait to see the price then pick up an i5 256. Definitely time to upgrade from my SP3 - even though it is still working great except for battery life

Noticeably missing are the "glad to see I was wrong" comments from the naysayers at announcement time that said there was no way a legit i5 could be fanless

Glad to see I was wrong! Not sure I commented on my doubts in the earlier articles, but I certainly had them. Microsoft has proved me wrong and I'm happy about that!

Can you please explain this to Thurott who publics goes on Windows Weekly and says Microsoft gimped the newest model to get it fanless so the performance is going to suck. I think it's pretty bad to go out there and make public assumptions. Really glad to hear that that wasn't the case for this model.

Thurott is a narcissitic blow hard.

Great comparison article. I have the I-5. Unfortunately it also has the random sleep issue. I'll be playing my Zynga poker and Bam screen is black. Everything about the device, other than that, is perfect

So how do you kill the power limit throttling?
Any options in the system BIOS to turn the turbo frequency off?

You don't turn off PL1, it's almost a safety feature. You can undervolt the CPU to reduce some of the processor; not sure about turning off turbo. Not sure I get your question, you're asking (1) how can I make it so it always runs at turbo (2) how to I turn off turbo. Both of these requests are opposite ends.

You can use a program called throttlestop to disable turbo modes. You lose high burst frequency, but gain battery life. Depending on how you use your device, that could translate into longer battery life.

Interesting, GTK. Thanks.

why were people even btching about this fanless product? didnt realize a 'fan' determines the greatness of a product. I'm sure microsoft did a lot of stress test before putting the i5 out.

Actually, given the numerous firmware issues with pretty much all Surface Pro releases since the first, thorough testing isn't necessarily a given. Or rather, thorough testing is quite difficult.

Can't wait to receive mine (i5, 256). I ordered the old type cover as it's 50% here in Denmark. Found the old pen as well - I use it, but mostly for navigating and stuff - not creatively so I doubt I would notice much difference.

If you're using the pen just to write stuff/take notes, probably not worth spending the extra cash for the new pen.

Actually, That is the reason I would consider buying the surface pro. I prefer using a pen and paper to take notes. But I prefer Onenote to preserve and organize the notes. My hope is that the new surface pro is equal to pen and paper. That is not currently the case with my Surface 3.

Lars, you will definately enjoy the new model !
I have the old signature edition typecover with alcantara, try and get that. The feeling is great, and it IS very durable and great to type on. (big step up from decent SP3 typecover generation) Also, I am curious, did you previously have a Surface??

Yes I owned both the Pro 3 and 4 and although I'm used to Mac I absolutely love what Microsoft have done with the Surface Pro and the other new Surface line-up.

Kudos for using a Seek Thermal camera to show the thermal image of the Surfaces. How is it that you came to use this? Glad to know that the fanless one holds up, although I wish they did offer the Iris Plus Graphics 640 in the Core i5 model (instead of the standard HD Graphis 620), but I am assuming that is an Intel thing not a Microsoft deal.

Thanks. Re: Seek, I simply saw other reviewers who I respect/enjoy using it. Frankly, I hated saying "it felt warm" which is so subjective, as someone trained in the sciences I wanted something more concreted and empirical ;)

That's a great answer and I appreciate the use of the heat camera as well. I remember reading one of your reviews on something that I own and your comment about it getting hot. I described the same device as only getting warm. I went with the i5 version of the new SP because it better fits my uses of the Surface. I'm curious about the sounds of the fans in the i7 version though. Is there a way you could do demostrate the differences between the Pro 4 and new Pro i7 models as to the sound of the fans under load? I tried working a unit in the Microsoft Store to get its fans on, but in the ambient noise of the store it was impossible to discern much difference between the 4 and the new one.

Will you post some YouTube videos of the i5 model and how it performs?

Would love to, not sure if I have the time, but will see.

I remembered something Linus said and now I can't stop reading this in Linus's voice

Thank you for that in depth review, it's very much adding value to potential customers like me! I'm especially glad the SSD seems to be a quality one. I don't need the absolute fastest in the market, but I got a bit worried by the Surface laptop SSD.

The SSD is actually soldered to the motherboard. My impression then is it is not truely an SSD, but the components assemle to the motherboard. Which begs the question. What happens when intel migrants its new non volitle memory from the server world to the PC world? No more SSD? but the meomory sitting on the processor?

That is actually one big misconception that if that the device is thin, the ssd is soldered. Every single model of the Surface Pro didn't have a soldered SSD. They used an M.2 PCI-e SSD that was removable.

It's just too bad they went and took out the Pen, makign the cost jump up $50, then hiked the price tag on the higher models to boot, so you get less for more money. That's my only big gripe here, but it's such an egregious misstep that it's enough for me to no longer consider Surfaces when making purchases.

Glad you chose that one. There is a competing product on the market. Wondering if you were aware of that and if so, what made you choose Seek? Were other similar reviewers using Seek? If so, might you let me know who? Did you use the Reveal (hand held unit) or Compact (plugs into phone). I'm only curious because I work for the company that supplies the thermal imaging chip to Seek.

It just had good reviews on Amazon and I liked how it worked with Android or iOS (this one is with iOS).

Sounds great. I want one to replace my 4GB Surface Pro 3, but I don't really have performance issues so it is hard to justify!

Well glad you like it! Fun science projects include writing secret messages on the wall with ice cubes and then using the thermal camera to read them.

Excellent review. Happy I have an i5 SP now :-)

My i5, 8GB, 256GB is rock solid. Zero light bleed, no going to sleep issues. It works great. I would recommend it to anyone.

Amazing how the SP 2017 can do i5 workloads without a fan and maintain controlled temps and no serious throttling (i.e. below core frequency). Compare it to my SP3 i5, which has always gotten bleeding hot under pressure with a whiney fan and lots of throttling below core frequency for extended periods. That said, it's handled all my work (coding, CAD, light gaming) without a hitch.

Great review. I have a question. Are the new Surface Pros made out of aluminum or magnesium? They look more shinier and more silver in color than the SP4.

Still magnesium alloy. The Surface Laptop is Aluminium though.

I have had my Surface Pro i5 256GB 8GB with Maroon TypeCover for a week now and I can confirm that this computer is by far the best experience I've ever had from MS or Apple. My current work computer is a Surface Book i7 Performace Base 512GB and my brother uses a Macbook Pro 15" Kaby Lake with TouchBar and I genuinly believe despite the cost differences this the the best of the 3 by a long shot. I don't game heavily however and when I do it's usualy older games from GOG and my heavier gaminig is on my Xbox One S. Anyway this computer for me is the perfect Laptop, tablet and Desktop all in one. I would definetly recommend it!

A pretty good article. Respect.

One thing I find really impressive about the fanless i5 model here is that on the Geekbench results it even outperforms the listed sixth generation i7 system and MS top-of-the-line Surface Book. And it outperforms at a pretty thick margin: Single core for Surface Pro 2017 with 7th generation i5 is 4,302, vs. 3,977 for the 6th generation Core i7 Surface Book, and Multi Core shows 8,482 vs. 7,486. Assuming those are correct in the table, that's really amazing, with some credit to Intel too for this generation's Core i5 being able to outperform last generation's Core i7. Even while fanless and delivering substantially improved battery life!

Kudos to you Daniel! I wonder if you have any HP Spectre X2 (2017) versus Surface Pro (2017) battle in the pipe line any time soon?

Thanks, and yes! We'll be tackling X2 soon as review units are getting ready for the press. Will be doing a lot with that device as I know it's a serious option/alternative for people here.

I know one thing, The new keyboard colors are awesome!

Any reason to be concerned about using HyperV on a Core I5 with no fan?

I've experienced significant backlight bleed on two models--both i5/256/8gb. This is terrible.

How would the i5 version handle programs such as affinity or photoshop?

I would love to see this article again for the Surface Book 2... I hope the new i7 8gen FANLESS dont disappoint.

I've been through a few i5/256 Surface pros. The first had a faulty touch screen, the second froze intermittently and the third had a horribly slow SSD, (something I had noticed with the other units as well) I was annoyed because I absolutely loved the units, I did some research and apparently the i5s came with the Toshiba SSD that are notoriously slow. I don't have the figures anymore but issues with these drives are all over the Internet like a rash... I bit the bullet, paid a bit extra and got the i7/256 because they come with the Samsung SSD, (probably batch dependant, I know...) The battery in the i7, for general day to day stuff is probably a tad worse than the i5 but for the faster SSD, for me, it's worth it. An unexpected benefit is that the i7 comes with Iris/640 display adapter, the whole experience is very noticeably smoother. Both excellent devices though, love the form factor. Sorry for the rant, it's Saturday morning here in Australia and clearly I've had too much coffee... 😲
Windows Central Newsletter
Thank you for signing up to Windows Central. You will receive a verification email shortly.
There was a problem. Please refresh the page and try again.