Why the new Surface Pro's fanless Core i5 is both a serious processor and a great option
By Daniel Rubino last updated
The new fanless Core i5 Surface Pro has a real dual-core processor in it. Let's break down why this is a not a Core-M marketing ploy.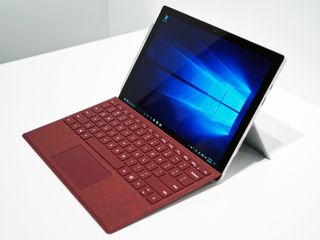 Microsoft's recent announcement of the refreshed Surface Pro (2017) is resulting in plenty of discussions – and some confusion – about all the changes for this year. With over 800 new custom parts and updated internal hardware which is the best Surface Pro for you can be a complicated decision.
One area of misunderstanding that I have noticed amongst potential buyers is the new "fanless" Intel Core i5 model. Starting at $999 (4GB and 128GB storage) and going up to $1,299 (8GB and 256GB of storage) the super quiet Surface Pro appears to be the best bet for your average consumer.
But is that Core i5 a "real" processor or just a renamed Core M? Let's dive deeper though into Intel's confusing chip strategy and what it means for new buyers.
Core M is not really a thing anymore
What is Intel Core M? For the last few years, Intel has been promoting Core M chips for ultraportable laptops and tablets as an ideal filler between anemic Intel Atom and Pentium brands and the full-fledged dual-core Core i-series processors.
The main benefit of Core M were the fanless designs perfect for tablets where venting and active cooling were not preferred. Not only do fans make noise and drain the battery they also take up precious internal space that could be used for more battery (or an LTE modem).
Intel Core M started in late 2014 with the 5th generation of Intel Y-series processors codenamed "Broadwell." The models ranged from Core M-5Y10 through Core M-5Y71 hence why people called them "Core M" (even though Intel technically classified them as Y-series).
For the 6th generation – a.k.a. "Skylake" the naming shifted with Core m3-6Y30, Core m5-6Y54/57, and Core m7-6Y75 with varying base and turbo frequencies mirroring the Core i3 ("m3"), i5 ("m5"), and i7 ("m7") trajectory.
The Intel branding transformed again for late 2016 with the 7th generation Intel "Kaby Lake" line. Those chips – previously known as Core m5 and Core m7's – were put under the Core i5 and i7 categories, but with a twist. Now called just Y-series you can identify this processor by the "Y" in its model number e.g. Intel Core i5-7Y54 versus the U-Series Intel Core i5-7300U.
The U-series are standard dual-core processors found in Ultrabook laptops like the Dell XPS 13 and HP Spectre x360.
As is, there are only Core m3 chips now for 2017 like Core m3-7Y30 and m3-7Y32.
Yes, it's all super confusing. However, as the Y-Series and thermals improved the differences between it and U-Series became minimized.
What makes a Core-M or Y-Series chip
So, what is the difference between Y- and U-Series Intel chips anyway? It's quite simple. Y-series have a lower thermal design power (TDP) at 4.5 watts versus the 15 watts of a U-series chip.
In layman's terms, a Y-series chip draws half the power and as a result gets about half the speed. A Core i5-7Y54 (Y-series) has a base frequency of 1.20 GHz versus a Core i5-6300U's 2.40GHz. Max turbo frequency, however, can still peak at or past 3.0GHz giving Y-series the ability to boost to high-end speeds found in the U-series temporarily. That's why Y-series feel fast – they are. However, Y-series processors draw less power, and thus, run cooler compared to U-series ones. That is why manufacturers can now design devices without fans.
Ironically, however, since they are all the same design and architecture the Y-series ($281) are not cheaper compared to U-series (also $281 per chip). This cost versus performance issue is a problem I have noted before as Y-series processors are still expensive even compared to high-end ARM ones like Qualcomm's Snapdragon 835.
By comparison, a high-end ARM chip found in a smartphone is estimated to be around $75 per chip while delivering performance approaching Intel's x86 lineup. That is why Windows 10 on ARM - coming later this year - is such a big deal.
Companies still use Intel Atom because while weak they only cost between $47 and $63 per chip. That's a huge drop compared to Intel Y- and U-series at $281.
Intel 2nd Generation Compute Stick with Core m5: is it worth $500?
To the point: Y-series draw less power, run cooler, but deliver excellent performance. They give PC manufacturers an option to make fanless designs for the first time while still giving much better performance than cheap Intel Atom and Pentium brands.
Surface Pro uses U-series for Core i5
All this preamble brings us to the new Surface Pro for 2017. The Core i5 version, which is fanless is running a Core i5-7300U processor. It falls under the Intel U-series with a TDP draw of 15W. Its base frequency is 2.60GHz with a max turbo ceiling of 3.50Ghz.
Folks, that's a full dual-core processor found in many Ultrabook laptops. The Y-series variant would be a Core i5-7Y54 – again, note the "Y" – with a base frequency of 1.20GHz and turbo boost to 3.20 GHz while running at 4.5W TDP. That's not in the new Surface Pro.
In other words, Microsoft did cram an authentic Core i5 processor into the new Surface Pro, but they also made it fanless through proprietary passive cooling. The result is a full dual-core processor that makes no noise and stays cool to the touch.
This not a clever marketing ploy just solid engineering from the Surface team.
Microsoft is not the first to do this either. Huawei's new MateBook X laptop also achieves this with a Core i5 (7200U) and a Core i7 (7500U) too - again, neither are Y-Series chips. Intel's new chips just run cooler so manufacturers can produce innovative designs.
Getting back to the new Surface Pro the Core i5-7300U even compares favorably to the Surface Pro 4's Core i7-6605U from 2015:
Surface Pro's new Core i5 takes on old Core i7
| Category | Surface Pro (2017) | Surface Pro 4 |
| --- | --- | --- |
| Processor | Core i5 (new) | Core i7 (old) |
| Number of Cores | 2 | 2 |
| Number of Threads | 4 | 4 |
| TDP | 15 W | 15 W |
| Base Frequency | 2.60 GHz | 2.20 GHz |
| Max Turbo Frequency | 3.50 GHz | 3.40 GHz |
| Cache | 3 MB SmartCache | 4MB SmartCache |
| Graphics | Intel HD 620 | Intel Iris Graphics 540 |
In theory, that means the new Surface Pro (2017) with a Core i5 should slightly outperform the Surface Pro 4's Core i7. That's mighty impressive, but caution needs to be taken because we don't know how Microsoft configured the Core i5 for TDP (it's variable) nor if the processor throttles under excessive CPU loads – both of which could affect its performance.
There's currently no reason, however, to believe Microsoft has gimped the Core i5-7300U in the new Surface Pro, but we do need to test it.
Surface Pro (2017) Processor Lineup
| Category | m3-7Y30 | i5-7300U | i7-7600U |
| --- | --- | --- | --- |
| Number of Cores | 2 | 2 | 2 |
| Number of Threads | 4 | 4 | 4 |
| TDP | 4.5 W | 15 W | 15 W |
| Base Frequency | 1.00 GHz | 2.60 GHz | 2.50 GHz |
| Max Turbo Frequency | 2.60 GHz | 3.50 GHz | 4.00 GHz |
| Cache | 4MB SmartCache | 3 MB SmartCache | 4MB SmartCache |
| GPU | HD Graphics 615 | HD Graphics 620 | Iris Plus Graphics 640 |
Finally, it should be noted that the entry-level Surface Pro (2017) does use a Y-series chip with the Core m3-7Y30. That chip's TDP is just 4.5 watts, and it has a base frequency of 1.00 GHz and max turbo to 2.60 GHz. It is directly comparable to the Surface Pro 4's Core m3, but slightly improved and still fanless as well. I use the Core m3 Surface Pro 4 myself and find the experience more than satisfactory.
The bottom line
For 2017, Microsoft's new Surface Pro is the sum of its parts, and so far, it looks outstanding. As you would expect from a generational shift in technology this version's mid-range should compete with the previous generation's high-end variant. And that's what the numbers tell us.
Which processor is best for you depends on your specific needs. On paper, at least, the new Core i5-7300U should be quite the performer competing with an older Core i7, but it's now fanless. That's super impressive and why so many of us are excited about that model.
For most people, the $1,299 Surface Pro (2017) with a Core i5, 8GB of RAM, and 256GB of storage should be the sweet spot between performance and cost. Unfortunately, if you want 16GB of RAM or 512GB of storage, you must jump to the Core i7 level – both of which dramatically increase the overall price. Additionally, you need to add in the cost of the Surface Type Cover ($159) and optional Surface Pen ($99).
Even if you are not interested in the new Surface Pro, there is a lesson here. Heading into 2018 you will see more "ultra" class laptops and tablets delivering full Intel dual-core experiences that are authentically fanless. The technology is now getting to the point where such designs can be made without compromise, and that is very exciting.
Preorder the Surface Pro on the Windows Store (opens in new tab)
Related Surface Pro stories
Daniel Rubino is the Executive Editor of Windows Central, head reviewer, podcast co-host, and analyst. He has been covering Microsoft here since 2007, back when this site was called WMExperts (and later Windows Phone Central). His interests include Windows, Microsoft Surface, laptops, next-gen computing, and arguing with people on the internet.
Great article! It's really impressive what the folks at Microsoft are engineering into the Surface line. Not just looks. They know what they're doing, and they come up with new ways to push the envelope.

Yeah, a really nice article!! Good read! 🙂 Thanks Daniel! 😁
I just hope that the SP (2017) Core i5 doesn't throttle speeds too much to reduce heat, like Daniel mentioned. That would really piss people off.
.
But with the confidence they've made this product and even announced it so very nicely (Panos Panay 😉 ), I'm sure this will do just fine.

I think this is most likely the reason new Insider updates have performance settings slider on taskbar (battery icon).

Of course it throttles heavily. It has to. It is 15W TDP CPU, which needs to keep its power well below 10W. Therefore the conclusion, that the Surface Pros Core i5 (at possibly 6-7W TDP) compares favourably against Surface Pros i7 (at 15W TDP) is just ill-founded.

I'd say "remains to be seen" as we don't know the TDP yet. Either way, since I'll have both at some point I'll do proper benchmarks.

The fanless i5 is the most impressive thing about the new model for me personally (If they pull it off well) If it throttles anything like the i7 Surface Pro 3 then it will be a problem. Had this thing for a few years and it's fantastic they fit so much power into a slim device but it can just grind to a hault at times

The engineering team on Microsoft really is impressive. Their marketing, however, is as crappy as ever. If it were Apple, they'd be marketing the hell out of it!

It would have been nice for you to include Iris graphics in the discussion when comparing i5 to i7. I'm assuming Iris would make quite a difference for things like Adobe CC.

I mention Iris Graphics in the CPU lineup for Surface Pro 2017. However, that chip is still very new and it's not clear how much better it will be at this time. All we can say is it's there. It just seems to have a slightly higher clock speed than normal HD 620, but that's always on par with Iris including the "Kaby Lake" Iris. Either way, at least for this article, I wanted to focus on (a) Core i5 is a 'real' Core i5 and (b) how it should perform better than last gen's Core i7. I'll look into doing a deeper dive into new Core i7/Iris Plus at some point.

Daniel, have you reviewed the fanless Matebook X? Would be really interesting to see, how it handles AIDA 64 stress tests.

Not yet, but will in June as review units become available. We're in touch with them to do so, because yeah, lots of questions there re: thermals.

Thanks man!! You're the best 😎

They are definitely the things to focus on, I think the i5 being fanless is the most interesting thing about the new models - I am very interested to see how it pans out. I don't know if I'd say it's a "real" core i5, but that it's a "real Ultrabook i5". That's just me being pedantic of course, I just consider the desktop processors to be the "real" ones due to the big performance difference. I'm very excited to see the actual benchmarks for this thing - I've always bought i7 Surface Pros and Ultrabooks but I could possibly get by with an i5 in the future and save some money, weight, battery life and save on the noise.

That would be the only reason why i'd consider the i7 model. Other than graphics, the i5 version definitely hits the sweet spot for me.

I really hope part of those 800 different changes is a massive change to the 802.11AC controller and/or driver. Connecting to 802.11AC MIMO AP's is horrible. And at mid-range distances, it sucks. No, it is not my AP (I have an Enterprise-class Aruba 802.11AC MIMO Wave 2 AP).

Last I checked, they're still using AVASTAR and not Intel, which is really irksome.

Any idea why? It seems like this has always been a pain point for many Surface users.

No idea, and didn't remember to ask. Will do next time.

Very well written. Even an old codger like me understood it thoroughly. Now I can tell all the "suits" stuff about the new SP4's that none of them could possibly know! Thanks Dan

Thanks! Was fun to write and glad it helped.

Still going with the m3 all day. I highly suspect the i5 version will not be working at its TDP. Provided the i5 and i7 have the same TDP, both should not dissipate more than 15W of thermal power so in theory, the i7 should also fanless. I think MS has tuned down the i5 chip to its cTDP-down to 7.5W, which means it works mostly at its base frequency and not turbo boosting at all.

Yeah, that's super important to find out and likely the scenario. Dunno, some crazy stuff happening with Kaby Lake, so we'll see. I use the m3 Surface Pro 4 too. Totally fine/great experience for light computing and UWP apps.

A good read. Genuine content. Well done.

My question is, why are they calling it an i5 rather than an i3? Looks like an i3 to me...

Nah, there's already a i3-7100U that fits that category. Core i3, by definition, lack Turbo, configurable TDP (cTDP), and vPRO. So it just has a base frequency of 2.4GHz. By having Turbo to 3.5GHz the i5-7300U is ipso-facto not a Core i3.

That's a fair point, and a good reason. Have to admit my knowledge of the i3 is lacking as it's never fit my needs or interests. Still though... I see a dual core and think i3... It might be inaccurate, but there it is. Either way, I appreciate the knowledge drop.

Yeah, it's important to remember that there are a range of dual-core i3-i7s, and quad-core i3-i7s, and desktop-class i3-i7's all with varying points. Every "Ultrabook" and tablet, pretty much be definition, is dual-core only. XPS 13, Spectre x360, X1 Carbon, all Surface Pros/Books - all dual core even at the i7 level. Only XPS 15 - at Core i5 and up - hits quad-core. Quad-core chips for mobile are 45W (vs 15W!), take up more space, generate much more heat and power than a dual-core. Night/day between them.

The i7 model is also dual core, so no, it is not correct to assume dual core means i3. Having said that, I had the hardest time breaking my own assumptions that only i7 got hyperthreading. That used to be how to differentiate i5 from i7 back in the old days, but has not been the case for a long time....

And more importantly, will it blend?

Yes, without a cooling fan something has to give....throttling cpu frequency...throttling cpu voltage....
We don't know until tear down and testing....so let's not speculate!

That's not 100 percent accurate if your passive cooling system is good enough to meet TDP, however. It's all dependent on how good the cooling solution is e.g. by laws of physics the Core i5 is not required to literally have a fan. While MS could have used cTDP on the Core i5, which is probably smart, it most certainly should outperform the Y-series Core i5 - otherwise, why not just use it instead? It's the same price, after all.

Yes, there's a big IF...passive cooling may work for 100% of TDP for a while or even longer, but the residual heat can affect other components in the system and therefore reducing their lives...

Plenty (small !! ) smartphones with hot parts that have shown no effect on other parts. No worries.

No comparison between smart phones and laptops/tablets. Try running Prime95 on your smart phone!

I will once MS release a phone with Win32 emulation ;)

Does not have to. There are plenty of videocards with passive cooling equal on performance active cooling videocards.

no, there isn't any....name one!

Awesome article as usual. Your attention to details in this write up got me thinking – The 2017 new i5 Y and U series are same price of $281, one can surmise that intel is telling OEM to engineer their devices optimally to gain the performance of the U series for same price as the Y series for fanless performance competitive advantage. In the case of this article, MSFT opted to pay engineering price to use the U series and make the design fanless as if though it is Y-Series SoC Imagine a company out that can sell off the shelf awesome cooling system for the U-Series to make them fanless without throttling the SoC badly, that alleviates OEM pain about development cost of such engineering feat. As you've mentioned, Intel seems to be on the path of making U series fanless possible (Device makers still have to do some work), a company capable of making an off the shelf fanless cooling system for these U-Series SoCs stand to rake in loads of greens and most improtant can help level the playing field for lots of mid to small OEMs to compete on perofrmance fanless designs.

Thanks. Interestingly, I've seen a lot of companies recently boast about proprietary engineering around cooling. Acer did it a few weeks ago with a whole spiel about their new fan tech; Huawei is doing it with their MateBook X line; MS with Surface and Asus earlier today. For now, I think companies are just doing it themselves as new metals/manufacturing abilities have come online and within reach. I just notice the trend though, they're all talking about creative cooling solutions, whereas that was never a topic before. It's like the rise of "hingeneers" for 2in1s.

Sorry, I could not resist, have you filed a patent yet for "hingeneers", I read it and laughed out very loud at work.

I'm still skeptical about the thermal performance of the SP5 core i5 version. But since Microsoft turned the Surface Pro into a rip-off (1500€ for a i5/8GB WITHOUT keyboard AND without pen? .l.) I have pretty much decided to drop the Surface brand going forward. I like my SP3 a lot but I'm not an idiot who falls into Microsoft's ripping off attempts.

Now that is not fair. Not fair that you figure this out quick, Apple fans don;t figure that out until after 5-6 years

Just do what I usually do and pick one up second hand or take advantage of the student discount. If the i5 version performs to it's capability, is completely fanless and offers improved battery life than you're missing out on a potentially great device.

This, to me, is a matter of principle, not money. I'm fortunate enough to be able to afford comfortably these gadgets BUT I don't like to be ripped off. Microsoft raised the prices and lowered the offering. This isn't offering a great product. It's about taking advantage of their existing consumers. And that I won't bite into.

Surfaces have never been about bargains, so not sure where the line was crossed. They were always aspirational/dream devices for many, but that's fine, they're not here to out price their OEM partners.

It's not about being bargains. It's the fact that Microsoft RAISED the prices and lowered the offering. Quite different. At this point there's nothing aspirational about the Surface Pro line. If their intention is to make people LEAVE Surface devices in favour of their OEM partner offers, then sure, doing this will work nicely. But I highly doubt that Microsoft is also willing to let go of a billion dollar business.

Yeah, each release has gotten progressively more expensive even though it has the same "level" internals. For instance, for me to purchase the same bracket device as I have in my surface pro 3 is $400 more, than I paid for that, without a pen.

Well, look at it this way. While this may appear on the "surface" (see what I did there?) to be a minor upgrade to the SP4, it's actually a complete rebuild. So here is what you get in the new device. > Over 800 new custom parts (per Panos at the announcement), the entire device was completely redesigned from the inside out
> Improved kickstand
> Improved speakers
> Improved battery life, bigger battery and supposedly more efficient hardware, yet the weight didn't change
> New/better processors
> Better screen, a complete redesign, more accurate, wider gamut, basically the same tech as in the Surface Studio
> Improved thermal system, some kind of new graphite technology, fanless i5, i7 supposedly no louder than 18db at max throttle
> Redesigned/improved case, helping with structure, cooling, aesthetics, etc.
> Supposedly 50% "more performance" than SP4 (per MS Store, Panos said 20% at the announcement) and 2.5x faster than SP3 (per Panos at the announcement), not sure which models they compared and not sure what they mean by performance or faster
> Backward compatible with all SP3 and SP4 peripherals (the enterprise thanks them immensely)
> Improved pen, also relies on the improved screen, and sold separately because only 30% of people use them per Microsoft
> New/improved? keyboard, but don't need to buy one if you have one already and are happy with it, I'm sticking with my SP4 keyboard that I dig quite a lot
> LTE-A coming
> Surface Dial compatible, but supposedly also coming to SP4, so not a huge deal and not all that likely of a use case for most, but it's there
> Instant on I don't know, that's a long list of improvements that I think justify a slight bump in price. Just because you can't see it doesn't mean it isn't better. Of course, we have to wait until everyone can test and use them to see if they really are better, but if that list of improvements work out as Microsoft hopes, it's going to be a great device.

See I understands where you are going from, however it's also eighteen months newer, so an expectation is that HoloLens will be improved over that time, however a person wouldn't normally expect the price to go up for a comparative level device. And inflation isn't 20% in less than two years.

Another reason is buying the surface " brand".

As an owner of the original Surface pro i paid about $1000 CAD for Intel Core i5-3317U @ 1.70GHz 4GB Ram and 128 SSD then bought a keyboard for $125 CAD and then extended battery keyboard for $200 CAD. After 4 year, If i want to buy a new Surface Pro and get double the performance, I have to pay Double the price. So $2000 CAD to upgrade CPU from 3000 benchmark points to 6000 Points. Or Buy the i5 i5-7300U for 5000 benchmark points @ $1600 CAD. May as well buy a Surface Pro 4 Used. Basicly, the price on electronics is not going down or flat, and performance is not going up at a good price performance ratio..

i5/8GB/256GB ordered. I hope it will not throttle too much...

It's still not worth me upgrading from a Pro 3 (With Pro 4 accessories) just yet - I think until this SP3 either breaks or at least another generation or two of CPUs is released. However, there's a good list of changes there. I always like to keep a device at least 3 years if I can and if it will last and perform well enough to not frustrate me I'll go all the way to 5+ years. This thing is built like a tank and I think the final straw will end up being the battery since the keyboard can just be swapped out. Similar with my 950 really the screen will have to go bad before I need to upgrade as I have multiple batteries I cycle through they should stay strong for a while longer

Great article, there's been trolls talking about how the fanless is a joke. Gonna show them this article.

This article is just assuming. Until real world performance testing is completed, we will not know what it is capable of. It is very possible that they will be thermal limited and throttle heavily, making performance very inconsistent.

You're just assuming too. For now we know it's a fanless Core i5 U series CPU in the new Surface Pro. Fact. My guess is you just have to make another negative posting don't you.

Not meaning to be negative, but this article has no solid information regarding performance. Just wanted to make the point that this article doesn't prove anything and the OP can't use it in the way he claims. I am skeptical though. Passive cooling isn't known for its high performance characteristics. I hope Microsoft figured it out though. It is annoying​ when the fan in my SP3 spins up.

"This article is just assuming. "

The original inspiration for this article were people saying "This is just a Core-M processor, not a real Core i5". That was my only goal to show that no, that is not correct. As to the cTDP and real world benchmarks my hunch is this is still going to be faster than a Y-Series and will do quite well. Whether it throttles or has lower turbo remains to be seen as I point that out specifically.

I'm really interested to see how it pans out. I won't be buying as the Pro 3 I have is running fine as it did when I got it still and the HP Spectre 13 (Laptop, not x360) is a gorgeous laptop and still a new purchase. I think it will have to perform at least as well as the previous i5 Pro 4 or they wouldn't have opted for making it fanless - I hope and assume it will definitely be faster than the Y-Series, I think they are 7.5w and performance is lacking compared to what people will be used to if they bought other premium 2-in-1 devices in the past.

I pre-ordered the i5 8gb model. After endless issues with the fan on the i7 Pro3 I decided to go fanless

Just to throw it out there the I5 in the Surface Pro 3 has a base of 1.9Ghz and 2.5Ghz turbo.

There is no way Microsoft can dissipate the full 15W in a tablet chassis like the Surface with passive cooling. Therefore, very few options are available. Either the CPU is setup to operate at its lowest TDP at 7.5W with the associated reduction in performance or, which is unlikely, they rely heavily on throttling with a similar penalty. I just can wait to see the real-life performance measurments of this model.

That's fine, my point is that even if using cTDP even a 7.5W chip is better than a Y-Series 4.5W. It's really that simple. It's still not a Y-series chip, which has a worse reputation amongst enthusiasts. I just wanted to dispel that idea that Microsoft just did a fake "ta da!" here.

Daniel, My intervention was not directed at your comment in any way but was rather a general observation. I do agree with you that, at the same price level, Microsoft did a better choice of putting the U-version even if this means they have to choke it down a bit. This is in fact a way better decision than using the m3 in the Pro 4 version when the m5 was the same price. They probably just wanted to keep a "safe distance" with the i5 version at the time. Nice article BTW.

Better? In terms of performance - yes I guess (I don't know anything serious on the matter so...). But what about battery life? Since the Y-series use less power (and have lower base frequency), don't they use less battery than the U-series? Or do the U-series consume more battery only because (in general) they are associated with a fan and it is actually the fan that consumes battery (and reduces the space available for the battery as you mention) - but if you remove the fan the battery life between i5-Y and i5-U is the same? I've been wondering for a while why more manufacturers are not using the Y-series for their 2-in-1 (and potentially thin convertibles) if it allows for more stamina, with a performance on par with the U-series, at least for short-ish bursts? It seems to me that for many people a 2-in1 will not be used for intensive tasks or at least not for intensive and long tasks (I am not talking about the people on this website but the freelance or mid-level manager that you see with their Surface in coffee shops and nice hotels everywhere in the UK ;) )

Just to share some points:
-there are many reports that core M3 in Surface Pro 4 did not have more battery life than the core i5. I don't know why sms this may change in the New Surface Pro. Let's wait and see.
.
-Core M is not popular. That's why intel rebranded it as Y series.

I have a Dell Inspiron 2 in 1 with a Skylake Core m3 and it runs fantastic. I can't run games like GOW 4 on it, but games like Halo Wars: DE and Phantom Dust run great.

Just ordered an i5, 8gb Surface Pro to replace my Surface Pro 1.

Curious how the new version compares to the SP3 series. I didn't upgrade to SP4 because it didn't seem like the performance increase was worth it.

Just going off of Microsoft marketing speak (Panos at the announcement and the Surface Pro "buy me" site), the Surface Pro should be 2.5x faster than the SP3. I don't know which models they compared or what they mean by faster, but either way it should be materially faster.

Daniel, Intel states they have imporved the manufacturing process for Kaby Lake chips. Something about increased strain. If a KabyLake CPU is rated at 15 watts does that mean it produces the same amount of heat as a 15 watt Skylake CPU? Also, KabyLake has other improvements, especially the processing of video. Something about codex. I think it more easily process 4K video, which reduces power consumption.

Have to say Daniel, great and very informative article. Pacing and information was spot-on. Not too much, not too less.

Very interesting. Yes there were a number of concerns from prominent Microsoft Journo's that this might be a heavily throttled experience..which would not have been good. This certainly sheds light on the situation, so looking forward to Windows Centrals review just to be sure.

Per the announcement they have some kind of new graphite based cooling system. A quick interweb search turned up "annealed pyrolytic graphite" and other variants of the term. Some of the links date back to 2007. I'm sure a deeper search would turn up things older than that. I'm just guessing, but Microsoft probably spent some time tweaking this tech. A quote from one article:

Researchers are sandwiching a material they call K-Core Annealed Pyrolytic Graphite in between layers of aluminium and other metals to create a heatsink with a thermal conductivity of up to 1092W/mK in certain situations. It is not as simple as doping a heatsink with this new material though, it is only efficient at moving heat horizontally.

That moving heat horizontally thing would be ideal for a device like the Surface Pro. So it's likely they are using this type of cooling tech or some variation thereof.

Daniel, that was another awesome educational article. Please keep writing more of these.

Nice primer, Daniel. Thanks. As you concluded at the end, the key will really be how it handles load with only the passive cooling solution. I'd hope MS has it figured out, but I'm waiting on actual tests to determine that.

Acer has been selling liquid cooled 2-in-1 computers for months now. I'm typing this comment on one, the Acer Switch Alpha 12. It runs a Skylake Core i7 6500U.

Yes, I don't get why everyone thinks the fanless design will be terrible. Acer's Switch Alpha 12 last generation is fanless for i5 and i7 and in all the reviews on it, there was no drop in performance or throttling. They are using liquid cooling, so not sure if that plays into what Microsoft is doing or not, but fanless is already proven to work fine. Panay said Microsoft was the first to do fanless during the announcement and that wasn't true.

i really tried to read this piece, but zzzzzzzzzzzzzzzzzzzzzzzzzzzzzzzzz

Great article Daniel! This answered quite a few questions I had about it all. If you'd have the time, it'd be really nice and helpful to have an article about how the new fanless Surface Pro i5 8GB compares the i7 8GB one. It'd be really nice to know if there's actual noticeable performance difference that would justify the extra $ paid on it :)

Indeed some amazing engeeering for a full flegded fanless cor i5 in the upcoming surface pro "5". I agree.
My current device is still a first gen surface pro core i5 3370U. Curious to know and see the diffences in perfomance and experience between both devices. Exciting! Any shared thoughts appreciated.

still looks like an HVAC cassette unit from the back

I still want GPS on these devices

Hey Daniel
Is it the i5 vPro or the usual i5?

It's the new i5-7300U I believe, yes it seems to be a vpro: https://www.intel.com/content/www/us/en/products/processors/core/core-vp.... I have no idea what that means though!

Is there a difference or is it just; Look, I have the vPro , Pro, Proooooo
😂

Is there a difference or is it just; Look, I have the vPro , Pro, Proooooo
😂

Is there a difference or is it just; Look, I have the vPro , Pro, Proooooo
Windows Central Newsletter
Get the best of Windows Central in in your inbox, every day!
Thank you for signing up to Windows Central. You will receive a verification email shortly.
There was a problem. Please refresh the page and try again.