Why the new Surface Pro's fanless Core i5 is both a serious processor and a great option
The new fanless Core i5 Surface Pro has a real dual-core processor in it. Let's break down why this is a not a Core-M marketing ploy.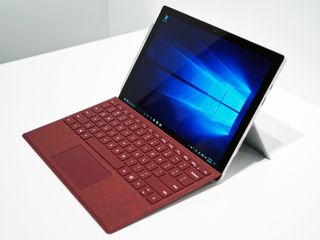 Microsoft's recent announcement of the refreshed Surface Pro (2017) is resulting in plenty of discussions – and some confusion – about all the changes for this year. With over 800 new custom parts and updated internal hardware which is the best Surface Pro for you can be a complicated decision.
One area of misunderstanding that I have noticed amongst potential buyers is the new "fanless" Intel Core i5 model. Starting at $999 (4GB and 128GB storage) and going up to $1,299 (8GB and 256GB of storage) the super quiet Surface Pro appears to be the best bet for your average consumer.
But is that Core i5 a "real" processor or just a renamed Core M? Let's dive deeper though into Intel's confusing chip strategy and what it means for new buyers.
Core M is not really a thing anymore
What is Intel Core M? For the last few years, Intel has been promoting Core M chips for ultraportable laptops and tablets as an ideal filler between anemic Intel Atom and Pentium brands and the full-fledged dual-core Core i-series processors.
The main benefit of Core M were the fanless designs perfect for tablets where venting and active cooling were not preferred. Not only do fans make noise and drain the battery they also take up precious internal space that could be used for more battery (or an LTE modem).
Intel Core M started in late 2014 with the 5th generation of Intel Y-series processors codenamed "Broadwell." The models ranged from Core M-5Y10 through Core M-5Y71 hence why people called them "Core M" (even though Intel technically classified them as Y-series).
For the 6th generation – a.k.a. "Skylake" the naming shifted with Core m3-6Y30, Core m5-6Y54/57, and Core m7-6Y75 with varying base and turbo frequencies mirroring the Core i3 ("m3"), i5 ("m5"), and i7 ("m7") trajectory.
The Intel branding transformed again for late 2016 with the 7th generation Intel "Kaby Lake" line. Those chips – previously known as Core m5 and Core m7's – were put under the Core i5 and i7 categories, but with a twist. Now called just Y-series you can identify this processor by the "Y" in its model number e.g. Intel Core i5-7Y54 versus the U-Series Intel Core i5-7300U.
The U-series are standard dual-core processors found in Ultrabook laptops like the Dell XPS 13 and HP Spectre x360.
As is, there are only Core m3 chips now for 2017 like Core m3-7Y30 and m3-7Y32.
Yes, it's all super confusing. However, as the Y-Series and thermals improved the differences between it and U-Series became minimized.
What makes a Core-M or Y-Series chip
So, what is the difference between Y- and U-Series Intel chips anyway? It's quite simple. Y-series have a lower thermal design power (TDP) at 4.5 watts versus the 15 watts of a U-series chip.
In layman's terms, a Y-series chip draws half the power and as a result gets about half the speed. A Core i5-7Y54 (Y-series) has a base frequency of 1.20 GHz versus a Core i5-6300U's 2.40GHz. Max turbo frequency, however, can still peak at or past 3.0GHz giving Y-series the ability to boost to high-end speeds found in the U-series temporarily. That's why Y-series feel fast – they are. However, Y-series processors draw less power, and thus, run cooler compared to U-series ones. That is why manufacturers can now design devices without fans.
Ironically, however, since they are all the same design and architecture the Y-series ($281) are not cheaper compared to U-series (also $281 per chip). This cost versus performance issue is a problem I have noted before as Y-series processors are still expensive even compared to high-end ARM ones like Qualcomm's Snapdragon 835.
By comparison, a high-end ARM chip found in a smartphone is estimated to be around $75 per chip while delivering performance approaching Intel's x86 lineup. That is why Windows 10 on ARM - coming later this year - is such a big deal.
Companies still use Intel Atom because while weak they only cost between $47 and $63 per chip. That's a huge drop compared to Intel Y- and U-series at $281.
Intel 2nd Generation Compute Stick with Core m5: is it worth $500?
To the point: Y-series draw less power, run cooler, but deliver excellent performance. They give PC manufacturers an option to make fanless designs for the first time while still giving much better performance than cheap Intel Atom and Pentium brands.
Surface Pro uses U-series for Core i5
All this preamble brings us to the new Surface Pro for 2017. The Core i5 version, which is fanless is running a Core i5-7300U processor. It falls under the Intel U-series with a TDP draw of 15W. Its base frequency is 2.60GHz with a max turbo ceiling of 3.50Ghz.
Folks, that's a full dual-core processor found in many Ultrabook laptops. The Y-series variant would be a Core i5-7Y54 – again, note the "Y" – with a base frequency of 1.20GHz and turbo boost to 3.20 GHz while running at 4.5W TDP. That's not in the new Surface Pro.
In other words, Microsoft did cram an authentic Core i5 processor into the new Surface Pro, but they also made it fanless through proprietary passive cooling. The result is a full dual-core processor that makes no noise and stays cool to the touch.
This not a clever marketing ploy just solid engineering from the Surface team.
Microsoft is not the first to do this either. Huawei's new MateBook X laptop also achieves this with a Core i5 (7200U) and a Core i7 (7500U) too - again, neither are Y-Series chips. Intel's new chips just run cooler so manufacturers can produce innovative designs.
Getting back to the new Surface Pro the Core i5-7300U even compares favorably to the Surface Pro 4's Core i7-6605U from 2015:
Surface Pro's new Core i5 takes on old Core i7
Swipe to scroll horizontally
| Category | Surface Pro (2017) | Surface Pro 4 |
| --- | --- | --- |
| Processor | Core i5 (new) | Core i7 (old) |
| Number of Cores | 2 | 2 |
| Number of Threads | 4 | 4 |
| TDP | 15 W | 15 W |
| Base Frequency | 2.60 GHz | 2.20 GHz |
| Max Turbo Frequency | 3.50 GHz | 3.40 GHz |
| Cache | 3 MB SmartCache | 4MB SmartCache |
| Graphics | Intel HD 620 | Intel Iris Graphics 540 |
In theory, that means the new Surface Pro (2017) with a Core i5 should slightly outperform the Surface Pro 4's Core i7. That's mighty impressive, but caution needs to be taken because we don't know how Microsoft configured the Core i5 for TDP (it's variable) nor if the processor throttles under excessive CPU loads – both of which could affect its performance.
There's currently no reason, however, to believe Microsoft has gimped the Core i5-7300U in the new Surface Pro, but we do need to test it.
Surface Pro (2017) Processor Lineup
Swipe to scroll horizontally
| Category | m3-7Y30 | i5-7300U | i7-7600U |
| --- | --- | --- | --- |
| Number of Cores | 2 | 2 | 2 |
| Number of Threads | 4 | 4 | 4 |
| TDP | 4.5 W | 15 W | 15 W |
| Base Frequency | 1.00 GHz | 2.60 GHz | 2.50 GHz |
| Max Turbo Frequency | 2.60 GHz | 3.50 GHz | 4.00 GHz |
| Cache | 4MB SmartCache | 3 MB SmartCache | 4MB SmartCache |
| GPU | HD Graphics 615 | HD Graphics 620 | Iris Plus Graphics 640 |
Finally, it should be noted that the entry-level Surface Pro (2017) does use a Y-series chip with the Core m3-7Y30. That chip's TDP is just 4.5 watts, and it has a base frequency of 1.00 GHz and max turbo to 2.60 GHz. It is directly comparable to the Surface Pro 4's Core m3, but slightly improved and still fanless as well. I use the Core m3 Surface Pro 4 myself and find the experience more than satisfactory.
The bottom line
For 2017, Microsoft's new Surface Pro is the sum of its parts, and so far, it looks outstanding. As you would expect from a generational shift in technology this version's mid-range should compete with the previous generation's high-end variant. And that's what the numbers tell us.
Which processor is best for you depends on your specific needs. On paper, at least, the new Core i5-7300U should be quite the performer competing with an older Core i7, but it's now fanless. That's super impressive and why so many of us are excited about that model.
For most people, the $1,299 Surface Pro (2017) with a Core i5, 8GB of RAM, and 256GB of storage should be the sweet spot between performance and cost. Unfortunately, if you want 16GB of RAM or 512GB of storage, you must jump to the Core i7 level – both of which dramatically increase the overall price. Additionally, you need to add in the cost of the Surface Type Cover ($159) and optional Surface Pen ($99).
Even if you are not interested in the new Surface Pro, there is a lesson here. Heading into 2018 you will see more "ultra" class laptops and tablets delivering full Intel dual-core experiences that are authentically fanless. The technology is now getting to the point where such designs can be made without compromise, and that is very exciting.
Preorder the Surface Pro on the Windows Store (opens in new tab)
Related Surface Pro stories
Daniel Rubino is the Editor-in-chief of Windows Central, head reviewer, podcast co-host, and analyst. He has been here covering Microsoft since 2007 when this site was called WMExperts (and later Windows Phone Central). His interests include Windows, Microsoft Surface, laptops, next-gen computing, and for some reason, watches. Before all this tech stuff, he worked on a Ph.D. in linguistics and ran the projectors at movie theaters, which has done absolutely nothing for his career.
Great article! It's really impressive what the folks at Microsoft are engineering into the Surface line. Not just looks. They know what they're doing, and they come up with new ways to push the envelope.

Yeah, a really nice article!! Good read! 🙂 Thanks Daniel! 😁
I just hope that the SP (2017) Core i5 doesn't throttle speeds too much to reduce heat, like Daniel mentioned. That would really piss people off.
.
But with the confidence they've made this product and even announced it so very nicely (Panos Panay 😉 ), I'm sure this will do just fine.

I think this is most likely the reason new Insider updates have performance settings slider on taskbar (battery icon).

Of course it throttles heavily. It has to. It is 15W TDP CPU, which needs to keep its power well below 10W. Therefore the conclusion, that the Surface Pros Core i5 (at possibly 6-7W TDP) compares favourably against Surface Pros i7 (at 15W TDP) is just ill-founded.

I'd say "remains to be seen" as we don't know the TDP yet. Either way, since I'll have both at some point I'll do proper benchmarks.

The fanless i5 is the most impressive thing about the new model for me personally (If they pull it off well) If it throttles anything like the i7 Surface Pro 3 then it will be a problem. Had this thing for a few years and it's fantastic they fit so much power into a slim device but it can just grind to a hault at times

The engineering team on Microsoft really is impressive. Their marketing, however, is as crappy as ever. If it were Apple, they'd be marketing the hell out of it!

It would have been nice for you to include Iris graphics in the discussion when comparing i5 to i7. I'm assuming Iris would make quite a difference for things like Adobe CC.

I mention Iris Graphics in the CPU lineup for Surface Pro 2017. However, that chip is still very new and it's not clear how much better it will be at this time. All we can say is it's there. It just seems to have a slightly higher clock speed than normal HD 620, but that's always on par with Iris including the "Kaby Lake" Iris. Either way, at least for this article, I wanted to focus on (a) Core i5 is a 'real' Core i5 and (b) how it should perform better than last gen's Core i7. I'll look into doing a deeper dive into new Core i7/Iris Plus at some point.

Daniel, have you reviewed the fanless Matebook X? Would be really interesting to see, how it handles AIDA 64 stress tests.

Not yet, but will in June as review units become available. We're in touch with them to do so, because yeah, lots of questions there re: thermals.

Thanks man!! You're the best