Intel 2nd Generation Compute Stick with Core m5: is it worth $500?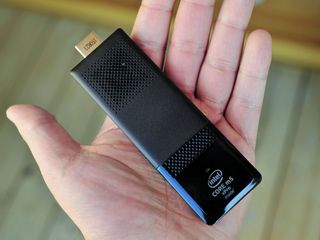 Intel's Atom processors have mixed reviews from users and come woefully underpowered for many users, but they are cheap. Intel's Skylake Core M line, however, can run circles around Atom but at a hefty price.
What happens when you toss a Skylake Core m5 processor into a Compute Stick? You get a satisfying Windows 10 experience but with a big hit on your wallet.
Here is my review of the Intel 2nd Generation Compute Stick with Intel Core m5 vPro processor (BLKSTK2mv64CC).
Why Intel Core M and at what cost?
When we took a look at the Kangaroo Mobile Desktop Pro we saw a $200 portable PC that's an upgrade upgrade from the $99 version thanks to its proficient dock. The ability to run it anywhere was a lot of fun, but I had an issue with it: the Intel Atom x5-Z8500 processor. Sure, it worked, but the experience was definitely on the slow side.
However, I reasoned that InFocus did not have much choice in the matter. Had they thrown in 4GB of RAM (instead of 2GB) and opted for an Intel Core M processor it would have driven the price way up.
Lucky for me, Intel proved my point.
Intel's new 2nd Generation Compute Stick is now shipping, and it comes with a Core m3 or Core m5 processor and 4GB of RAM. Additionally, you get 64GB of eMMC Flash Storage, doubling the 32GB of the Kangaroo, but boy does the price go up.
Instead of the $99 Kangaroo with an Atom you are now hitting $420 for the Core m3 and $508 for the Core m5, both with 4GB of RAM. Intel's recommend price for Atom processor is just $27 while the Core M is ten times the cost at $281.
And folks, that does not include Windows 10! If you want a Windows 10 Pro license, you are talking about another $199. (However, the Core m3 version, which retails for $420 does come with Windows 10, for whatever reason, making it a much better value).
That means a fully spec'd new Compute Stick with a Core m5 will run you $708.
Do you now see the value in Intel Atom and what Kangaroo are doing? Likewise, Intel themselves sell a 2nd Generation Compute Stick with Intel Atom x5 for $144 and that comes with Windows 10.
But hey, modern computing and being cutting edge is not always about value. Apple has proven that. So, how is a $700 computer that fits in your hand? Let's find out.
What you get for $500
The specs of the 2nd Generation Intel Compute Stick are a substantial upgrade from the Atom versions. In fact, it's a good bet you'll like what you see:
Swipe to scroll horizontally
Category
Intel 2nd Gen Compute Stick
CPU
Intel Core m5-6Y57 vPro
1.1GHz (burst 1.51GHz)
64-bit
RAM
4 GB
DDR3 1866 MHz dual channel
Graphics
Intel HD 515
Storage
64 GB eMMC
Expansion
micro SD
USB 3.0
1x on device
2x on Power Adapter
Wireless
Intel Dual Band Wireless AC 8260
Bluetooth 4.2
HDMI Out
Yes
Audio Out
Intel HD Audio3 via HDMI
Power
5V DC via USB Type C
Weight
13.4 ounces
When compared to the $200 InFocus Kangaroo Mobile Desktop Pro, however, you lose the following:
No VGA out
No Ethernet
No fingerprint reader for Windows Hello
No HDD bay
No built-in battery
Granted, with 3x USB 3.0 ports you can do a lot to make up for those missing options. For instance, I used a simple USB-to-Ethernet adapter to solve that issue. I was also able to add a Microsoft Bluetooth keyboard and mouse (Ergonomic Desktop series (opens in new tab)) and use an Xbox Controller all at the same time. VGA ports are increasingly rare, especially when HDMI here can do video and digital audio. And while there is no built in battery, the Intel Compute Stick is significantly smaller than the Kangaroo.
The AC adapter for the Intel Computer Stick is on the large side, but it does include 2 out of 3 of those USB 3.0 ports. I also like how this device is powered by USB Type C, which is the future of physical connections.
Finally, the extra 32GB of internal storage goes a long way, leaving around 50GB free after installing Windows — it certainly gives some breathing room for larger apps, media, and even games.
Performance
It should be obvious, but the Intel Compute Stick with Core m5 is significantly stronger than the Intel Atom. Here is a breakdown between the two:
With the Core M, you are getting Hyperthreading, double the cache, Turbo Burst 2.0, and a much more powerful GPU. The Core M chip also gets you dynamic frequency scaling, which gives you max performance when needed. For enterprise users, you also pick up Trusted Execution Technology (TXT), and Intel Active Management Technology (AMT).
Toss in the extra 2GB of RAM and the Core M quickly comes across as the champ in GeekBench benchmarks.
Regarding real world performance, a Core m5 just feels like a modern computer while Atom feels like you are sacrificing. With the Intel Compute Stick, I could easily place Halo: Spartan Strike, or my favorite Pinball FX2 for Windows 10 with no lag or stutter. Part of that is just because the Core m5 has a real GPU on it — that also means you can better handle 4K displays too.
Image 1 of 2
I have a few Skylake Core M devices (Samsung Galaxy Tab Pro S, Surface Pro 4), and I am a huge fan of their performance combined with small footprint and fanless designs. This Intel 2nd generation Compute Stick is no different.
Who is this for and why?
Compute Sticks are both a fascinating and yet odd device category. Obviously, you do not get a keyboard, mouse or even a display with them, making them of less value than a tablet or laptop. That trade-off is usually offset by the lower cost, as is the case with the Intel Atom Compute Stick for $144.
However, any value proposition is now lost with the Core m5 version tested here. At $700 (with a Windows 10 Pro license) most consumers would rather invest in a desktop, laptop, or two-in-one, and with good reason. That leaves a very narrow market for the Intel 2nd Generation Compute stick.
Nonetheless, there are various scenarios where having such a device could make sense. For those tight on space, nothing beats having your full PC being the size of a smartphone and you can re-use your existing TV to double as the display.
For travel, it could make sense as well. Your hotel room TV is now a 40-inch screen, and you have your full PC with you at all times. That latter case made less sense with an Atom chipset as some significant performance trade-offs would prevent you from wanting to run more serious Win32 applications. However, with 4GB of RAM and a Core m5 processor all of a sudden you really can think of this as a full PC in your hand.
You still need to solve the problem of input i.e. bringing portable mouse and keyboard, but there are quite a few options on the market today that make this easy. For instance, I use a Logitech T650 Trackpad with an Inateck Bluetooth keyboard. Both are light and very thin, and when combined with the Compute Stick you are talking about something lighter than any Ultrabook.
What about when you are on the plane? My hunch is that dummy terminals like the NexDock ($129) could help in those cases. Just plug the Compute Stick in via a mini HDMI adapter and power it through the USB. We're also likely to see other solutions from different companies to offer more features or nicer displays as well.
So, I suppose that is your answer to the question the Intel Computer Stick poses: professionals who want one computer to take with them wherever all the time. Saying that before with an Intel Atom device was doable for some, but not preferred. With the more powerful Intel Core m5 (or m3), HD 515 graphics, and 4GB of RAM and you can now seriously consider using a Compute Stick all the time.
Final Thoughts
Putting aside the $500-600 difference in price between the Core m5 Compute Stick and similar Atom solutions, I have to give a big thumbs up to Intel. The Skylake Core M processor finally lets you attain reliable laptop-level speeds in something that fits in your palm.
With three USB 3.0 ports you have a lot of options for expansion, including dock devices that add Ethernet and even more ports for hard drives, USB drives, Xbox controllers, and more. The built-in Wi-Fi performs exceptionally well and the Bluetooth 4.2 (which adds increased security and up to 2.5 times the speed of Bluetooth 4.1) future proofs your Compute Stick for years to come.
Really, the only thing you can ding the Intel 2nd Generation Compute Stick with Intel Core m5 vPro is the price, which I have mentioned half a dozen times already. But if $420 or $700 is no big thing to you and you want to set up a respectable PC anywhere in your house, or maybe use it as your primary PC, then it is something worth taking a look at.
The big lesson learned here is that Intel desperately needs something more powerful than their Atom line of processors that is also cheaper than their Core M series. Frankly, there should not be a $200 gap between the two lines of processors and Intel's recent woes with mobile computing (and cutbacks to Atom) reflect that. The problem is that Core M, while super respectable for performance, is priced nearly the same to their Core i line. In fact, the Core m5-6Y57 used here retails for the same price as the new Core i5-6300U found in the Surface Pro 4: $281. That's a problem when your Atom chip is just $27. There's got to be some sort of in-between space.
But hey, if money is not a concern and portability is, then the Intel 2nd Generation Compute Stick with Intel Core m5 vPro (BLKSTK2mv64CC) is one of the most interesting things to happen to modern computing. I know I plan to throw it in my suitcase when I travel, and I am sure others will consider the same.
Pros:
A real PC for anywhere
Ideal CPU perfomance
Intel HD 515 GPU
3x USB 3.0 ports
Cons:
Very expensive
Still need peripherals
One last note: The Core m3 version of this Compute Stick does ship with Windows 10 installed and retails for around $420, making it a much better value. The rest of the specs are similar to the Core m5 version.
Windows Central Newsletter
Get the best of Windows Central in in your inbox, every day!
Daniel Rubino is the Editor-in-chief of Windows Central, head reviewer, podcast co-host, and analyst. He has been covering Microsoft since 2007 when this site was called WMExperts (and later Windows Phone Central). His interests include Windows, laptops, next-gen computing, and for some reason, watches. Before all this tech stuff, he worked on a Ph.D. in linguistics, watched people sleep (for medical purposes!), and ran the projectors at movie theaters because it was fun.
Still kind of blows my mind you can have a whole PC, and a good one at that, that fits in your hand in 2016.

Happen to have a way of measuring power consumption? That would be a curious stat

Agreed! The whole idea of a portable full computer is amazing! I do wonder though if the idea behind Continuum on phones is encroaching on the market for devices like these. Although nowhere near the same since Continuum doesn't run Win32, but still the idea is the same.

With the upcoming Connect app, you could have this device acting as a Continuum receiver. So instead of encroaching on each other they could supplement each other. My initial testing has been spotty, but hopefully they can get it to perform better.

Excellent review and a really interesting device, but I have a question: You said that performance on the m5 is good, but what about the m3? Is it worth the extra money (compared to the atom version) when it comes to perfomance?

From the stats I saw they are very close. You get a higher top speed with the m5, but honestly, if this were my money I would skip the m5 and go for the m3 unless you really need it and plan to use it a lot.

Oh, and did they really tone down the Turbo from 2.8 to 1.51? http://ark.intel.com/products/88197/Intel-Core-m5-6Y57-Processor-4M-Cach...

You know, I had that question and I think they did, but I didn't fully test the top-end speed. I know OEMs can fine tune Core M a lot for TDP, which is why it's such a neat line, but I can't say for sure in this case. Will look into it.

If so, that is quite a hit. Almost like you shouldn't even call it the same processor name. Heck, why not take the base clock down further as well as the turbo, fork the development and marketing, call it an Atom. You might have a mobile viable chip.. hmm.

Technically it is still a Core M processor despite the low clock. Objectively looking at the performance @1.5GHz it turns out to be slower than recent ARM processors like Snapdragon 820, which you find in phones. It is still faster than the Atoms (Cherrytrail).

Yes, I'm aware of the differences between the marketing names and functionality of Atom vs M.. Just trying to read the tea leaves of Intel's next move in mobility.

Yeah, i was just surprised at your suggestion to clock it down even further. What you end up would be just a bad performing expensive SoC. Not cure if i would call this viable mobile strategy. Heck, already at 1.5GHz max turbo clock like in this compute stick you would not want to put this into an high end phone.

My thouthg, too. It's amazing, actually.

Like you said, the price is a barrier. Looking at a niche market.

Seen this on my favorite tech e-tailer last fall sadly didn't give much info on what it was

Dan, just imagine if you can have a whole pc on size of Cell Phone... 6" surface phone!!! why not? if Microsoft want to really push windows phone this the way with Core M, I'm not a IT, but why not...

This wouldn't be so big of a deal if Intel and ARM were on even ground.

the m5 variant seems awesome until you have to pay for a copy of windows.... I'll just continue to use miracast from my Surface Pro 2.

That's why I say the m3 is the better deal here and it's still way better than an Atom device.

This is a wild wild west thought. Do you think the m3 could be packaged for a phone? and if so, what do you think of huge ram surface phone with big time continuum and solid ability for win32App proposition will look like? (Its ok if you want to refer to it as Phone PC, I promise not to hold it against you or me for that matter)

This seems like an interesting proposition for use scenarios like mine. I use a full blown desktop to watch things in a non-smart LED TV. The specs sound quite competitive, and frankly one doesn't want lagging performance for any case. In any case, it's cheaper than an m5 Surface Pro 4 (at 800 up, and despite being totally different use scenarios), which it's good to know because I thought the m5 wasn't a good enough processor.


I'm gonna say it: i love the m3 and m5. I use them a lot and for moderate computing needs, they are solid chips. I mean, if you compile, heavy processing, or gaming, sure you will want a quad-core Core i7, but regular folks with light computing needs will love the performance of the Core M.

Yeah, it's nice to hear because I was planning on getting the lowest SP4 because I'd use it for basic browsing and media play, while also I want it not to be too basic. Thanks!

The power envelope isn't that much worse than the Atom. Maybe we will still see an x86 phone some day.

Any idea why Intel doesn't include Windows 10 in the M5, Daniel? Doesn't seem to make much sense.
On a positive note, the future is really here. So much power in a device this small is truly remarkable.

I'm not sure, really. It's the only one that is like that AFAIK.

Well Linux users wouldn't be paying for Windows. Doesn't make sense to pay for something you won't use. I bet Linux would be great on the PC stick. Posted via the Windows Central App for Android

Bit late to respond but in case you were still wondering I think this is because the m5 (with vPro) is aimed at businesses, medical terminals and PoS systems. Those businesses are likely to have enterprise agreements with Microsoft so don't need to buy it with a license.

Although one can compromise on a processor, 4 GB RAM is the least one can expect from computers nowadays.

Intell does need to find something inbetween Atom and CoreM. X86 tablet markets and things like this compute stick are going to die without a cheaper CPU solution.

what about the intel Celeron line? I still see random laptops at retailers with those

We've always had a small/medium form factor Windows PC's under our televisions because we just hated the limited, under-powered smart tv's and set-top box performance. While we didn't like the space it consumes there were no replacements. This changes a lot and think I'm finally going to purchase one of these Intel sticks.

You can get Intel NUC or Dell Optiplex 3020 Micro. They are faster than these and still small size.

I really like the idea of a portable computer which you could dock somewhere and get your work done and contains all the computing power you need in one package (no need for docking stations with extra chips/gpu etc). But couldn't Intel have gone further and made this into an Ultra-Mobile PC (UMPC)?, so you could at least use it like a smartphone when you are away from the desk.

I do think that is where all of this is going and why Jason Ward and I keep mentioning mobile and modular computing. We are at (or very close) to that point today and I think we're going to continue to see this exploration into smaller, but very powerful, PC form factors. Regarding UMPC, part of this Intel Compute Stick initiative is as a platform demonstration. Surely Samsung, HP, Lenovo, etc. could take this stuff and run with it. With Windows 10 being so flexible, my hunch is we'll see some really interesting hardware in the next year or two.

Yeah, really if you stick a battery next to it and a touchscreen on top of it, you could almost make one yourself with some duct tape. Call it "Surface Phone-Amateur Edition." Posted via the Windows Central App for Android

I want this chip in a Surface 4! (same size as surface 3)

You and me both. I think, however, the Core M price is the sticking point, which is why Surface 3 uses Atom. Surface Pro 4 already use Core M in the low-end version (and I like it there too). So the only thing a Surface 4 could reduce costs on would be screen size and I'm not sure the differentiation play is there as the pricing would be similar.

You might be right. I personally would be willing to pay $600 for it in that form factor. The surface pro is just a little to big for comfortable tablet reading.

I really like the idea of a portable computer which you could dock somewhere and get your work done and contains all the computing power you need in one package (no need for docking stations with extra chips/gpu etc). But couldn't Intel have gone further and made this into an Ultra-Mobile PC (UMPC)?, so you could at least use it like a smartphone when you are away from the desk.

Sweet! They have all the min specs figured out now!
If we can get the price down to $300 w/o Windows then we will be talking about something that could easily replace my wife's PC.
Still sad that Atom is being killed off. The last gen Atom chips finally had some decent CPU performance and just needed help in the GPU department. Would have been interesting to see Atom paired with a decent GPU to keep the price down. But in a few years CoreM will come down in price.

Not all Atoms were killed off, there will still be Goldmont aka Apollo Lake for PC, tablets and two-in-ones. Just Broxton and Sofia were cancelled, which affects smartphones.

This is not really a review, this is more like a spec-sheet commentary. Can you please have your reviews include actual usage experience that matters, such as connectivity reliability (wifi, usb, display, bluetooth, sdcard), real-world performance on applications and games, how it compares and improves on previous model's issues. Yes, this will require someone using the product and ideally living with it for preferrably longer than one week (every product the first week, or month, is amazing. After that, you get to see the real quirks and weaknesses).

Looking at the size of these things in Daniels hands (more significant if he is a small guy to begin with, lol) begs the question. ..why can't they put the guts of this thing (win10 and software included) into a smartphone? Yes...I said "smartphone" and I'm sticking with it until WC puts me on the payroll and orders me to call it something else!!

Yes, exactly, why can't they just add a screen to the device and make a pocket pc? And add a gsm receiver and we have a smart phone...

I do wish someone was brave enough to launch an M3 phone that admittedly would be a bit porkier than the current line of sexies. And whoever released it should absolutely be unapologetic about battery life. Get me 4 hours of real use. That would cover all my standing in the middle of nowhere time frame. Otherwise I am at my desk, in my vehicle, or at home. All places I would gladly tether for juice. It would be the first REAL phone that can replace your desktop, laptop, tablet, phone. And no reason to try to be cheap either. It would be a niche market and can demand niche pricing.

You theoretically could, but there is likely little market for it. How many peopel want a Windows 10 PC running on a phone for north of $800? It would run really hot, be pretty bulky, and have horrendous battery life. I'm sure it's quite possible, but also quite pricey and not an easily marketed (or adopted) device. Too much R&D to develop a highly niche product. Someone with the desire and know-how could probably take the Atom-based one, crack it open, and transfer its guts into an old smartphone, if that person so desired.

You theoretically could, but there is likely little market for it. Yep! "niche" How many peopel want a Windows 10 PC running on a phone for north of $800? First of all, the world has proven folks will pay more than $6 - 700.00 for a phone that does the SAME exact thing their last phone did. And honestly, there are LOTS of folks around here dreaming of a phone that runs W10 and supports x86 (64bit packed with more than 3 gigs of ram too) It would run really hot, be pretty bulky, and have horrendous battery life. No reason to run hotter than the current Snapdragon power-chips when getting pushed hard. And yea, I do expect it to be porkier than the slim beauty-queens we have now. As for battery life, I stated 4 hours would be enough for me. :)

I'm with you on this Snake. To be able to run x86 programs from your phone or from a docked phone would be worth it for more than $800. How much would a similar specced Surface Pro sell for?
As for battery life I'm in and out of my car all day and my 950xl basically stays on the charger, while USB-C has made plugging it to my car charger that much more convenient than a microusb. At home, it's on the charger except when I'm browsing on it or using the phone. If it's start to run low on juice, how long would it take to charge on USB-C? I'm sure they could make battery life on this as long as my laptop battery life, or maybe more. And would still be not as bulky as the laptop. Might be as bulky as the first Motorola analog cell phones, lol, but still worth it. If this existed, I could say bye bye to the laptop and tablet. Would probably still have a desktop though. Heat issues might be the only thing that might make me hesitate.

A similarly specced Surface Pro 4 would involve a larger chassis and display, along with likely more internal storage and room to cool the device better. The Core m3 SP4 is $900, by the way. You might not get the same Core m3 chip in a phone (not all Core i5s are created equal, for example) that you get in a tablet, and as this Compute Stick shows, you pay extra as you shrink the device more and more.

I think you missed the point. It's that W10 isn't a hotbed of mobile potential people are clamoring for. They ignore W10M, and I don't think desktop opportunities make it much better with this half-baked alternative. That, and while people love the THOUGT of x86 software on a phone, many of them probably wouldn't be as receptive when they get it. It wouldn't be very touch-friendly, for starters. It would be a bulkier OS that suffers from more performance hiccups than W10M, almost certainly. Then you get the viruses involved, especially on open networks. People are too reckless and unintelligent when something REALLY goes wrong with a computer, in many instances. Your grandma with a broken PC phone wouldn't be fun. As for the heat, it's not all the same. Intel does a pretty good job of sending out cool-running chips, but those are also in MUCH-larger bodies, often with larger and better cooling solutions. A phone means compacting the parts more, meaning less room for heat to escape, meaning higher operating temperatures. As for battery life, you can joke that 4 hours would be enough, but it wouldn't. At least, it wouldn't be anywhere near good enough to get the device to market. 18 hours is about a bare-minimum for an everyday phone. What we have on the market now just won't work out that well in a phone.

Really interesting device... Curious if it would deliver viable battery life if it had a 5-6" screen, and was the size of a smartphone? Could it potentially last a day? Is this the basis of a future "Surface Phone"? :P

Well, if you were to widen it for that purpose, you'd basically be talking about the ability to allot the entirety of that added chassis to a bigger battery as well. That should mean getting enough power to run a smartphone-sized display. I don't think this is what the Surface Phone would be, though. I think it's more likely clsoe to what the Lumia 950 and XL are now. It'll focus on being mobile-friendly when it needs to be, with the extended functionality of Continuum. It isn't likely to be a true x86 device that exposes users to the legacy malware and touch-unfriendly interface.

Core m is a really hard thing to figure out right now. I hated Atom because of the power deficit it included. That its focus was lowered was a plus for me. It seemed that Core m would kind of make it redundant, as both focused on low-power, high-efficiency builds. With the inabiltiy of Core m to get to a reasonable price point, it actually starts to strike me as the baffling product. If the price for the m5 is $281, it can go ahead and leave. I could go pick up a Skylake i5 and some RAM for that same price. I know that's not the portable solution of Core m, but it's more a statement that with those price points, Core m is really hard to defend or understand. Why not get an i3- or i5-bearing laptop or hybrid instead? I don't see how this thing finds a market. Two realities cannibalize it, to me: 1. You need to have something portable and functional, so you go with a low-end laptop with more horsepower for about the same price. 2. You don't need much hardware because you do very basic things, so you get an Atom-based alternative (be it a first-generation one of these or a competing product).

"Why not get an i3- or i5-bearing laptop or hybrid instead? I don't see how this thing finds a market. "

Obviously, I don't disagree about pricing, but as to why Core M is because it allows similar performance to Core i series, but fanless hardware. Surface Pro 4 with Core M doesn't have a fan and neither does the Galaxy Tab Pro S, but both offer solid performance. OEMs can not only create new, thinner and lighter hardware, they can tailor TDP on the Core M chip to match specific thermal requirments.

Yep. For $281 you can buy an i5 6500 AND 16GB DDR4. I love the Core m series, but their pricing on it makes very little sense.

Well, that might also include whatever motherboard the platform runs on, not entirely sure.

That $708 price should have been in the headline. This is "Windows" Central, after all...

You do realize there's a Kangaroo with 4GB of RAM and 64GB Storage, right. It's $169, though no OS.

With cheap Atoms cancelled this is the future of computing sticks.

Wait, Atoms are cancelled? Since when? They just made some recent announcements about new atoms coming in the fall. Did I miss something? :P

Only some Atoms were cancelled (Sofia and Broxton), but Goldmont (Apollo Lake), which powers next-gen pcs, tablets and more is still a 'go' from Intel.

Not all but the affordable efficient ones meant for mobile phones and tablets. And would have been good fit for affordable computing sticks / smart TV's etc. as well.

I just built an Apple TV sized Cubi PC($130) for less than this. 8GB RAM($26), 240GB mSATA($70), and 128GB Samung FIT($35) stick all for a grand total of $261 plus tax and windows 10, which I already had. Real world performance, I'd imagine my PC whoops this stick as I have more RAM and faster drive. But on the CPU, I'm down by a 1000 points per CPU benchmark.

You basically pay for the small size of this device!

The Write Speed is low for eMMC. It is not the latest generation.

Why can't Microsoft Use M3 or M5 chip for their upcoming Surface Phone?

Amazing, this is better than the CPU Intel Core i3 4005U Haswell of my sister's Lenovo G50 Laptop. $500 is right I guess. Where I live the mexican peso devaluated a lot, so today $500 is about $9000 pesos which is the price of the iPhone SE, last year $500 where $6750

They certainly could. However you would have to seriously lower the clock and voltage to even fit into the TDP envelop a smartphone requires. This low performance would make the Surface Phone a midrange performer with a premium price tag. Did you look at the Geekbench results that where posted in this article? 1600 single core score is nothing to write home about. Recent Snapdragons are _much_ faster.

They are not there yet, give it 2 years before paying anything near that price. Atom all day for now.

Windows 10 Mobile will kill this when win32 apps starts running on the mobile platform.. just a thought.....


Any news on that? will it be via native virtualization of the Windows 10 desktop (like a VMWare app running inside Windows 10 Mobile? ) I'm very interested in this subject and I think this is what can bring a lot of value to Continuum and also to CPU manufacturers since Android and iOS phones cannot go more since their ecosystems are limited for the phone, but Microsoft's opportunity on having 1 device that is also a PC is the future and Microsoft is much more ahead of this goal than Apple and Google.

And now we know exactly why ARM is drinking Intel's milkshake.

This is actually the 3rd generation of Intel Stick...

So when i build a pc i get an Intel m5 or i7 6th gen?? Or m5 is powerful for a portable device?

How many fps with Doom...?

The biggest issue with Core M chips is that they are as expensive as the more powerful Core series chips, while offering significantly less performance. That makes absolutely no sense, and with the killing of many of the Atom chips, Intel has no inexpensive solution.

My thought too, Intel is going to reuse their BayTrail and CherryTrail on Windows 10 desktop devices for the next years, but this will put 2 in 1 on a very difficult position since Intel Core M is not cheap, while BayTrail and Cherry Trail are too cheap but are too underpowered for 2 in 1 needs. This is why I think Intel is going to need a lot of marketing investment to convince customers to get a 2 in 1 with Cherry Trail like the Surface 3 which is simply not powerful enough for today's productivity needs.

I don't understand why this can't go into the surface phone . this would be awesome, yea sure the battiey might be a problem but I really don't care, I have a chager at work in my car and at home .

Too expensive IMO for such a device. I'd rather buy a Surface Book with core M at twice the price than buy this. But if it's what u need, go for it.

"That means a fully spec'd new Compute Stick with a Core m5 will run you $708" For the sake of comparison, a MacBook has 2x the RAM, 4x the storage space at 4x-10x the speed, a high-quality display, keyboard, mouse, speakers, and a battery, but at twice the price.
Windows Central Newsletter
Thank you for signing up to Windows Central. You will receive a verification email shortly.
There was a problem. Please refresh the page and try again.