Kangaroo Mobile Desktop Pro review: Can a $199 pocket PC be fun?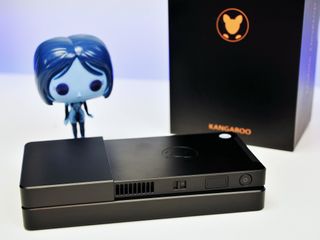 When we reviewed the $99 InFocus Kangaroo Mobile Desktop PC, which is part of this new wave of tiny, pocketable and modular Windows 10 computers, we found a machine full of portability and promise. Now, InFocus is back with a new model called Kangaroo Mobile Desktop Pro that sells for $199.
So how is it? I've had a chance to play around with one for the last week and here are my thoughts. Also, I'll break it down as to what is different with the Pro version.
Hardware and Features Comparison
On paper, the Kangaroo Mobile Desktop and Kangaroo Mobile Desktop Pro are identical save for the addition of the new Pro Dock. It is that latter part where the extra $99 goes, and it will matter for many people looking for a portable PC.
Here is a feature comparison chart.
Swipe to scroll horizontally
Category
Mobile Desktop
Mobile Desktop Pro
CPU
Intel Atom x5-Z8500 1.44 GHz
Turbo Boost up to 2.24 GHz
Intel Atom x5-Z8500 1.44 GHz
Turbo Boost up to 2.24 GHz
RAM
2GB LPDDR3
2GB LPDDR3
Storage
32GB eMMC
32GB eMMC
Graphics
Intel HD Graphics Gen8 (Up to 600Mhz)
Intel HD Graphics Gen8 (Up to 600Mhz)
Wireless
Wi-Fi 802.11ac (Dual Band)
Bluetooth 4.0
Wi-Fi 802.11ac (Dual Band)
Bluetooth 4.0
Windows Hello
Finger Print Reader
Finger Print Reader
Battery life
4 hours (casual use)
2200 mAh lithium-ion
4 hours (casual use)
2200 mAh lithium-ion
Ethernet port
No
Yes
HDMI Out
Yes
Yes
VGA Out
No
Yes
USB 3.0
x1
x1
USB 2.0
x1
x2
Audio Port
No
Yes
HDD Bay
No
Yes
Expansion
microSD TF slot
Supports SDSC, SDHC and SDXC formats
microSD TF slot
Supports SDSC, SDHC and SDXC formats
Weight
PC only: 5.80 oz (164.42 g)
PC + Dock: 7.40 oz (209.78)
PC only: 5.70 oz (164.42 g)
PC + Dock: 14.80 oz (209.78
So the new Kangaroo Pro earns its Pro name not so much because of improved hardware, but because there's more hardware to it. With the Pro your extra $100 gets you the following additions, which are all part of the Dock Pro:
VGA port
Additional USB 2.0 port
A 2.5-inch hard drive bay
Ethernet port
An audio port
Of course, what is neat about the concept of Kangaroo is that InFocus could release even more modules for it so that you can build off it to make something more powerful.
Quick Review
You can watch Mark's take on the Kangaroo Mobile Desktop from February in his full write-up or watch the video of it in action below as I'll be adding to it through commentary here.
Kangaroo Mobile Desktop review: A palm-sized PC for just $99
For the most part, the Pro version performs exactly like the non-Pro, but those extra features – especially the Ethernet port – go a long way to making this more of a "real" PC.
Out of the box, the Pro ships with Windows 10 build 10586.00, which is a very old release from last year. Luckily, I was able to connect it up to Ethernet and download the cumulative updates, which brought the version up to 10586.218. While the download went along quickly, the installation process took nearly 45 minutes due to the slow nature of the Intel Atom processor.
After the OS had been updated, I was able to set up and use the fingerprint reader to log into Windows 10 with Windows Hello. I have to admit it's a nice addition to have, even if you won't use it all the time.
While the Kangaroo can power a 4K monitor, it can only do so at 30 FPS, which is not ideal at all. However, connecting it up to a 1080P display or TV yields a quite satisfying 60 FPS. You cannot, however, power two monitors from the device.
The performance with the Atom processor and 2GB of RAM will be limiting, but we are talking about a desktop PC that can fit into a purse or large pocket — and costs less than most phones. If yoyu're running Universal Windows Apps from the Store, Office, and doing some casual gaming (e.g. Minecraft), you will not have any issue. Without a dedicated GPU from Nvidia, however, you will not be able to do anything that is graphics intensive.
Why I like the Kangaroo Pro
The Kangaroo Mobile Desktop Pro is a unique creation, but like Continuum for Windows Phone, it may be slightly ahead of the curve for many people today. Nonetheless, my mind was racing with ideas of what I could use this device for, including:
Living Room/Bedroom – The Kangaroo works fantastic as a PC for the TV. Grab a Microsoft wireless desktop keyboard and mouse and you could use Window 10 on your 55-inch TV right from your couch. Not only does it work well, but for casual computing, it was a lot of fun too.
Travel - With the new HDD drive bay you can put a lot of music, videos, media, documents, or whatever you want on the Kangaroo and take it with you. With the inclusion of a VGA output in addition to HDMI, you should be able to connect up to most displays with ease.
DIY Projects - I'm not the creative type, but there are a lot of people who are, and they could use Kangaroo to build a PC into various objects or use it in unique situations. Don't forget the Kangaroo even has a built-in battery for 2 to 4 hours of usage.
You can even connect up the Kangaroo to an iOS device like an iPad, which turns your less-than-productive Apple device into a display for a full-fledged, hardworking Windows PC.
Overall, the Kangaroo was just fun to use as you can just take it with you. The idea of a tiny computer that you could hide in your entertainment system like a Roku was unheard of years ago. Now, it can be done, and no one would know it was even there.
What I don't like about it
While the Kangaroo Mobile Desktop Pro is fun to use and it has a lot of potential for creativity, the Intel Atom processor can be painful at times. While Atom is fine when running those UWP apps from the Windows 10 Store, it struggles during OS updates or even app updates.
In fact, I'll flat out say that I'm not a fan of Atom processors at all, and I'm sort of glad that Intel is pulling back on the chips. That is not to say I don't think there is a need for a low-cost Intel processor, just that current Atom processors fall short of what many consumers may want and need. Intel does have their new Skylake Core M line, which I think are fantastic, but now you are talking a slightly larger footprint, increased power needs, and higher costs.
There is also the issue of carrying input devices that always plague this and Continuum setups. While a Kangaroo fits in my bag, even a pocket in cargo pants, you still need a keyboard, mouse and a display for it. The screen problem is solved if you have a TV with exposed HDMI or VGA inputs, but the keyboard and mouse are something you will need to take along. Plus you need the micro-USB charger to power it, but it's not compatible with the micro-USB cable that you might use to charge your phone (Kangaroo's has a longer plug).
Then again, if you are planning to use Kangaroo in an office setup with those things already setup, then it's not a big deal. You could even "grab your PC" to take home, and it would be a very simple task.
Conclusion
I think InFocus is on to something with Kangaroo and the Kangaroo Pro. There is a market for a full-powered PC the size of two smartphones that can go anywhere, or be used for very minimalist office settings (you could tape it to the back of a display or the underside of the desk!).
My concern right now is the same one we had back in February: the low-end specs. Now, in fairness to InFocus, they are working with what is available to them while trying to hit certain price points. If InFocus tossed in an Intel Core M processor along with 4GB of RAM and 128GB of SSD storage, this $199 would suddenly go into the $400 or even higher. The value play then begins to drop as you could start to find laptops or traditional desktop PCs (also with no display) starting to come into view.
Regarding quality, I think InFocus did a great job. Everything from the box to the setup and the build of the Kangaroo Pro and its docks feels top notch.
Takeaway: The InFocus Kangaroo Mobile Desktop Pro is an exciting and unique addition to the changing PC landscape. It's a well-built device that fills a niche in computing and offers up unique creative abilities. While the Intel Atom processor is its only weak spot, it will only bother people who are expecting more for $199. For casual use and light gaming, the Kangaroo Mobile Desktop Pro could be a fun weekend project for the living room or bedroom.
Pros:
A PC for anywhere in your home
Not super expensive
Well made and neat concept
Cons:
May be ahead of its time for consumers
Intel Atom processor can be slow
Portability limited by need for a display and inputs
Windows Central Newsletter
Get the best of Windows Central in in your inbox, every day!
Daniel Rubino is the Editor-in-chief of Windows Central, head reviewer, podcast co-host, and analyst. He has been covering Microsoft since 2007 when this site was called WMExperts (and later Windows Phone Central). His interests include Windows, laptops, next-gen computing, and for some reason, watches. Before all this tech stuff, he worked on a Ph.D. in linguistics, watched people sleep (for medical purposes!), and ran the projectors at movie theaters because it was fun.
Great review. I'm waiting for one of these to double as an android/iOS case.

Oh, wow. I thought when they originally announced this, it wasn't going to come with Windows 10 preloaded. Maybe MS intervened. I've been trying to find a reason NOT to grab one of the non-pro models up. I mean, you can get a whole, functioning Windows 10 machine for less than the price of a Windows 10 Home license. I don't know how they're doing it but I'm glad we can reap the benefits. I hope they keep coming up with innovations on this device.

I am using 1 as we speak for this reply, it comes preloaded with windows 10 home 64bit. Folks need to understand and give appreciation for the value for this $99 device.

I also didn't originally consider this for the Xbox streaming idea. Glad they covered that in their demo video. I could definitely see this being the cheapest solution for that. Performance would be the only questionable part. Gotta get one and find out!

Dan, do you think it is time for hotels to start building it's inventory of keyboards and mice to provide to their business travelers who are using these Windows 10 companion devices? As Continuum devices increase and these mobile pc's it only makes sense.

Too early, but something like that could happen down the road.

And meteorite could hit the earth. But by the look of odds neither of these will happen.

I would still carry my own KB/Mouse even if hotels provided them. Their cleansing is not very thourugh, unless you like spraying disinfectant ... a lot of disinfectant on them prior to use.

Wouldn't it be cheaper and lighter to just bring a supply of disposable rubber gloves than a KB & mouse? :)

I've been interested in these super small form pc's. I got the lenovo compute stick when it was on sale, and it works. not well, but it works for a media device. intel is releasing core m based compute sticks, but they cost between $4-500. I feel this is where windows RT was let down. no one put an arm based windows rt on a small stick to use for basic media consumption and access. you had to buy a whole tablet to get it going. It would be interesting if someone put windows 10 mobile on a stick, but it would most likely be super limited.

Well the cost for an incomplete solution like tegra was the problem & the better performing sd platform was just out of reach besides after years of bad choices carriers made for wireless broadband enabled laptops its a hard sell

Does it have Bluetooth for wireless keyboard and mice?

I know this is a year old but yes, lol!

I've had a Kangaroo for a while now and a few comments. 1. VGA really has to die once and for all. DVI may be technically better, but it's a huge connector, so let's just get it over with and switch to HDMI. All my monitors have at least one HDMI port - and my TVs do too. 2. Somewhere along the way, Kangaroo lost sight of their original idea. The idea was to buy one Kangaroo and multiple docks - leaving the docks where you tend to work. With this model, the key is the USB3 port. The included mini-dock has HDMI for display, USB3 for heavy lifting and USB2 for the keyboard and mouse. So you get something like the Microsoft Multimedia keyboard which is a keyboard/trackpad combo and stick the dongle into the USB2 port, then put a USB3 hub on the USB3 port and hang a hard drive and audio dongle off that or rely on the HDMI port and the monitor for sound and just connect the hard drive directly to the USB3 port. The new all-in-one shell/dock is nice - but it really only eliminates one connection - the hard drive. You'll still need to connect to a monitor and you'll still need to connect to a mouse and keyboard - although with a second USB2 port, you can use separate mouse and keyboard more effectively. The real problem though, is that they don't sell it separately, which means if you've invested in the concept, you're kind of screwed. One last thought, the target for this kind of device isn't gamers. It's mainly media center types and Office apps types, neither of which needs a lot of horsepower or heavy GPU. Because of the built in battery, it's also kind of interesting for light weight servers. You keep it plugged in and if there's a power failure, it keeps going for up to four hours. Where it kind of fall down though - at $100 it's hard to compete with - but at $200 you're running into lower mid-range PC tablets with much the same specs and having an integrated touchscreen, may be more useful.

i can agree with the last part of your comment. for 200USD we can get a very good made in china tablet with a decent HW but to be honest, I like the idea of this device but the HW is very slow. It needs a Core M + 8GB ram + 128gb SSD... but the price will go UP too.. hmm :D

I actually don't understand part of your reasoning, or don't agree with #2. The unit and dock itself is so small, if traveling from work to home and back with it, it is no more or less portable than without the dock. I wouldn't waste the oney on buying another dock when the dock is already this portable.

If that were the case, why have a dock at all?

On Kangaroos thought process, to give people the options, and to make a $100 accessory. Some people need VGA and LAN. I was just stating for my needs, I do not, and do not see the purpose of such a small addition of ports for an extra $100.

I agree with everything you said. I use mine for streaming media and Office, and I move it back and forth between TVs at home. I set all the libraries to another network PC's, so I only have my files in one location. I don't know if there's risk doing it that way, but so far it's been working, and I don't need an extra hard drive or have to worry about syncing files. Since that other computer runs Pro, I can also use the Kangaroo to remote desktop in if I want to run Photoshop or something. It's an awesome little device. I put Kodi on it, and the DirecTV live streaming app, and I use a Logitech unifying keyboard and mouse, so I have a free USB port for whatever I want. It effectively doubles my computing flexibility at home for a very reasonable price point. The only problem is that it's slow, but with a device like this, you have to keep in mind what it is and just be patient.

Thankyou for the review. I actually now am further solidifed that if I was going to look in this direction, there is no reason for me to spend the extra $100 for a few extra ports that I don't necessarily need, for the same amount of power.

It seems to me that an 8" tablet could do pretty much the same thing and have the same specs and price with added bonus of a touch screen. I suppose its a matter of details and personal taste.

"Intel Atom processor can be slow​" Enough said...Not interested....Nothing more I hate in life than a really slow computer

Windows 10 on Atom CPU is still much better for desktop than Windows RT, Continuum, Android, iOS and Chrome OS so lets put this in numbers Kangaroo Mobile PC Surface 2 Lumia 950 with Continuum iPad using Apple TV and wireless keyboard Android Pixel tablet using Chromecast and wireless keyboard Chromebook Windows 10 even on a non-expensive device like this beats the competition. I think a large slice of Windows 10 planned 1 billion devices can come from this tiny PC's, they are great for hospitals, schools, small businesses and government.

Id take Celeron anyday over atom

You're probably comparing to older Atom chips, which were a "why did they bother" type chip. However, this chip did shift Intel's focus a bit giving them the engineering they needed to build the better chips that they do today. Read up on the Atom's history. You'll learn a lot. It's a great chip overall, but will be nice to see this and other smaller machines move to the newer Core-M chips.

Really an awesome things must have it beside your Pc & mobile to be always connected to windows 10.

It really sucks Intel is giving up on Atom. These devices are amazing.

Daniel we have 3 of this fun pcs at home, couple of them are the $99 variant and our kids are doing fine on them school work with office, google services and some media comsumption. The 3rd one I use which I think you might want to checkout if you have not already done so. It is not the pro and I thought it should be the pro. it is the varian with 4GB Ram, and 64GB storage sold for $169. "http://www.newegg.com/Product/Product.aspx?Item=N82E16856659001&nm_mc=KN... specs (Kangaroo Plus Mobile Mini PC, Intel Atom x5 Z8500, 4GB LPDDR3, 64GB eMMC, Finger Print Reader, Non OS, Windows 10 compatible). The difference here is that it does not come with windows 10 pre installed. I did and it screams as loud as any intel atom 64bit with 4gb ram could. Sir, kindly a quick question for you; Do you think MSFT does not support free windows 10 with devices using 4GB? and that is why it was not pre-loaded here, as such not offered with the new pro vesion you just reviewed so that they can offer the Os as added value.

Just download the Windows 10 install media and windows will automatically activate as Windows 10 Home with an OEM key. That is what mine did.

They should just make a screen for it, like 5-6 inches so you can use the Kangaroo on the train. Stick LTE capability into it while you're at it so I can make skype calls on the go (I know, I've basically made a smartphone, but as Jason Ward says, the smartphone is dead, they've been replaced by mini tablets ;) )

Replace the Kangaroo logo with S.H.I.E.L.D logo.. and it will be awesome!! ;) :P

This device sounds interesting. I have been using Continuum on my 950XL for about 6 months now (replaces my laptop for about 2/3 of my business travel and presentations), but I do miss being able to run win32 programs, which I assume the Kangaroo can run with its Atom CPU (slow, but better than not at all). For the times when I know that I will need to run my full win32 programs, I still have to take along my laptop.

Since Intel has sunsetted the Atom chip, the next version of this PC will be required to have a Core-M chip or similar. Atom was a great chip for what it was in it's day though, but good to see it finally go away for better and stronger chips.
Windows Central Newsletter
Thank you for signing up to Windows Central. You will receive a verification email shortly.
There was a problem. Please refresh the page and try again.