Travelling with Continuum: How easy is it to get set up in a hotel room?
By Richard Devine published
I'm in Hong Kong and China this week, and I'm trying to work on the road with Continuum on a Lumia 950 XL.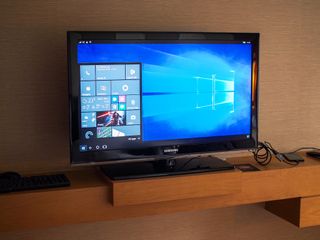 To be clear, I didn't leave my laptop at home. At this point in time I wouldn't ever go on a work trip without it, and everything else I'd usually take on such an excursion. But it is the first time I've really travelled since having my own Lumia 950 XL and as a result, access to Continuum.
So I've brought some extra bits and pieces with the intention to try and see how much I can get done using my phone while on the road. There's a time in the future I could foresee this being how a lot of work could be done away from home, or the office. Especially with such things on the horizon as the HP Elite X3 and its bevy of accessories, or the much more affordable NexDock.
Part of the nervousness is getting set up in a hotel room. Because until you arrive you don't really know what you're going to get.
Here's what I brought with me:
A USB-C hub
Wireless mouse
Wireless keyboard
USB 3.0 hub (a bonus item)
HDMI cable
The last of those is important to remember, because in many hotel rooms (in my experience) you can't just rip out a HDMI cable to use. Indeed, in the hotel I'm staying at in Hong Kong, one end of the cable vanishes into a sealed unit where I can't access it. But I can unplug the other end and use my own cable connected to the USB-C hub.
The hub I'm using isn't a Microsoft Display Dock. I wanted to see if something cheaper could do the trick, so I picked up this one (opens in new tab) from Amazon for £21. Less than half the price of the Microsoft offering. It doesn't have as many connections as the Display Dock, with only a solitary HDMI output, a USB 3.0 port and a USB-C in for power. It doesn't require the power, but it does act as a pass-through to keep your phone charged.
It's very compact and I'm OK with the connections. For the most part I wouldn't (yet) be planning to plug many things in to access from my phone, but if I did need to access a USB stick I could happily go back to using the phone as a mouse so I could take out the wireless receiver. But I have a fairly compact USB 3.0 hub at home which I packed as well, mostly because it also has an SD card reader on it. But even then, all of the items combined take up less space in a bag than a laptop and its charger. Even my own super-compact XPS 13.
In this particular hotel I had few issues getting set up. The HDMI ports on the back of the TV are easily accessible and I have power close at hand to plug in to keep the phone charged. As it happens, had I packed an adapter that allowed a VGA connection, I could have just plugged in to a port in the room designed to allow guests to plug their laptops into the TV.
But, while getting the equipment set up was a doddle, getting the Continuum experience was a little less so. I'm not sure whether it's the cable or perhaps the connectors on the TV that have seen better days, but every so often the screen would go black and claim there wasn't a signal. Unplugging, re-plugging in and jiggling the cable have all worked to reinstate it, but it'll be pretty rough if I'm working and that happens. I've also had to fiddle with the TV settings to get the Continuum display to fit properly. An identical experience to the almost identical Samsung TV I have at home.
The only other thing that's of inconvenience is actually getting comfortable and working. This will vary from hotel to hotel, but here I have a round table up by the window and the TV is square on in the middle of the room facing the beds. I don't have the space to manoeuvre to an ideal spot in front of the TV with the table, and working from the bed is awkward with a mouse. I'm using a magazine as a makeshift mouse pad, which is surprisingly OK.
So, I've managed to get set up OK, which means I didn't drag extra gear half way around the world for nothing. I'll be following up with another post once I've actually had chance to work with it a little. Having watched an industry colleague struggle to get work done on an iPad Pro already at this event, I'm most curious to see how I fare trying to use Continuum. So far the only thing I'd do differently would be to invest in a Bluetooth keyboard and mouse. For the purposes of this little experiment I brought an older set from home that has a USB receiver, and are both larger than I could have found.
Richard Devine is an Editor at Windows Central. A former Project Manager and long-term tech addict, he joined Mobile Nations in 2011 and has been found on Android Central and iMore as well as Windows Central. Currently you'll find him covering all manner of PC hardware and gaming, and you can follow him on Twitter and Instagram.
Yeah feels funny in front of a tv

Another option I think people should look into is using the Surface's Type Cover with along with the bluetooth adapter. Then you have an extremely lightweight keyboard and mouse combo. Easy peasy.

Has that worked with the last few generations of type covers? I recall there being compatibility issues...

It works quite well with the bluetooth keyboard of my Asus T100 Chi. The tablet and included keyboard cost a fraction of the newest Surface but well, that's for another thread.

Continumm needs a higher resolution, it hurts my eyes with all the jaggies.

Just bringing a laptop seems the better option to me instead of bringing along all the accessories.

Thats what I've always said: if you have to bring along a keyboard and a slew of accessories, why not just pack a slim ultrabook? Continuum technology is interesting, but in this type of scenario it's a solution looking for a problem.


You said it right my friend, in this case scenario it is a lot of trouble. On the other hand Nadela is aiming emerging markets, where the mobile is the only computer in the house, this is going to be a huge thing and in time. Maybe in the future hotel rooms will have one of those adapters as well and you'll don't have to bring your own (it's just a bet, but I have a feeling we'll be seeing first in the business hotels in the US).

"Maybe in the future"? In the article it shows the hotel room having those adapters set, granted its got VGA and old connections, but they'll surely change them to USB-C and HDMI sooner than later!

Isn't a continuum adapter U$60 or something? If it's a business guy he will probably use his own phone loaded with the apps for his work and the demanded security for this kind of costumer.

A complete PC, cheaper than an adapter ? Ridiculous, if not for Rasberry PI class "PCs"... There's the issue of doing maintenance and support on those which may be prohibitive though. Really, those TVs should have Miracast or some other wireless way to connect, seems to me the way to go.

nearly 100% of the guests won't feel comfortable using a generic PC in their hotel room for work. People are more security conscious than that nowadays. It's either our own computer, or no computer

Sure a PC in every room, say 300 PCs, and no support staff. That ought to go well. Better solution would be to have Display Docks and stick/NUCs PCs as payable options for your room; hotel won't need to buy one for each room, just enough to supply the demand. Or, you know, just Miracast/Widi to the TV.

Or the hotel doesn't waste their time with something no one is looking for. People carry laptops. Hotels also don't want people connecting their devices to the TV. It keeps then from collecting fees for on-demand content. Posted via the Windows Central App for Android

True, there's probably not a market for that stuff, at least not now. As for connecting devices to the TV, guess you didn't see the picture in the article with those connectors for the TV, in the hotel. Must be for not connecting stuff to TV.

That is in China. In the US, many hotels attempt to block you from accessing the inputs on the TV. Even if the inputs are available, they don't provide you with a remote capable of switching inputs. They want to make money from their on-demand content.

What if they sell you a 200$ 2-1 laptop that is optional with the phone? Great display with a great keyboard, USB-C and 14h+ of battery life that can charge your phone?

well... for 200USD you can get a decent china tablet, if you spend more you can get many better options. Good idea with the phone acting as a PC but it needs more improvement

For $200 you will not get a "great display" ;)

I use it, and it's not a gimmick. Some people will have no use for it, some will.

I was trying to say that I use it and find it quite useful. By definition, if people do find it useful, then it is not a gimmick. Presuming of course you've actually used Continuum - I'm thinking perhaps not - then you may not find it useful. Fair enough. Some people don't find cars useful. Doesn't instantly mean they're all gimmicks either.

1. I do understand the definition, but how you used it implied that Continuum is merely something designed solely to gain attention. I was countering that by saying that Continuum has a real practical use and a future, and therefore it's sole purpose is not as a marketing stunt but as a real productivity feature and a key part of MS's vision for computing. It may grab attention as a result, sure, but it's not doing so in a gimmicky way - at least, not now it's available for people to use. 2. It was a comparison of principle, not numbers. To break it down to the specific basics; it was an identifiable way of stating that a productive, useful device can be found non-productive by some users. Same with Continuum. Numbers were not my point, I think you've looked too far into it. Look, this shouldn't really be an argument here. I'm all for getting along. :)

He isn't, he is the comments section provoker. Don't know why they don't ban him.

That's my take on tablets and phablets. Big phones are bothersome to carry and if you need a Laptop a Tablet doesn't work as well.

Yep & the important part of has the TV been modified for only use with the hotels cable/sat vod service. A gamble most aren't willing to take

Yes, you could use laptop in this scenario, if you have one around. What happens if you don't. You don't necessarily carry a laptop when you are on vacation. Continuum would give you the flexibility to cope with all kinds of different scenarios. Whether there is PC or laptop around or whether there is wifi available. With Redstone 1, you can project to any screen. But I would use the MS Display Dock instead of the cheap Hub. Display Dock always scale perfectly to all HD screens. I use Continuum a lot at home to browse and watch entertainment sites on HDTV. It has been a very satifying experience.

But what if you don't have or want a laptop?

then you are unlikely to own a TV or need to do work in hotel rooms...

Would be stupid to spend hundreds of $ on a laptop if you allready have the mobile, and you need to do some word or excell work in a hotel room. I have a giant laptop at home that I do serious work on. I'm not dragging that monster with me when all I need is my 950.

It might be different from case to case, but in the scenario described in the article it is not just a phone, but also different accessories he brought along.

All the extras could have been pared down to a Bluetooth keyboard and a Miracast adapter. I know a lot of people would rather use a mouse, but that is their preference. (Example, the laptop user on my commuter bus who pushes a mouse around on the seat next to him, despite that fact that he's got a perfectly good trackpad right in front of him.)

The actual argument in favour of continuum is that it can be used wherever there is a dispay (that supports miracast), Places like conference halls, the living room, hotel rooms; all without actually requiring a keyboard or a mouse or a laptop. You CAN do work in it -- using a physical keyboard or mouse is just preference. It makes it POSSIBLE. Of course, it reduces usability, but that's not its benefit. It's never meant to increase usability. It's just there to create a possibility where there is none. In my case, I use said continuum for my college presentations, miracasting to the projector. I don't need to carry around my files in a pen drive and connect to another's laptop, or carry my own, or mail them, etc. It's just there on my phone the minute I close the Office Powerpoint app on my laptop at home. I don't even need to transfer the damn file, because one drive does that for me. It's so convenient, you can't even..!

Not everyone uses a laptop for just that some maybe are into graphics intensive MMOs for example

I'd wager more people own T.V.s than laptops so I'm not sure how not having one means they're unlikely to own a tv

Plus he said he doesnt want a laptop either. Again, how this relates to someone not having a TV is known only to you apparently. And besides, as pointed out, this is a transistion time, meaning in the future we would not even bother purchasing a laptop because all we need is our phone and a cable/hub that easily packs away in a bag. At least Theoretically. Microsoft seems poised to allow 32/64 bit OS for Windows mobile over the next year. We'll see how it goes, but Continuum can only get better and more convenient.

a smartphone can not fully replace a notebook. What if I need to edit videos? What if I want to do something more CPU/GPU demanding? Smartphones can do basic tasks but not everything

"Smartphones can do basic tasks but not everything"

For today. What about in 3 years. What about when the mobile tech catches up to basic and advanced computing tasks today. Interestingly, what we do today on PCs in terms of processor demand has

not

increased over time. At some point, the power of mobile technology will catch up to PC computing demands. When that happens, which company will be there first with a solution and ready-made ecosystem to leverage it?

Nothing will catch up. A larger device will always be more powerful (relatively of course). So while future phones will be as powerful as todays PCs, the PCs of the future will also be more capable. But the accessory and display problem is not solved.

Daniel said mobile will catch up to "PC computing demands" not to PCs in general. Posted from my Nexus 5X

do you also abort your child because it might have a rare mutation?

That is fine and good, but likely to be fairly small subset of people who would buy a fairly high end phone to begin with. The discussion for me is more about whether Continuum makes a compelling business case for MS and a use case for a considerable number of people. At this point, IMO, it doesn't for either, but it will evolve of course. Making it work on more phones and fast and reliably competely wirelessly will make a big difference.

I use continuum daily at the office in place of my Surface. It is a remarkable experience.

What i would like is a display-dock for my Lumia. I plug it in and have a full notebook. Then I take it out, go outside and continue to work.

it is called DELL S2317HWi http://www.amazon.com/Dell-S2317HWi-LED-Lit-Wireless-Charging/dp/B01D63U9YE Compatible Miracast and with a Qi charger at its base.

The tech at this point, for consumers, is probably limitedly useful for things like media sharing and playback, say, a holiday party, using a similar set up for playing back a Spotify Christmas songs station or something along those lines. Then again, you can also just use a cheap Android tablet, and connect it wirelessly or via auxiliary to a speaker. Yeah, at this point, Continuum is fairly niche and gimmicky, but who's to say what it evolves into five years down the road.


My guess is that, if you don't have a laptop, then you're also just as unlikely to connect a wireless keyboard, wireless mouse, display dock and high end smartphone to an HDTV, and work on an Excel spreadsheet.

This feels like the razer core discussion again.

For those commenting on having to bring so many accessories, you're right, this is not the best use for Continuum. It's not intended to replace your laptop, that's what the Surface is for. Continuum is a way you could go to a different workspace (that has keyboard, mouse, screen) and just connect. This will allow people on the go to easily control their experience. Also, if the concept catches on, internet cafes and the like could offer these workstations that you could just connect to.

Yeah people that do not understand what continuum is have probably never been in an IT enterprise. If they knew that each worker has a desk, a chair, a screen, a docking station with keyboard and mouse and ethernet and that each worker needs to plugin his laptop just to access outlook and the virtual machines were the actual work is done.....well they would probably stop saying this is useless, this is simply great and I hope this becomes standard. In other words people should just trust us IT workers and believe that laptops are already used as phones with continuum, i.e. we don't even use their keyboard and screen, they are just a CPU that we plugin to bigger screens every morning just to connect to the enterprise network. This is exactly what HP is trying to do, continuum plus remote connection to VMs.

LOL Guess you missed the part were many enterprises just use the physical device (i.e. the laptop, today) just to connect to virtual machines plus some small tasks. Let me explain (not that I have any hope that you are willing or able to understand): the typical usage at work is... Enter the building with your laptop and connect it to the docking station, you don't even have to open it, you just have to power it and keep it closed. Then you'll login with the docked keyboard and mouse and screen. When in the physical PC you'll: 1)browse internet 2)browse outlook mail 3)use a chat with coworkers 4)connect to virtual machines to do the actual work in a safe environment ...guess what? All that can already be done with continuum even if they stopped developing UWP apps today...

And yet, they would need a phone too. Yet again, we are adults talking about how things may evolve in the near future based on what we see today while you just have fun trolling everywhere, so from today I'll stick to the only answer you seem to understand: A big LOL

Do you really have a problem wpkevin about people finding some good use cases of Continuum today + being optimistic that it will only get better with time ? For instance, I can now work from home on my file, read my emails, do Skype for business conference call and enjoy a big scree / mouse / keyboard that I have anyway for my Surface when docked while avoiding to have to carry every day at home my 1,5kg corporate laptop. Isn't it great ?

Let him be, he looks butthurt but we don't know why, many people just ignore him, I decided to start today, he is the typical "village idiot": harmless but ridiculous and sometime annoying.

Yep. I tried Continuum in a hotel one week for work travel. What a fiasco. Never again. SP3 thank you very much. It's a gimmick IMO. Lugging all the gear required and praying the hotel TV's HDMI port isn't disabled is a ridiculous thing.

If I understand correctly, you tried to use continuum, but couldn't because the hotel TV's HDMI port was disabled. How can you say then that continuum was a fiasco?

It would be pretty cool to be able to use continuum on a plane, if they had a USB-C port your could plug straight into, it would take up less space than a laptop on the tray table and could use the entertainment screen for display (These are quite good on newer planes, and from what I've seen the first/business class displays are pretty large) I'm also interested in some sort of Continuum solution in my car, if it works with touchscreens (Apparently coming) I could write my own app (or get somebody elses) that runs on a screen dedicated to being used for in car entertainment - Not so much for working on documents.

If you are carrying around a Bluetooth mouse, Bluetooth keyboard and cables, would it not be easier just to carry a laptop? These things will have much more potential when all hotels and other venues have dumb terminals with screens and keyboards where you carry the 'brain device' and then interface via NFC or similar. It is the future, but needs venue support to really get going.

I mean, I carry cables and a mouse usually when I travel anyway. Doesn't really make much difference to me. But yes, you have a point. But if no-one ever tries these things how do we know they're bad? A Microsoft foldable keyboard and that touch mouse of theirs plus this tiny dock takes up way less room than any laptop. And you already have a phone charger with you.

and if no one ever does try it? how will ms know what to fix and improve first?(i mean insiders are what shape most of windows these days and feedback from someone trying this out would be a lot of help for MS to develop it)

Microsoft Display Dock = 230 gram & $99
Microsoft Arc Touch Mouse = 90 gram & $70
Microsoft Foldable Keyboard = 180 gram & $100
HDMI Cable = 25 gram
USB C Cable = 25 gram
------------------
Total 0.55 kg and costs $269
Macbook weight 0.92 kg
------------------
If Microsoft could do a 12 in "lapdock" at 1 kg and $200 that would connect wirelessly over Miracast UIBC to the phone and possibly also charge the phone wirelessly, that would make Continuum a lot more useful. Today it's too much mess. - Why can't you turn off the phone screen in Continuum? Consumes massive amount of power when using the Miracast reciever and not charging the device. - Edge is not a UWP in its current state and tabs don't stay open but refreshes which is not very functional in desktop mode - Lack of windowed apps or even snapped apps is a major drawback - Why introduce a new UI instead of bringing the code for desktop mode from W10 desktop or Windows RT 8.1 update 3?

What about macbook charger weight? What about using phone instead of a mouse? What about a lighter keyboard? You can turn the screen off, just load a black image. It's amoled, it'll go off! I'd like to see your face while sitting next to a 55" TV you could be using, instead of a "small" macbook. Not to mention your macbook is much more "thief friendly" than a 950.

Exactly, I used that setup over the last two and a half weeks when I went on Holiday in Japan and South Korea. Worked great actually.

Dumbest argument ever. Pretty much the entire cell phone population did not see the value of a Treo or BlackBerry or Windows Mobile device in 2005-2006. You can email when you get home. Why message someone just call them? Phones just nag you. Looks like everyone was wrong.

You forgot the HDMI cable and extra USB-C cable (wireless lags too much). It's jank defined for traveling. Bring a SP or laptop and be done with it.

Continuum is still in it's infancy. But as more and more people use it, there will be refinements coming to it based on actual real world usage and experiences.

Funny that you're asking me if I could imagine it. I don't have to imagine anything because I know people using it. You, on the other hand, who is not using it, can't even imagine other people using it. You are completely bereft of imagination.

My list about continuum in travel-hotel: -miracast key; -MS foldable keyboard; -use the terminal instead of a mouse. Acceptable performances with maximum portability.

Or when the screen is cast on the larger screen, the phone screen becomes the trackpad.

It's what I meant with "use the terminal".

You forgot "pray the hotel TV HDMI works." Oh, it doesn't? Dead in the water. It's a silly thing for travel, Continuum.

The take away is....even if the technology worked perfectly. It'***** and miss in terms of working comfortably due to tv location etc....a non starter. Continuum is a gimmick IMO. It just won't work. Laptops and SP4 are light and power houses that it's not an issue to take them with you. Most road warriors meet clients. What do you do at a client site? As much noise as their is about continuum. It's a fail and I wish MS would innovate in a other direction instead of pushing this DOA tech. I am getting the X3, I won't be using continuum though.

Funny, the reply right after yours is exactly the opposite of "DOA" tech. Maybe you're shortsighted and not as smart as you think?

It's just that most rational people don't really believe delusional made up scenarios by Windows Phone Fanboys, like the next comment. For one thing you don't need Microsoft's magical solution to project a presentation, you can do that already with Miracast.

If you're not a fan or don't think the tech is cool or useful, that's fine. But your "rational" inability to envision the potential is the problem, not delusional fans.

MS WD Adapter supports miracast and continuum both. I would prefer continuum because I can use phone as normal phone while presentation is on...

Yes you can, but miracast has limitations. Apps look funny as heck blown fully up, unless you have a phone that specifically scales the resolution of the miracast. Not only that, anything your phone sees, others see, not lending to a truly work friendly enviorment. There is no delusion at all. I would use it more often than lugging my tablet around. I have a few tablets, ranging from 7in 70buck one to a surface pro 4. The reason i have the smaller ones, is not to be a power house, but to simply be a bigger screen for simple stuff. So the idea i can carry around a 10-13in screen, with battery/keboard, ala nexdock style. Is much more appealing than firing up a completely different device to say...watch netflix on a bigger screen. So this idea that delusional made up scenarios, is not made up at all. Just a few years ago people were scoffing at the idea that a phone would replace laptops, and while it hasnt, you're a damn fool to think that the mobile app space has n't transformed how we do things. Including selling a device like the Note Series to do as much as you can in the palm of your hand. The real power of this, is when x86 hits and if MS allows x86 apps in continuum mode, i believe at that point it will be the game changer MS thinks it is now.

I'm confused why you're so resisting. I can agree that in its current form, continuum is pretty limited in its executon. But can you honestly not see the vision here? I mean in order for you to be a windows phone fan in the first place, you have to at least be somewhat forward thinking. Most people who cant see beyond the "here and now" usually have iphones

Not talking about microsoft. Talking about the concept. Hell apple might integrate this before microsoft does it. But this clearly is the future

Lol I could agree I'd Miracast(widi) anyday or mhl2.0 since it is a meant for video(& in theory supports HDMIs Ethernet spec.)

I own and run an IT company. Sales are client facing as are presentations, demos etc.
How can Continuum help me without me worrying if it's going to work or not. I was all in with MS. Mobile first, cloud first. They have destroyed both...aside from continuum and making Biggy Surface products I fear for the innovation. (Hololens doesn't count as it's business first and MAYBE consumer in a few years)

This is just ONE type of setup. How can you resume this to all usage of Continuum. Let me give you some other examples usage cases of Continuum : my 950 is dual SIM and is used for personal and corporate usage. I have Good software to have access to my emails and sometimes, I need to check my emails or make small works at home or conference call. Until now, I had to carry every day my corporate laptop (1,5kg morning and evening). Now, as I have already everything at home for my Surface, I can plug my phone and do a Skype for business call or work at home. when travelling, I can just take my phone and a Miracast key and stream a video on the big television which checking my emails or other things on my phone. when going to my parents or friends home, with Redstone update, if they have a W10 PC (which is the case for my parents), I can just use their computer to work with my phone and have access to everything : my applications, correctly setup, my emails, my browser favorites... I am going to US this summer with my family for a big tour; We want to spare all extras we can as we will already be full of stuff. I may let the Surface Pro 3 and its charger at home and just pick up the BT Microsoft Arc Touch mouse of my son and a Miracast key and travel 3 week like this. Yes, it will save me only 1kg+ but also space and also fear of loosing / breaking / being stolen for a 1,700€ computer Those are just SOME example but I definitely see a kind of appeal to it that I find you very quick to dismiss for no reason except for the usual "Windows phone is doom" mantra.

I see a time when places that offer PCs for public use to instead offer a simple monitor, keyboard and mouse, with a USB-C port for the phone dock. Users can just plug in and go. This eliminates the need for the host to support PCs at all, as they just need to keep working peripherals available. The user gets the benefits of having their own device, which is already set up for their use and even comes with its own data connection, so no joining of public WiFi networks is required. Hotels, airports, convention centers, libraries, corporate work environments, and more could offer this eventually. It seems a little far-fetched now, but if this takes hold in corporate environments, adoption will likely spread. Heck, if most places just offered a monitor with the ability to plug in your own KB/MS, that could work.

You just don't get, Continuum is not about adapters, cables and not that much about places to plug it, it's much more about apps that adapt to any screen size. You see, Universal apps are like responsive programming; where menus, icons, etc. change or more apear and with text, for you to work more efficiently if the screen is bigger, leaving the working area the most optimized. If smaller screens are used, apps also adapt, and not like streched out Android or iOS apps, more like really designed and thought to adapt from 3.5" all they way up to 80" screens. So I think you are a bit blinded to say its a gimmik, imagine in 6 or so months and updates where i really can have Excel, Word, Power Point (already can), Maps and a CAD program all running side by side on a say 42" TV at a business center and all i took was my L950XL, one dock, keyboard and a cable... Nothing more than i already do with a laptop, but achieving the same work efficiency and results, where I also attend conference room with little space to work, and still could open all those files to annotate or edit them...

I run training courses within health and social care, and recently ran two courses using continuum. I was able to travel light as I only need the continuum dock,a few leads and my presentation clicker/pointer. I ran my power point presentation's from the phone and things went very well. The only adjustment needed was preventing the lock screen appearing.

There are so many times I need to disable lockscreen and keep the display "always on," and afterwards need to set it back to "1 minute." This is what we really need a toggle for in the action center. I wish Microsoft would make a toggle for this to "toggle on/off" screen time-out, so we could easily disable it for presentations or reading. That would be awesome.

Interestingly most corporate policies mandate fast lock screen and its something users don't manage but IT. How are business users supposed to use continuum when its use is not possible in any usable way?

Am optimistic that as the lines between win10 & win10mobile blur they will bring presentation mode to the phone as it is on the desktop (Also a feature within powerpoint that switches on when your presenting that prevents screen timeout or sleeping)

If you could try it with a miracast bluetooth receiver would be awesome. i am curious about it since i believe if the it works good with the bluetooth connection you could have less things on you since it would be just miracast receiver instead of a dock.(more compact) but ppl say its not that good yet

Yeah I've heard it works with Miracast but things are slower...... for now. Hope things improve because carrying all those paraphernalia would be bothersome.

Miracast works well with my 950....when it works. The problem is more the reliability, sometimes it will just flake out after working fine for long periods at a time. It's like anything wireless really. I find that if I'm connected to the display wirelessly its much better to use an actual mouse than the on screen trackpad - This is all more an issue with Miracast in general though rather than Continuum itself, the same issues can occur when projecting your Surface or other device. Once I used it on my couch where I had it connected to my Xbox One over miracast, and I had the display dock plugged in next to me, with a USB mouse and keyboard attached (They were wired and wouldn't reach all the way from the TV) - It worked well and allowed me to use wired accessories from a comfortable position whilst wirelessly projecting the screen portion of the experience.

BT works good and rendering of mouse cursor are prioritized over Miracast so there is no lag, however there is a slight delay in other graphics rendering, such as opening an app.

I'm working with continuum for a month now, and i love it. Got a Microsoft foldable keyboard and Microsoft arc mouse and HDMI cable with it. It all stores in a Maxpedition Beefy like a charm. Works so good, i'm not going to buy a new laptop (light user).

I´m not using my laptop at work anymore...no major isses... worst thing is Edge, all other apps like excel, word, twitter, foruns etc work ok... edge crashes in some websites, or take too much time to load

The only thing i don't like of Continuum is that if you duplicate the device screen you still see the windows bar on left border on the tv :(

duplicating? Isn't that just normal (miracast) projection, and not really part of the continuum experience?

It would take years for hotels to adapt to a perfect continuum environment. But for > 90% of travellers a phone is more than enough.

yes, phone do the job almost all the time.... I used to leave my laptop at home a long time ago already

I ran into a situation where I was not allowed to put my laptop on our network, but I had my display dock, mouse and keyboard and was able to use continuum to get things done. Worked well and the people around me where impressed.

Out network had been compromised and were advised not to use our PCs until it was under control. During this effort I was able to use continuum to communicate with external resources and coordinate assistence.

he's talking about writing to files on their network. Because his laptop was locked out of it, he had to resort to using his phone (which wasn't locked out of it), and continuum just helped in making the actual work more bearable than the tiny phone screen

Loving how you don't miss an opportunity to try and look smart and end up looking like a fool every time :D

Looks like a typical scenario,,,, at work, I can not just plug in my personal devices into the network. But spare monitors are aplenty... If I buy a continuum phone, I'll leave my laptop at home... travelling light... thats what I'm looking forward to..

Interesting experiment, but if you were counting on being able to work from the hotel room it would be too risky to rely on the TV connection as it would be an unknown. Some do not have any ports accessible and some don't use HDMI. Less risky if the hotel has a business center you could use and you've been there before. For me, the programs I need for work aren't available. That's where HP's virtualization for the X3 is interesting.

MS needs to bring that virtualisation to everyone, or someone does. I see HP's solution being limited to their enterprise customers.

Adding virtualization to an already slow interface won't do any good.

I agree.... but there must be some use of it

I also think that continuum is still in its early stages but the tech is so promising. I can't wait to get my hands on the Nexdock to play more with this. Also, we need more uwp apps so that they work with continuum. For my wife this would be more than plenty instead of her laptop.

Actually, thinking about it, a Microsoft phone/ phablet with a slide out landscape keyboard would cover all my business needs while traveling.

Continuum is something I plan to use a LOT once I get my NexDock. Was gonna cancel but didn't get round to it and to be fair I set my expectations too high based on the $1m stretch goal being attained. But for $99, I can't really complain about the package I'm gonna receive. I am still getting a heck of a decent package for my money.

I just picked up the 950 over the weekend and was pretty disappointed with Continuum, I didn't bother with the Display Dock as my TV has wireless display built in. After running through hours of updates and installs I finally went to connect to the TV only to be greeted by a lovely error message of "Video Data no supported.", using my old 640 I can do screen mirroring on the same build of W10M and yet can't get the 950 to connect at all. The whole experience was a bit frustrating and I'm not looking forward to dishing out more cash on cables and adapters to see if it works for my TV which is only a few years old Samsung 6000 series with all the bells and whistles at the time. I have a feeling it's just the TV as I'm used to errors when trying to play video on Microsoft Film + TV from laptop via HDMI and getting stopped by DRM. Ideally I feel the display dock should have been included with the phone as Continuum is the only real benefit at the moment and without a flawless setup it really leaves a bad impression. I'm heading to the Microsoft campus tonight anyway so hopefully I'll get to try it out first hand or get some tips for how to get it working at home. Posted from my Lumia 950

The Samsung TVs only support screen mirroring as far as I know and the resolution on the 950 is to high it seems, since it works fine with a 640.

It's a bit frustrating if that's the cause since Continuum should just be outputting a standard 1080p video and audio feed, screen mirroring is understandable I guess but not many TVs have a resolution that can match the 950 so they should just downscale. Hopefully Microsoft are working on that already. Posted from my Lumia 950

I could be wrong but since Continuum results in 1080p on my Microsoft Miracast reciever I don't understand why I couldn't get it to work on a Samsung TV. Have you tried updating your TV btw?

Yeah the error message doesn't leave much in the way to figure out what is wrong, not even an error code! The TV updates by itself last I checked it was on the latest version. I'm still considering getting an Xbox One even though I won't use it for gaming, I just hate the Samsung TV OS with a passion, it's so slow and annoying to use. Though my biggest problem with it is Microsoft's fault since they didn't make an Xbox video app for it and the website uses Silverlight which can't install on the TV. The only way I can play my collection is to use a VM on my laptop to play the video and then use HDMI to hook the laptop to the TV, all that trouble just to watch a movie I paid for, was hoping Continuum would be the solution but I was wrong! Posted from my Lumia 950

May be able to help with the screen mirroring at least; the 950 can do it, but the OS naturally favours Continuum. Connect to the tv, go under display in settings, then at the bottom there'll hopefully be a new bit for the second display. A option box will allow you to change from 'app' to 'screen mirroring'. Apologies, may not be the best description but I'm going from memory as I cannot currently test it out. Hope this helps!

I have an OLED LG 55" TV from last year (or 2 years ago ?) and the Miracast (called Sharecast) is working absolutely perfectly, from my Lumia 950 or SP3. I though that most modern TV had already Miracast built-in and working without a fuss...

All my company needs is Citrix to hurry and release a Windows 10 UWP Citrix Receiver and we are ready to invest in Continuum phones. I have a Display Dock and dual monitors set up at my desk giving me a Windows 7 environment that is locked down behind firewalls and red tape on the left screen and a freely open Windows 10 desktop environment via Continuum on the right screen that enables me to access the latest UWPs and general Windows 10 software improvements directly from my phone. With the latest Redstone build, Continuum now has a proper Windows 10 desktop lock screen so I can finally lock my phone the same way I lock my computer and get a password protected lock screen. Onlookers cannot figure how I'm running Windows 10 at work on my second screen. It is great! Some people shouldn't be so closed minded and really should think outside of their own limited use cases. Simple joys or browsing desktop YouTube safely from my phone's network instead of firewall hassles due to security and not leisure management is really a magical experience that makes my iPhone and Android devices seem obsolete and just simple phones. I've started marketing the Continuum phones as "Windows 10 2 in 1 phones" or a "a Windows 10 phone and a Windows 10 desktop in one device" as Continuum does provide a Windows 10 desktop experience where other OSes simply do not. I explain x86 incompatibilities, thus the discussion of Citrix, which we rely on via an app based model and not a shared desktop model. No one is being deceived here, open discussions and factual demonstrations of what's possible and a needs basement and cost benefit analysis since we are currently issuing phones and laptops amd laptop docks that cost over $2,500 combined for one user when we could issue a phone and a Microsoft Display Dock, keyboard and mouse for less than $1,000 and get the exact same work done via Citrix. We cannot plug devices to our work computers so I have Continuum, a wired keyboard and mouse set up with the dock always on my work desk. I come to work, plug in my 950 XL and Continuum powers up on the second monitor. I still have 1 free USB port on the dock. I often plug in a flash drive or a USB hub so I can plug in more devices at the same time: Sony a7Rii camera
Sony a6000 camera
Nokia 808 PureView
Nexus 5
Other USB devices that I cannot plug to my computer via security policy. The ability to create a desktop environment with growing USB device support is groundbreaking and I'm glad to see improvements with Ethernet support and hopefully wired printer support one day. Not everyone HAS to take equipment with them, some of us simply walk in with our phone and sit down, connect and watch a world of possibilities open via Continuum. Thank you Microsoft, for looking far down the line in technology and having an open mind to ideas such as Continuum.

It's not an imagination. What I wrote is what I actually do right now, everyday with my 950/950XL and the Microsoft Display Dock. It's truly amazing, the reality of what Microsoft has pulled off with programming Continuum. For example, my 950, with the dock, I can plug my Sony a7Rii to the dock, browse to the video folder and play a 35mm, full sensor readout, 4K UHD, 100Mbps, 1GB file playing from the memory card in the camera, over a USB connection, through the phone, to a computer monitor while my phone is still usable without any showdown of the phone UI and video. It's simply amazing.

That stunt won't get you fired?

Stunt? What stunt? Stunt...hmmm, clearly, my original post talks about the fact that the dock, keyboard and mouse is set up at my desk with a second monitor at work, that we are in discussions about switching to Continuum phones vs laptops and phones that we need Citrix to release their UWP Citrix Receiver before we make final decisions, that there are discussions about limitations, cost benefit analysis and the things I connect to my Continuum setup, all without worrying about Firewalls and more because the network traffic is coming from my phone. Yet after all of that information that shows Continuum integration into my job, you call it a stunt and ask will it get me fired? What's with your negativity?

This is the main selling point of Continuum

Seems like one application here (hotel) is to stream video (like Netflix) to the hotel screen, or maybe to show the family the vacation photos you just took. In time, if MS advances gaming on Continuum, you could just bring an Xbox controller and play a few video games. Phones are already as powerful as the old Xbox 360, so there's some real potential there.

Miracast device would simplify things.

If you have Wireless Display adapter and continuum phone....you good to go for small presentation and quick exiting etc. For some serious work go with all 5 accessories....total weight around 1.5 kg...very close to laptop!!!!

It would seem many of the commenters have never traveled with technology. I often carry a mouse anyway and, when hotel hopping, it is necessary to carry a variety of cables and adapters just to be able to stream to the hotel TV. Add the laptop charger and the phone I'd carry with me anyway and I can see great potential in leaving the laptop and charger at home and using my phone instead. ;)

I used this at my hotel in the Dominican Republic while on a conference call with people reviewing a 350 page document. It was very simple, smooth and efficient to set up. The resort had a business canter with their computers available for my use, but I did not want my logins and data on their machines. My 950 did the trick and I love Continuum.

The title is wrong. It should read "How hard is it to set up in a hotel room?!"

I use the Microsoft wedge Bluetooth mouse and the Microsoft foldable keyboard which works well

Indeed. As another option I have a small Bluetooth keyboard with trackpad - Rapoo e6700 - which I can't wait to try with my 950xl and would be perfect for travel.

Remember that episode of The Simpsons, where Homer is selling Juicers and Dr. Nick shouts over the din "It's whisper quiet!!"...
I stay in hotels for about a third of the month. Yoga Pro goes in my case, massive, comfortable Logitech mouse travels in a shoe in the Wheelie bag. Easy. As people have said, Continuum is a solution looking for a problem.

Whenever I try to use Continuum it doesn't fit the TV correctly. I've tried on 3 different TVs, one 720P, one 1080P, and one 4K.

You have to adjust the TV video settings and select "Fit" in the settings. This will fit Continuum to your TV screen. Some TVs do not auto fit continuum to the screen.

Thanks. I got it to fit doing that on the 4K TV. I couldn't get it to work properly with the 720P TV, but it's pretty old.

Couldn't you just plug a Microsoft Wireless display adapter in and be done with all the cables? Bluetooth keyboard & mouse...all set?

We have limited our thinking to the version 1 of Continuum. It holds great future if MS is ready to explore. Just think with all the R&D going on right now and the innovations coming up, in the future there could be a laser keyboard which could be reflected through the dock. No need to carry the keyboard. How about hologram keyboards?. It is just the beginning and if R&D is applied in the right direction we will certainly not have to carry a laptop in the future.

A hotel room may not be the best scenario as I see it. It's good to see how easy/complicated this is. I would see better the person that commutes to an office part time or conference rooms when giving presentations. The office and conference room could have the connections at the ready so all a user has to do is plug their phone in and be ready to present/work.

What kind of mouse are you using? These days a mouse can be used anywhere as long as it isn't too bright in color or reflective a surface... ;p

Does Cisco AnyConnect work with Continuum? That would be actually something useful.

I regularly connect my phone to a big screen but last week was the first time so far that it really saved my butt as I wanted to take a flight but had to print out a voucher that I could not download using the mobile screen space as the website bugged out and using the desktop trigger did not helped - once I could use the a 1080p screen through continuum the website worked perfectly and I was able to get the voucher and print it. I now always carry the wireless adapter 2 with me - it is just extremely helpful.

I guess with a mouse like logi m570 or their t630, or MS arc/scalp touch mice you could actually have a better experience

When I went on vacation last month, I didn't want to have to keep my laptop with me at all times so it wouldn't get stolen. Left the continuum dock, keyboard and mouse in the hotel room, and I didn't worry about it getting stolen. I sell (and setup) too many replacement laptops for ones stolen from checked bags and locked cars.

If any windows 10 pc could be a continuum host with the anniversary update, that will make continuum worth it... Just ask to use a laptop for a while, connect your phone and instantly have al your apps, profiles and documents!

That is exactly what is going to happen, it will come to insiders in the next months.

It's super easy, I used it with my Microsoft display adapter. Went well.

Stop trying to sell win rt in a new name... Posted via the Windows Central App for Android

...or you can just your laptop.

I rather just bring my Windows tablet and Miracast to the TV. If it doesn't support Miracast, one micro hdmi cable.

I've been using my 950XL while travelling now for several months. I have, however, gone completely wireless. Microsoft Bluetooth foldable keyboard, very tiny Bluetooth mouse and Microsoft's wireless HDMI connector. Works fine. I'm also looking at adding a portable NAS/HDD from a Chinese company called Travelstar. Using this several people can share a single Internet connection s well as a portable LAN. Works great on trains BTW.

Just this morning, I got an EMail from our company IT. Due to ever more widespread trojan attacks via EMail, they now are blocking access to WebMail sites like GMail, Outlook.com and all others they know of (and it seems they know all ;)
A colleague who works at a swiss bank isn't allowed to do anything with the work PC, WebMail is blocked since long, USB Sticks don't exist for them.
So, Continuum would be a great thing for all those who don't like writing private Mails, maybe a letter, or what not, on a mobile phone, and they want to be light when commuting to work.
Hook up your phone to the display you have at work, and you're able to do a lot of things already now.
Without your IT blocking anything.

This would have been interesting to read if you had brought the proper gear, i.e. either a Microsoft Miracast dongle or a BT keyboard and mouse, not to mention the proper Continum dock... as many others have commented.

Continuum is not a replacement of your existing devices... its an additional method of connectivity! I noticed that I don't use my laptop other than presentations or checking email when I travel. I can do same with mobile with the continuum+MS Wireless Display adapter. So no need to carry additional weight with me. I also used it for my job interview recently where I used interview room tv to present my career achievements. It just took less than 30 seconds to set it up. Now I am on reference check stage...fingers crossed!!!

As many have said, Continuum would probably be most useful in an office environment. Most non tech workers in my office just require Office software, a browser and something for messaging. Many plug their laptops into a dock that already has the mouse, keyboard and display connections in place. Continuum fits this scenario perfectly. When higher quality portable laptop docks become available, they can take their work outside if required but with everything already on their phones. Some people on these comments really need to open up their minds some more, if it was up to them, we'll still be using dumb phones and using Windows XP.

Dịch Vụ cài đặt win tại nhà tp hồ chí minh

This is the issue, not every hotel room is conveniently setup for connecting computer/phone to the TV. When I was in HK, the TV is in front of the bed, the desk is a build-in bench by the wall on the other side of the room. I did manage to pull out the HDMI cable from the Apple TV and connect it to my computer though. Used a bunch of pillows for makeshift desk. It worked, but not a very comfortable experience. Which brings my point, and as demonstrated by the article, what looks like a cool idea, in practice, might not be.

What about VR/AR as a solution to not haveing the right ports, or screen at all? Could a few Vurtual screens be an even better opption than one real screen? VR headset couls be smaller then even a lapdock, but provid and even better user experiance. What do you think?

Just bought a Surface Pro clone Miix 510 by Lenovo for a great price. I can't imagine carrying the continuum stuff around rather than that.
Windows Central Newsletter
Get the best of Windows Central in in your inbox, every day!
Thank you for signing up to Windows Central. You will receive a verification email shortly.
There was a problem. Please refresh the page and try again.