Huawei MateBook X is a gorgeous fanless 13-inch laptop that's exceptionally light
Huawei's forthcoming Ultrabook is a premium wonder with a 3:2 aspect ratio and fanless design, even with a Core i7 processor.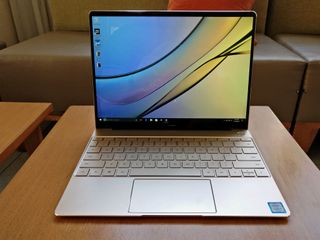 Today, Huawei announced a brand-new addition to its MateBook line, the MateBook X. Pushing beyond the tablet space into the premium Ultrabook one, Huawei is making waves with this exceptionally designed PC.
The MateBook X weighs just 2.3 lbs (1.05 kg) with razor-thin display bezels that are only 4.4 mm wide. Even better, the 2160 x 1440 non-touch IPS display is in the 3:2 aspect ratio, like Microsoft's Surface line.
Perhaps the biggest news about the MateBook X is what you can't see: cooling vents. The dual-core Intel Core i5-7200U and i7-7500U processors are completely fanless, one of the first examples of this we have seen in a modern laptop.
The all-metal chassis comes in three colors including space gray, prestige gold, and rose gold (China only).
Huawei MateBook X full tech specs
Category
Specification
Display
13-inch IPS, Corning Gorilla Glass, non-touch
sRGB 100 percent color gamut
350 nits
Display Resolution
2160 x 1440 pixels, 200 pixels per inch (PPI)
Aspect Ratio: 3:2
Software
Windows 10
Processor
Seventh Gen Intel Core i5-7200U
Seventh Gen Intel Core i7-7500U
Storage
256GB or 512GB Solid State Drive (SSD)
Memory
4GB or 8GB RAM
1866Mhz LPDDR3
Graphics
Intel HD Graphics 620
Windows Hello
Two-in-one power button with touch fingerprint sensor
Front Camera
1.0MP camera
Speakers
Stereo speakers with Dolby Atmos Sound System
Ports
Two USB-C ports (one on the left supporting data transfer and charging and one on the right supporting data transfer and can connect to MateDock 2)
3.5mm stereo headset jack
Network
IEEE 802.11a/b/g/n/ac, 2.4/5GHz 2x2 MIMO
Bluetooth Wireless 4.1 technology
Battery Life
10 hours of use
Weight
1.05 kg (2.31 lbs)
Dimensions
12.5 mm x 286 mm x 211 mm
Colors
Space gray, prestige gold, and rose gold (China only)
Additionally, the MateBook X is the first laptop to support Dolby Atmos Sound System. Going beyond just software optimizations, the MateBook X's audio hardware was co-designed with Dolby to achieve unprecedented sound, according to Huawei.
More details on MateBook X
Image 1 of 2
MateBook X has a Window Hello-enabled fingerprint reader right in the power button. That's interesting because you only need to press it once – to power on the device – and the laptop "remembers" your fingerprint, logging you into Windows 10 automatically. Most Windows 10 laptops with fingerprint readers are dual-stage: you press the power button, and then wait for login screen and use the fingerprint reader. That process is now just one step with the MateBook X.
Image 1 of 2
In my time with the MateBook X, I came away very impressed. It's light and exquisitely built, and Huawei made all the right decisions, including a large Precision touchpad. One drawback: The two USB Type-C ports do power and data but are not Thunderbolt 3 capable.
Image 1 of 2
The MateBook X is expected to go sale in July in six countries including the U.S. and UK. Pricing starts at about $1,572 (€1,399) for the Core i5 version with 8GB of RAM and 256GB SSD, and it goes up to $1,900 (€1,699) for the Core i7 with 8GB of RAM and 512GB SSD.
We plan to review the MateBook X later in June, so stay tuned.