Full screen artist visualizations return to Xbox Music on Windows 8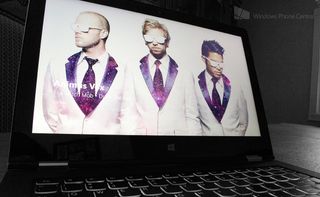 Last week we announced a minor update that was pushed for Xbox Music on Widows 8.1. The update had seemed to simply include a variety of bug fixes and performance tweaks, but a member from our forums has pointed out that the update has brought back a feature that had been previously taken out in a past update – full screen artist visualizations.
User John Balacano has pointed out the latest release of Xbox Music brings back the long loved "full screen artist" back to our Windows 8.1 PCs. For those of you who are feeling a bit homesick from the legacy Zune desktop software, this will sure make you feel at home.
The original Zune software was released way back in 2006 for syncing Zune devices – the ability to sync Windows Phone devices was later added on in 2010 when the first version of the mobile operating system appeared on the market. Many users today still continue to use the Zune software despite the fact that Microsoft has ceased to provide updates after it was replaced by the, now, Xbox Music app for Windows 8.
If the visualizations are one of the reasons you prefer the Zune software over the Xbox Music application, then you can check that item off of your list. The full screen artist visualizations look best if you happen to have a second monitor on which you can keep the Xbox Music app open, while working on the other. To check out the visualization mode, simply navigate to the "Now Playing" tab on the left hand side and then click the full screen button on the right hand side of the screen.
If you don't already have the latest version of the Xbox Music software, you can grab it by clicking here (opens in new tab). If you want to discuss the update with others, you can head over to the original forum thread by clicking here.
So, readers – are you happy to see the artist visualizations back?
Windows Central Newsletter
Get the best of Windows Central in your inbox, every day!
Xbox music is getting better!

Yeah, but at a glacial pace.

Actually, it's one of the more frequently-updated apps on Windows 8. They've had a lot to update, but I applaud the frequency of updates.

The first verison of the app alphabetized artists starting with "The" together under T. Definitely, they have had a lot to update!

I wish they would let you rate your songs and have a recently added playlist. I download songs but it sucks having to try and remember what I got.

You can view albums and songs by date added, doesn't that suffice?

Well i've used that before, but with a recently added playlist it will sync as a playlist with my other devices. With the xbox music app and the built in one i haven't been able to do that unless i'm missing something.

I'm sorry, but its not even close to Zune or as efficient to use. A desktop application with a mouse is the better tool for managing the library. Xbox music is ok for playing music, but only in tablet mode.

I agree, Zune is still the best music player out there. And there were still a lot of areas for improvement for Zune, too.

Visualizations have stopped working for some artists on WP. For example: Metallica

It's just judging you for liking Metallica in 2014 :P

lol....yes I loved my Zune and I love that they're bring back some of it's features.

Hey, don't hate on good music :P

Did y'all do something different, or new, with the cover image on this article? Because, it just refuses to show up...

I used to judge Metallica fans back in the day but then I heard 'Orion' and now I'm a fan.

Get MPAtool in the store, it lets you choose what pic for artists or albums you would want to see while music played

That is a workaround, Microsoft should fix the damn Xbox Music on WP in the first place. I am missing artist art for a ton of my music on my 1020.

I installed MusicBee to manage meta data and embed album art in the songs themselves. Fixes virtually all of my issues with XBox music.

My song metadata is fine, I have it all in perfect order including album art using MP3Tag, but the artist art is a different thing from album art.

I second MusicBee. Really quick and intuitive to fix metadata and album art. No idea why Xbox Music cant do that, while being more like Zune desktop.

When I choose shuffle all, it seems to shuffle the artist pics, too. The pics hardly ever match up to the song on my computer.

Metallicaaaaaah! Works fine for me. I have every album. All look good.

I came. OMG this exactly the feature I've been waiting for!!

Don't forget to wipe your screen off lol

You came over the image of those three dudes❔

Awesome. Was missing this!

I'm still waiting for better media management capabilities.

Finally they added this back. It was a stupid move to take it out in the first place. It was in Xbox music in Windows 8 and I was really pissed off when it dissapeared after updating to 8.1.

I still miss the polygons flyin' all over the place haha.

Same here... I loved having them scrolling on my 46" TV while the tunes played when I have mates over... Best Visualizations I had ever had on a music app...

Huh, I thought it was just me. I like both the Zune's and XBOX MUSIC's as well. It seems weird not having them. But hey, at least we get the pics back :)

One feature down, 100s more to go

Lol, so true. I do find that Xbox Music is great for just listening to music. But for music management, Zune app still takes the cake.

Finally! I can look at SNSD in full screen whilst listening to their songs!

Loved that this came back but the full screen experience on Zune is sooooooo much beautiful! Miss you Zune.

Zune will always be better.

Can't wait for their new album

If only these (on WP too) would work in my region...

This is a welcomed feature. I have always enjoyed letting the full screen mode run and enjoy the images that Xbox (Zune) provides.

I use the web version of Xbox Music while at work (not on Win8 at work) and I can't seem to find a way to make this work. Does anyone know if this is coming to the web version?

Simply awesome. Brings back memories of the Zune UI days. I wonder if we'll get visualizations on our WP8 devices like the Zune HD. Anyone knows?

You can set up the artist pic to the lock screen. I don't think it's setup by default.But don't think they're bringing that ZUNE stuff back.

Yay. I have 3 screens, 1 touch and 2 others so xbox music is always on :)

I noticed the "Go Fullscreen" icon in the now playing section, but it's not working for me. I assumed it was a placeholder.

Yayy!!! One step closer to making it like Zune again lol =D

If only this were implemented in Windows Phone ... natively.

Finally.. this was actually one of the main reasons I stopped using it. Glad to see this feature is back.

Nice! Now just make the Music Tile in Windows Phone like it was Pre Mango I believe and on phones with SD cards fix the double, triple, quadruple song issues!!!


Thank the flying spaghetti monster. Not only was it asinine to remove it in the first place, but it made Xbox music incredibly boring looking when playing on a big screen

I loved zune but Xbox music is pretty awesome. zune had music videos. where are the music videos in XBM?

Only on XBOX 360 for now, unfortunately. Waiting for them to come to X1.

I still miss Zune. I wish I could actually edit song info in Xbox Music.

This is the only thing I missed from Zune!!!

Full screen? I'd be happy if i could get some artist pictures, regardless of size. You know, obscure artists like Elvis.

YES! I quit using xbox music specifically because this feature disapeared! I like playing music and throwing it on my 40" tv, after it lost the full screen visualizer i had to switch to XBMC... I missed XBM so much =D now if only microsoft can fix it trying to cloud everything even though i have it in the settings psecifically NOT to >.>

I missed this feature, glad to see it is back.

Wish they'd leverage album art like they did with Zune if there was no artist info. About half my music is Japanese and they have no artists associated in the Xbox music store, and sometimes I get some American band metadata instead. One of the few annoyances I still have.

Where do you get you Japanese music from? I've been searching but having a bit of trouble...

I can't seem to get the visualzations to work on my Surface 2. Any thoughts? I have the latest version.

Okay, visualization doesn't really matter to me since most of my artists arn't in the music store, but would love to have a visualization like the Zune software has, shuffling all my album arts? Song ratings and auto playlists next please. I still use Zune to listen to music... no choice on my Surface RT though.
If it adds songs ratings and auto playlist, then i think i'll be happy.

You mean the background album art wall, right?! That was a lot if fun because I would be listening to one album, remember I had another since the cover appeared and queue it up for later.

yes!!! because most of my artists dont have artist infos ;3;

Why don't they update the Xbox Music app for WP 8? And make it available everywhere? What will happen when Xbox Music gets separated from the OS?

We don't know what will happen, but my suggestion is you download and use it and submit feedback. Hopefully they can pay attention long enough to give us what we are looking for.

I'm really happy to see this return. There are many aspects still missing from Zune, but I feel hopeful that they are bringing some of the old stuff over. The best will be when the ratings (fingers crossed) are brought back and when I finally get an Xbox and have my music everywhere in my home. Right now I am syncing an old Zune and using that in the living room and my PC is in the office, doing double duty for school and play. Can't wait for it all to be cloud based at home. I pay for the bandwidth, might as well use it.

Only took them 2 calender replacements to bring back something that was already there. Hail Microsoft.

Zune MKP is the only music app I use on my desktop. Xbox music is still not there.

LOVE LOVE LOVE Zune! Still use it everyday. All my music is sync'd through there on my Zune HD. I use Xbox Music only on my Lumia 920 and just download the music on the device. It's terrible but serviceable for now.