Is the Cortana-Alexa partnership still happening? #AskDanWindows 37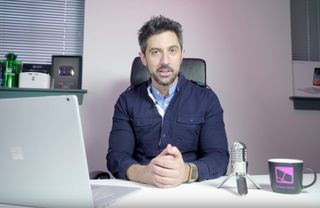 On this week's episode, I talk about the value (or lack thereof) of 3x3 Wi-Fi antennas for laptops and some more Cortana including that Amazon Alexa partnership with Microsoft.
Audience questions for Episode 37
Is there a 3x3 wireless card for the Dell XPS 15 (and why have one)?- jereisluke
Is Cortana dying and Alexa going to rule the world? - Matthias S
Is the Cortana-Alexa partnership still happening? @ChaddieBoi
Thanks, everyone, for the questions! Make sure to use Twitter, email, or our forums to ask me your question for next week!
Email me!
Don't use Twitter? After much feedback, we are happy to announce you can forward your questions to AskDan@WindowsCentral.com to submit your requests!
AskDan Forums!
Hate using email? Join me on our #AskDan Forums at Windows Central! I'll occasionally jump in there to try and answer questions or take ideas for new episodes of our web series.
Ask Dan Forums at Windows Central
You can also find previous episodes of #AskDanWindows here on the main landing page.
Daniel Rubino is the Executive Editor of Windows Central, head reviewer, podcast co-host, and analyst. He has been covering Microsoft here since 2007, back when this site was called WMExperts (and later Windows Phone Central). His interests include Windows, Microsoft Surface, laptops, next-gen computing, and arguing with people on the internet.
I think it's clear that Microsoft and Amazon are basically frenemies in this field especially in AI. So it's clear that Amazon would rather have Microsoft as a competitor than Google in this case. Hence why you see Microsoft and Amazon working together on this.
I wouldn't be surprised if in the future developers would be able to target Alexa and Cortana.

Yeah Google is a massive threat to Amazon's Alexa. They have more endpoints/leverage at the moment.

Yeah, what happened about that iTunes thing coming before end of 2017? Edit: Okay, I just saw that it was postponed.

Apparently it's done, but it's on Apple to release it.

More busy-talk for Cortona. Busy-talk is the art of releasing a lot of forward looking statements on a subject matter while getting absolutely no traction. The new forward looking statements usually reveal or indicate some improvement over the previous forward looking statements. Meanwhile, the competition is executing on all cylinders on said similar subjects or topics.
Nothing against Dan and team as they are simply letting us know what is happening.

Is there ever an answer that amounts to what Microsoft IS doing, rather than what they will do? The answer on Cortana is RS5/6, and we're not even at RS4 yet. So, Microsoft will commit to Cortana in 9-15 months? After all of the "next RS update" promises with mobile, that statement is more a cause for concern than confidence, IMO.

No one has ever said about Redstone 1-4 specifically is about Mobile. They mostly said about Redstone as a whole, which in this casr they were right.

"Is there ever an answer that amounts to what Microsoft IS doing"

This is literally called "Windows Insider Fast Ring". We report on it EVERY week that there is an update with a changelog

ergo

you already

know

what Microsoft "is doing". That's boring, tbh. Also, these are just questions you, the audience, asks, so take it up with them ;)

I wonder if MS still plans to release the earlier rumored Home Hub app which would turn all the 600-million W10 PCs into Cortana version of Echo Show devices instantly. If we can activate the HomeHub apps whenever we switch PC to the Sleep Mode, the PC would become a hands-free Cortana speaker with a display. No hardware needs to be purchased except if there is a standalone BT far-field microphone is available. Is this project dead already? It is pretty quiet on this lately.

A home hub app isn't even necessary to make this happen. Device makers just need to start taking advantage of Cortana APIs to all Cortana to recognize "things" like plugs and lights. That is the biggest gap in comparison with Alexa

My Cortana (finally) works flawlessly with Insteon. I can control stuff using Cortana on Invoke, phone, Surface, laptop, etc.

You must live in the US, because in the rest of the world, Cortana (if you have her) can't control smart devices, which means I'm forced to get an Echo with Alexa to use voice activation to control my stuff.

Microsoft could never get my Surface Pro 3 to wake properly. This is likely much harder than it sounds.

I've had my SP3 for 3 years and never had an issue with my SP3 not waking up properly. NEVER! I have always been curious what this is about.

HomeHub isn't dead. But apparently it's MS focusing on things like Windows Core OS which is a massive undertaking. However I wouldn't be surprised in the future if we see Homehub come through Windows Core OS this year.

WCOS is very suited for a Home Hub move. Agree 100%. Haven't heard much about a version of it for that, but that seems like the logical move.

Got a feeling that with the recent announcement of Cortana's future as the ambient hub in Windows Core, that there may be less competition between Microsoft and Amazon than it seems. I wouldn't be surprised to see Cortana become less general-purpose and more tightly-focused. Imagine being as tightly-integrated and razor-tuned as Siri, and the Alexa integration is so that you can access the popular ambient assistant. I.E. Cortana is the voice UX for Windows with access to Alexa for ambient computing/voice assistant use.

That's a good point. The idea that Cortana is more about productivity/OS level functions than ordering delicious Tide Pods is probably the smarter play.

Dan, when do you expect to be releasing the other in-depth Cortana video?

Please keep Cortana and Alexa separate, keep Cortana in Windows, Alexa and Echo in Amazon, Home in Google, and Siri in Apple, then partnership...

I agree, as soon as Microsoft mixes things on windows, then the competition takes over,and Microsoft gives up..It is a Sad Sad Microsoft these days, so many good ideas, and no one in Microsoft to stick with these ideas...

It would be nice if our Invokes would be able to do Alexa as well. Or at least be able to convert from Cortana when the time comes.

The Cortana API's are locked down. The creator of Home Remote told me as much. Which is why he cannot add Cortana to his program.

I think I'm almost done with Microsoft. It's demeaning be in the Microsoft camp - they don't communicate anything properly, no exciting products, always late to market! They're retreating/pushed out from the consumer space to become a boring entrprise software company like IBM. LIke Zac Bowden said in his deleted tweet....if they cancel Andromeda I'm completely done with them!

That is clearly Satya´s profile, and that is why Mark Zuck. didn´t let go the control of the company, he kept more of 50%. He said he did that because investors wants to make short term profits by killing long term projects. You are going to make money, but it is counterproductive in the long run. Satya doesn´t want wild competitive fields. He is letting go all consumer space because he doesnt understand consumers. He was a cloud guy and that is what he knows to do. However, this is microsoft, and in theory he could lead cloud computing and everything else

But Facebook is goddamn awful lol

The video appears to show Cortana and an Ecobee thermostat. Is there some kind of skill/integration there that I don't know about?

Dan said it is coming down the pipeline soon "in the next few weeks"

Heard the same thing multiple times about multiple services and products from MS...then they dropped them. Cortana is dead no matter what they do, at least by name. The AI behind it will continue and will be enterprise focussed. Alas MS have a history of screwing things up, either bad decisions or indecisions. Alexa for Business is the future, Google has mobile covered, Alexa in the home, data is the fuel of AI and Microsofts short-sightedness ended mobile, bet they are secretly crying and banging heads on tables, might knock some sense into them.

They have prematurely declared "Mobile is dead" - comment attributed to Alex Kipman Well, Mobile is dead the same way the PCs were dead several years ago - [1] Replaced by the next paradigm (smartphones replaced PCs for many users/use cases, Smartphones to be replaced by Mixed Reality when?) [2] Saturation (at least in the developed world) and [3] Total unit sales stable/or falling year over year. Did Microsoft stop caring about the PC market "because PCs are dead"? Why make surfaces? Mobile is going to be around for a long time and continue to be important...bring out the surface mobile already! :)

Whats any of that got to do with AI? - Surface Phone? whos going to buy it? whats the market share going to be? what % of total PC sales globally are Surface products? The current leadership at MS (looking at you Satya Nadella) have lost the balls to create something new and exciting, retrenchment, broken promises (cloud First, Mobile First lol) and silly decisions combined with an utterly broken culture full with a sense of entitlement. Arrogance abounds along the corridors at MS.

Yes, the culture of mistrust created by the cut-throat incentive system they had seems to be still ligering on...it's huge challenge to change that unless you get rid of most of the people who spent most of their careers in that environment - According devops, in the current highly volatile business climate you simpy can't survive unless there is a culture of trust within the company :) This is the way I see it....Microsoft is a company run by programmers.. they all live in their techie bubble ...they don't have the ability to see things from others' perspective or the ability to communicate effectively ...they come across as arrogant, because of all these reasons, even when they're not They keep a weak/(incompetent?) marketing department around and don't allow them meaningfully contribute to strategy/product development/PR, etc Sure, surface mobile most likely will be a niche product (may be they can come up with some financial innovation to make it appealing to broader market?) but it could be the product that makes the brand exciting to customers, developers and employees ?

Regarding your comment about Microsoft not caring of the pc market is dead... That's different when compared to mobile because in a sense windows IS the pc market. Of course they're going to try to fight to keep it alive, and same for Apple and Google in regards to the mobile smartphone market. At the same time though, Microsoft is trying to evolve the windows OS to be flexible (Cshell, windows core, etc) in any form factor so they know they can't just stay with just PC's.
Windows Central Newsletter
Get the best of Windows Central in in your inbox, every day!
Thank you for signing up to Windows Central. You will receive a verification email shortly.
There was a problem. Please refresh the page and try again.