Asphalt 8: Airborne for Windows Phone updated with decals, new cars and more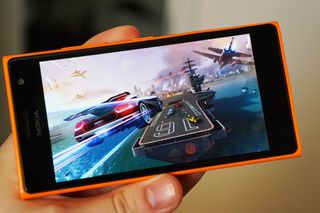 The Windows Phone version of Gameloft's popular free-to-play arcade racing game Asphalt 8: Airborne received an update today that adds support for placing decals on the game's vehicles for the first time, along with a number of new Ferrari cars and more.
Here's what's new in the 1.8.0.20 update:
CAR DECALS: The most requested feature is finally here! Customize your cars & take down your opponents with style!
5 NEW FERRARI CARS: Get ready for these Italian stallions, including the Enzo Ferrari, Ferrari 612 Scaglietti, Ferrari 330 P4, Ferrari F40 & Ferrari F50, coming soon!
GARAGE REDESIGN: Admire your beauties in an all-new environment!
NEW CAR COLLECTION: Time to stock your garage & get exclusive rewards!
Thanks to everyone who tipped us!
Download Asphalt 8: Airborne from the Windows Phone Store (free)
Cant update it on my Windows 10 phone. You guys any luck?
After the download and about to install, it becomes attention required then have to download over again when you tap try again :(

That must be a store problem. Been having plenty of those myself!

Bro why my webstore don't show asphalt 8 tell me please???????????

I was able to install it on my 1520...you may want to move it to phone memory before installing update...

This came in fine on my 10 test phones but for apps that were migrated over and don't update with the 800 error, just uninstall and reinstall seems to work..

Awesome!! This is the only game I play on my phone

Same here. Probably the BST racing game on phone

Thanks but I don't like playing those type of games on my phone.. Its so hard to concentrate on small screens.

Awesome! The problem in this game is that its really hard to grind but still, its free!

Try grinding on single player, the first mission (Nevada Classic) and get 1000 credits minimum at each race :)

you can get 5000 credits in under one minimum in season 9

Problem for most of the people is to unlock Season 9 without paying real $

play hard, you dont need $.. i have played for months, and unlocked it without purchasing any $ or tokens or car packs... practice makes a man perfect...

Upgrade the Lamborghini Countach to MAX and race it's event in season 9 - you get almost 5000 for a 75sec race...

Upgrading a vehicle to MAX is so damn difficult..

upgrading a countach is lost money. better to go for a P1 instead

But the p1 is a bit more expensive to buy and upgrade.

This game has become almost unplayable after 6, unless I shell out some (real) bucks on cars .

Does this game run at 1080p on 1080p devices?

Runs crisp and sharp on my 930, so I guess yes.

Yeah on 1520 I stopped at season 8 airborne, I don't have bucks to upgrade the cars!!

@mjyumping I am also facing the same problem in my secondary Lumia 620... I also wrote it to Gabriel Aul but he is not responding to my tweet!!

Ok I really regret it now installing w10 on my daily driver

It tells me it isn't available

Aww man I installed it yesterday!!!

Same here. I had a mixed feeling when I saw the update today. I couldn't smile but I like updates but I...

Unfortunately it has always lagged on my 830 so I will not be downloading it .

The update is almost 1gb. :).

Who cares, if you have slow speed internet just put the download at night before sleeping ;)

It cares because is more likely a brand new game rather than an update

How does the update work on 512mb devices?

It never lagged on my old 520. Make sure you're running the game from phone memory and not SD card. Even a high speed SD card can affect the gameplay /performance severely.

Few months back I got banned from asphalt on my 520 since they accused me of cheating in the game(which I hadn't :( ) and then I uninstalled It.
Now I'm wondering can I play It on my 435 our will they ban me on that too.

Wth? How can they do that?! There are no cheats in windows only on androids. Regards if you are banned on your 435 idk but try it

Bro I know cheats don't work on WP but one day while upgrading my cars using cards I was having issues with my WiFi conn and had to close the game, the next day when I opened the game to play I was greeted with a screen saying I was banned because I used some cheats to increase my points.

Oh man, that was unfortunate. It was their own fault! BTW today also, I have purchased a 3 dollar set of cars Microsoft already billed me because the transaction is complete, but when I go back to the game it says my purchase has an error, eventhough I paid it already! I wasted money

Oh, so you lost real money but I had bought many cars playing hours of the game and accumulating points, the day I was banned I was about to buy SSC Tuatara with all my hard earned points :'(

Did anyone know how to get more Money? I'm seeking for some Money :(

Work hard and save money. Dont buy junk foods

you can get 5000 credits in under one minute in season 9

keep playing and playing, try collecting as many money as you can... be patient. practice makes a man perfect...

Hey guys, I think its a good place to discuss this here. So I am level 17 on multiplayer, and I wonder why all of my opponents seem to be a Citroen Survolt, for me it sucks that all of my opponents are the same and I am the only one uses a Ford Focus RS. It feels the game to be dull to compete with all the players with all the same cars.

Used to play on my laptop. But since last update I am not able to play events because the error "Cannot retrieve user data" always comes up and not able to sign in too in game. Anyone else facing same?

I downloaded it on my PC from wp store and then I moved it to my SD card. But, now I can't install it on my L730. There is no appearance of INSTALL FROM SD CARD on store. Is there anyone facing the problem?

Go to storage sense, sd card, remove sd card.. Restart phone then check store for Install from sd card.

Still showing the same problem

When did you download it? Before the update?

I don't think that matters.. I should definitely show the game but will show it has outdated.

Put rhi file in download folder in sd card..it will be then installed.

Only if my lumia wasnt bricked.. :(

Is Windows 10 the culprit?

Windows 10 is smooth, I'm using it now

Does anyone have downloaded dead trigger 2,I spent my 600 mb data on that xap file and the file is broken. Too bad.

Dead trigger will not install in my 1520... I have no idea why.

I almost thought they stopped supporting us.

i miss aventador , huracan :\

was really a good game until craploft made it freemium with energy meter and forces you to spend real money.increased prices for cars and upgrades,buy some cars with real money or with other s*** currency which can be earned only via events where even Lamborghini venovo has equal rank with fully upgraded tatura

Nooooooo!!! They have removed a lot of car packs out of this update!! And now we have to buy them using tokens. What the hell!

I don't understand why with every update I need to download the full game..!!

i made 48 sec for Koenigsegg One:1 event in season 9, 50 sec for Savage Rivale GTR & VW W12 event in season 9. anyone?

Extremely waiting for this....

Finally the update came. I almost gave up as my brother kept teasing me with his Android version of the game.

The first time I managed to get the full download done at once with no attention required errors on my Lumia 720

Is the decal update only for Windows phone? I can't see the update hitting the Windows store. It's only on Windows phone store. I play it on my laptop and have completed almost all events on Season9 that is beyond.... and have total 1350 stars...

Of all the various Asphalt 8 versions nothing can top the Windows 8.1 desktop version. Playing on a big monitor, and controlling your car with the keyboard or and Xbox controller is the way to go. When you start racing the elite cars in multiplayer mode the kind of control you have with keyboard or Xbox controller is second to none, and necessary going 300+mph! :)

Why all games and apps are same like android i mean features wise and update wise...

We have the definitive version. Better than Android or iOS.

will i be able to play asphalt 8(say,xap file downloaded offline a month ago,and manually installing as local app) without updating it every fortnight?
i know the update brings new features but i don't have access to wifi and my data plan is limited. so what i am asking, is the update compulsory in order to play or run it?

The game was working fine till the last update. After the last update, it's asking to update the game everytime I start the game n there is no update available. When I open the game it is stuck on the main screen as the message of updation pops up I cannot proceed further. Someone please give a solution.

Come si fa le trottole in questo gioco...?

Adesso non funziona, crasha, no si instala...

I can't update it on my windows 10 phone,I just installed it last month
Windows Central Newsletter
Get the best of Windows Central in in your inbox, every day!
Thank you for signing up to Windows Central. You will receive a verification email shortly.
There was a problem. Please refresh the page and try again.