Asphalt 8 races around the Great Wall in Windows Phone and Windows 8 update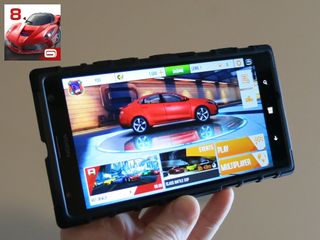 Just this morning we listed Asphalt 8: Airborne as one of Windows Phone's top racing games. Well, it just got better as today Gameloft has launched a major update for Asphalt 8 on both Windows Phone and Windows 8 and RT.
The new update adds a brand new location with six track variations, new racing events, lots of new sports cars, and music from bands who unfortunately aren't Bad Religion or The Offspring. And remember, Asphalt 8 has been free to play on Windows platforms since January, so nobody needs to miss out on the arcade-style racing action. Head past the break for full details!
Asphalt 8 Year of the Horse update details
We're celebrating the Year of the Horse by adding some horsepower to the game with a whole new Asian-inspired racing location! Discover the Great Wall with your McLaren P1, Ferrari Testarossa or any of the other new dream cars!
Explore the Far East: Race through the gorgeous new Asian-inspired location, the Great Wall, which will provide 6 new tracks like you've never seen before -- but don't get distracted by the beauty of the scenery or you might fall off the edge.
New cars coming: Stay tuned as we'll regularly release amazing new cars, including the unique 2014 McLaren P1, along with the iconic Ferrari Testarossa, and the powerful Dodge Challenger! More of a cross-country racing fan? The mighty 2014 Ford F-150 is there for you too!
Immersion at its finest: Get hyped for the ride of your life with a new soundtrack and way more to discover! New songs come from The Crystal Method, Band of Skulls, and Silversun pickups.
Overall bug fixes and optimizations.
Multiplayer matchmaking improvements.
Leaderboard changes: inactive players drop off the global leaderboard after two weeks.
Neck and neck
Today's update brings the Windows versions of Asphalt 8 totally in line with the Android version of the game. The iOS version, however retains one exclusive feature that didn't make the cut on Windows platforms or Android:
Twitch integration: Connect with the Asphalt community on Twitch.tv to broadcast your gameplay online, share your biggest stunts, or take a look at your rivals' skills. Think you're the best driver? Prove it with Twitch!
Twitch streaming relies on SDK support from Twitch.tv itself, so we shouldn't expect to see it in Windows Phone and Windows 8 games until Twitch adds SDK support to our platforms of choice.
Asphalt 8 is an intense and beautiful racer, though of course the change to free to play also brought a bump in difficulty. Get it now and start earning those new cars! Remember, Windows Phone games need up to four times more free space than the game's download size in order to install. Good thing the Windows Phone 8.1 developer preview added SD card support!
Asphalt 8 – Windows Phone 8 – 946 MB – Free – Store Link
Asphalt 8 – Windows 8 and RT – 1.5 GB – Free – Store Link

(opens in new tab)
Thanks to Taras Buria for the tip!
Get the Windows Central Newsletter
All the latest news, reviews, and guides for Windows and Xbox diehards.
Paul Acevedo is the Games Editor at Windows Central. A lifelong gamer, he has written about videogames for over 15 years and reviewed over 350 games for our site. Follow him on Twitter @PaulRAcevedo. Don't hate. Appreciate!
Yep
Gameloft show some love on updating six guns too ..which is due on an update to continue story further One thing plus now there ain't no problem of space since I can install games on sd card ;P

And order and chaos, still unplayable on the 1520

You can press the home button and then the back one to fix the graphical glitches...

Yeah but that only works until you hit one of the buttons again

I had reached season 8, bought most of the best cars and had £150,000 in the bank.
Now this update wipes everything??
I give up on this game.

Osum update. Best car racing game till date and that to its for free

Thanks Paul! Gotta visit store now... Best arcade racer of all time...

I remember the last version was around worth 820MB for 512mb devices though, now its 946mb. But its not an issue for me as long as it runs smooth. Smoother than asphalt 7...

Much awaited update. As a racing game addict, next in wish list; Real Racing 3.

Same here! Already finished real racing 2. It gave me the best driving experience on a phone ever...

Real Racing 3 is a labor of love in all the right ways. I hope it comes to Windows Phone. Better late than never.

Got it yesterday! Wonder why they don't put the Aventador as well.

What happened to asphalt 7 it's gone!

Hopefully they're fixing all the bugs, like the "special event" cars not unlocking. Not holding my breath.

2 achievements (unlock all cars/upgrades) are not obtainable anymore since the last update. Sync between WP and W8 is also broken.
Like they gonna fix it, we are talking about gameloft ;-)
Would be awesome that's for sure!

I won't forget what Gameloft did with Asphalt 5 and 7, that was the most shameful move ever. Furthermore they never cared about broken achievements. On top they dropped Xbox live support. On topic: Great game, looking very good. I will never play it because of those reasons above.
Just to be clear: You don't have to share my opinion, have fun with this game.

Gameloft has a rich history of taking the money and running away from broken releases. Everyone lauds them for "supporting the ecosystem," but I'm not so sure that I'd call it support.

When I try to download from the store it gives an error like the game is not available in store. Can u please help me to solve this. And my phone is L525

Same here. Not working for me either. L525. :(

Same here asphalt 8 not working in Lumia 525 store,always a error.

Same here Lumia 525... Even the free games that were on offer are gone. Now can't reinstall them.

Goto the game in the store, tap on buy and it will ask you if you want to reinstall. You gotta be logged in with the same live id though when you first installed them.

http://www.windowsphone.com/en-us/store/...16ce56958e click on this link from your phone.

It's the old 1.0.0.1 version.

It's the old 1.0.0.1 version ! :(
Give the link for the latest one.

Im pleased that lot of the Asphalt 8 cars are Italian: Lamborghini, Ferrari, Maserati, Alfa Romeo, Pagani ... XD

And yay for no old American muscle cars! Those are fat, ugly, fuel hungry, and overall very badly optimized, pretty much like the Americans themselves. I'm glad I don't have to look at them in this game

Maybe you should not be a jerk.

Americans are obsessed for the dimensions: for them big is best.
Well, eating kilograms of food at lunch, using cars that are more similar to tanks and thinking giant people with muscles like a body builder are superior than others are thoughts of little minded people.

Capo, I already warned Aryan. Stop trash-talking Americans. Hate speech of any kind is not welcome here.

Okay, maybe I acted a little out of line there but it's fine Paul, just order a big mac with double deep fried fries on the side and a diet coke and it will all be just fine ;)

Hey stop being a fucking dick we're not even the fatest country anymore Mexico is so stop with youre stereotypical bullshit and leave, thanks.

LOL, This was funny, sorry Americans but this is funny

You guys should just ban them and delete hate speech comments on the spot. I'm actually pretty offended by this kind of crap.

Nothing says Freedom like good old American Muscle cars, i'd like to see the 69 Shelby Mustang, 68 Camaro or the 67 Hemi Cuda

Just want to ask if the whole game is downloaded again or just updated part is downloaded ??

All +800MB are downloaded.

Sadly whole game is updated.

it's so difficult :3 i fall more than 20 times@@

I take the route to the left and avoid that crazy route to the right that leads to a cliff.

finally!! my andriod friends have been teasing me about not getting updates as fast because of this game(its just light banter) time to race

developers always bring late update for windows because of this they should make it for windowsphone, windows RT and windows 8 just make it one or at least get rid windows RT

I won't be able to update :( I already tried for an earlier update and now A8 is taking 2.1 gigs, rather than the usual 1.4 gigs + the update failed. I will have to wait for 8.1 and move the game to SD card and then update. Point of inquiry- I can move already installed games to SD card after I get WP8.1, right? Lumia 625.

Btw, your name should change to wp8.1_lover lol

LOL I will when I get it ;) I didn't get the developer preview. :p :/

A lot of things to keep you playing every day. Bonus if you keep coming back. Really very nice update but still verrrrryy hungry in battery. Anyone know if it is possible now cross platform multiplayer? As far as I know Android vs iPhone is not possible.

So it brings it in line with the iOS and Android versions, but does it have cross platform multiplayer?

Can't wait to get home and update it on Windows 8. Best 1,69€ I've ever spent. I got to final season 8 without purchasing any item in the inApp store. This game is so much fun with an Xbox controller and savegames sync nicely with the WP8 version.

Chinese New Year was 2 months ago! Bit late for this.

Y is there no BMW and jaguar! It has good looks!

They can only use what they can license. I'm sure BMW and Jag either have contracts with other companies, just didn't want to license, or wanted too much money for licensing.

One thing that upsets me is that I own every car pack and now this update bring new cars and I still have to purchase them

On the bright side, the new cars aren't much (if any) more powerful than the original cars, and people who buy the car packs now still won't get the update cars. =)

I need some of the new cars for specific events. I should automatically own them. Gameloft is just a money grabbing company.

Just when it was getting stale... Boom hits us with some awesomness

Sinking into this update very nicely. :D http://i.imgur.com/i0QvlBM.jpg

Really wish they would just update Modern Combat 4

Minion Rush for Windows 8 was updated last night too and it makes it crash right after loading.

I updated this game and its now no where to be found. It's not on my app list or under the games folder. I searched for it in store but it says the app is installed. Lumia 1520

Try asking the voice assistant to play it and see what happens? Just an idea.

Thanks for the idea. I tried but its a no go. :(

Do you still need 3 times the required storage space to install in wp8.1?

Haven't been able to download this since updating to 8.1. I keep getting an error halfway through... Even a hard reset hasn't fixed it (Lumia 928).

Now again I have to download huge data to update :'(

Unable to install in Lumia 525. Does not show up in the store.

Unless it's offering the daily credit bonuses for playing multiple days in a row, it's still not in line with the Android version. I first installed it on my 1020 and then made the "mistake" of installing it on my Nexus 7 tablet and learning the Android version had a lot more features like the multiple day incrementing credit bonuses, car sales, credit sales, etc. That was before the great wall update too which has now been out for a couple months. I ended up removing it from my 1020 and finding something else for those time when I just need to kill a few minutes.

Credit sales have been in the game for ages - there was even one last weekend. But yes, the WP8 version does now have the daily bonuses.

Hmmm I never saw any sales in my WP8 one. I'd go into the Android one all the time and constantly find credit packs and cars on sale though. Anyway, it sounds like they're working to fix things like that which is good. WP needs to not only have the apps that iOS and Android have, but the experience needs to be on the same level as well. Gameloft's Minion Rush is another prime example of this kind of disconnect. The WP version still only has 3 zones, and doesn't have all the daily/weekly contests that I see on the Android version.

Yes, daily credit bonuses are in the game and I can confirm that it is inline with the features from Android and iOS. The only thing missing are the ads that pop up when you launch the game. I launched it on my iPhone 5s, Nexus 5 and Lumia 1020 and iOS and Android had ads, one told me I am eligible to win a $1,000 Amazon Gift Card.... On Windows Phone, the Dodge Challenger is available today and it isn't available on iOS and Android as of this writing. This article has screenshots where you can see the daily credit bonuses and more that are exactly the same as on Android and iOS: http://mynokiablog.com/2014/04/25/massive-asphalt-8-update/

Were don't get twitch integration :(. iOS got this feature and last I checked twitch was kinda fit Xbox

Anyone playing this game off their SD card? Curious how well it performs. So far only keeping graphics intensive games on the internal memory just incase.

I think it sucks. I am playing it on my SD card on my 1520 and it can be really studdery

Good to know thanks! I'll stick with keeping it on the internal for now.

Really? And that's coming from a 1520 owner, huh! Is your SD a class 10? Good thing I opted to save it on the internal.

It's performance on SD card is absolutely disaster n pathetic... It's laging more than the word lag is. Black screens, cars disappearing in loading n when comes back, in place of the car, there is a shadow... Lol nice update

The support for windows phone from gameloft is amazing. I play the game er'day!

excuse me, does anyone have the same issue i'm having? I just updated the damn thing and it just won't run!! the lag is horrible! nokia lumia 925 here, 10 gigs of free space (internal memory) WTF?!!??!

Yeah frequent black screen, cars disappears with black shadow... I m facing it in L625... Horrible n also may b of WP 8.1 preview O.S. This update sucks

I hope you're right, I'd hate to lose all my progress over this. Been playing it for a total time of 6 days and 7 hours :))

I have just moved the app from SD card to phone memory... Let me check how it performs n then I will reply again...

Hey I just moved it to phone memory n its working a lot better.. But the china update is still laging n has graphical probe as well... But seriously the developers has to work on updating the performance of the apps when on SD card

Another factor in SD performance would be the speed of the card itself. I expect that faster cards will offer better performance than cheaper and slower ones.

Yeah I know, in that case I use a class 10 micro SD card, SanDisk ultra HC1 16gb... It's the best I can get it in India n I guess class 10 is what recommended too.

Yeah, that does sound like an appropriately fast card.

So I guess its the WP 8.1 preview release that is making a mess of the game... Lol lots of feature with lots of bugs... But I understand that this preview release is just to accustom WP user to check n see what it actually has.

My lumia 925 doesn't have an SD card slot.

Is there chance that Asphalt 8 become Universal app, meaning sharing status between Windows platforms.

I really hate their update... It is more likely a reinstall than update.

There is a lot of bugs, cars disappears with a shadow behind.. Frequent black screens in the game... I think its the prob in the WP 8.1 preview O.S. Btw I m on L625... Earlier it ran smooth on L625.. With the update n 8.1... It's sucks... Do any of u have the same prob??

625 owner here, plays just fine. But, I had the game saved on the internal, though.

I'm on WP8.0, L1520, plays just fine.l... Loving the new update!

Needs cloud saving. This game sucks because of the lack of that feature.

Yeah, it's weird how Asphalt 7 had cloud saving but 8 doesn't.

Asphalt 8 does have a cloud saving coz when I installed it again, it asked for me the earlier profile replace the current one... Now I have the old profile in the new update. FB login details is what it saves all.

Oh... That explains why some people would miss it.

Hehe... Whoever has played it earlier before this update will know and new installer must login with fb details.. That's they can compete with friend and cloud saving that the same time.

Why I received update since yesterday and you you've just reported today?

Got Wp8.1 Preview on my L820 - Asphalt just disappeared from my app/game list. Appears as installed in the store but can't find it on my phone - not even via system wide search. Anyone know what's happening?

I'm in confusion.If I download the game will it be downloaded to my phone or my sd?And where will it be unpacked-phone or sd??? I have just 1gb space on my phone!

I can't install the update even with 3gb free. That's means I can't even play it any more. Why must these updates install the whole frackin' game everytime!

I uninstalled Asphalt 8 from my mobile. It was linked to my facebook account too. If I reinstalli t on my windows 8.1 or wp8.1 will it resume from save data or not ? I use same account on both win8.1 and wp8.1

It will resume from saved data. It will actually give you 2 options before starting the game: whether use the saved data or start with a new one.

Thanks Will this same occur on PC and laptop too (same live id and fb id with phone) ?

Do someone know which is the current versión for pcs??

is it not available for windows 8.1??????
update : I found its saying that we wil have to wait for this update, it will be soon

The steering controller not responsive!!! Gameloft please fix it !!

I can't buy ferrari testarossa, ford f-150, mclaren p1, i get "The cars required to complete in this event are not available for sale at this moment. Sorry for the inconvenience." why ?

I have the same problem! Although I could buy Ford F-150 accidentally, but I still don't know how to get the rest of them. I have been connected to the internet for days, but no cars are updated. Have you solved your problem yet?

Pls I do like to buy more cars with money but here in Ghana I don't have access to a credit card.
Can anyone help me with that??