Top Car Racing games for Windows Phone
Windows Phone Central Game Roundup: Car Racing Games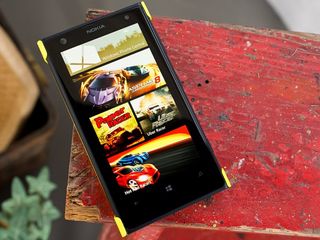 While there are plenty of games in the Windows Phone Store, racing games can be some of the more enjoyable genres available. Some are so intense you can feel the g-forces pulling at you as you take on a sharp curve or get sideswiped by a competitor.
This week's Windows Phone Central roundup focuses on the top racing games that places you behind the wheel of a car. These games have you taking on drag strips, road courses and dirt tracks. They are great gaming titles to choose from for those times you have a little time to kill but strong enough if you want to pursue a racing career.
Paper Racer (trial/$1.99)
Paper Racer is an entertaining race game on the small scale. Racing is done from overhead and you have the ability to create your own race car (in a manner of speaking).
The game has sixteen race courses, an online leader board and three gaming modes that includes an online multiplayer race. Graphics are nicely done with doodle flair. The only drawback, which is typical of many of our Windows Phone racing games, is that the controls take a bit of time to get used to. The courses are open style (very few walls) so do not be surprised if you drift off the course while attempting a turn and find yourself in no-man's land.
Along with the multiplayer games, Paper Racer has a career mode where you compete against a full field of racers to unlock the sixteen race courses. You also have a time trial game that is basically a quick race where you race against the clock to improve your position on the Global leaderboard.
Creating a car is a unique touch where you can doodle your own car, photograph it with your Windows Phone and import the drawing into the game.
Now to the controls, from the main menu Paper Racer has two styles of controls. The default control layout has a gas/brake pedals in the lower right corner and steering arrows in the lower left corner. The other two options will create a joystick that controls both acceleration and steering that can be positioned in the left or right corner. The joystick is the more challenging of the two control methods.
Paper Racer is not just a friendly day at the racetrack. You can cut off your opponents, crash into your opponents sending them off the track and collide with objects sending them into your opponents.
While Paper Racer takes a little time on the track to get a feel for your car, it is an entertaining and challenging option for your Windows Phone 8 device (including the low memory devices).
There is a free trial version available for Paper Racer while the full version is currently running $1.99. You can find Paper Racer here in the Windows Phone Store.
Asphalt 8: Airborne (free)
Asphalt 8: Airborne is a staple title when discussing the top Windows Phone racing games simply because it is such a good game. Graphics are top notch, controls are responsive to the touch, game play challenging enough to keep things from growing stale and there is plenty of gaming with the career and multiplayer modes.
All of the Asphalt series of racing games are nicely done but there is something about Asphalt 8 that hooks you. The slow motion impacts look cool, you find yourself leaning into the curves and when you hit the turbo boosts don't be surprised if you lean back in your chair out of reflex.
The racing controls are simple and straightforward. Acceleration is automatic or manual and you can steer with on-screen controls or use your Windows Phone tilt sensors (recommended). I prefer the automatic acceleration to allow you to concentrate on the road and stunt ramps better. Oh, you also have a turbo boost available to give your car a little more "get-up and go".
As you complete races, you will earn winnings that can be used in the garage to upgrade your car or buy new cars. While Asphalt 8: Airborne is a free game for Windows Phone 8, there is plenty of in-app purchase opportunities for credit packs and car packs.
All totaled, if you are looking for an exciting racing game there is no reason not to try Asphalt 8: Airborne. It is available for Windows Phone 8 and you can pick up your copy of Asphalt 8: Airborne here in the Windows Phone Store.
While the Windows Phone gaming experience is very good with Asphalt 8, there is a Windows 8 version (free) available here in the Windows Store (opens in new tab) that is a real joy to play on a tablet. I just wish your gaming progress was shared between devices.
Uber Racer (trial/$1.29)
Uber Racer has enjoyed decent success over on iOS and has recently joined the Windows Phone 8 lineup. This racing game is a little more grungy than the others with almost a Mad Max feel to things.
The storyline has you playing in world where humanity is running low on natural resources where you race to get the last drops of oil. Uber Racer has four races modes along with a career mode, all of which will keep you busy for some time. The ten racing environments have detailed graphics that matches the apocalyptic mood of the game rather nicely.
When you launch Uber Racer, you will be greeted with a 3D menu with options to access the game's settings, launch your career, visit the garage and play a quick race. There are four quick racing modes that include a time trial, elimination, one vs. one and race.
As you complete races, you'll earn funds that can be used to buy new cars or upgrade your existing racer. There are fifteen cars available that range from buggies to dirt track racers to trucks.
Game play is about as simple as it can get. Touch the screen anywhere to accelerate and you can choose between tilt steering or touch steering (left side turns left, right side turns right). You do have a brake pedal but you will rarely use it. Personally, I think the tilt steering is the best.
Courses often have multiple paths to follow and there is a slight demolition derby feel to the race. If an opponent looks like they are going to pass you, side swipe them and knock 'em off course.
Uber Racer is a well drawn up Windows Phone 8 game that has plenty of challenges to conquer. There is a free trial version available with the full version of Uber Racer running $1.29. The game is available for Windows Phone 8 (showing available on my Lumia 520 as well) and you can pick up your copy of Uber Racer here in the Windows Phone Store.
Additionally, there is a Windows 8 version that goes by the handle Uber Racer-Sandstorm. This version of the game lacks a trial version with the full version running $1.29. You can find Uber Racer-Sandstorm here (opens in new tab) in the Windows Store.
Hot Rod Racers (free)
If the round track is not your cup of tea and you prefer the straight tracks, Hot Rod Racers is a Windows Phone 8 game well worth trying. You compete against other street racers and earn coins to upgrade and customize your cars to keep the competition in your rear view mirror.
Game play spans thirteen episodes with head to head racing challenges as well as time trials, obstacle courses and more. You play viewing your race car from behind and are tasked with shifting gears at the right moment to maintain your acceleration.
The added bonus to Hot Rod Racers is that you can control your left/right steering to cut off an opponent as they try to pass you or bump them in the rear to cause them to spin out. Just be careful because your opponent can do the same to you.
Hot Rod Racers is a free game, available for Windows Phone 8 devices (that includes the low-memory devices). You can pick up your copy of Hot Rod Racers here in the Windows Phone Store.
Feeling a need for speed?
So which one of these racing titles fills the need for speed the best? While I like the graphics with Paper Racer, the controls tend to hold this game back for me. Try as I may, I could never get a handle on steering the little paper race cars without crashing into something.
Hot Rod Racers is simply a fun game to play. Graphics are outstanding, controls simple and you have the added bonus of side swiping or cutting off your opponent as they try to pass you. Uber Racer is another well drawn up racing game but with more of a grunge or dirt track feel to it. It does take a little time to get used to the steering but it is a strong contender.
For me, the strongest choice for those looking for a quality racing game is Asphalt 8: Airborne. The graphic quality is outstanding, the game controls nice and responsive and the stunts you can pull while traveling way too fast will keep you at the edge of your chair. My only wish is that your progress would carry over to the Windows 8 version.
Asides from these four quality gaming choices, here is a small collection of racing games that are also worth consideration.
I know we have probably missed one or two popular Windows Phone racing games this week. There is nothing nefarious about it, just so many quality titles it is hard to keep track of them all. If we have overlooked your favorite racing title, feel free to toss out your recommendation in the comments below.
Get the Windows Central Newsletter
All the latest news, reviews, and guides for Windows and Xbox diehards.
George is the Reviews Editor at Windows Central, concentrating on Windows 10 PC and Mobile apps. He's been a supporter of the platform since the days of Windows CE and uses his current Windows 10 Mobile phone daily to keep up with life and enjoy a game during down time.
Nice list! :) Rocking Asphalt 8 again after awesome update

I like asphalt. 7 too no big difference

I just updated my lumia 925 (wp8) with the latest version of the game but I can't play it, it sort of freezes after a 5 seconds and then the lagging is terrible. You have to wait like 5 minutes just to change a car you already own. Does anyone else have this problem? Any words of advice? Thanks in advance.

Yeah it's lagging for me too a little bit, then I turned off wifi, but there were still some lags.

its not just a bit of lagging, I really can't play it, no matter what i do :| Dunno if i should reinstall the damn thing, I'm affraid I might lose all my progress, half of the cars I had got their tunning maxed out...

forgot to mention, I'm not a developer and I'm still using WP8.0 (lumia black)

If you log into Facebook your progress should be stored in the cloud - you can download the Windows 8 version of Asphalt 8 and log in there to check if you like.

I don't own a fb account, too much rubbish goin on in there :)) But thanks anyway for your advice :)

Yes that's true. George, correct it in the article. Progress DOES sync if you connect you fb account.

Unfortunately I can't sync it with a fb account even if I had one. The game takes forever to load no matter what you do, I think the last update is rather adjusted for WP 8.1 or the people from gameloft really need to fix some bugs and fast. It runs fine for about 5 seconds (you can browse the menu, car lot etc in that time) and then suddently falls into a huge lagg.

It lagged once in my Lumia 720 too. And the reason I discovered was, I had low internal memory in my phone. So you can check if its the same issue with you!
But after the wp8.1 update I moved all my apps to a class 10 SD card and now it just works fine ;)

Thanks for your support, my lumia 925 doesn't have an SD card slot but I have over 10 gigs of free storage... still confused :|

No problem! Then its not the memory issue I guess. Its weird. I wish I could help you. You may look out for a solution in forums or post a new thread before considering a reinstall ;)

I emailed gameloft, hope the come up with a viable solution.

They must reply. If more users complain the same, they may update the game...

Exactly my case. Lumia 925, Windows Phone 8.0 with Black update Updated to the latest Asphalt 8 and now the game is unplayable. It is ultra slow, I can't even start because of the lag UPDATE: disabling WiFi did the trick (I have the phone configured so that cellular data is not used)

LOL THANK YOU SOOOO MUCH!!!! Jesus I can't belive how amateurs the guys from gameloft are!

On my 1020 lags a bit only on the new map, but now Asphalt 8 isn't playable for me, because the commands with the steering wheel are bugged: while i use Nitro or I skid after few seconds the command stops responding, so I cant keep steering and I splat against a wall

Are you talking about the Great Wall of China update? Is it here?

Mine works fine even though its on my sd card on my 720. I updates to that great wall of china version. And yes I have 8.1 too.

It's the best arcade racer available for Windows phone

Race illegal: High speed 3D. It's a nice new racing game for the store list considering the size it takes! Used to play this in my Symbian phone, glad to see it for WP store :)

Asphalt 8 is the best. The graphics, the official cars, nice soundtrack- and it's all free!

Good luck unlocking it all without paying though. =P

If you actually play the game and earn money by playing the game and spend the money you earned by playing the game to buy everything in the game that you play.... OR Would you rather it be so easy to unlock everything without having to play the game much and then get bored because you have all the cars and upgrades easily that you uninstall the game because you completed it in a short amount of time?

Not very tough. I didn't pay a penny and have completed 30% of season 8. (try unlocking it even :-P). Just buy the right cars, that's the trick.

That's the thing - you can only progress effectively through buying specific cars. If you want to unlock everything, on the other hand...

I didn't pay an euro and i almost finished season 5 xD

All the way to Season 8 without paying a cent. I played certain race, such as knock down, over and over to earn money. It is actually surprisingly quick.

Again - I'm not talking about progress. Any old fool can get to Season 8. I'm talking about unlocking all 5,000,000Cr+ worth of content. Tell me when you've done that through grinding knockdowns without so much as a credit doubler and I'll be impressed. Pitiful, but impressed. ;)

Point taken. I will keep you posted...in few months.

To be honest, graphics of asphalt 8 for 512 MB devices are worse than those of asphalt 7.

For me asphalt8 is current king. Though its not xbl is no big deal to me as that exemption has enabled it to be updated quicker than asphalt7(which I also have) and its now on par with IOS ver barring twitch integration.

sadly i bought asphaly 7 trying to support the xbl and it lags like crap, while 8 works perfectly :(

I play 7 it's cool no lag for me

I have asphalt 7 and 8 both. I like the arcade that asphalt 8 offers but the game is damn too long if you ignore in app purchases. It also offers songs during gameplay, asphalt 7 doesn't. Asphalt 7 on the other hand is easier on the career level although it has inferior controls to asphalt 8. Asphalt 7 makes the phone heat though no lags at all. At the end, I like both for both have them have their own pros and cons.

Have to agree with comment above A7:Heat has no performance issues for me.

For all update to Asphalt 8 was released today new cars and tracks

Made me re-download the game. I was stuck on season 8 because I had no money but I guess I'll give it another try just for fun.

well i never use update button because of that thing im just unistall and install it the game save automatically on cloud if you Log in with Fb

Um, Asphalt 8 progress is shared between devices. o_O Try logging into Facebook.

I love Donkey Classic, simple driving game but so addictive! http://www.windowsphone.com/en-gb/store/app/donkey-classic/81aea352-ae91-4e0c-b96e-441ea8f0ab64

Only racing game I'll play on my MICROSOFT Lumia will be Need for Speed: Most Wanted. (old one of course)

I just Real Racing 3, hope ea would make that for windows phone

Real Racing 2. That's a fun game. Also with achievements.

Agreed. Never understand why these lists always ignore it.

I'm working on Real Racing 2 and Asphalt 7. XBOX Live games only for me. The whole purpose of getting a XBOX PHONE

Let me know when they make an Xbox phone...

Look in your hand. W7/8 was marketed as a Xbox Phone.
I will say Microsoft did a EPIC FAIL by making it to hard on devs. Which is why the Windows OS has fizzled out at around 3%.

Please tell me what do i do with my Xbox points ? How do i convert them to real money as people say is done ? A little detail please, i just know that i can buy stuff for my avatar using those points.

You can look at them and giddy

+929 Real Racing 2 is my addiction right now, I think it's one of the better games and it has Xbox Live ( #SaveXboxWP).... Great game and no question should be on the top of this list...

Wish Reckless Racing was on here. Those games have always been my top notch favorites

This. Love top-down racing games.

Is there something I don't understand about the new 8.1 store or is there an error in the article, because I can't find any button for a trial on the Paper Racer page...

Asphalt 8 can share the progress between your Windows Phone and Windows PC if you connect with facebook

I wish we had real racing 3. The game looks really good on Android. Plus my buddys give me shit by asking when I'm going to download it ( they know I can't ).

One thing that upsets me is that I own every car pack and now this update bring new cars and I still have to purchase them asphalt 8

Hey friends I would like to share something ....those with wp8.1 preview can send msg on Xbox without actually having a gold membership

No free trial on Uber Racer. It looks worth checking out though

Looks pretty generic to me, but for a £0.99 game, I daresay you get what you pay for.

You have to agree, Asphalt 8 is the GOD of all available racing games on windows phone. Simply unbeatable.. Hail Gameloft!!!

I baught asphalt 7,and now it's not avaibale they are saying :'( What the hell is this??

I dont know what exact problem are you getting but when i was searching for it, it wouldnt appear But using google i got the direct link to it on the store. but if i search asphalt 7 on the store it wont show. Also its weird that the company showing as publisher its Gameloft, while alllllll the others gameloft say Gameloft. with a "." in the end. weird...

Have you changed our region to US?

Still waiting for that Xbox music update and WhatsApp as well.

Paper Racer is a lot of fun, but you'll blow through the game fairly quickly even on higher difficulty levels. The later courses get cluttered visually, but the biggest problem really is the lack of new courses. Uber Racer seems to be a ton of fun, but the storyline is mind-blowing stupid. In a world where resources are scarce, let's waste a ton of gas racing so that we can win a small bit of fuel.

Any problem after updating asphalt 8 ?

Hot rod has to many graphical glitches to be taken seriously.

Real Racing 2 is obviously the best racing game. I wish GT Racing Academy was on Windows Phone, it was a lot of fun on Android.

Real Racing 2 is awesome but it's more of an simulator than arcade. (And speaking of "realistic" it's still the best "realistic" game out there on any mobile platform... Plus added bonus of not having IAP) If you don't care much about "real" part but just want to have fun Asphalt 8 is better choice. (But IAP ruin most of the fun later on in the game)

Asphalt 8=No Xbox..... Real Racing 2 is better anyway but, I see your point over the arcade style.... I think I enjoy the real type of play ing Real Racing 2 over Asphalt 7 or 8....(I own 7 but, wont touch 8 because of the lack of achievements #SaveXboxWP)

Hot Rod Racing is unavailable to me in the store.

I also found this game recently http://www.windowsphone.com/nl-nl/store/app/perfect-shift/a6e30499-a0c9-...

does it support 512Mb devices?