Assassin's Creed Unity may be used to rebuild Notre-Dame cathedral
The game may just redeem itself.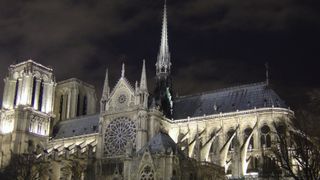 Yesterday, a large portion of the famous Notre-Dame de Paris was destroyed by an unprecedented fire on the roof of the cathedral. It took firefighters nearly two days to extinguish all the flames — including residual ones — and French President Emmanuel Macron announced the launch of a national fundraising campaign to restore Notre-Dame. This restoration will cost hundreds of millions, possibly more, but numerous individuals have vowed to pay for the work that needs to be done.
In order to recreate the destroyed areas, architects will examine images of the cathedral before the fire, in order to make it as close to the original as possible. While the majority of this involves looking at photographs and videos, Assassin's Creed Unity will also be examined. Assassin's Creed Unity is an open-world game which takes place in historic Paris. The cathedral was one of the most iconic structures in the title and appeared to be an exact copy.
Assassin's Creed Unity artist Caroline Miousse spoke to The Verge about the creation of the cathedral in the game at launch. She said the following.
Hopefully Notre-Dame will be rebuilt sooner rather than later. The French government has said that it will make sure it's built in the next five years. However, only time will tell if this is possible. A lot of other sacred objects like priceless artifacts and historic paintings may also have been destroyed yesterday. We'll know the full extent of the damage in the coming days, but it's great to see multiple disciplines coming together to help rebuild the historic structure.
Xbox accessories you'll love
Every one of these quality accessories is guaranteed to enhance your Xbox experience.
PowerA Enhanced Wired Controller for Xbox One (opens in new tab) ($20 at Amazon)
PowerA's take on the Xbox One controller is an attractive pickup for budget-conscious gamers that nails all the basics.
Talon PDP Xbox media remote (opens in new tab) ($20 at Amazon)
The Talon PDP Xbox media remote is great for watching shows on your console.
Xbox One S vertical stand (opens in new tab) ($10 at Amazon)
Stand your console upright with this accessory.
Asher Madan handles gaming news for Windows Central. Before joining Windows Central in 2017, Asher worked for a number of different gaming outlets. He has a background in medical science and is passionate about all forms of entertainment, cooking, and antiquing.
The Cathedral has been entirely 3D scanned by French scholars just a few years ago. There are records about every stone and crease of Notre Dame. So the 5 year time frame isn't that outlandish, specially if funds keep pouring in from around the world has they've been (I mean in less than 24h over 500 million euros had been donated already).

It's depressing how much money has been donated to one of the richest organizations in the World. When that same money could completely eradicate France's homeless population.

Absolutely 100% spot on. Rich celebrities are always guilt tripping you to put your hands in your shallow pockets to help starving children, overworked donkeys and blind cats yet a day after some building catches fire, there's already hundreds of millions of Euros provided by wealthy benefactors. Am I missing something here?

Its sad that it happened. But at least they have tech .. VR Mixed Reality. .. go to the site and use mixed reality to see what it once was. these could be options.

That would require the Cathedral to be able to charge for admission. Which is prohibited by France's "genius" laws (the same ones that allowed Notre Dame to reach such a state of decay that a simple fire burned down the entire roof)

> It took firefighters nearly two days to extinguish all the flames. Wow, that's impressive, especially for a fire that started less than 24h before this article was published.

I'm in Europe. When the article was written, we were around 24 hours since the fire was reported.

oh my god i was just thinking about this last night. I knew UNITY game was always very detailed game. i need to redownload the game and play this. i loved this game. everyoen else hated it but this was an amazing game to me.

If the fire was yesterday like the article says then how could we know it took nearly two days to extinguisher all the flames?

LOL this author really makes me laugh sometimes. When the article was written, we were hardly more than 24 hours since the fire was first reported...

I refuse to believe that they will rely on mere photos and a game to restore it. Such buildings have very thorough 3D scans and each detail is pictured and explained and recreated somewhere in the archives. Its cool to see that a game might be used to help with restoration. Puts a whole different perspective on the accuracy of AC series. Want to go back and actually look around.

The AC series has been pretty good at recreating these buildings. I took a screenshot of their Syndicate reproduction of St. Paul's Cathedral to the actual Cathedral and it's pretty darn close (and what's different might be because many of these monuments have changed through the centuries).

tf are you on about? There hasn't been a Republican party in France since 1997

Congratulations Karl on forcing politics into a non-political issue.

He is just one of those guys.
He actually wanted to start a silly console war fight in a great inspiring article about the adaptive controller.
https://www.windowscentral.com/how-xbox-adaptive-controller-champions-in...

". It took firefighters nearly two days to extinguish all the flames..." It happened about 24 ago. Not two days.

Wouldn't it be cool if they used HoloLens?! Imaging being able to rebuild the structure with a virtual structure in your view to line up to.
Windows Central Newsletter
Get the best of Windows Central in in your inbox, every day!
Thank you for signing up to Windows Central. You will receive a verification email shortly.
There was a problem. Please refresh the page and try again.