Assassin's Creed Valhalla runs at 4K resolution on Xbox Series X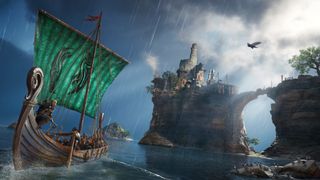 (Image credit: Ubisoft)
What you need to know
Ubisoft just revealed Assassin's Creed Valhalla.
It's coming to Xbox Series X and other platforms.
The game runs at 4K resolution on Microsoft's upcoming console.
It's expected to launch in Holiday 2020, possibly the same day as the Xbox Series X launches.
Today, Ubisoft revealed Assassin's Creed Valhalla for Xbox Series X and other platforms. Given the fact that Microsoft's upcoming next-generation console is the most powerful out of the lot — including Google Stadia — it should look the best on it. The company even went as far as to confirm that Assassin's Creed Valhalla would run at 4K resolution on Xbox Series X and feature high dynamic range (HDR) colors. If you buy the Xbox One version, you'll automatically be upgraded to the Xbox Series X version.
It's unclear what the resolution and frame rate are on other platforms, but they might be lower. Many are expecting the title to run at 60 frames per second on Xbox Series X, but there might be performance and visual modes. We'll keep you posted as soon as we know more. Assassin's Creed Origins ran at 4K resolution on Xbox One X, but its successor, Assassin's Creed Odyssey featured a lower resolution and this resulted in a somewhat blurry appearance. Since Assassin's Creed Valhalla pushes visual boundaries even further, we're expecting it to run at a lower resolution on the Xbox One X, too. However, you never know and Ubisoft may surprise us.
Developed by the team behind Assassin's Creed IV: Black Flag and Assassin's Creed Origins at Ubisoft Montreal, Assassin's Creed Valhalla invites players to live the saga of Eivor, a fierce Viking raider raised on tales of battle and glory. Offering a captivating Viking experience, the game brings players to a dynamic and beautiful open world set against the brutal backdrop of England's Dark Ages. In this latest iteration, players can take advantage of new features including raids, growing their settlement, building their power, and expanding their influence.
Driven from Norway by endless wars and dwindling resources in the ninth century, players will lead Eivor's clan of Norsemen across the icy North Sea to the rich lands of England's broken kingdoms. Players must carve out a new future for their clan, reliving the ruthless fighting style of Viking warriors with a revamped combat system that includes the ability to dual-wield weapons against a greater variety of enemies than ever before. To secure resources players can lead raids to select locations using their longship to earn much-needed riches and resources. As the Vikings begin to settle in their new home, they encounter resistance from the Saxons including King Aelfred of Wessex, who denounces them as heathens and looks to be the sole ruler of a civilized England. Against all odds, Eivor must do what is necessary to keep Valhalla within reach.
Viking raids
(opens in new tab)
Assassin's Creed Valhalla
Conquer new lands for glory and honor

This new entry in the long-running franchise follows Eivor, a man or woman of your choosing who leads a Viking settlement against the Saxons.
Xbox Series X/S
Main
What is the Xbox Series X release date?
How much does Xbox Series X cost?
Why you can't preorder Xbox Series X yet
Asher Madan handles gaming news for Windows Central. Before joining Windows Central in 2017, Asher worked for a number of different gaming outlets. He has a background in medical science and is passionate about all forms of entertainment, cooking, and antiquing.
Well if it they confirmed 4k for XSX why didn't they also confirm 60fps? If it can't achieve 60fps it's worrisome.

That's just the 4K logo Microsoft uses. They haven't released how the Xbox Series X games will be branded. But Spencer said that the base requirement is 4K 60 FPS. I wouldn't worry too much. I'm willing to bet it's 4K 60 FPS on Xbox Series X, 1800p 60 FPS on PS5, and 4K 30 FPS on Stadia.

Nah PS5 will also run in 4K 60fps. Probably lower settings compared to Series X. But this is still a crossgen game so easier to run.

And it will also run in 4k on the xbox one x. Nothing new on that.

I'm not so sure since Assassin's Creed Odyssey doesn't.

Well in the store it appears that it is.
https://www.windowscentral.com/e?link=https%3A%2F%2Fclick.linksynergy.co...

Since day 1 of the PS4 Pro Coming all games using dynamic resolution and temporal up scaling all are advertised as 4K on stores and box art. Doesn't mean it's native 4K. And if it is it will visually look significantly inferior. Lots of graphical effects and features will be missing.

Digital Foundry confirmed that it wasn't this time around.

If these games dont run 4k 60fps on seriesX then what good is the new hardware

I misread the headline and thought it said 4K on Xbox One X. I'd bloody hope *every* game runs at 4K on Series X

I think we're going to see many 1080p 120 FPS games too.

I should think so. Any developer not hitting 4k @60fps on those specs really is a poor developer. There is 0 reason 4K 60 isn't achievable across the board.

Those of you expecting 4k60fps, prepare for disappointment.Consoles are powerful? Yes,but it is upto devs and given the track record of our dear Ubisoft it is next to impossible. Rememeber AC Black flag was cross gen it was still 30fps across all consoles then Ezio collection and AC3 remastered, all are 30fps. We will be lucky enough if this game has performance mode i.e 60fps at lower resolutions.
Windows Central Newsletter
Get the best of Windows Central in in your inbox, every day!
Thank you for signing up to Windows Central. You will receive a verification email shortly.
There was a problem. Please refresh the page and try again.